Deep Sea Fishing Party Boat in Destin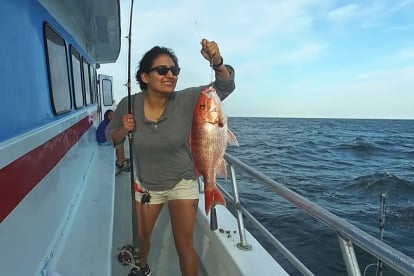 View
All
ONLINE SPECIAL: Book online and SAVE $5 - Great for a family outing!
Come fish with one of the oldest and largest fishing fleets on the Emerald Coast! We are pleased to have the opportunity to introduce our fleet and invite you aboard to fish the beautiful, unspoiled waters of the Gulf of Mexico. With knowledge based on a lifetime of experience, we assure you a deep-sea fishing adventure that will make for a dandy "fish tale".

Activity Highlights
→ Bait, tackle and fishing license included.
→ Experienced captain and crew.
→ Catch snapper, grouper, trigger fish and more! As long as it's in season!
→ Great for families and young children
→ 65 ft. walk around boat with bathrooms and A/C cabin.


Booking Details:
Please bring with you the provided confirmation number (located on the voucher e-mailed to you after online purchase) and a valid drivers license for verification. Bring the confirmation number/booking ID number to the Olin Marler Dock at 102 Harbor Boulevard, Destin, FL 32541. Guests will need to arrive at least 45 minutes prior to the departure time to board.
Departure Details
Party boat fishing charters are available daily based on participation. Departure times will vary, but morning trips will typically depart at 6am and afternoon trips depart between 1-3pm.
Duration
: 4-10 hours. Based On Trip Selection
Parking
Public parking is available at 102 Harbor Blvd, Destin, FL 32541 (Next to AJ's Bar and Grill) for a $5-10 fee per car (Special event parking fees may vary). As you pull off highway 98, head over the hill down to the Harbor. Customers may park on the hill or just over it.
Inclusions
● Bait & Tackle
● Fishing License
● Instruction
Exclusions
● Gratuities (15-20%)
● $5-10 Parking Per Car
● Coolers & Ice
Restrictions
● This trip is not for children under 7 and pregnant women.
● Customer must be at least 18 to fish without parental consent.
● Trips must receive at least 15 participants to depart. If not, the trip will be rescheduled or the customer will be refunded.
Additional Information
● Customer is recommended to bring a wash rag, hat, sun glasses, raincoat (for seaspray and light rain), suntan lotion, hand sanitizer, small cooler with food and drinks, and a camera.
● The crew will fillet and bag any fish that the customer catches on the trip that meets regulation and is in season. Please tip the crew appropriately for all the hard work they do on the trip.
● Boats are Coast Guard approved up to 42 passengers, but the size of the trip will vary based captains discretion (usually 30-35).
● If you suffer from back or shoulder pain, please consult with a physician before booking as the use of the fishing pole can be strenuous at times.
● No GPS devices allowed on the boat. Olin Marler personnel reserve the right to confiscate these items.
● You will travel approximately 10-20 miles out to sea.
● The boat will sometimes experience movement and those who are prone to motion sickness are asked to take dramamine or bonine for precaution.
● Handicap services are available, please call us when the reservation is booked for proper assistance. In some cases, we are able to accommodate handicap customers.
● If the weather or gulf is unfavorable for fishing, the trip will be rescheduled or refunded. If the trip is cut short due to weather conditions, the trip will be prorated.
Cancellation Policy
Customer must cancel 48 hour prior to the trip time in order to receive a full refund minus a $5 fee. Cancellations received less than 48 hours prior to trip time will not be eligible for a refund. If the captain declares that the trip be cancelled (weather, rough seas etc..), we will attempt to reschedule to the most convenient day possible. If the trip cannot be rescheduled, the full amount of the trip will be refunded to the customer. All no shows on the day of the trip will not be refunded. Trips will require a minimum of 15 passengers to depart. Any changes to the reservation are at the discretion of the charter company and additional charges may apply.
We don't always fish in calm conditions! Please inquire with our staff prior to arrival to verify sea conditions and what's in season for fishing. No refunds will be given once the customer boards the boat
.
Check Availability/Book online
Read what other TripShock! travelers think about the Deep Sea Fishing Party Boat in Destin. What they loved, what they liked and what they think could be improved, it's all here to help you make the most of your next trip. Only TripShock! customers may leave reviews. Please login to your reservation to post your review.
Review list is filtered by the star count (3). Click here to reset this filter.
Ernest USA about 2 days ago

I had fun with my Brother in law on this charter. However whenever the fish would start biting they would say we are moving on to the next spot as soon as fish would start biting again we would have to real the line in and move on to the next spot. We caught about 10 pounds total of red snapper that's about it. Probably wouldn't take this charter again.

Verified TripShock! Traveler Review

Jason USA about 2 days ago

When you take a six hour charter plan on fishing less than half of that! Drove 1 1/2 hour out and bounced between 3-4 spots just to catch small fish. Threw 3 times as many back as we kept. Biggest fish might have been a pound, might have been. Crew did a great job though. Just thought there would be more fishing and not just a lot of small fish. You are fishing for the small fish to catch as many as possible.

Verified TripShock! Traveler Review

Ashley USA about 10 days ago

Advertising for a 6 hour fishing trip is a little misleading for anyone looking to book a trip. I made reservations for my husband for his first ever trip to Florida only for him to be a little disappointed. Nowhere did I read did it say you only fished for an hour and a half to two hours. I understand there's travel time to get to the fishing spot but when it's advertised as 6 hours of fishing it's kind of disappointing. So we'll know in the future what to expect.

Verified TripShock! Traveler Review

John USA about 14 days ago

We had gone on the Gulf Breeze boat on a Monday and the crew was friendly and very helpful so we went again on Thursday on the Tropical Breeze. The crew was not nearly as helpful nor very quick to help with twisted lines or to get fish off. One of the hands seemed more interested in smoking on the back than anything else. Luckily, he was not our main guy for our quadrant of the boat. Also, luckily/unluckily, we only caught 3 fish that were keepers. Captain Steve seemed to have problems getting us to fish as we must have moved 10 times in a 4 hour cruise. Some of that had to do with dolphins stealing our fish. I personally had two fish stolen from my line. The line bent very far over then went straight and nothing was on the hook. We did get away from the dolphins but could not seem to get... read more

Verified TripShock! Traveler Review

Jonny USA about 19 days ago

Have some fun but equipment are not when we are some left hand and all pole are right. Hard to reel

Verified TripShock! Traveler Review

Eddie Burch USA about 4 months ago

My WRONG for not checking the fish in season, all we were allowed to peek were little 8"ers (bait fish) and the nice fish went back but the crew was good; cost about $103.00/lb for the two lbs of fish meat.

Verified TripShock! Traveler Review

Management Response, about 4 months ago

Thanks for coming out with us! We also wished we could've kept all of what you were catching, but we simply can't do much about was is in season. You can always check out the Florida Wildlife Commission's website for up to date information, or feel free to call us. Thanks for letting us know about the crew! We appreciate hearing how well of a job they did so we'll be sure to let them know. Hope you come out again with us when there's more in season! Olin Marler

Brandon USA about 9 months ago

Told us wrong boat after asking two different times. Almost missed the trip. If it wasn't for the actual company calling me asking if I was still coming, we would have missed it.

Verified TripShock! Traveler Review

Management Response, about 8 months ago

Hi Brandon, Your trip was moved from the Gulf Breeze to the Tropical Winds the day before, however, the check in location is still the same at 102 Harbor Blvd so you wouldn't have needed to go to a different location. There are quite a few boats that depart from Destin's harbor so we understand that sometimes it's difficult finding the check-in booth. That's why we ask you arrive at least 30 minutes prior to the trip to ensure you find parking and locate the booth. We always call customers just to make sure they're on their way, so I'm glad you answered the phone and made the trip! I hope you had a great time and that we see you again soon! Thank you, Olin Marler

Charles Venters Jr USA about 10 months ago

Me & my 2 boys enjoyed ourselves! We'll be back to do it again!

Verified TripShock! Traveler Review

Kieuoanh USA about 11 months ago

During fishing trip want enough time in the afternoon. More like rush fishing drop the line and the move a few times. I had tangled my pole a couple times doing the line in the water. The guy who worked on the boat had his girlfriend watch me each time towards the end of the trip so he doesn't have to fix it. He was getting frustrated and it showed. Then when it was time to get our fishes it took long and we couldn't make it in time to get it fried at the restaurant by the boat. The guy who cut up the fish had to grab a couple beers before he started on anyone's fish when we docked. He kept telling the crowd please be sure to tip.

Verified TripShock! Traveler Review

Shayne USA about 12 months ago

Too many people on the boat, Lots of tangles. They tried very hard to keep us on fish. I would do it again with less people.

Verified TripShock! Traveler Review
Note: It is the responsibility of the activity/tour company to ensure the accuracy of the photos displayed. TripShock.com is not responsible for any inaccuracies in the photos.
Global Administrator
2011-07-24 19:11:57