Deep Sea Fishing Party Boat in Destin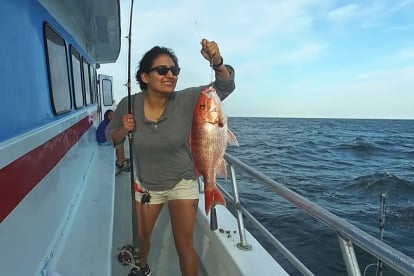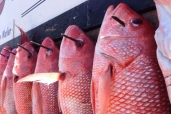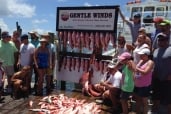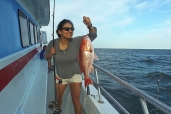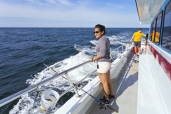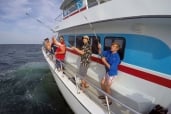 View
All
ONLINE SPECIAL: Book online and SAVE $5 - Great for a family outing!
Come fish with one of the oldest and largest fishing fleets on the Emerald Coast! We are pleased to have the opportunity to introduce our fleet and invite you aboard to fish the beautiful, unspoiled waters of the Gulf of Mexico. With knowledge based on a lifetime of experience, we assure you a deep-sea fishing adventure that will make for a dandy "fish tale".

Activity Highlights
→ Bait, tackle and fishing license included.
→ Experienced captain and crew.
→ Catch snapper, grouper, trigger fish and more!
→ Great for families and young children
→ 65 ft. walk around boat with bathrooms and A/C cabin.


Booking Details:
Please bring with you the provided confirmation number (located on the voucher e-mailed to you after online purchase) and a valid drivers license for verification. Bring the confirmation number/booking ID number to the Olin Marler Dock at 102 Harbor Boulevard, Destin, FL 32541. Guests will need to arrive at least 45 minutes prior to the departure time to board.
Departure Details
Party boat fishing charters are available daily based on participation. Departure times will vary, but morning trips will typically depart at 6am and afternoon trips depart between 1-3pm.
Duration
: 4-10 hours. Based On Trip Selection
Parking
Public parking is available at 102 Harbor Blvd, Destin, FL 32541 (Next to AJ's Bar and Grill) for a $5-10 fee per car (Special event parking fees may vary). As you pull off highway 98, head over the hill down to the Harbor. Customers may park on the hill or just over it.
Inclusions
● Bait & Tackle
● Fishing License
● Instruction
Exclusions
● Gratuities (15-20%)
● $5-10 Parking Per Car
● Coolers & Ice
Restrictions
● This trip is not for children under 7 and pregnant women.
● Customer must be at least 18 to fish without parental consent.
● Trips must receive at least 15 participants to depart. If not, the trip will be rescheduled or the customer will be refunded.
Additional Information
● Customer is recommended to bring a wash rag, hat, sun glasses, raincoat (for seaspray and light rain), suntan lotion, hand sanitizer, small cooler with food and drinks, and a camera.
● The crew will fillet and bag any fish that the customer catches on the trip. Please tip the crew appropriately for all the hard work they do on the trip.
● Boats are Coast Guard approved up to 42 passengers, but the size of the trip will vary based captains discretion (usually 30-35).
● If you suffer from back or shoulder pain, please consult with a physician before booking as the use of the fishing pole can be strenuous at times.
● No GPS devices allowed on the boat. Olin Marler personnel reserve the right to confiscate these items.
● You will travel approximately 10-20 miles out to sea.
● The boat will sometimes experience movement and those who are prone to motion sickness are asked to take dramamine or bonine for precaution.
● Handicap services are available, please call us when the reservation is booked for proper assistance. In some cases, we are able to accommodate handicap customers.
● If the weather or gulf is unfavorable for fishing, the trip will be rescheduled or refunded. If the trip is cut short due to weather conditions, the trip will be prorated.
Cancellation Policy
Customer must cancel 48 hour prior to the trip time in order to receive a full refund minus a $5 fee. Cancellations received less than 48 hours prior to trip time will not be eligible for a refund. If the captain declares that the trip be cancelled (weather, rough seas etc..), we will attempt to reschedule to the most convenient day possible. If the trip cannot be rescheduled, the full amount of the trip will be refunded to the customer. All no shows on the day of the trip will not be refunded. Trips will require a minimum of 15 passengers to depart. Any changes to the reservation are at the discretion of the charter company and additional charges may apply.
We don't always fish in calm conditions! Please inquire with our staff prior to arrival to verify sea conditions. No refunds will be given once the customer boards the boat
.
Check Availability/Book online
Read what other TripShock! travelers think about the Deep Sea Fishing Party Boat in Destin. What they loved, what they liked and what they think could be improved, it's all here to help you make the most of your next trip. Only TripShock! customers may leave reviews. Please login to your reservation to post your review.
Review list is filtered by the star count (4). Click here to reset this filter.
Christina Sierk USA about 9 days ago

My experience was awesome, for my first deep sea fishing experience.The Two deck hands were great. Very helpful.. My only real complaint was the womans bathroom had no toilet paper, in the beginning of the trip. Would soooo do again!! Thank you so much, guys!!

Verified TripShock! Traveler Review

Amy Wooley USA about 5 months ago

I was on the Gulf Breeze and we had a blast. I took the 6 hour trip, and we caught lots of snapper. I will say that I am still not convenienced that we got all the fish we caught..but I count myself at fault because I didn't keep count. I witnessed another lady who was on the same trip, who had kept count of her fish...she said that they caught and kept 20, but they only had 7 when they received their stringer. Next time, I will keep count... ... read more

Verified TripShock! Traveler Review

Management Response, about 5 months ago

Thanks for coming out with us and glad you had a great trip! I assure you that your catch was yours to take with you, unless the crew had to throw the fish back due to size or if out of season. Our goal is for you to catch (and take home) as many fish as possible and we're glad the captain found the good spots. We'll let him know about that communication style though. He may seem a little less personable than the deckhands, but I assure you he's a great guy with his focus being on safety and enjoyment for all the passengers. Again, thanks for choosing us and hope to see you back soon! Olin Marler

Leo Warmuth USA about 5 months ago

Rough seas, but fantastic fishing experience!

The weather was certainly a factor in comfort on this trip, but my son and I had a wonderful time despite the 7-9 ft swells! Thank you for a great experience. We are very likely to book again in the future and we found the crew very friendly and knowledgeable. My son is new to ocean fishing, but he quickly picked up the skill with very little guidance and was baiting his own hooks and reeling in nice fish. Triggerfish, vermillion snapper and more! Thank you Leo

Verified TripShock! Traveler Review

Management Response, about 5 months ago

Hi Leo, We're glad you brought your "sea legs" with you and y'all enjoyed the trip! Come see us again and we'll hope for a few less waves next time! Olin Marler

Brandon USA about 7 months ago

Fun Trip, crowded boat, fairly good for kids, Capt was rude!

We had a good time, I took my 11 yo son for first deep sea fishing. No doubt we caught a lot of fish; drop the line, wait 10 seconds, reel in line and hope dolphins don't eat fish off your line. Capt was a pain, rude and unnecessarily condescending, balanced by the deck hands who were eager, helpful and kind. Must note that there is NO CLEAR comments on website that states what fish you are going for. Even though red snapper is in season on state-run boats, this party boat is apparently federally managed and thus, no red snapper allowed for us. This was a let down and a good issue for the Captain to complain about, telling us we didn't read enough regulations and it was our fault. ... read more

Verified TripShock! Traveler Review

Shaun USA about 7 months ago

PROS: Caught about 7 fish and about 22 fish in our entire group, mainly Mingos, crew was nice and worked really hard, fun experience, good for handicap (father), beautiful, calm waters CONS: went really far (maybe that far was not needed for what we caught), grumpy captain, older boat, really hot, had to throw back our big fish (not in season - triggers, red snappers), dolphins and sharks got to a lot of our good catch

Verified TripShock! Traveler Review

David USA about 8 months ago

Captain and deckhands were great, just a tough day for fishing. Caught a few, but red snapper and trigger fish are not in season so had to throw them back. Not the captains fault. Florida should open the trigger fish season, they are everywhere and they get to the bait before the keeper fish can. Nice day on the water.

Verified TripShock! Traveler Review

David USA about 8 months ago

Great experience for us but wish we could have kept the red snapper because we caught several of those. Apparently they weren't in season for us to keep so we kept only a few that we caught.

Verified TripShock! Traveler Review

robert caldwell USA about 8 months ago

Was not the best weather but the crew and captain mafe the most of it. Took two boys and yhey had a great time. Cant say enough about the crew. Very helpful and had no problems answering the wuestions my boys threw at them. Caught a bunch of fish as well. Great time. Wod do it again!! Thanks to the crew of the Tradewinds for a great time.

Verified TripShock! Traveler Review

Brad Perkins USA about 9 months ago

I took my two teenage boys out. We had a fun time. The crew were very friendly and helpful. I was expecting a bigger boat (which was pictured on the website). I would recommend Deep Sea Fishing. We didn't slay the fish, but still caught some keepers. As the crew says..."it's fishing, not catching".

Verified TripShock! Traveler Review

Jill McNamara USA about 9 months ago

Great trip for people who are not serious fishers

If you enjoy the thrill of catching multiple fish, I highly recommend a private fishing charter. This was a very fun experience as a first ocean fishing trip, but the amount of other people onboard hindered my ability to catch more fish. An example would be that my fishing line entangled with my party's and another fisher's onboard SEVERAL times and it takes away precious fishing time to get everyone untangled from each other. That was really the only frustrating part of the trip. The crew and the boat ride were awesome! The boat was very clean and the onboard restrooms were clean too. I was very impressed with the helpfulness of the crew, because I accidentally tangled my own spool of fishing line several times and they helped untangle it a lot. My party of friends really enjoyed... read more

Verified TripShock! Traveler Review
Note: It is the responsibility of the activity/tour company to ensure the accuracy of the photos displayed. TripShock.com is not responsible for any inaccuracies in the photos.
Global Administrator
2011-07-24 19:11:57