MAXIMUM MAGIC Theater Featuring Noah & Heather Wells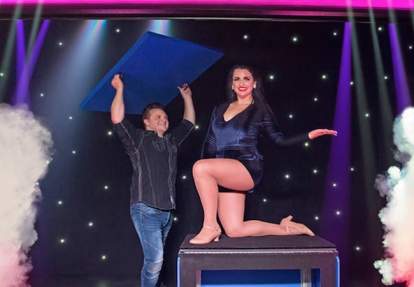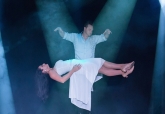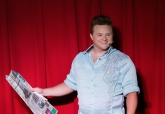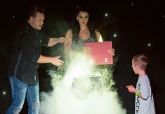 View
All
ONLINE SPECIAL: 10% OFF Tickets When You Book Online!
Don't spend another night in your condo with nothing to do; Come out to Maximum Magic Theater for some family fun! Illusionist of the year Noah Wells presents Maximum Magic, Destin's only magic show with mind-blowing illusions, hilarious comedy, special effects, unbelievable mentalism and more! This family friendly show is a fast-paced 75 minute show with audience participation for all ages.

Activity Highlights
→ Award winning cast and show
→ Great for families & children
→ Audience participation
→ VIP Package available (optional)

**VIP Package** Our VIP Package Add-On will maximize your experience with us at MAXIMUM MAGIC! You'll receive:
• Valid up to 5 guests per package
• Reserved front row seats
• Private pre-show meet and greet session with Noah & Heather (photo opportunity and close-up magic experience)
• One Noah & Heather Magic Kit
• One commemorative VIP lanyard credential
• One souvenir autographed MAXIMUM MAGIC show poster

*Please note: VIP Packages are an upgrade to your MAXIMUM MAGIC experience and not a substitute for tickets, which must be purchased for everyone in your party before adding on the VIP Package for your party size.


Booking Details:
Once the tickets are booked online, either print off your e-voucher or show the e-voucher to the hostess via smartphone. The theater is located on the second floor of the building. Seating is first come first serve so please show up early for best seating. Our show does not serve alcohol or full meals but tasty snacks are available for purchase at the concession stand.
Departure Details
The show series is offered weekly on select days in season. Please check the calendar for availability and schedules. Show times may vary based on seasons. The show has family-style seating and is first come, first serve.
Duration
● 60
Parking
Paid parking is available in the HarborWalk Parking Garage at the base of the Emerald Grande, or in the lot next to the Emerald Grande.
Inclusions
● Show Admission
Exclusions
● Food and drink. Concessions are available for purchase.
Restrictions
● Small children must be accompanied by an adult at all times.
● Vouchers are only good for the day that is booked.
Additional Information
● Show tickets for children under 3 are FREE when sitting in a parents lap.
● Elevator is available.
● Maximum Magic Theater at Harborwalk Village 34 Harbor Blvd Suite 214 Destin, FL 32541.
● Guests may not bring in outside food or beverage to the show.
Cancellation Policy
Show tickets that are cancelled within 24 hours of the scheduled show time will not be eligible for a refund. Show tickets cancelled outside 24 hours will receive a full refund minus $5. No-shows will not be refunded. If for any reason the show is cancelled, customers may receive a full refund or move to another show time/date.
Check Availability/Book online
Read what other TripShock! travelers think about the MAXIMUM MAGIC Theater Featuring Noah & Heather Wells. What they loved, what they liked and what they think could be improved, it's all here to help you make the most of your next trip. Only TripShock! customers may leave reviews. Please login to your reservation to post your review.
Review list is filtered by the star count (3). Click here to reset this filter.
roger wonderly USA about 4 months ago

Illusions with Noah and Heather

It was fun with a few really good magic moments. Certainly not Vegas but entertaining.

Verified TripShock! Traveler Review

Management Response, about 4 months ago

Roger, Thank you so much for coming! We are glad you and your family enjoyed it! -Maximum Magic Show Mgr

Ellen USA about 6 months ago

The venue in Destin is extremely low budget, however the kids (6 & 9 years old) had fun. No alcohol. We bought the BBQ dinner before and we're pleasantly surprised. We almost bought the VIP but decided not to, we had no problem finding a seat in the front. During an intermission the magician went over things to purchase in the store which became a little frustrating with kids.

Verified TripShock! Traveler Review

Brantley Cook Destin, FL about 1 year ago

We took a party of 6 people to see the magic show in Ft. Walton Beach at Fudpuckers. The magic show was good but, the music that they played was WAY TOO LOUD. Three of us asked at our table for the music to be turned down and other people around us did too. We literally had to cover our ears. We are not sensitive to noise, we attend concerts and play loud music in our cars and we STILL couldn't stand the music that accompanied the show. Apon leaving, I made a comment that the music bothered us and many others in attendance and the hostess said, really? I wish the music was louder." And laughed. The music took away from the show...very frustrating. It's as if they have the volume set for a much larger venue.

Verified TripShock! Traveler Review

Management Response, about 1 year ago

Hi Brantley, Thank you for the review and coming to the show. We are glad you thought it was a good show. We are very sorry to hear about the music being loud. It's rare that we get complaints about the noise level, but there are certain spots in the theater that are louder than others. The magician is well aware of your concern and is going to take action to make sure the decibel level is adjusted. It's also a good to sit closer to the back if you are sensitive to noise. Thank you again for coming to the show!

Kelly Risse USA about 2 years ago

Lame show for adults but a lot of fun for kids! Get a coupon!

The food was very goood. The act was cheesy and lame for adults but a lot of fun for kids. Our grandsons loved it. The place looks like a dive, but is ok. We went to the arcade downstairs afterwards, which was a rip off but the kids had fun, so it was a good night. I recommend only if you have kids.

Verified TripShock! Traveler Review

Management Response, about 2 years ago

Kelly, Thank you for coming to the show and sharing your feedback. We are glad your grandson loved the show! We were glad to hear the food was good too as we have put a lot of time and effort into perfecting the menu. As far as the show being 'cheesy' and 'lame', we are sorry we didn't meet your expectations. Noah and Heather strive to create a show that appeals to all audiences and the response has been overwhelmingly positive thus far. We have heard these comments before, but we have to keep in mind that we are mostly entertaining families and not mature adults. We would like to know specifically about what elements of the show were 'cheesy'. Can you email the magician directly? [email protected] Thank you and please come again soon!

Kelly destin, Florida, USA about 2 years ago

Best for kids ages 7-12. Margaritas were terrible.

Verified TripShock! Traveler Review

Management Response, about 2 years ago

Hi Kelly! Thank you coming to the show and leaving a review. Although the show appeals to all ages, we do agree kids most certainly enjoy it. It is our intention during the coming months to modify the show with more theatrical illusions that mom and dad will appreciate. We will also make sure the restaurant is aware that the margarita was unsatisfactory. It's important we address any issues no matter how small to insure the highest satisfaction. We hope to see you back again!

Shauwan Leary, Georgia, USA about 2 years ago

The children (4,6,and8) enjoyed the show. In my opinion, the show was too short for the cost. There was an intermission which was uncalled for.

Verified TripShock! Traveler Review

Management Response, about 2 years ago

Hi Shauwan, Thank you for coming to the show and leaving a review. We are glad the family enjoyed! I'm sorry you felt the show was short, but it might appear that way with two 30 min sets. Our backstage is smaller than most theaters so we need the intermission in between to reset and move around props. It's also no surprise that kids have relatively short attention spans, which we found a small break helps them stay engaged for the entire show. Nonetheless, we will discuss your feedback with the entertainers and see how we can add more value to the experience! Thanks again for coming to the show.

Jessica Indianapolis, Indiana, USA about 2 years ago

The food was pretty good. Not a huge selection, but still decent. ... read more

Verified TripShock! Traveler Review

Management Response, about 2 years ago

Hi Jessica! Thank you for your review and coming to the show. I'm glad you enjoyed the food and thought the some of our illusions were fun. Your feedback is very important and we have noted your suggestions. The show is about 75 minutes long including a 10 minute intermission. Due to our audience being primarily young families, we made sure to keep it within a manageable time frame that can be enjoyed by all. We would like to remind our guests that gratuity and drinks (coffee/soda/tea) are included in the price of the meal ticket, which adds more value. If you exclude this, you are getting meal and show for under $40 (For the adults anyway)! The show is always evolving as this is our first year at the Fudpuckers location, but rest assure that we'll be rotating different illusions that will play big for both kids and parents alike. Thank you again for supporting our show and we hope to have you back in the near future.

Marilyn WAVERLY, Ohio, USA about 2 years ago

The show was OK if a little cheesy at times. Noah had another performer take over the end of the show. He was pretty bad. Would not go again.

Verified TripShock! Traveler Review

Management Response, about 2 years ago

Hi Marilyn! Thank you for coming to the show and sharing your feedback. We really appreciate you spending your evening with us at Fudpucker's Theater. Maximum Magic is a show designed to offer something for all ages. Although some elements of the performance might appeal more for kids, there are many expert illusions that only a handful of magicians in the world can perform. The performer that took over for Noah at the end was Rick Moore, who is an accomplished magician and ring expert. We are not sure exactly what you found bad in the routine as it was executed flawlessly at a very high skill level. In any case, we certainly appreciate your comments and hope you would give us another try as the show is always evolving. Thank you again for visiting us at Maximum Magic!

Doug Navarre, Florida, USA about 2 years ago

First off, two acts really stood out as being very good, the mentalist portions and the upclose money machine, however the rest was rather uninspired. While all acts were executed well they were standard illusions without any real improvement or innovation. Also did not care that the show started 15 minutes late, opened with a sales pitch for the magic tricks they were selling, another pitch also was made at the beginning of the second act.

Verified TripShock! Traveler Review

Management Response, about 2 years ago

Doug, Thank you for your review and your honest feedback. Every little bit helps to make sure our show is providing an optimal experience for our guests. We are glad you enjoyed the mentalism and the money machine illusions. Because this was our first show in this venue, we are evaluating the feedback and will make changes accordingly. We encourage you to come back in the Spring or Summer as we plan on bringing in new illusions. Thank you again for booking!
Note: It is the responsibility of the activity/tour company to ensure the accuracy of the photos displayed. TripShock.com is not responsible for any inaccuracies in the photos.