Mangroves of Islamorada, FL - 5 Best Ways to Explore
Suzanne Bratton
September 10th 2020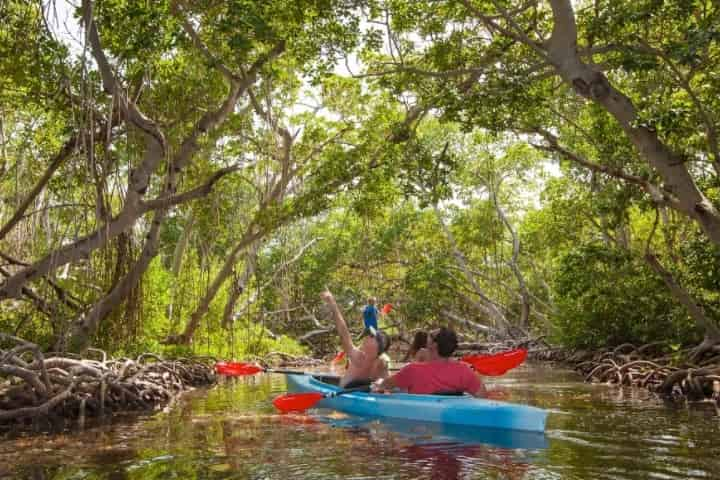 Meandering through the mangroves of Islamorada will have you feel as if you've been transported to a completely different universe! With massive mangroves creating a mystical and magical tunnel overhead, anyone who visits this natural wonder will feel encompassed in unparalleled beauty and splendor. Not only that, mangrove forests are filled with a wide variety of fantastic flora and fauna, meaning you never know what exciting environmental encounters await!
Nature-lovers and adventure-seekers can all agree that the mangroves of Islamorada are a sight to be seen. So, if the great outdoors is calling your name, then exploring these seaside shrubs is sure to quench your thirst for adventure! All that's left to do is decide how you'd like to do so! Keep reading and discover the 5 best ways to explore the mangroves of Islamorada, FL, and experience Mother Nature at her finest!
Table of Contents
What are Mangroves?
Best Ways to Explore the Mangroves of Islamorada

Kayak Rentals
Paddleboard Tours
Guided Eco-Tours
By Foot
Day Trips and Excursions
---
What are Mangroves?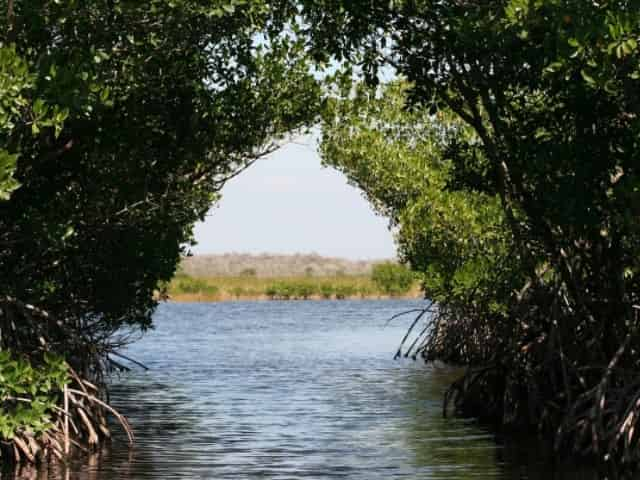 Pictured above is a mangrove tunnel, where the trees canopy over the water creating a natural arbor
One of the top things to do in Islamorada, exploring the mangroves is a must! Providing gorgeous views galore, you and your crew will be in awe when exploring this unique part of Florida's diverse ecosystem. With that being said, the mangroves of Islamorada are so much more than just beautiful trees.
Easily identifiable, mangroves are known for their twisted, tangled, and exposed roots. This design helps the trees survive both high and low tides, maintain water clarity to protect coral and seagrass, and act as a barrier to protect shoreline erosion. In addition, these special trees are home to a wide variety of rare and unique wildlife including tropical fish, manatees, sea stars, sea birds, iguanas, and more!
There are a ton of species of mangroves across the globe, but only a handful of species call South Florida home. With an estimated 469,000 acres of mangrove forests across the state, it's highly likely you'll get to see each of the different species during your Islamorada vacation. Below are the different species of mangroves that are native to Florida, so you can easily identify them and impress your friends and family with your mangrove knowledge!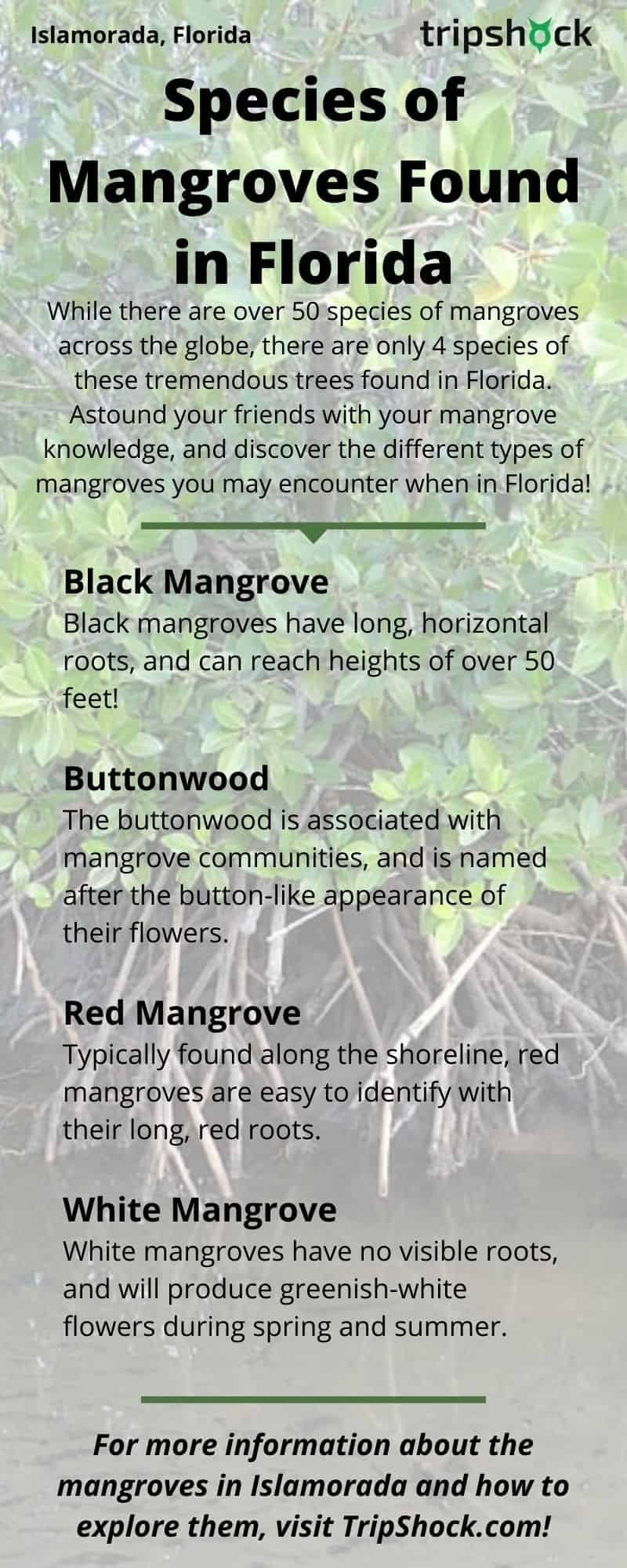 Best Ways to Explore the Mangroves of Islamorada
Now that you know all about the mangroves and their importance to the local environment, heritage, and culture, it's time to get out there and see these beauties for yourself! Luckily, Islamorada has plenty of options for every type of explorer, so finding the best mangrove excursion for you and your group is easier than ever. Check out the 5 best ways to explore the mangroves of Islamorada below, and experience this natural wonder for yourself.
Kayak Rentals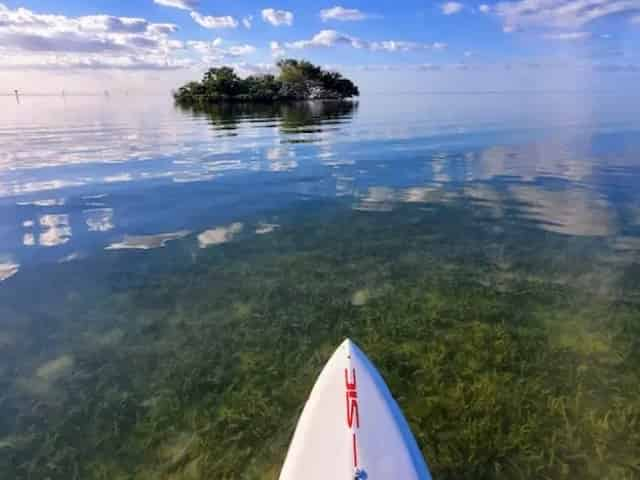 A kayak treading through tranquil waters in search of majestic mangroves and wonderful wildlife
Boat rentals in the Florida Keys are one of the best ways to explore the many scenic locations. While pontoons may be too big for the mangroves, there are smaller, more intimate watercraft that are perfect for navigating this area. Renting a kayak in Islamorada, FL is one of the best ways to explore the mangroves, and truly take in your peaceful and picturesque surroundings. Take it slow, paddle through the groves, and discover what "island time" is truly about. And as if traveling through tunnels of trees and scenic beauty wasn't enough, you may even encounter the likes of one of these majestic creatures:
Manatees
Sea turtles
Tropical Fish
Seabirds
And MORE!
The great thing about Islamorada, is that you never know what spectacular surprises lie ahead. Kayak rentals are a great way to find these hidden treasures, which can include anything from swimming holes with a rope swing, to a pretty and private lagoon. Not only that, since you'll be traveling through protected waters, renters can expect clear visibility and smooth sailing!
Paddleboard Tours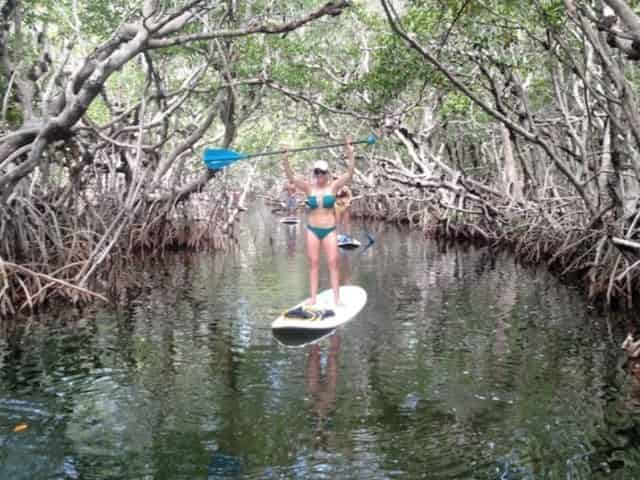 Group enjoys scenic views on a guided paddleboard tour through the mangroves of Islamorada
If a peaceful paddle through the incredible Islamorada waterways is what you're looking for, then joining in on an unforgettable paddleboard tour may be just what the doctor ordered! Paddleboard tours are when multiple people or groups will rent their own paddleboard, and follow a fun, local, and informed guide through the canals, enjoying narration along the way. This is a great way to get out on the water, while learning about the local history, culture, and ecosystem.
Paddleboarding does require a bit of upper body strength and balance, making this the perfect activity for those wanting to exercise in an enchanting environment. You don't have to be the pinnacle of fitness, however, to enjoy a paddleboard tour. Paddleboard tours are great for both the novice and the expert, and gives participants an up close-and-personal experience with the mangroves of Islamorada, the local wildlife, and an overall amazing environment.
Guided Eco-Tours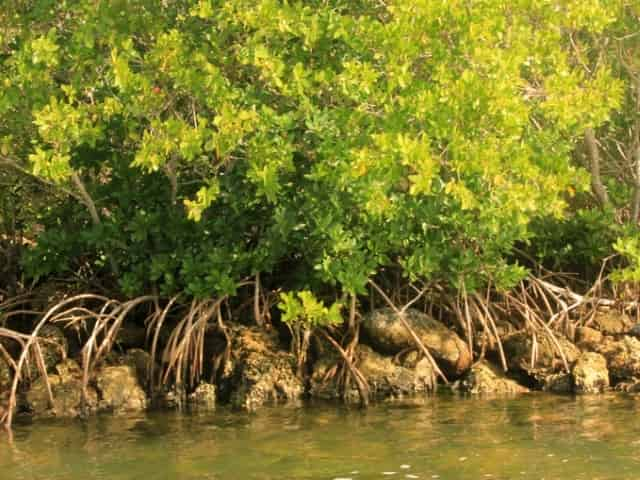 Pictured above are beautiful mangroves spotted on an unforgettable guided eco-tour with Wild Dolphin Tours
Guided eco-tours are another great option when it comes to exploring the mangroves of Islamorada. Guided eco-tours come in all shapes and sizes, meaning there is a tour to accommodate any traveler, all ages and interests included. Below are a few of the popular guided eco-tours in Islamorada that get you out on the water and in touch with nature:
Mangroves and Manatees Eco-Tour
Islamorada Sandbar Tour
Alligator Reef Snorkel Tour
As opposed to booking a rental, Islamorada guided eco-tours come equipped with a knowledgeable guide who will lead you to the must-see spots, filling you in on all the local scoop along the way. This takes the stress out of navigating unfamiliar waters on your own, while providing reassurance you're experiencing the best that Islamorada has to offer!
By Foot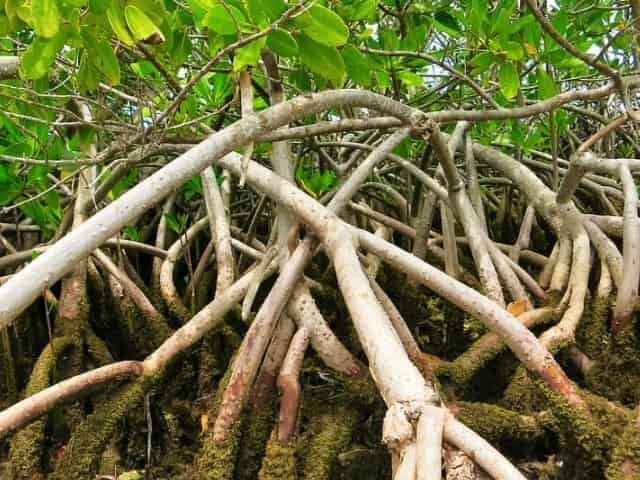 Just a few of the many massive mangroves found at Windley Key Fossil Reef Geological State Park
While guided tours are a fun and convenient way to explore the mangroves of Islamorada, FL, sometimes one must venture out on a self-guided tour to get the true wilderness experience! Windley Key Fossil Reef Geological State Park in Islamorada is the perfect place to do this, as it combines history, stunning scenic beauty, and an array of rare and unique wildlife species. At the park, visitors are able to walk along 8-foot-tall quarry walls to see sections of a coral reef that were formed over 125,000 years ago!
While visitors may travel to Windley Key for its historical significance, they definitely stay for the natural beauty! A 1.5-mile trail through tropical hardwood hammocks makes for a scenic self-guided tour showcasing over 40 species of flora native to the Florida Keys, including the marvelous mangroves. Not only that, the park is home to a ton of amazing animals like tropical birds, iguanas, deer, and more. A trip to Windley Key should definitely be added to your Islamorada vacation bucket list!
Day Trips and Excursions
Kayaking through John Pennekamp Coral Reef State Park yields incredible views of mangroves, like the one pictured above. Image from Wikimedia
If you've already explored the mangroves of Islamorada, or are just wanting to explore other mangrove forests in the Florida Keys, you may want to consider taking a day trip/excursion to a neighboring island. Mangroves take up over 1,800 miles of shoreline within the Florida Keys National Marine Sanctuary, meaning there are plenty of nearby mangrove forests that are sure to mesmerize! Check out these popular parks and trails near Islamorada, FL, that are known to provide magnificent views of mangroves, wildlife, natural beauty, and so much more:
Long Key State Park: Long Key State Park is located about 15 miles away from Islamorada, and is known for its beautiful beaches, bird watching trails, and gorgeous mangroves! This is a great place for a picnic, snorkeling, hiking, bird watching, and truly reconnecting with nature.
John Pennekamp Coral Reef State Park: John Pennekamp Coral Reef State Park was the first undersea park in the country, established in 1963. This park consists of approximately 178 nautical square miles of seagrass beds, coral reefs, and mangrove swamps. Located about 20 miles away in Key Largo, visitors can expect tropical vegetation, amazing wildlife, colorful coral formations, and so much more!
Bahia Honda State Park: Bahia Honda State Park is a little bit farther south, located about 45 miles away from Islamorada. The trip, however, is definitely worth it once you gaze upon the crystal-clear waters, luscious mangrove forests, and scenic beauty as far as the eye can see! Some of the top activities at Bahia Honda State Park include birding, boating, fishing, hiking, paddling, scuba diving, snorkeling, and swimming.
Little Hamaca Park: Even farther south in Key West, about 80 miles from Islamorada, lies the luscious Little Hamaca Park. This is one of the few nature trails in Key West, boasting a boardwalk that winds through a beautiful mangrove forest. This is the perfect place to immerse yourself in nature, unwind, and enjoy the fabulous flora and fauna that inhabits beautiful Key West, FL!
---
As you can see, there is truly no wrong way to explore the mangroves of Islamorada, FL, all that matters is that you do! Whether you want to explore at your own pace on a self-guided tour by foot, or sit back, relax, and hop aboard a comfortable guided eco-tour, there's an excursion to accommodate every type of traveler. Explore the fabulous Florida mangroves of Islamorada, and truly reconnect with nature on your next trip to the Keys!
Islamorada News
Keeping you informed
Be in the know!
be informed about our latest offers
You can unsubscribe at any time