Complete Guide to Downtown Mobile, Alabama 2020
Suzanne Bratton
August 4th 2020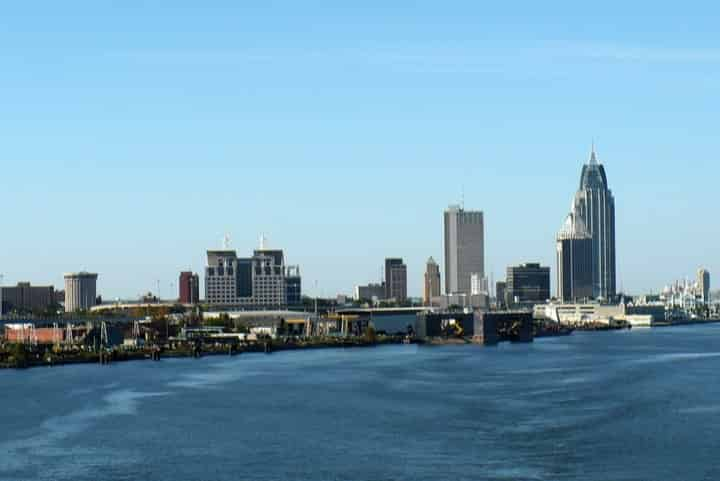 A cultural epicenter, Mobile, Alabama, is known for its diversity, rich history, and having a deep appreciation for the arts. Mobile is also Alabama's oldest city, and home to 113 properties and districts listed on the National Register of Historic Places, including 4 National Historic Landmarks. History-buffs will be swept away with the amount of history there is to consume in this bayside city.h
But that's not all this South Alabama town is known for! Amazing annual events, savory seafood and soul food, a nightlife like no other, luxurious lodging, and a wide variety of fun things to do attract thousands of visitors to downtown Mobile, Alabama, year after year. Keep reading for the Complete Guide to Downtown Mobile, Alabama 2020, and learn all there is to know about this historic city on the Gulf!
Table of Contents
Dining
Nightlife

Bars, Pubs, and Clubs
Concerts and Shows

Things to Do

City Tours
Cemetery Tours
Museums and Galleries

Lodging
Events

The Mobile International Festival
MoonPie Over Mobile
Mobile Mardi Gras
Discover the top tours, attractions, and things to do in Mobile, AL, at TripShock.com.
---
Dining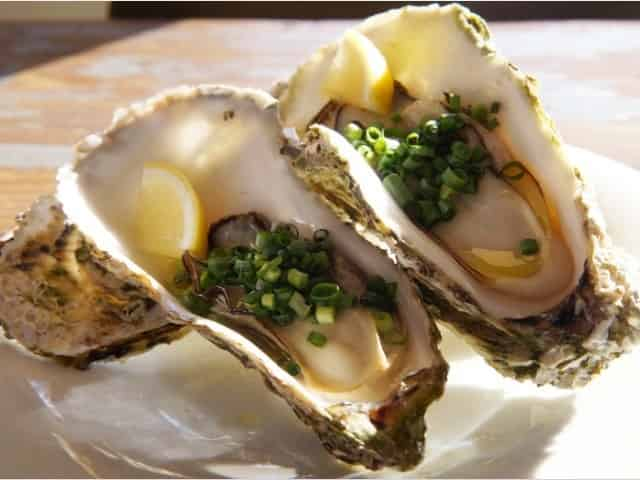 Since Mobile is known for fresh seafood, you will want to be sure to add oysters from Wintzell's Oyster House to your Mobile vacation checklist
When it comes to good eats, downtown Mobile has it down pat! The city's geographical location and culinary diversity makes it a hub for hungry travelers. Its close proximity to Mobile Bay and the Gulf of Mexico make it a seafood sanctuary, boasting fresh fish, shrimp, oysters, scallops, and more!
Neighboring NOLA to the west brings a cajun influence with spicy and flavorful dishes like gumbo and shrimp and grits found on most downtown Mobile, AL, menus. If that doesn't tantalize your taste buds enough, its southern roots make for delicious home cooking and soul food.
With so many tasty eateries around every corner, you may be feeling overwhelmed by the sheer amount of options. Have no fear! We've put together a list of some of our favorite places to go for breakfast, lunch, and dinner, to make choosing a place to appease your appetite quick and painless!
Breakfast
Spot of Tea
310 Dauphin Street, Mobile, AL 36602
251-433-9009
Bob's Downtown Diner
263 St. Francis Street, Mobile, AL 36602
251-405-1497
Lunch
Moe's Original BBQ
701 Spring Hill Avenue, Mobile, AL 36602
251-410-7427
LoDa Bier Garten
251 Dauphin Street, Mobile, AL 36602
251-287-6871
The Noble South
203 Dauphin Street, Mobile, AL 36602
251-690-6824
Dinner
Wintzell's Oyster House
605 Dauphin Street, Mobile, AL 36602
251-432-4605
Dauphin's
107 St. Francis Street, Mobile, AL 36602
251-444-0200
Noja Fine Dining
6 N. Jackson Street, Mobile, AL 36602
251-433-0377
Nightlife
Once you've had your fill of the local flavor, it's time to head out for a night on the town! Downtown Mobile, Alabama definitely knows how to live it up once the sun goes down, and has a venue for all types of party people. Whether you want to get dressed up and catch a show, or show off your showstopping moves on the dance floor, the entertainment is practically endless in downtown Mobile!
Bars, Pubs, and Clubs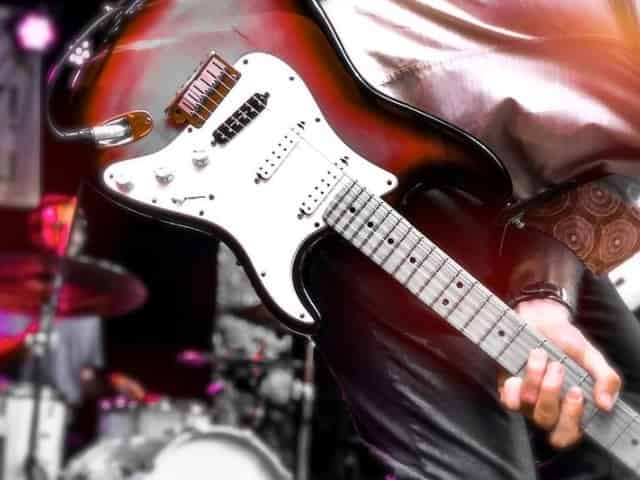 Live music is around every corner when exploring the bars, pubs, and clubs in downtown Mobile, Alabama
Watering holes and dance floors practically line the streets of downtown Mobile, and they most definitely are each uniquely their own! Dauphin Street is the place to be when it comes to late night shenanigans, as most places will stay open past 2:00am. Not only that, Dauphin Street allows patrons to peruse the streets and hop from bar to bar with drink in hand. Some of the top bars, pubs, and clubs in downtown Mobile, AL, include:
O'Daly's Irish Pub
OK Bicycle Shop
Veet's Bar
Wet Willie's
Concerts and Shows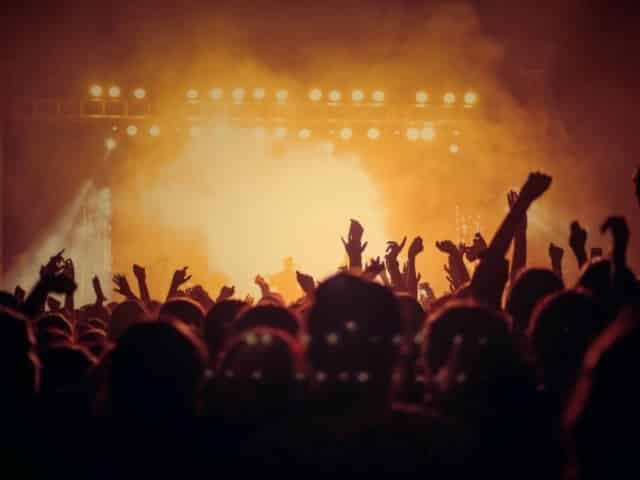 From pop superstars to prima ballerinas, Mobile, AL, has a concert or show for every type of art enthusiast
If you're looking for less bar hopping, and more showstopping, downtown Mobile, Alabama has you covered there, as well. Mobile is known far and wide for attracting some of the top regional and national performing artists! Some of the famous bands to play their way through Mobile include Counting Crows, Alabama Shakes, and Seether.
On the opposite end of the spectrum, Mobile has also been known to host other spectacular forms of performing arts. From the opera, to Broadway musicals, to ballet, and everything else in between, Mobile is the apex of fine arts in South Alabama. When looking for the best concerts and shows in downtown Mobile, be sure to check with one of these amazing local venues:
Mobile Civic Center
Saenger Theatre Mobile
Soul Kitchen Music Hall
Things to Do
If you're wondering what else there is to do in downtown Mobile, Alabama… don't worry, there's plenty! The area's historically significant past, cultural diversity, captivating landscapes, and astounding architecture makes for a plethora of fun and interesting things to do. Bring home memories that will last a lifetime when you experience one, or all, of the top things to do in downtown Mobile, AL, listed below!
City Tours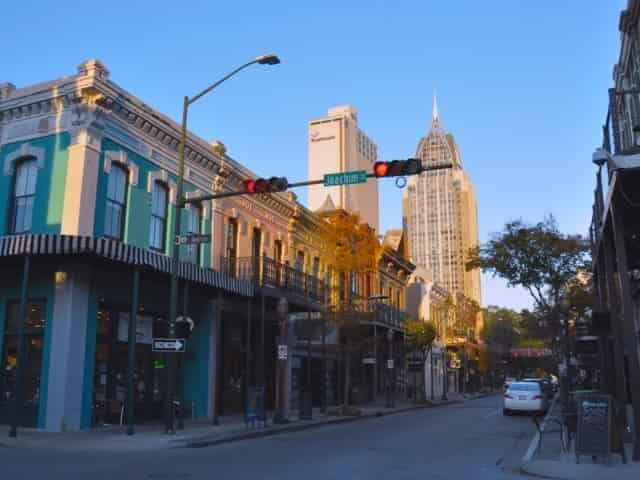 Image of downtown Mobile, Alabama by faungg via Flickr
City tours through Mobile, AL, are a great way to immerse yourself into the culture and history of this eclectic city. City tours are also a great way to ensure you're seeing the best of what Mobile has to offer, as you're being led by a local, friendly, and knowledgeable tour guide. While the sights you see will vary depending on both the tour and the guide, city tours will typically highlight the following areas and landmarks:
Bienville Square
Spanish Plaza
Antebellum mansions
Spring Hill District
And that's just to name a few! Another great thing about city tours is that they come in all shapes and sizes. If you're wanting to walk through Historic Mobile, or take a shuttle to the Eastern Shore of Mobile Bay, there's a tour to accommodate every type of traveler!
Cemetery Tours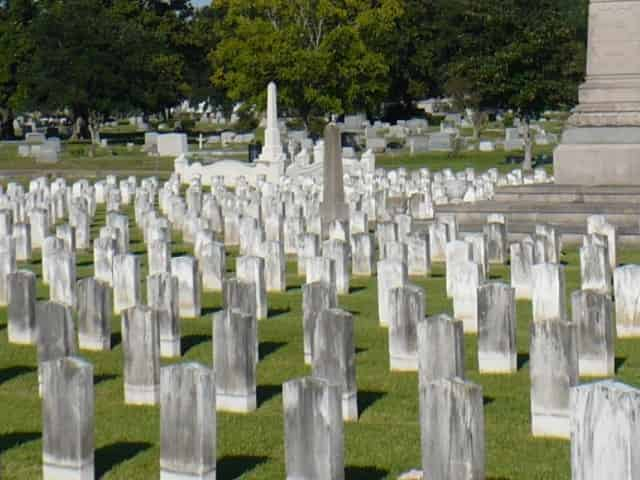 Cemetery tours with L. Craig Roberts Architect are a great way to see historic Mobile cemeteries, like the one pictured above
As the story goes, where there's history, there's hauntings, and many believe that saying holds true in Mobile, Alabama. This centuries-old city is home to a few allegedly haunted cemeteries, making cemetery tours a must for seekers of the supernatural. While the cemeteries you will visit on a cemetery tour in historic Mobile, will vary depending on the tour guide and the tour provider, below are a few of the most haunted and historically significant cemeteries near downtown Mobile, Alabama:
Church Street Graveyard: Established in 1819, Church Street Graveyard is one of the oldest cemeteries in Mobile, as well as the final resting place of local legend, Joe Cain. Joe Cain was credited with reviving Mardi Gras in Mobile after the Civil War. Not only that, it has been touted as one of the state's most haunted cemeteries.
Catholic Cemetery: This cemetery is listed on the National Register of Historic Places, and was established in 1848 by the first Roman Catholic bishop of Mobile, Michael Portier. This 150-acre cemetery also has areas for the Brothers of Sacred Heart, Little Sisters of the Poor, Sisters of Mercy, and Daughters of Charity.
Magnolia Cemetery: Magnolia Cemetery is known for having some of the most grandiose graveyards in the south. Built in 1836 on 36 acres of land, Magnolia Cemetery is now 120-acres, and includes over 80,000 burials.
Museums and Galleries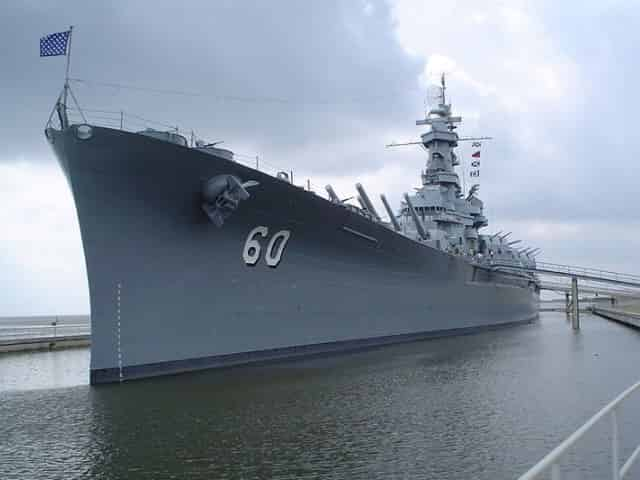 Image of the USS Alabama, one of the top museums in the area, by Ben Jacobson via Wikimedia
As previously mentioned, Mobile is known for its love of history and the arts. With that being said, it should come as no surprise that a trip to a museum is one of the top things to do in downtown Mobile, Alabama. There are so many galleries and museums in the area, reflecting the rich art, culture, and history of Mobile. Below are a few of the top Mobile museums and galleries for your entertainment pleasure:
Lodging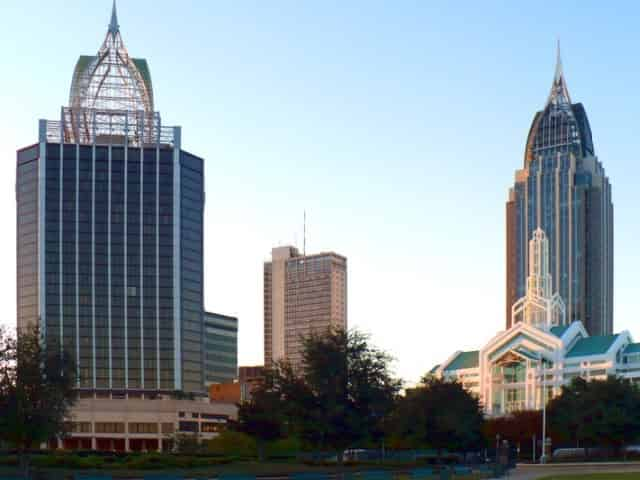 Pictured above is the Renaissance Mobile Riverview Plaza Hotel, a great place to stay in downtown Mobile, Alabama
Another great thing about staying in downtown Mobile, AL, is that you don't have to break the bank to experience some amazing accommodations. Most lodging in downtown will typically have a historic aspect to it, as well, so you can truly immerse yourself in the local culture. Below are a few of the top places to stay in the area for a true Mobile experience:
The Battle House Renaissance Mobile Hotel & Spa
26 N. Royal Street, Mobile, AL 36602
251-338-2000
The Admiral Hotel Mobile, Curio Collection by Hilton
251 Government Street, Mobile, AL 36602
251-432-8000
Malaga Inn
359 Church Street, Mobile, AL 36602
251-438-4701
Renaissance Mobile Riverview Plaza Hotel
64 S. Water Street, Mobile, AL 36602
251-438-4000
Fort Condé Inn
165 St. Emanuel Street, Mobile, AL 36602
251-405-5040
Events
Sometimes, the best things to do in downtown Mobile, Alabama, simply depend on the time of year that you visit. Mobile is known far and wide for hosting family-friendly events throughout the year that the whole crew will love. Check out these top Mobile events that attract thousands of visitors to this bayside retreat, year after year:
The Mobile International Festival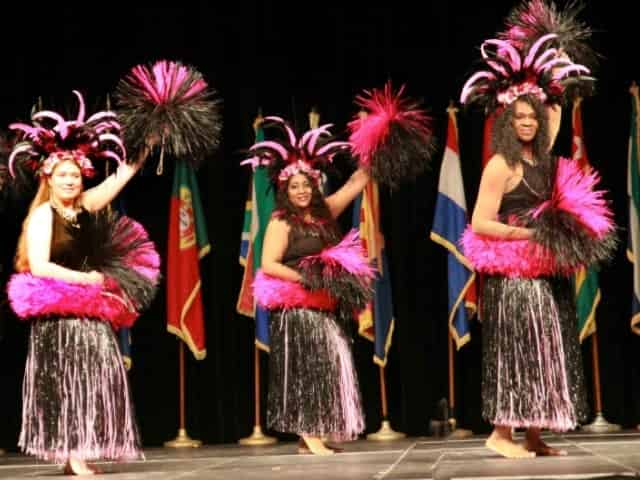 A fun and festive performance at the Mobile International Festival. Image courtesy of https://mobileinternationalfestival.org/
The longest running festival on the Gulf Coast, the Mobile International Festival allows those in attendance to feel as if they've traveled the world, experiencing all of the amazing cultures and traditions along the way. Over 70 countries are represented at this event, and those in attendance will get to try delicious food, enjoy international music, and learn about history, art, geography, and more!
Taking place every year in November, this event has been known to bring the community together, and have a positive impact on the area. According to their website, their main mission is to, "promote understanding, acceptance, friendship, and to showcase appreciation of the rich diversity of our world's cultures." Different countries represented at this spectacular event include:
India
Japan
Brazil
Canada
Costa Rica
And MORE!
MoonPie Over Mobile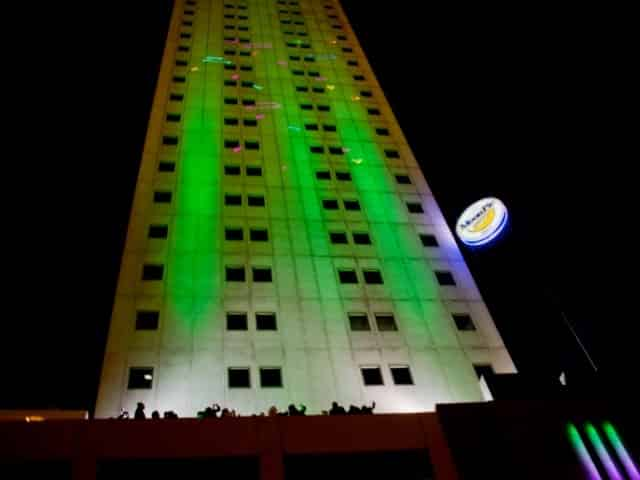 Crowd watches patiently as the clock approaches midnight, waiting for the New Years' MoonPie to drop! Image courtesy of Mobile New Year
When the moon hits your eye like a big pizza pie, it could either be because you're listening to the soothing sounds of Dean Martin's music, or because it's New Years Eve in downtown Mobile, Alabama! MoonPie Over Mobile is Mobile's version of watching the ball drop, but instead of a ball, it's a giant MoonPie! Thousands of people will gather downtown and countdown to midnight to ring in the new year, as a 600-pound MoonPie descends on the city.
MoonPies are a symbol of carnival season in Mobile, as they are one of the most popular and coveted parade throws! The MoonPie tradition dates back to the 40s and 50s. Float organizers used to throw Cracker Jack boxes into the crowd, but due to liability reasons, wanted to throw something softer instead. And you guessed it! MoonPies made the cut, and the rest is history!
NYE in Mobile is much more than just watching the MoonPie drop at midnight, however. Downtown becomes a lively party, where those in attendance can enjoy music, live entertainment, fireworks, a parade, and more! Festivities will normally start around 8:00pm, and for more information, click here.
Mobile Mardi Gras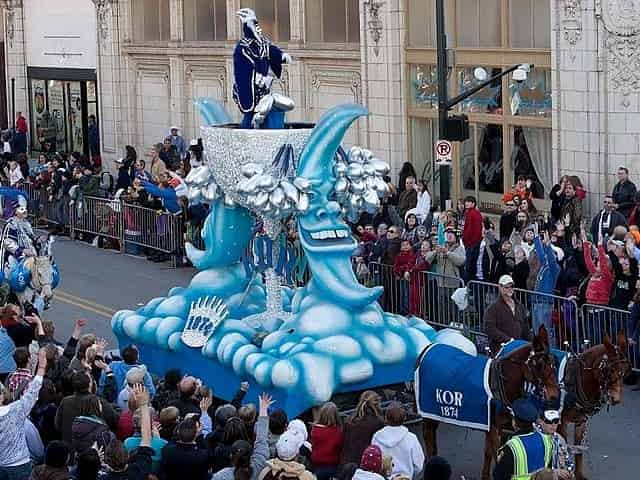 Image of a Mardi Gras parade rolling through downtown Mobile, Alabama, courtesy of Wikimedia
February marks the beginning of carnival season, and for weeks visitors to the area will see the downtown streets come alive in the form of floats, fun, music, and shenanigans! Similar to the Mardi Gras you know and love in New Orleans, the celebration in Mobile also symbolizes the fun and feasting that takes place before fasting and Lent begins. The Mobile version is more kid-friendly than its New Orleans counterpart, so families are encouraged to attend. Check out these fun facts about Mardi Gras in Mobile, and be prepared to impress your friends with your Mobile Mardi Gras knowledge: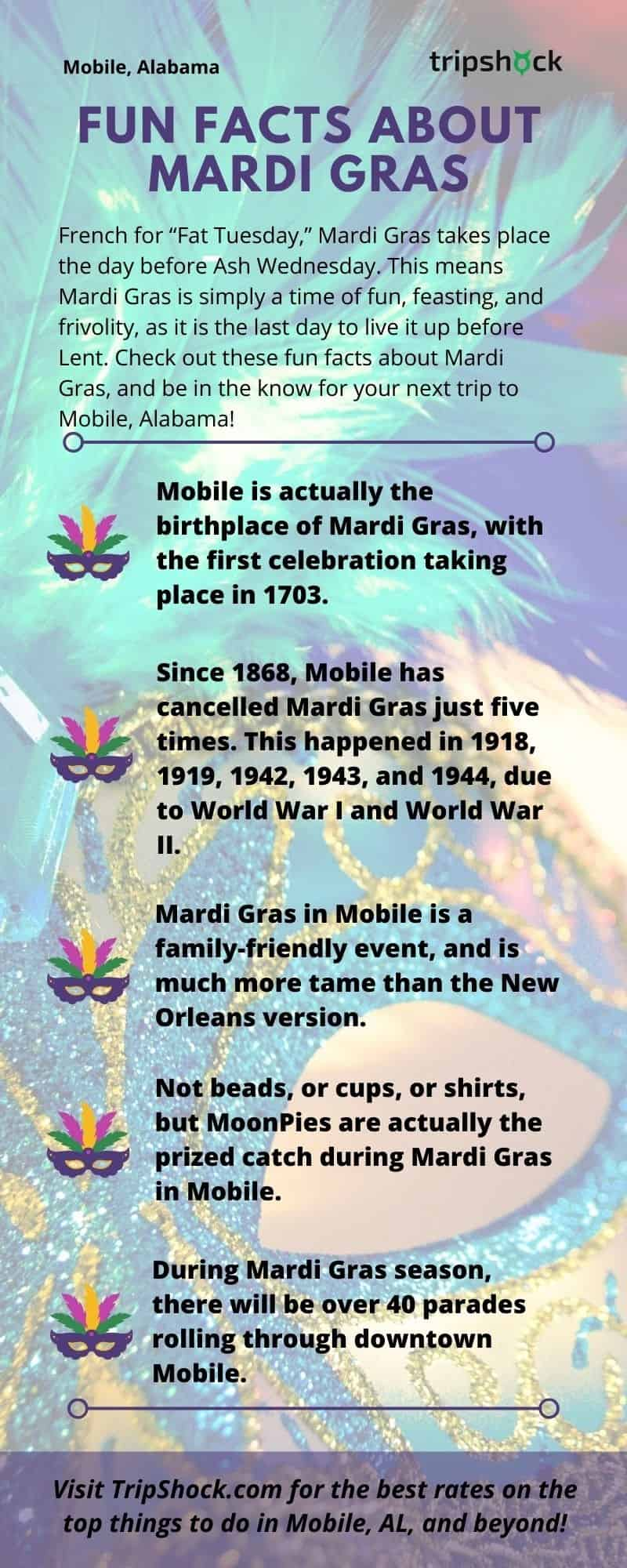 Mobile's Mardi Gras festivities begin in mid-February, and last through the Tuesday before Ash Wednesday. One thing is for sure, you will want to catch multiple parades. This is a simple task, as the week leading up to Ash Wednesday there will be up to 10 parades a day! Catch your fill of beads, coins, and MoonPies, and make this Mardi Gras experience both unique and unforgettable!
---
As you can see, there are a ton of amazing things to do in downtown Mobile, Alabama! From haunted cemetery tours, to visiting museums full of art and history, to experiencing the town that brought Mardi Gras to life, there are plenty of reasons to visit this historic and culturally profound city. Whatever you decide to do during your stay in downtown Mobile, rest assured that you're in store for a magical and memorable vacation!
Mobile News
Keeping you informed
Be in the know!
be informed about our latest offers
You can unsubscribe at any time