Fort Myers, FL-Ultimate Family Christmas Vacation Ideas
December 11th 2021
Jeannelle Douglas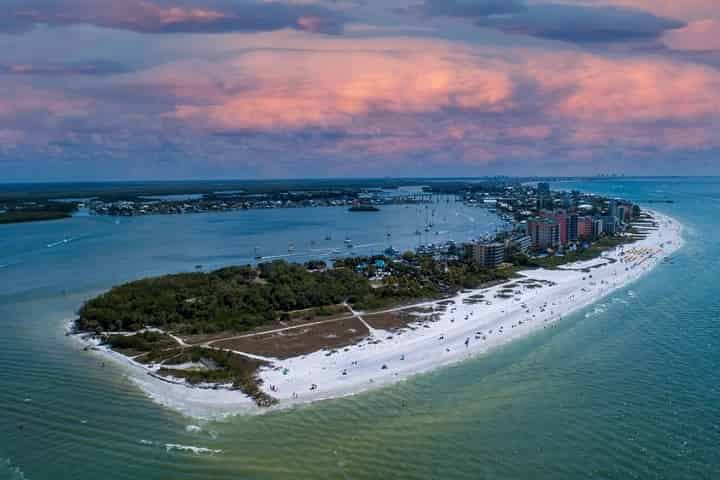 The holidays are a lovely time to visit Fort Myers. You finally get a break from the summer heat and the holiday spirit fills the air. This is the perfect time to get out and explore the area. Fort Myers doesn't hold back when it comes to providing fun things to do to celebrate the holiday season. TripShock has put together recommendations for the
ultimate family Christmas vacation ideas
in Fort Myers to make planning your tropical trip as easy as possible.
Table of Contents
Kayak Tour
Sunset Cruise
Christmas Festivals
Shopping
Christmas Boat Parade
Burroughs Home & Gardens
Edison & Ford Winter Estates
---
Kayak Tour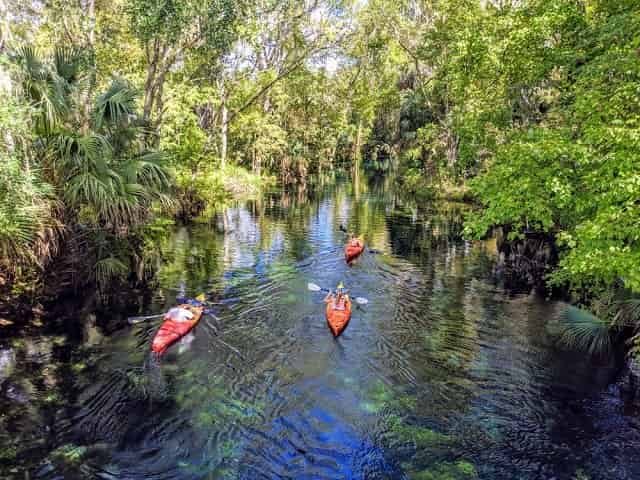 Pictured above is a group kayaking through the waters
A kayak tour is a great way to see the natural beauty Southwest Florida has to offer. Venture out on the water and take in the sights of dolphins, manatees, and other wildlife. There are a variety of kayak tours offered in Fort Myers. Tours like the Guided Mangroves Kayak Eco Tour offer a leisure and intimate kayak experience for everyone to enjoy. Enjoy learning about this exceptional ecosystem that's brimming with large marine animals, rare plants, and the most majestic birdlife in the country.
Read Reviews & Book Fort Myers Kayak Tours Online
Sunset Cruise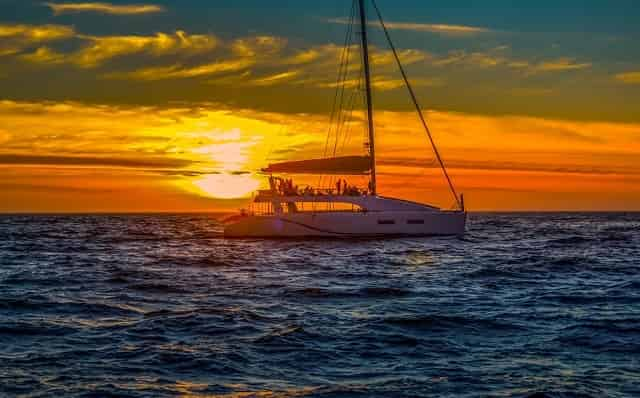 Pictured above is a yacht sailing under a beautiful sunset
Grab the family and head out on an angelic sunset cruise. Unwind from your day of activities and experience the mind-blowing colors of the Southwest Florida sunset as it reflects off the shimmering waters. The options are endless when it comes to experiencing a cruise in Fort Myers. Cruises like the Private River Safari Cruise are perfect for up to a group of six. View the Edison & Ford Winter Estate from the water while experiencing the sights and sounds of Southwest Florida's nature.
Read Reviews & Book Fort Myers Cruises Online
Christmas Festivals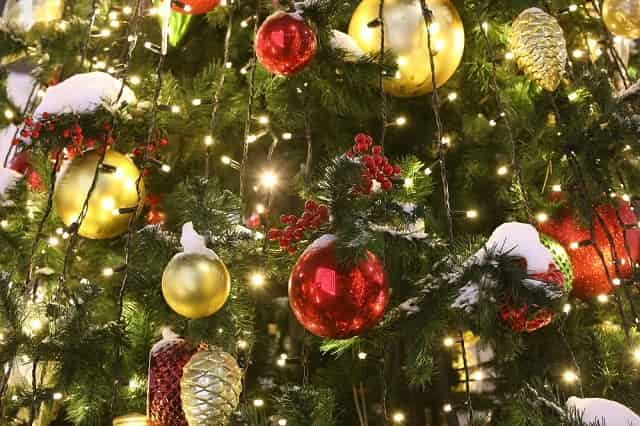 Gorgeous trees are decorated by local businesses to raise money for Goodwill of Southwest Florida
Christmas festivals are among the ultimate family Christmas vacation ideas. It's easy to find these festivals sprawled throughout Fort Myers and the surrounding areas. The Festival of Trees is an annual event held at the Sidney and Berne Davis Art Center where you will view tons of extravagantly decorated trees.
You can also purchase raffle tickets for a chance to win your favorite tree. Another amazing Christmas festival is held at Springtime Plant Farm where you will find 30 beautifully decorated trees. Experience fun family activities like a Christmas maze, steer roping, pedal karts, and more.
Shopping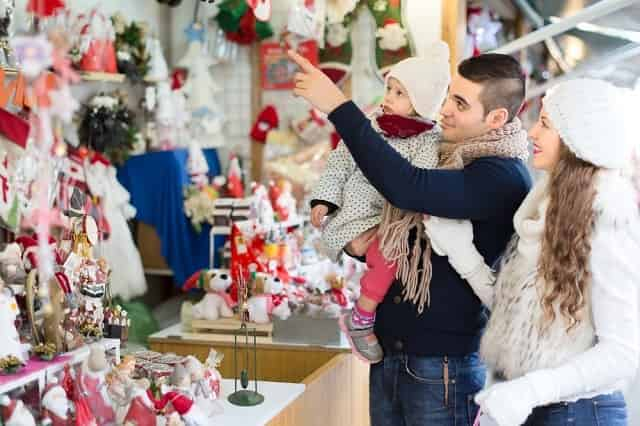 Miromar Outlets is an open-air shopping center featuring timeless European architecture, fountains, shaded walkways, and more
Shopping is an exciting activity for many throughout the year, but it's even more thrilling during the holidays. While you're on a shopping adventure, stop by Miromar Outlets which features more than 160 designer brand stores. It's always fun to shop here, but there's an added twist during Christmas with colorful decorations, live entertainment, and meet-and-greets with Santa.
If you're looking for unique decor and ornaments, stop by The Shell Factory–a 4,000 square foot Christmas House open year-round. Not only does the Shell Factory carry tons of Christmas items, but you will also find plenty of jewelry, clothing, and art that the whole family will love.
Christmas Boat Parade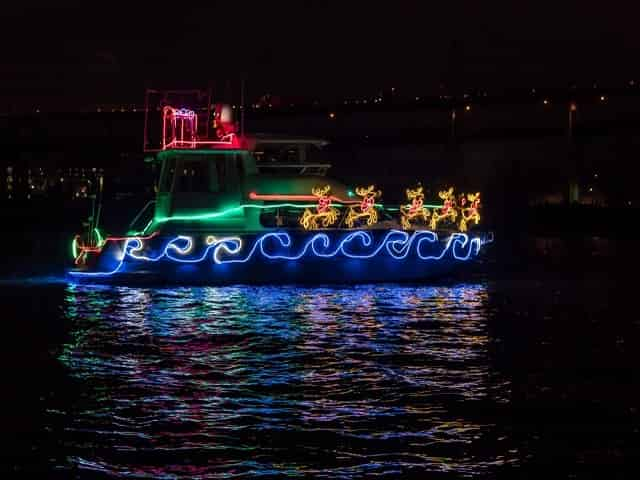 Fort Myers Beach Christmas Boat Parade was voted the 5th Best Holiday Parade in a USA Today 10BEST poll
The holiday spirit is at an all-time high when you experience the enchanting sight of decorated boats sailing along the water. Boaters in the Fort Myers area don their vessels for Christmas parades while spectators congregate onshore. Choose a viewing point from any of the many restaurants and bars along the route to enjoy an unforgettable evening full of entertainment and fun. The Christmas Boat Parade embarks from Salty Sam's Marina.
Burroughs Home & Gardens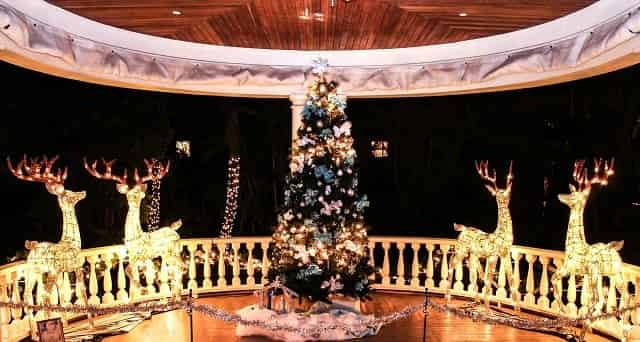 The Burroughs Home was the first year-round luxury home in Fort Myers. Image courtesy of burroughshome.com.
Burroughs Home & Gardens is the perfect holiday stop for all ages. Travel back in time and learn interesting facts about the Burroughs family as well as many notable Americans such as Thomas Edison, Harvey Firestone, and Henry Ford. As the only home of its time still standing in its original location, this Georgian Revival-style mansion was the site of many elite parties.
The mansion still remains authentic to the early 1900s with scores of original furnishings. While you're there, stroll by the lush gardens or lounge in the rocking chair situated on the verandah while watching the river glide by. The Burroughs and Langford-Kingston homes are beautifully decorated for Christmas every December. See glorious holiday-themed decor including thousands of glistening lights, ribbons for miles, and other traditional decor.
Edison & Ford Winter Estates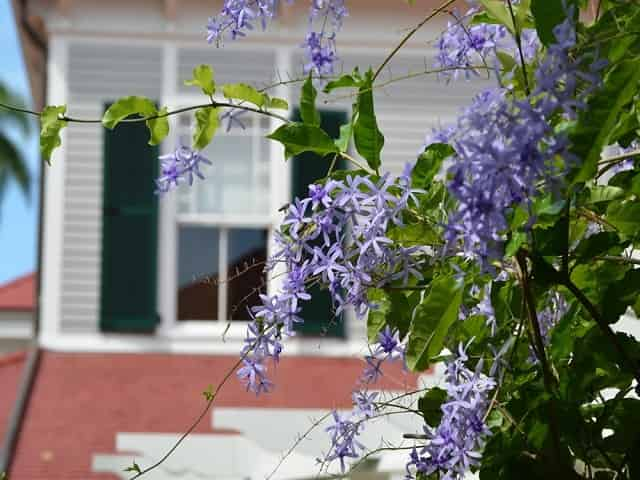 The Estates has a 21-acre botanical garden on the neighboring sites of the Thomas Edison and Henry Ford winter homes
As one of the most popular attractions in Fort Myers, the Edison & Ford Winter Estates features holiday night themes that rotate each year. The historic homes are decorated from top to bottom with thousands of shimmering lights and unique decorations. The property also showcases animated lights that are choreographed to Christmas music. You will also see a Children's Tree Trail that displays handmade ornaments from local students. You can take a guided tour or venture off on your own.
Be in the know!
Be informed about our latest offers
You can unsubscribe at any time