Key West Jet Ski Tour Coupons 2020 - Best Jet Ski Discounts
Mike Fisher
June 13th 2020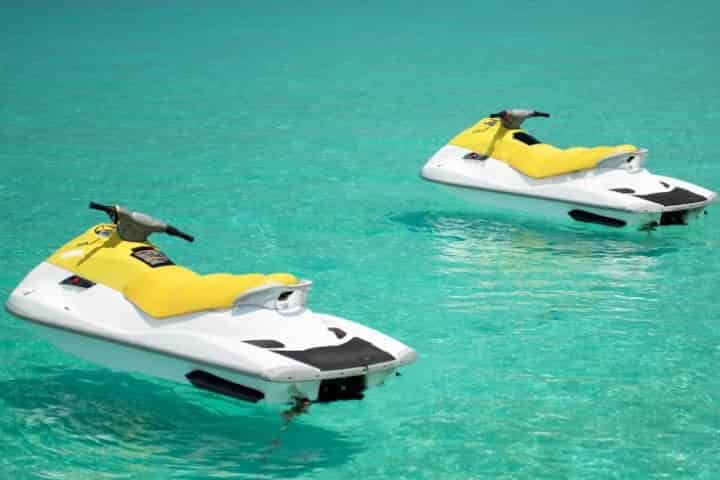 Cruising on a jet ski in Key West has never been more affordable; and this is an adventure you don't want to miss out on! With some of the most beautiful water, nature, and wildlife the world has to offer, why not explore Florida Keys beaches and islands in a fun and exciting way?
When you zoom across the water with the smell of salt air, wind in your hair and sun on your face, it is sure to be a memory that will last a lifetime! Discover 2020 Key West jet ski tour coupons to use towards your next wave-running excursion.
Table of Contents
What to Expect on a Key West Jet Ski Tour
Key West Jet Ski Tour Highlights
Key West Jet Ski Tour Coupons
Need Help Booking your Key West Jet Ski Tour?
---
What to Expect on a Key West Jet Ski Tour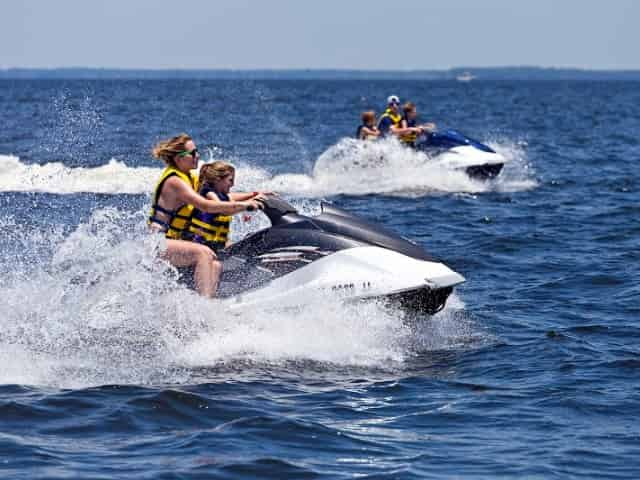 Pictured above is a group enjoying a Key West jet ski tour through Barefoot Billy's
There is so much to do in Key West, Florida, without ever having to leave the mainland. But why stop there? Even more adventures begin where the shoreline ends!
Before you embark on your jet ski adventure, you'll be greeted by entertaining, experienced and knowledgeable guides who will prepare you for your action-packed tour. Tours will travel among the sparkling waters of Key West, many taking you by must-see landmarks with opportunities to swim and experience the beauty of mother nature up-close and personal!
Key West Jet Ski Tour Highlights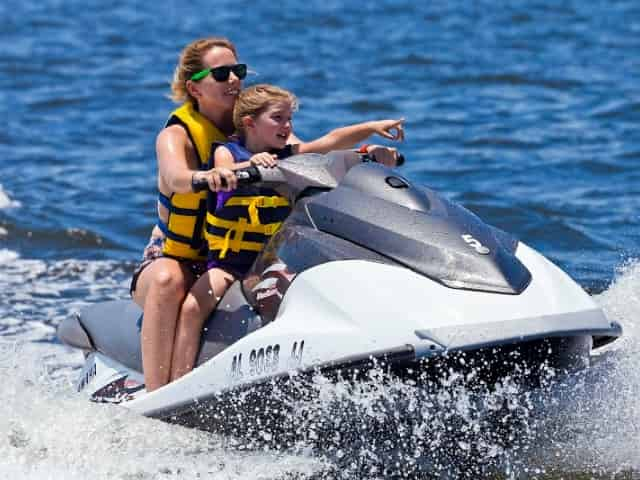 A recent Key West Traveler Story describes their jet ski tour as being fun for the whole family
Relaxing on the beaches is cool and all, but if you really want to get the most out of your trip to the keys, book yourself a jet ski tour. You still get to "jet" across the water and make a splash, but you also get to see famous landmarks that you would typically only see on land.
Be sure to keep an eye out for a brightly painted buoy that sits on land instead of in water. This buoy marks the Southernmost Point in the Continental United States! No lines or crowds, jet ski tours allow you to see this world wonder from the ocean.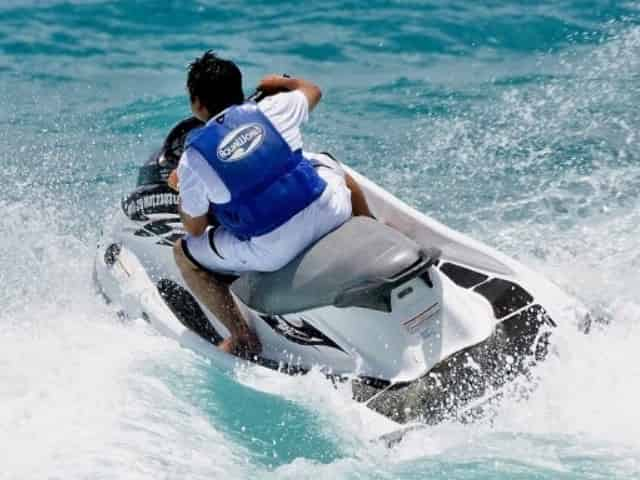 One of the top extreme activities in Key West, FL, jet ski rentals are sure to get the adrenaline pumping
Part of what makes the Florida Keys such a fascinating and interesting place to visit is the abundant natural beauty and wildlife. The Florida Straits barrier reef stretches 170 miles up the coast and is home to many colorful subtropical fish and coral formations.
You will definitely want to keep an eye out for interesting marine life! Also, make sure you are looking out for some of the beautiful birds that call Key West home, such as pelicans, herons, cranes, and more!
Key West Jet Ski Tour Coupons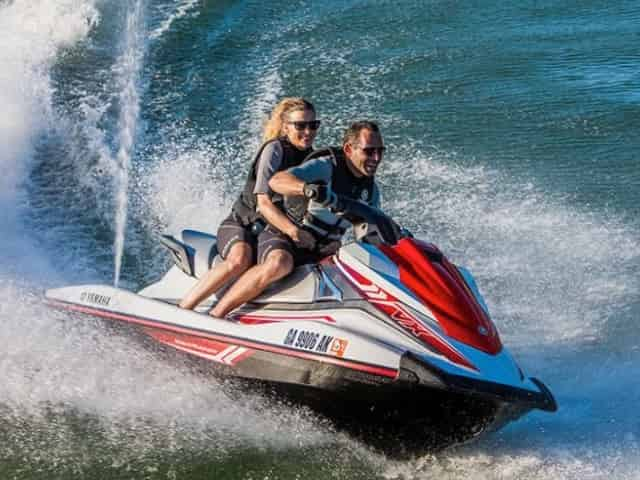 Whether you're on a date, girls' trip, or just looking for some fun in the sun, Key West jet skis have you covered
Ready to hop aboard your jet ski and zip off into the sunset? Luckily, jet ski tours and rentals are now easier than ever to book when buying online! Just follow these simple steps:
Browse the top Jet Ski providers in Key West, FL
Select which activity you are most interested in
Apply any Key West Jet Ski Tour Coupons (Some discounts are automatic and reflected in the strike-through price)
Check out
Receive a text and email with a link to your voucher
The voucher is your ticket, and all you have to do is pull it up on your smart phone or device when you arrive for your tour! No more printing out tickets and carrying paperwork with you everywhere you go. Just make sure you bring a valid photo ID with you.
Need Help Booking your Key West Jet Ski Tour?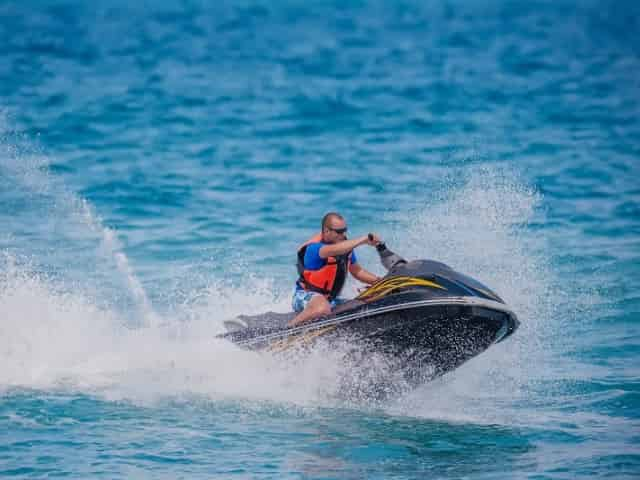 Be aware that if you're in a certain age group, you may need to have a boaters license to operate a jet ski. Most rental companies can assist with this on-site, but for more information on purchasing a license on your own, click here: https://www.boat-ed.com/florida/boating_law/
Reserve your Key West Jet Ski Tour now by booking online! Prefer to book over the phone? Call 850-424-5125 for a live, local agent who will be more than happy to assist with your reservation and help plan your dream vacation! Live assistance is available seven days a week from 7:00a.m. until 7:00p.m. Central Time.
---
Traveling to Miami and want to try fun Key West activities like jet ski tours, deep sea fishing, and sailing excursions? You can experience the Florida Keys with day trips to Key West! Learn more about these day-long excursions by reading our blog detailing a Day Trip to Key West from Miami, FL.
Be in the know!
be informed about our latest offers
You can unsubscribe at any time