5 Kid-Friendly Wildlife Encounters in Panama City Beach, FL
Mike Fisher
February 22nd 2020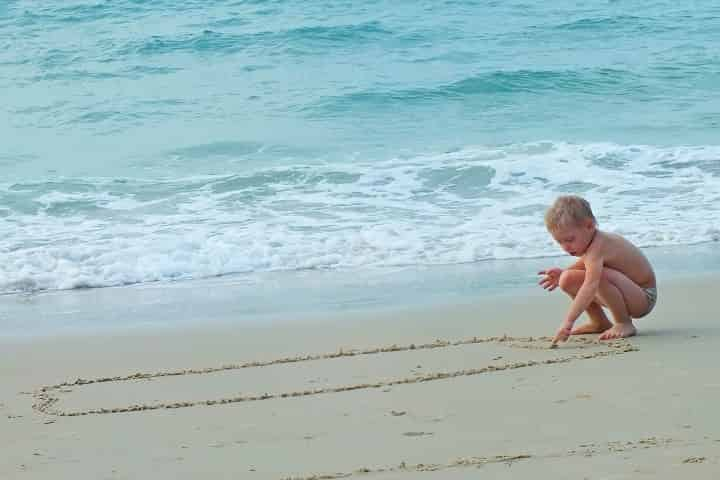 There are few places that bring families closer to marine life than Panama City Beach, Florida! From the sea to the sky, there are plenty of exciting opportunities to interact with wildlife while vacationing in this popular beach town.
The best part about Panama City Beach marine life encounters is that it's an all ages activity! Give children an experience of a lifetime with one of the following 5 kid-friendly wildlife encounters in Panama City Beach, FL!
Table of Contents
Why Go on a Wildlife Encounter in Panama City Beach, FL?

Shell Island
Dazzling Dolphins
Incredible Wildlife
Relaxation

Top Kid-Friendly Wildlife Encounters in Panama City Beach, FL

Gulf World
Shell Island Dolphin Encounters
Family Beach Day
Kid-Friendly Snorkeling
The Pier
---
Why Go on a Wildlife Encounter in Panama City Beach, FL?
Panama City Beach, FL, is part of a region known as the Emerald Coast. The luxurious title comes from the emerald-green waters and white-sand beaches of the Florida panhandle. Rest assured, Panama City Beach has some of the most incredible wildlife and natural beauty in the country, and beyond.
There are tons of things to do on the water in Panama City Beach that combine snorkeling, cruising, marine life, and other water-based activities and attractions, meaning experiencing this natural beauty for yourself is easier and more accessible than ever!
1. Shell Island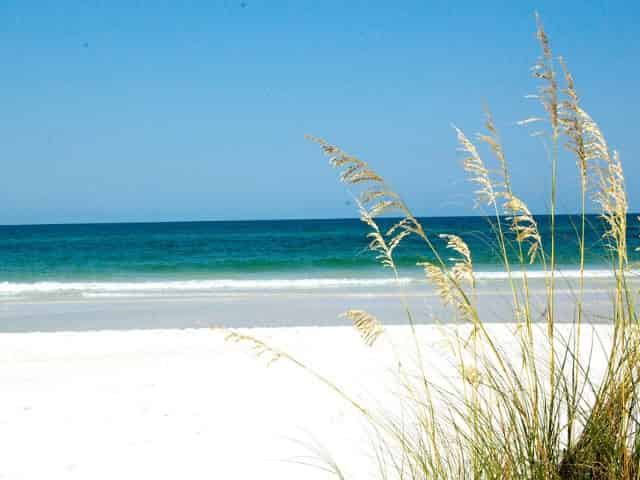 Image of Shell Island by Jerry Bedwell via Flickr
Wildlife encounters in Panama City Beach means many things, including plenty of sunshine, family, and fun. It also means making the trek out to Shell Island to explore the island itself and what lies beneath the waves.
A favorite spot among tourists and locals alike, get an up close and personal look at the day-to-day of coastal wildlife, as well as the rise and fall of the tides. For sure, Shell Island is as good a place as any to take things nice and slow.
2. Dazzling Dolphins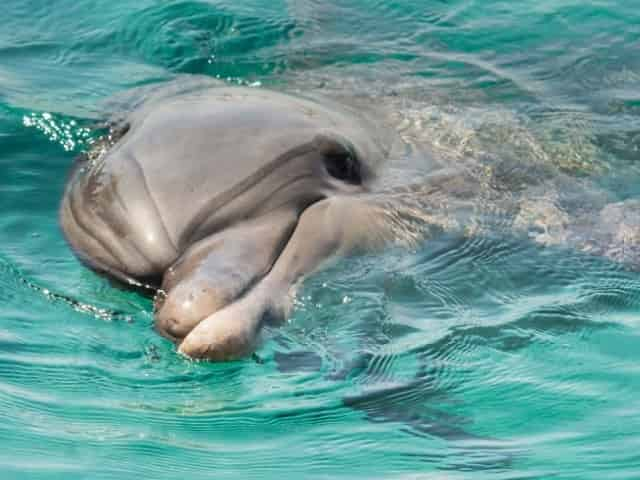 A trip to Panama City Beach is incomplete without seeing the local dolphins
Being able to swim with the dolphins in Panama City Beach is an opportunity of a lifetime and one that you absolutely do not want to miss out on! Spend a morning, afternoon, or both with a crew of professional snorkeling and diving instructors who will seek out Flipper and his friends, and teach you the ins-and-outs of dolphin interaction. One dolphin swim adventure and you will be hooked!
3. Incredible Wildlife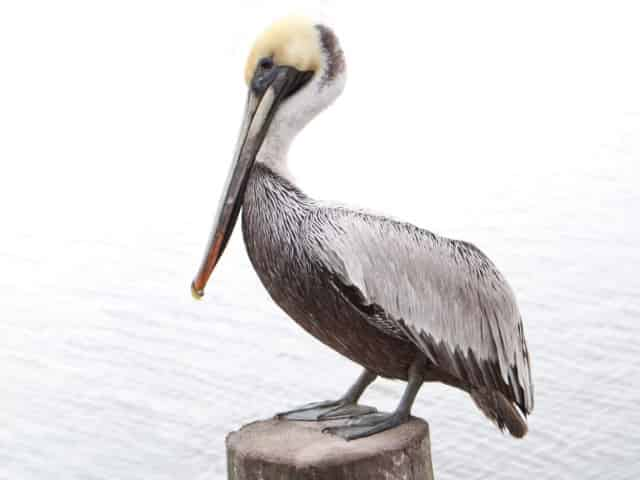 Aside from dolphins, other friendly animals you may encounter include crabs, sea turtles, pelicans, and more
Step right up and see the amazing, incredible, and inspirational marine wildlife of Panama City Beach. In addition to dolphins, wildlife encounters yield amazing animals like sea turtles, and fancy fish such as:
Redfish
Tarpon
Cobia
Speckled trout
Jack Crevalle
And MORE!
Depending on what time of year you come and where you go, you are bound to see a different fish each and every time. Flounder, you say? Yeah, we've got those too!
4. Relaxation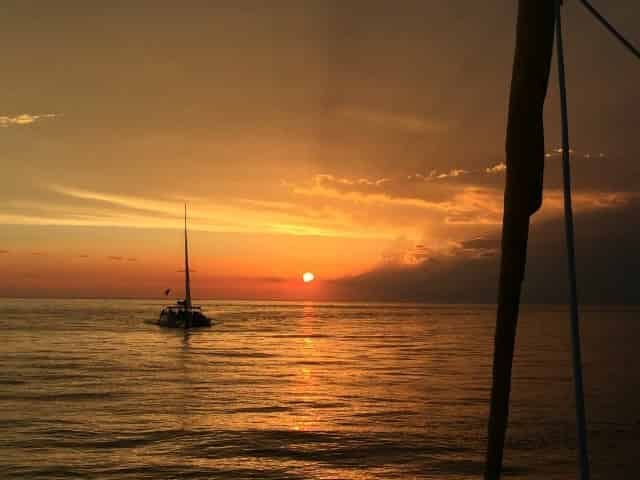 A sunset sail with Paradise Adventures, pictured above, is the perfect wildlife encounter for rest and relaxation
One of the top reasons people love wildlife encounters in Panama City Beach is for the relaxing vibes! There's nothing more peaceful than cruising through the Bay, watching a beautiful sunset, and seeing dolphins and other incredible creatures dancing and playing in their natural habitat.
Top Kid-Friendly Wildlife Encounters in Panama City Beach, FL
If we've got you convinced that exploring Panama City Beach through a wildlife encounter is the way to go, then all that's left to do is to decide which wildlife encounter to take! We've compiled a list of our favorite kid-friendly wildlife encounters, so you and your little ones can become one with nature and meet the amazing creatures that call Panama City Beach home.
Gulf World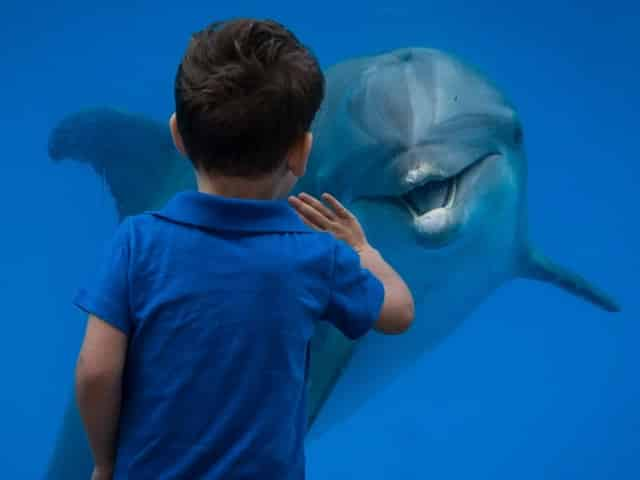 Gulf World Marine Park offers wildlife encounters in a controlled and safe setting, making this a great option for little ones
The most direct way to view and interact with animals in Panama City Beach is by spending a day at Gulf World! This marine park and aquarium plays host to dozens of both native and exotic animal species such as:
Dolphins
Sea lions
Alligators
Stingrays
Sharks
Penguins
and MORE!
The Stingray Bay petting pool is open all day, and with plenty of things to do both inside and outside, Gulf World makes for a perfect rainy day family activity in Panama City Beach. Concerts and even more special events take place at Gulf World year round, and plenty of combination ticket packages are available to save money on the many things to do at the marine park!
Shell Island Dolphin Encounters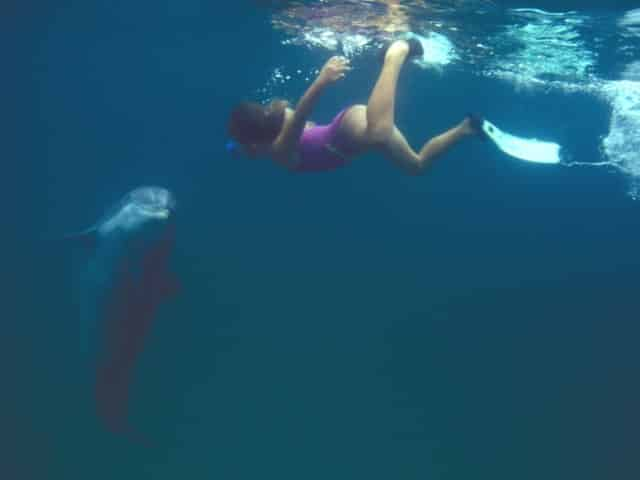 According to a recent Traveler Story, when swimming with dolphins at Shell Island you may see dolphins swimming playing right in front of you
Dolphins are the most intelligent and stunningly beautiful creatures in our oceans, and until recently, the chance to swim with these gentle creatures was reserved for only a small group of privileged individuals. But new and innovative tour companies are now able to provide guests with fun and affordable dolphin encounters in Panama City Beach! With high marks in customer satisfaction, and reviews calling these excursions "better than ever imagined" and "one of the most awesome experiences of my life," it's safe to say local tour companies have figured out how to craft meaningful human/dolphin encounters in the wild.
Dolphin tour companies tout a 99% average success rate when searching for dolphins in the Gulf, and some excursions even bring along an experienced marine biologist to educate participants on marine life. Panama City Beach dolphin swim tours almost exclusively take place at the famous "Shell Island" across Grand Lagoon, but vary greatly in departure times, tour lengths, and overall procedures.
Family Beach Day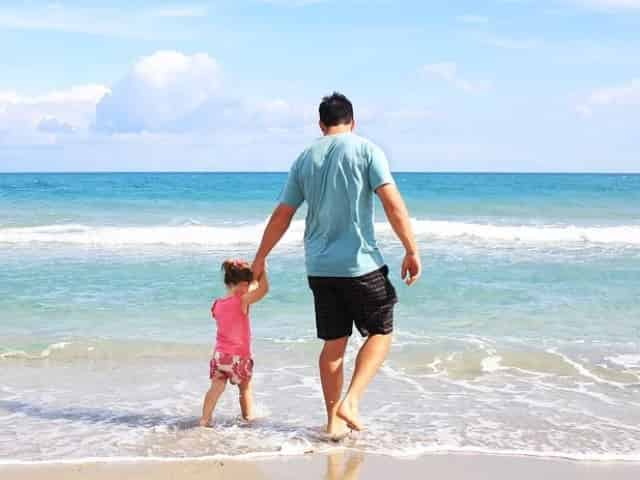 Visiting the beach is one of the top family-friendly activities that Panama City has to offer
The beach is a fun and free way to experience nature firsthand. Panama City Beach, Florida, is part of the "Emerald Coast" chain of Florida beaches. There is no place better for spotting marine life than the powdery white-sand beaches and emerald-clear waters of the Emerald Coast.
It's not uncommon to see fish swimming in the Gulf wake, or the occasional dolphin or sea turtle popping up to say hello. After the sun sets, grab a bucket, net, and flashlight for some good ole' fashioned crab hunting! Ghost crabs invade the beach at night, creating an activity that is a favorite among young families.
Kid-Friendly Snorkeling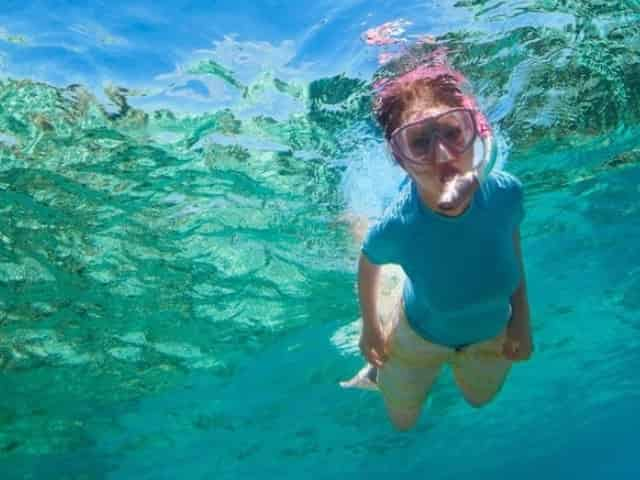 Snorkeling the beautiful waters of Panama City Beach, FL, will allow you to see this beach town from a completely different perspective
Let experienced tour guides lead you to first-hand encounters with incredible marine life! Snorkel tours place guests at reefs, wrecks, or anywhere sea-life is brewing. For those that haven't snorkeled before, it's as easy as wading in the water, and with a crash course in equipment use, anyone can enjoy this extreme tour!
Sea turtles, stingrays, dolphins, and schools of exotic fish fill the water providing lasting memories of a successful Panama City Beach vacation. Snorkel gear is typically included on trips, and this is a perfect tour for the whole family from small children to grandparents!
The Pier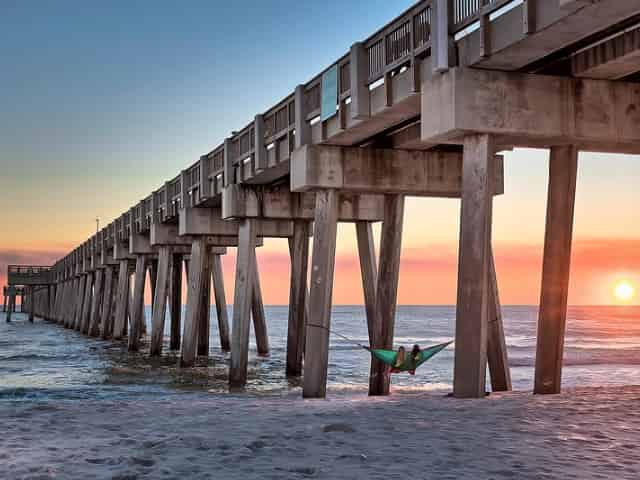 Image of two friends at sunset under a Panama City Beach pier taken by Jody Claborn via Flickr
The action at one of Panama City Beach's many fishing piers never stops! From morning till night, experience amazing fishing and views, with the biggest docks stretching 1,500 feet into the Gulf of Mexico!
Choose to grab a pole and fish, or go as a spectator checking out the days catches ranging from sheepshead to wall-worthy sailfish! Admission to the piers in Panama City Beach is either free or inexpensive, and most piers offer snacks and drinks as well as fishing rentals and supplies.
Be in the know!
be informed about our latest offers
You can unsubscribe at any time