6 Friendly Marine Species of the Gulf Coast
Mike Fisher
May 29th 2020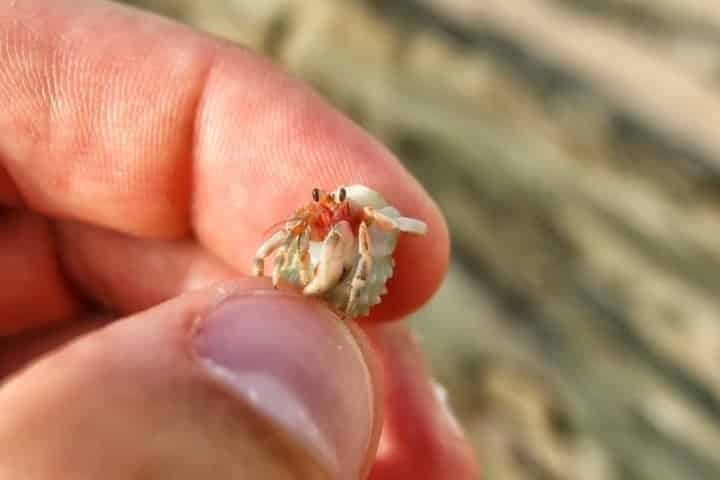 The Gulf Coast is full of friendly marine life! Up in the sky, or beneath the waves, a host of coastal critters are waiting to meet you! Each of the following animals are known to have a friendly nature, and are species typically confined to coastal regions. Read below for 6 of the Friendliest Marine Species of the Gulf Coast.
Table of Contents
Dolphins
Sea Turtles
Seabirds
Manatees
---
Dolphins
Ready to dive in and swim off with Flipper and friends? Check out this recent blog outlining everything you need to know when swimming with dolphins in Panama City Beach
The most popular of all marine species of the Gulf Coast is the bottlenose dolphin! Not only are dolphins one of the most intelligent and happy creatures in the world, they are also among the friendliest towards humans. Pods of bottlenose dolphins can number from 10 to 25 as they roam the coast, hunting for tasty mullet and playing in the wake. Dolphins are very curious animals, and typically aren't afraid of human interaction.
It's not unusual for one or two to approach swimmers or jet skiers in search of a playmate. In Panama City Beach, Florida, dolphins are known to hold a symbiotic relationship with humans. Pods will follow fishing boats in anticipation of a good spot to hunt, or hang out at the pier waiting to be fed with fishing boat scraps. In return, many businesses rely on these aquatic locals for personal encounters with Panama City Beach dolphins, sightseeing tours, boat tours, and snorkeling excursions.
Sea Turtles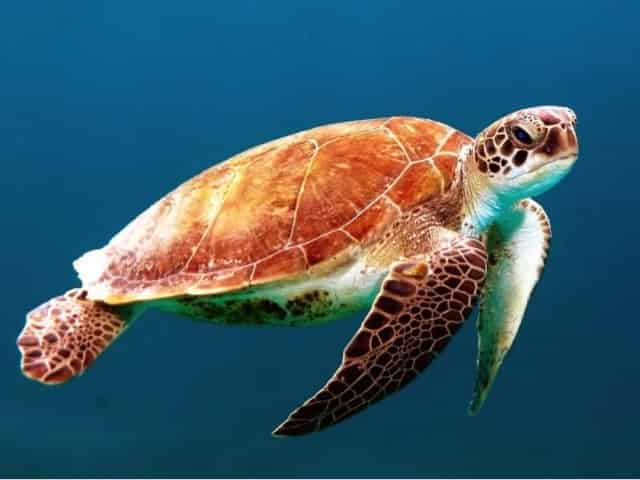 There is no experience quite like seeing a majestic sea turtle in real life as they gracefully swim by
Whether you see one on shore during sea turtle nesting season, or from a boat during a fishing charter or dolphin cruise, a visit from a sea turtle will put a smile on the face of any nature lover.
This ancient and friendly marine species of the Gulf Coast has inhabited the earth's oceans for more than a hundred million years, developing long lifespans, underwater vision, and migration patterns that can take a traveling turtle thousands of miles at a time. The most common species of sea turtle found in the Gulf of Mexico are:
Green
Hawksbill
Leatherback
Kemp's Ridley
Loggerhead
While sea turtles are commonly encountered at aquariums like Panama City Beach's Gulf World Marine Park, on boat tours, or on snorkeling excursions, it is best not to disturb them (even if one photobombs your picture!). It is also very important to give a beached turtle plenty of space.
The only time a sea turtle ventures onto the beach is to lay eggs, which is a very delicate process that should never be interrupted! For more information about sea turtle nesting season, click here: https://myfwc.com/research/wildlife/sea-turtles/nesting/.
Seabirds
Seeing the soaring seabirds is perhaps one of the most common wildlife encounters you'll experience in Panama City Beach. Seabirds are any species of bird that has adapted to life within a marine environment. From the beach, to the pier, to a Gulf Coast boat tour, expect to see plenty of these aerial avians on your Gulf Coast vacation.
Seabirds are friendly animals, and inherent beauty makes them a spectacle, as well as a popular figurehead for beach culture. Below are three of the most popular species of seabirds found in coastal towns.
Pelicans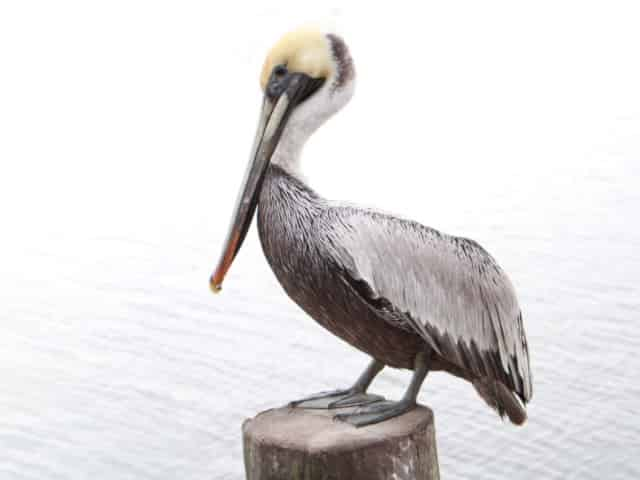 Pictured above is a poised pelican waiting to take the plunge and dine on its next meal
Head down to a bridge, beach, or fishing pier, and you might just spot a pelican. These large seabirds like to set up shop near shallow ocean waters, and are expert fisherman. The brown pelican is the only species of pelican found on the Gulf Coast, and is the smallest of all pelicans. Watching them eat is an entertaining sight, with the pelican diving after a fish and holding it in its large throat pouch before gobbling it down whole!
Seagulls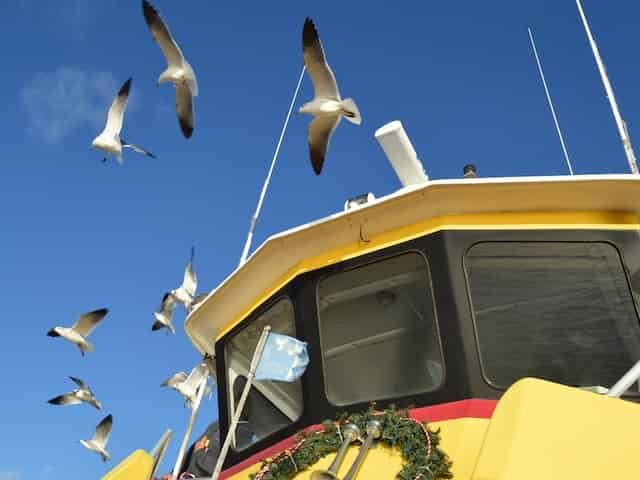 Your family will love feeding seagulls from a Panama City Beach dolphin cruise
Multiple seagull species are found nationwide, but the most common gull found on the Gulf Coast is the ring-billed gull. You may have seen ring-billed gulls before in a local parking lot, or by any fresh water lake, but these gulls are most in their element on the Gulf Coast.
Seagulls can drink both salt and freshwater, and are capable hunters, as well as scavengers. The gulls found on Gulf beaches may or may not be the same found in your hometown, but are sure to display the same characteristics. They are an opportunistic species, meaning they will steal fishing bait, fresh caught fish, or even your turkey sandwich if you're not careful!
Herons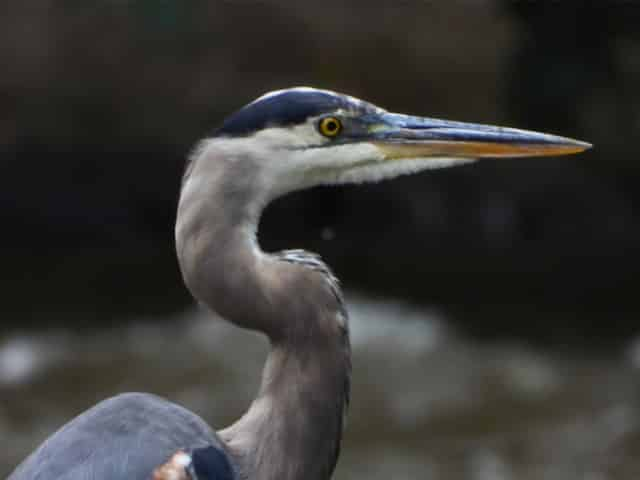 The great blue heron, pictured above, is the biggest and most widespread heron in the country
One seabird that perfectly exemplifies the beauty of the friendly marine species of the Gulf Coast is the great blue heron. This large and majestic bird is a sight to behold, with long thin legs, massive wings, and a strong pointy beak designed for laser-sharp precision.
Herons are found near both freshwater and saltwater, hunting primarily fish, but making a diet of almost any small animal including reptiles, amphibians, and rodents. Herons are very easily startled, so be sure to keep quiet if you want to catch a good look. if you happen to see one in action, it makes for a very memorable encounter.
Manatees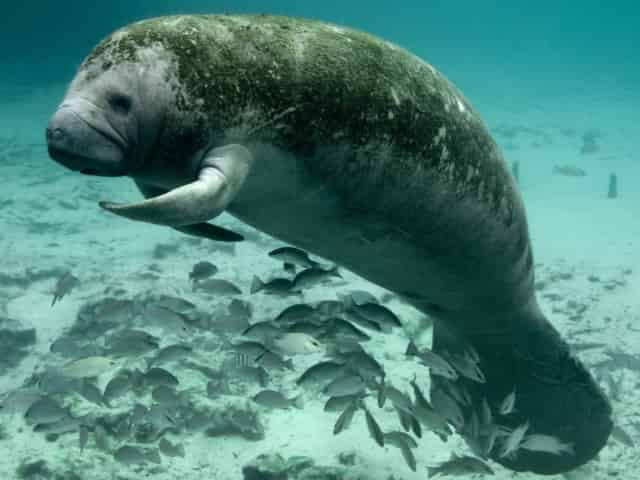 Image of a Florida manatee, one of the friendliest marine species of the Gulf Coast, by the U.S. Fish and Wildlife Service Headquarters via Flickr
The Florida manatee is one of two subspecies of manatees found in the Americas. While primarily found in Central and North Florida freshwater estuaries, the Florida manatee can survive in brackish or pure salt water, leading them to destinations throughout the Gulf of Mexico, and as far north as New England! Be aware that manatees are a threatened species, and for more information on what to do if you encounter one, click here: https://myfwc.com/research/manatee/information/support/.
This "gentle giant" species is known to present a kind demeanor, and is an omnivore, dining primarily on sea grass and other marine plant life. Manatees are affectionately nicknamed "sea-cows" for their large size, slow-moving actions, and friendly disposition. While swimming with manatees is considered a rewarding experience, it is best not to bother or crowd a wandering manatee or manatee aggregation. Not only are they easily frightened, they tend to heavily defecate where they spend time!
---
There are tons of friendly marine species of the Gulf Coast to meet! From watching the pelicans fly overhead, to up-close encounters with dolphins on a snorkel experience with FUNPCB, there is plenty of exciting wildlife to see along the Gulf Coast. To plan your trip to the areas of New Orleans, Gulf Shores, and the Emerald Coast, visit TripShock.com for the best rates on activities.
http://www.theanimalfiles.com/birds/pelicans_relatives/brown_pelican.html
Sarah Dowdey (9 July 2009). "How do seagulls drink salt water?" HowStuffWorks.
http://www.mbr-pwrc.usgs.gov/id/framlst/i0540id.html
http://www.allaboutbirds.org/guide/Great_Blue_Heron/id
Quinney, T. E. and P. C. Smith. 1979. "Reproductive success, growth of nestlings and foraging behaviour of the Great Blue Heron (Ardea herodias herodias L.)" contract rept. No. KL229-5-7077. Can. Wildl. Serv. Ottawa.
http://www.seefloridaonline.com/turtles/
http://www.fws.gov/northflorida/manatee/manatee-native-facts.htm
http://www.buzzardsbay.org/buzzards-bay-manatees.htm
http://www.pbs.org/newshour/updates/8-things-didnt-know-manatees/
http://www.animalfactguide.com/animal-facts/bottlenose-dolphin/
Be in the know!
be informed about our latest offers
You can unsubscribe at any time