What Is Crab Island Destin, FL?
Mike Fisher
May 22nd 2020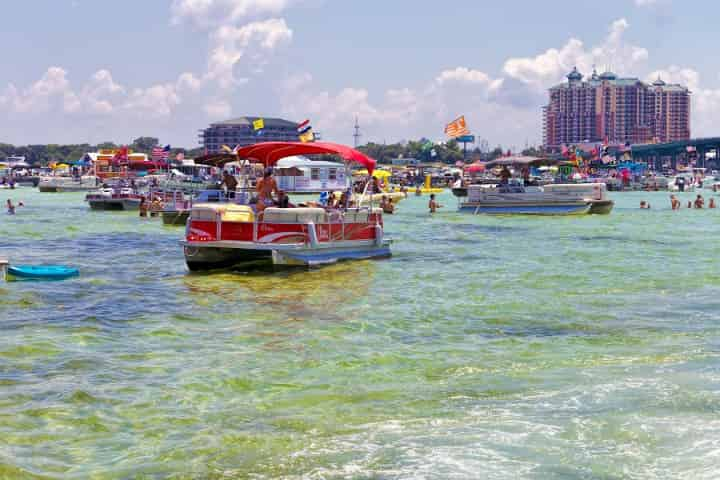 Image and video from mycrabisland.com
If you've visited Destin, FL, recently, you probably heard of a peculiar place called Crab Island. No, it's not an island full of crabs... It's something much more fun! So, what is Crab Island in Destin, FL? We're glad you asked!
Crab Island in Destin, Florida, is the perfect combination of sun, sand, and sparkling emerald waters! Once just a tiny island on the south side of Choctawhatchee Bay, the sandbar known as "Crab Island" is now one of the most popular things to do in Destin for boaters, paddlers, and swimmers alike! Large enough for hundreds of boats, kayaks, and waverunners to anchor down and hang out, some of the area's top events take place at the sandbar all spring and summer long!
Over the years, Crab Island's popularity has skyrocketed and, in doing so, has attracted savvy business owners looking to help fuel the fun at this sensational sandbar! Floating restaurants and motor boating vendors feed the need for snacks, drinks, and more! Curious to join the party but perhaps you're not a big swimmer? No worries! The shallow water and FREE Destin activities including basketball, volleyball, and smash ball keep visitors entertained the whole day through!
Looking for the full scoop on Crab Island Destin, FL? Head on over to https://www.mycrabisland.com/ for all of the top Crab Island activities, hotels, and in depth travel info you crave!
Table of Contents
Crab Island Activities

Pontoon Rentals
Waverunner Tours
Parasailing
Snorkeling

How To Get To Crab Island
Crab Island Hotels
Attractions on Land Near Crab Island
What is Crab Island Destin, FL?

Weather and Peak Seasons
Annual Events
---
Crab Island Activities
Along with the freebies provided by local vendors, there are tons of fun things to do at or around Crab Island! For example, Destin inshore bay fishing charters lead prospective anglers on a fishing trip through the scenic Choctawhatchee Bay. Hook popular species like trout, redfish, flounder, and more with an experienced captain and crew there to assist in your prized catch!
Speaking of scenic Choctawhatchee Bay, Crab Island rentals provide an affordable and fun way to cruise the bay and explore those less-populated, secluded beaches in the Destin Harbor! Just be sure you make your way on over to Crab Island for the incredible festivities either before or after you make the rounds. There are Crab Island activities for all ages and interests, but here are a few of the most popular Crab Island rentals and tours:
Pontoon Rentals
Pictured above is a Destin pontoon rental gliding over the beautiful, clear Crab Island waters
Load up the whole group and cruise to Crab Island Destin, FL on an ocean pontoon! Choose from several of Destin's top pontoon rental providers and find the best rates and offers when booking online. For a list of Crab Island Pontoon Rentals, head to Pontoon Boat Rentals in Destin online!
Waverunner Tours
Zooming and zipping through the waves on a waverunner tour is the perfect way to experience Crab Island
Take a guided trip through the Destin Harbor, bay, and Crab Island! Search for dolphins and other exotic marine life while an experienced guide highlights the hottest sights in the area.
Parasailing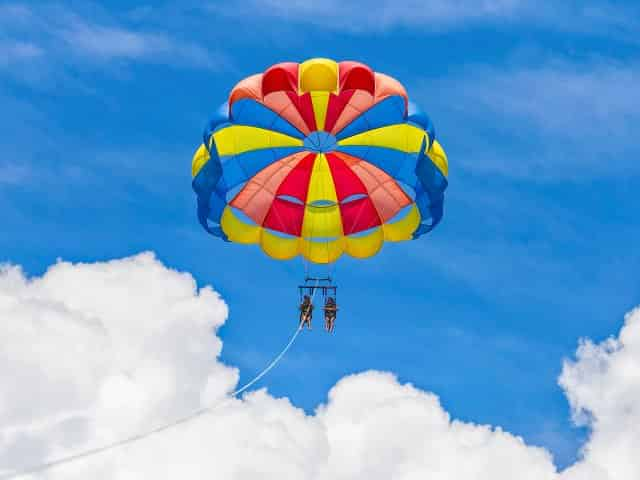 Get a bird's eye view of the Emerald Coast with your favorite people on an unforgettable, high-flying parasailing excursion
Parasailing is a tried and true coastal activity. Fly at heights exceeding 500ft while enjoying unbelievable views of the coastline and marine life below! Parasailing can be done solo, or even with one or two of your closest friends (recommended). Multiple companies offer parasail tours in both the bay and gulf. Choose from the areas' top providers online at Destin Parasailing!
Snorkeling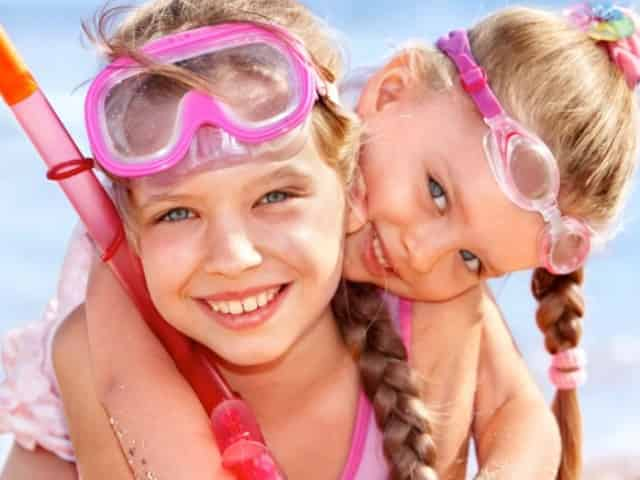 See what's under the sea on a snorkeling excursion the whole family will love
Explore the sparkling waters above and below the surface of Crab Island and beyond on one of several incredible Destin Snorkeling adventures. A sweet way to check out marine wildlife like fish, turtles, and dolphins, snorkeling is also a nice, easy-going activity that's great for those looking to really relax.
How To Get To Crab Island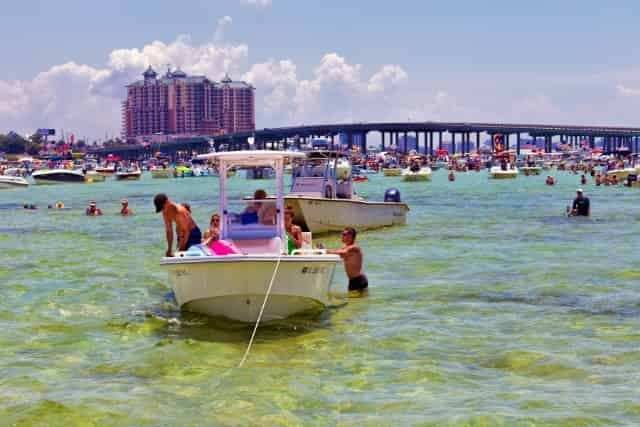 Pictured above are boats anchored out and enjoying Crab Island, one of the top kid-friendly activities in Destin, FL
Crab Island Destin is located just outside the Destin Harbor, in viewing distance from the Destin/Marler Bridge. The sandbar may appear just a short distance from shore, but do not try and swim from point A to point B. Indeed, in addition to the abundant boat traffic, underwater currents make swimming to Crab Island extremely dangerous. Instead, we recommend going with one of several Crab Island rentals such as:
Waverunners
Pontoons
Paddleboards
Kayaks
Safe, fun, and priced just right, these luxury watercraft rentals are the most common mode of transportation to and from the famous destination. With plenty of boat rentals departing from the Destin Harbor, just a minute or two boat ride will land you smack in the center of the island.
If you're looking for the quickest and easiest access to Crab Island in Destin, try the Crab Island Excursion by Sunventure. The Crab Island Excursion takes riders to and from the sandbar for hassle-free coordination, ideal for creating one-of-a-kind memories!
Crab Island Hotels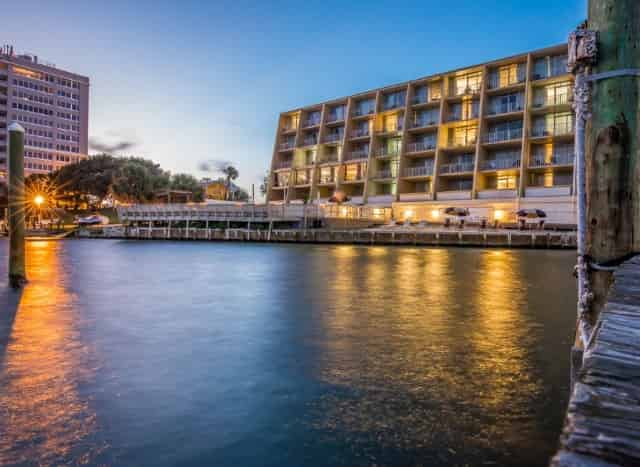 Image from mycrabisland.com
Stay near Crab Island in Destin! With hotels as close as half a mile away, you can easily stay within walking distance to Crab Island rentals, excursions, and the limitless options of Harborwalk Village (more on that in a moment)! Destin hotels and condos are known to provide world-class amenities and family friendly things to do. Arcade rooms, on-site restaurants, and scenic Gulf views are just a few of the reasons visitors love to lodge in downtown Destin near Crab Island!
Crab Island Hotels vary greatly in location, amenities, and rates. While a hotel like Village Inn offers a downtown location and complimentary breakfast at a low price, a place like Waterscape Resort keeps it luxurious with a large outdoor pool deck with lazy river and a private stretch of beach on Okaloosa Island. Choose from Crab Island hotels online to find the best lodging for any vacation!
Attractions on Land Near Crab Island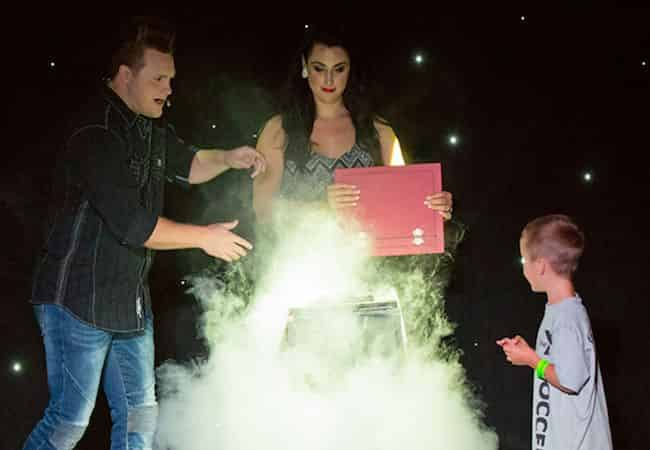 Pictured above is a family-friendly magic show at the Destin Harbor, MAXIMUM MAGIC. One recent Traveler Story describes this magic show as a ton of fun for everyone
Destin is a vacation hotspot for numerous reasons. From the fun and sun of Crab Island to world-class dining and golfing options, one trip down and you will see why this once-quiet beach community has become an international hit! Carrying the nickname of the "luckiest fishing village" in the states, Destin's fishing scene is also world renown. As such, the Destin Harbor is a focal point, and at the center of it all is Harborwalk Village.
Packed to the brim with all of the shopping, dining, and live entertainment you can handle, Harborwalk Village is as vibrant as the emerald green waters! Highlights include attractions like Jimmy Buffet's Margaritaville restaurant, HarborWalk Adventures zipline, and a host of top-flight clothiers such as Sunset Lifestyles and Del Sol.
What is Crab Island Destin, FL?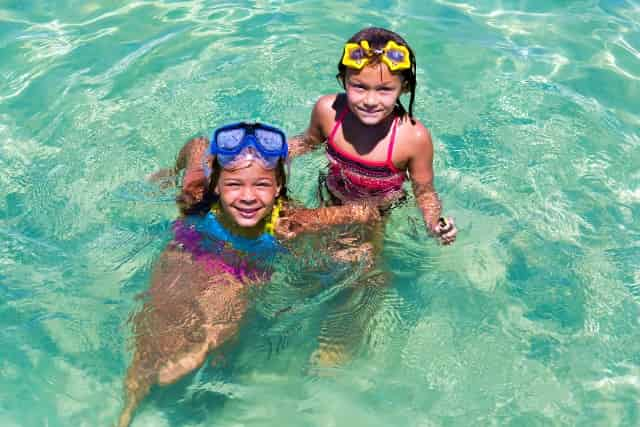 Children snorkeling and looking for hermit crabs at Crab Island Destin, FL
So, What is Crab Island Destin, FL? The short answer: Limitless fun, picturesque sunsets, and tons of awesome attractions. Get yourself a boat, some sunscreen, and all of your closest friends and family for optimal enjoyment and fun!
Weather and Peak Seasons
Crab Island is technically open for business year round, but is most popular in late spring and summer. Expect great weather, plenty of sunshine, a tad breezy, and a whole lot of awesome.
Annual Events
At the end of May there is a perennial kick off party (exact dates vary) to start the season. This event is usually hosted by a DJ so expect dancing, partying, and plenty of good tunes! This musical trend continues on through the summer with musical acts on most Saturdays at noon.
---
Are you ready for Crab Island? Check out TripShock's definitive Destin Visitors Guide and get all the best deals and local info all in one place!
Be in the know!
be informed about our latest offers
You can unsubscribe at any time