Destin X Parasailing Coupons 2020
Mike Fisher
March 2nd 2020
Destin parasailing is a vacation tradition! Where better to soar hundreds of feet in the air than a coastal paradise? Experience a bombastic thrill-ride among the clouds with a breathtaking view of beachfront Destin and its emerald green water.
Catch a glimpse of exotic wildlife including dolphins, sharks, and sea turtles from a birds-eye view, and the best part is... you can fly with up to 2 of your closest friends and family members! One of the area's premier Destin beach parasail providers is Destin X Parasailing.
Join this award-winning staff and enjoy brilliantly colored parachutes and cozy boats with the strength and security to float you and the kids over 500 feet high in the sky! With daily departures, this option is a must-have for families on a tight schedule. Learn more about this local parasail provider and how you can save on rides with Destin X Parasailing Coupons.
Table of Contents
What to Expect when Parasailing in Destin
Destin Parasailing Highlights
Destin X Parasailing Coupons
Destin X Parasailing Hours & Info
---
What to Expect when Parasailing in Destin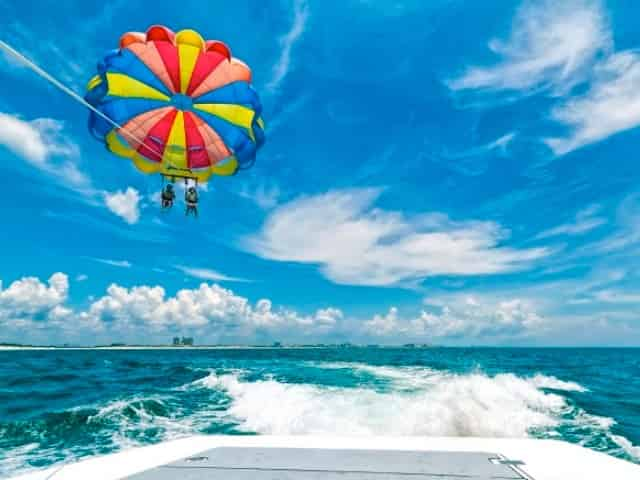 According to a recent Traveler Story, parasailing allows you to see beautiful Destin, FL, in a completely different light
Destin X Parasailing boasts an award-winning staff, and a sterling reputation in Destin, FL, and beyond. Daily departures are available through spring and summer, with groups of up to 12 people per tour.
Families, friends, and even couples love Destin X Parasailing because not only do you get 10-12 minutes of flight time, but you can fly with up to 3 people at once! If you're a mom you can fly with your kids, teenagers can make lasting memories with best buds, and even grandma and grandpa can enjoy a once-in-a-lifetime view of coastal Florida!
Worried your kids are too young... don't fret! Destin X Parasailing offers one of the lowest minimum age requirements of any extreme activity. As long as the rider is at least 6 years of age, they can participate in this incredible excursion.
Destin Parasailing Highlights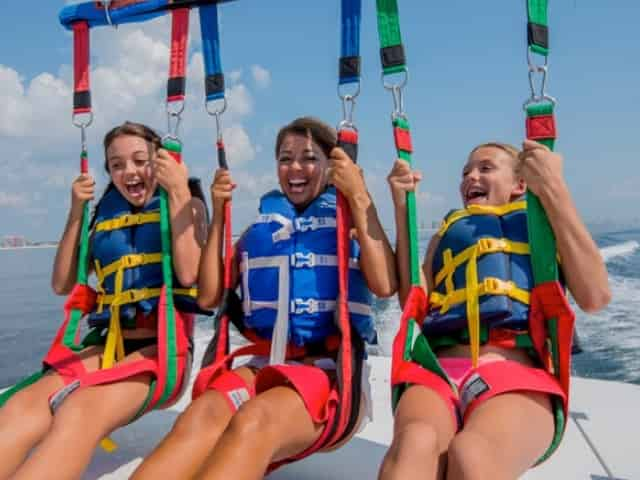 One of the best things about Destin parasailing is utilizing the city's crystal clear water to see the amazing wildlife just below the surface
Besides the unforgettable act of soaring high in the sky above so much natural beauty, and creating memories that last a lifetime with the people you love, parasailing tours in Destin offer even more to create the best parasailing adventure ever! Below are some Destin X parasailing highlights to enhance your exhilarating experience:
Daily departures during spring and summer
Up to three people can fly at once
Couples, families, and even children can participate
Award-winning captain and crew
View Destin from a bird's eye view and see dolphins, sharks, and more marine life
Destin X Parasailing Coupons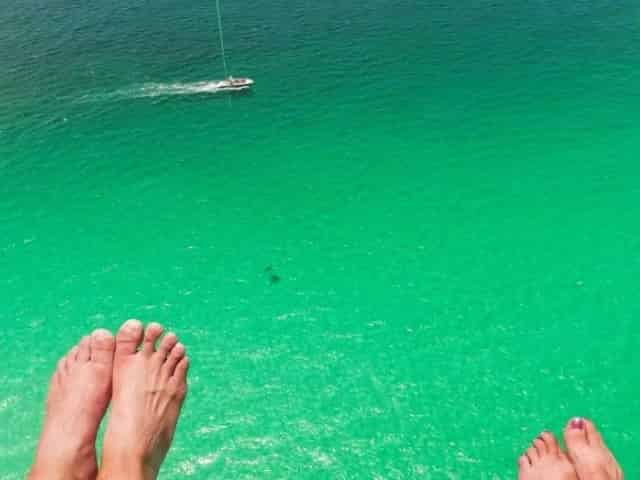 The cost of parasailing in Destin, FL, doesn't have to break the bank when booking with TripShock
Destin X Parasailing coupons are easy to purchase and use when booking online! Whether at home, in the hotel room, or driving through Destin on the way to the harbor, guests can book a tour online easily using a cell phone or mobile device, with no printing necessary! Use the following Destin X Parasailing coupons for the cheapest parasailing in Destin:
Fly for Just $45 (Reg $55)
The $10 discount applies directly upon booking. Head to Destin X Parasailing - Departing from the Destin Harbor to get started! Having trouble with your booking? Call 850-424-5125 for assistance.
Destin X Parasailing Hours & Info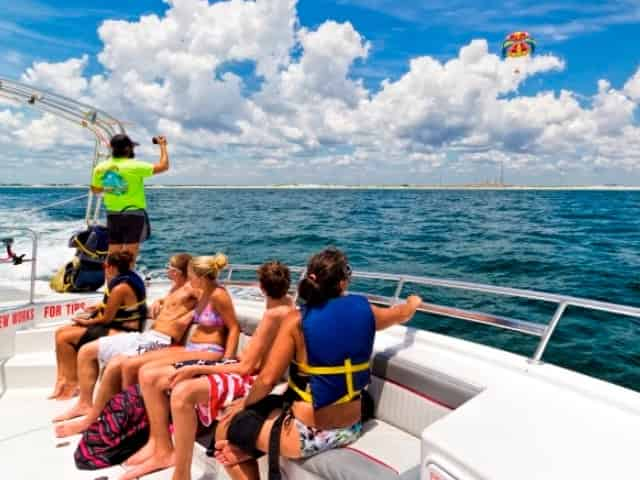 Parasailing is a blast for the whole crew, and is one of the most popular extreme activities in Destin, FL
Destin X Parasailing Hours: Daily Departures March - October, 9am - 5pm
Destin X Parasailing Address: 214 Harbor Blvd, Destin, FL, 32541
Destin X Parasailing Parking: FREE and paid lots are available to guests near the departure address. For more information about parking at the Destin Harbor, visit: https://www.destinboardwalk.com/parking-info/
Be in the know!
be informed about our latest offers
You can unsubscribe at any time