How Much Does it Cost to Parasail in Destin, Florida?
Dan Woods
October 15th 2020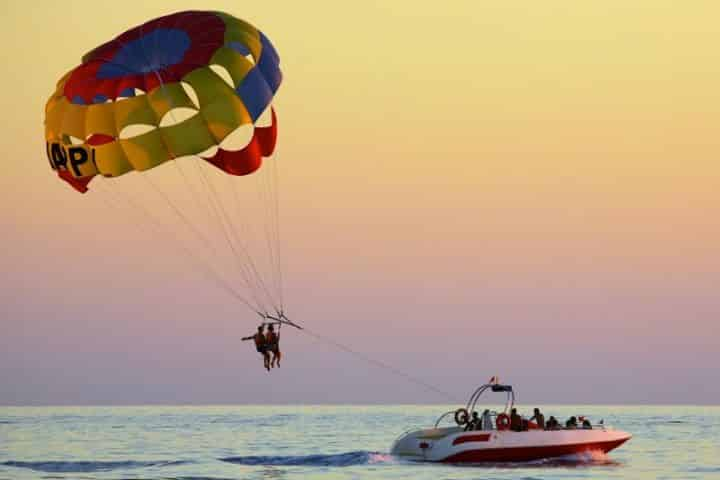 If you're looking for a relaxing family getaway that won't break the bank, look no further than Destin, Florida. This beachy vacation spot is conveniently situated between the scenic Gulf of Mexico and Choctawhatchee Bay. Complete with sugar white sands and emerald waters as far as the eye can see, Destin is a particularly attractive destination for watersports, boating, fishing, and more!
One of the most popular watersports in Destin is parasailing, and for good reason. "How much does it cost to parasail in Destin, Florida," you ask? As affordable as it is exciting, you can treat your whole family to the gift of sky-high thrills with Destin parasailing deals!
Table of Contents
Why Parasail in Destin, Florida?
What to Expect when Parasailing in Destin
Most Popular Destin Parasailing Tours

Wet N' Wild Watersports Parasailing
Xtreme H2o Destin Crab Island Parasailing
Destin Parasailing Adventure
---
Why Parasail in Destin, Florida?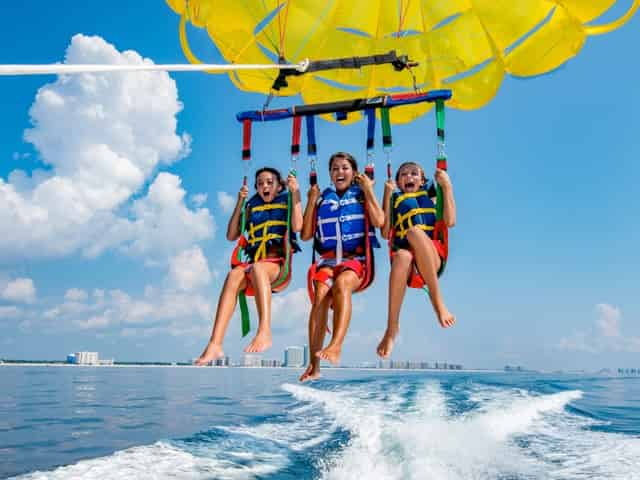 With parasailing coupons through TripShock.com, soaring through the clouds doesn't have to break the bank
With prices starting at $40, you can have a blast flying way up high in the sky with friends and family on one of several spectacular Destin parasailing tours available online with TripShock. Parasail passengers can enjoy unbeatable views of the coast from cruising altitudes of around 500 feet. Chutes accommodate up to 3 people, so bring mom and dad or both of the kids for some serious fun and excitement!
What to Expect when Parasailing in Destin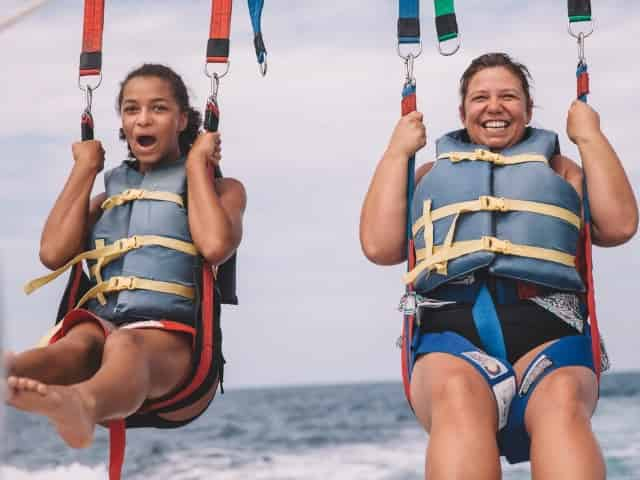 Be prepared for smiles all around and high-flying fun when parasailing in Destin, FL
One of the sights you can really appreciate from up high is HarborWalk Village. From exceptional food and drink options to extraordinary live entertainment and shopping, HarborWalk Village is your one-stop shop for family fun in Destin, FL. This incredible seaside smorgasbord is perfect for date-night or ice cream with the kids!
Another popular spot you can see on your next parasailing tour is the famous Crab Island sandbar. For those who aren't familiar with Crab Island, it is a sandbar in the Destin Harbor where boaters and boarders alike congregate and socialize.
Whether you rent a pontoon and be the captain, zoom by on a Crab Island jet ski rental, or paddle out and spend the day, Crab Island has something for everyone no matter how you arrive. Always a party packed with festivities and friendly folks, you can scout your next stop from above and join the party when you come back down to Earth!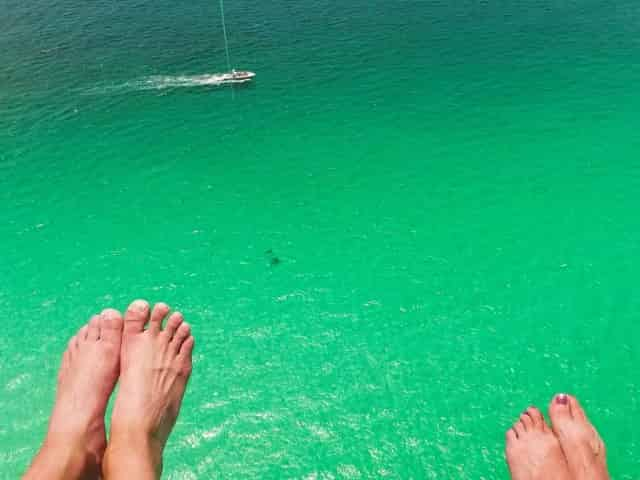 Out of all the thrilling and extreme Destin, FL, activities, this is one where it is okay, and encouraged, to look down
High-altitude views are also a great way to check out local wildlife. Keep your eyes peeled for silhouettes of dolphins frolicking in the waves or the shape of sea turtles floating along the way. Also, take a look around you for birds. Lucky for you, Destin is a great place to observe a laundry list of interesting ocean birds like:
Pelicans
Gulls
Terns
Loons
Cormorants
And MORE!
Most Popular Destin Parasailing Tours
Not only is a Destin parasailing adventure objectively awesome, it's also a great idea for families. Ask a kid what his or her ideal superpower is and they will probably tell you, "flying." The next best thing short of being Superman, you and your kids will cruise high in the sky over scenic Destin Harbor, see Crab Island, and behold the magnificence of the Emerald Coast from above! Check out our list of the best deals on the most popular parasailing adventures in town and start saving today.
Wet N' Wild Watersports Parasailing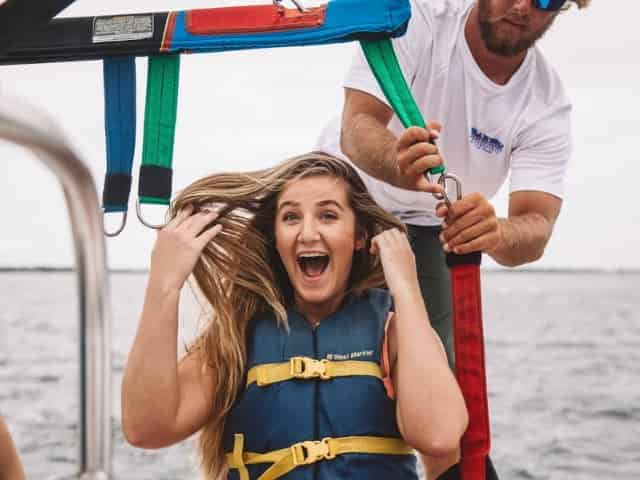 Feel the excitement as the sail lifts you up when parasailing with Wet N Wild Watersports in Destin
Wet N' Wild Watersports Parasailing is a premium Destin parasailing party where you don't need an invitation to get in the door! Ok, so there are no doors, but you know what we're saying, right? Get wet and go wild with great deals on different trips and experiences for you and your family! So what are you waiting for? Hop on down to the docks with the whole gang and get ready to soar!
Xtreme H2o Destin Crab Island Parasailing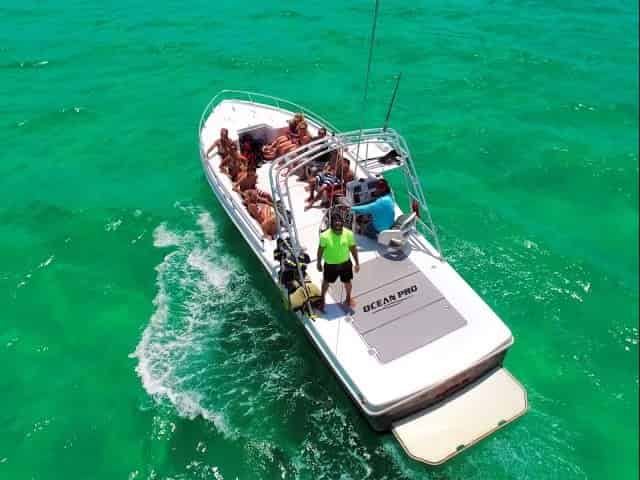 In a recent Traveler Story one visitor to Destin explains how parasailing is worth every penny
Xtreme H2o Destin Crab Island Parasailing hits all of the marks. Stunning views of Destin and Crab Island? Check. Lots of H2o? That's a big yes. But is it really extreme? You had better believe it, buddy! Xtreme offers a long list of amenities, from luxurious boats to 3 person rigs and a great captain and crew. Bring your friends and family and discover the Xtreme difference!
Destin Parasailing Adventure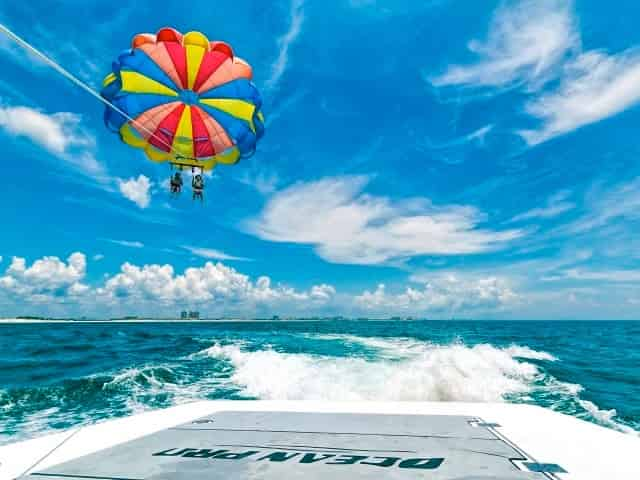 When setting out on your Destin Parasailing Adventure, don't forget to bring a camera, as this is one of the best photo-ops in Destin
Destin Parasailing Adventure. It's right there in the name! Have a blast as you float high in the air and take in amazing views of the local Destin scene. Oh, yes, and keep an eye out for the shadow of marine wildlife species like dolphins, sharks, and turtles. One of the most popular options and one of our favorite Destin attractions and tours, this parasailing adventure will have you coming back over and over and over again!
---
Destin parasailing is one of the top activities in the entire Florida Panhandle, and it's easy to see why. Both action-packed and affordable, the whole family will love seeing the beautiful Emerald Coast in all of its glory from above!
Book a Parasailing Tour in Destin, FL TODAY with TripShock.com - CLICK HERE
Be in the know!
be informed about our latest offers
You can unsubscribe at any time