Best Watersports Adventures You can do in Tampa, FL
Outside Pursuits
March 9th 2020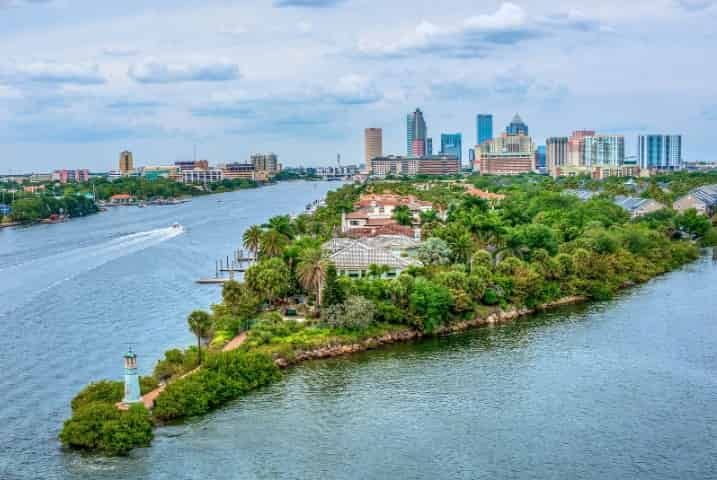 Image by Michelle Maria from Pixabay
Tampa Bay boasts Florida's biggest open-water estuary, easy access to the Gulf of Mexico, the Hillsborough River, a selection of great nature reserves, and artificial lakes designed especially for watersports. With such a broad selection of water habitats, there is nowhere else in the continental US better suited for watersports adventures.
Table of Contents
Paddle a Canoe or Kayak
Stand-up Paddleboarding (SUP)
Jetski
Water skiing or Wakeboarding

Where to Water Ski or Wakeboard Around Tampa

Snorkeling
Scuba diving
Sea Fishing
Freshwater Fishing
More Watersports in Tampa
---
Paddle a Canoe or Kayak
There are so many places you can kayak around Tampa Bay that it's difficult to select just a few of the best.
For freshwater paddling, look to the scenic Hillsborough River. Along its riverbanks, you might see foxes, bobcats, deer, and alligators. Advanced paddlers should head for the 17 Runs, a labyrinth of streams between John Sargeants and Dead River Park. This is arguably the most challenging section of Florida's Designated Paddle Trails, with many portages and lots of blockages.
If sea kayaking is more your scene, check out Caladesi Island State Park. While paddling there, you have a good chance of spotting stingrays and dolphins. Once there, you can kayak through the renowned bayside mangrove forest.
The South Paddling Trail is a great way to explore Weedon Island Preserve to the south of Old Tampa Bay. This 4-mile trail showcases the preserve's treasures, from the multiple species of mangroves to the shrimp and crabs in the seagrass beds.
Fort De Soto Park at the mouth of Tampa Bay features many opportunities for kayakers of all ages and abilities. A 2-mile paddling trail that starts out from Soldier's Hole is perfect for kayaking beginners who enjoy birdwatching. Alternatively, you can kayak off the beaches in the warm waters of the Gulf of Mexico.
Stand-up Paddleboarding (SUP)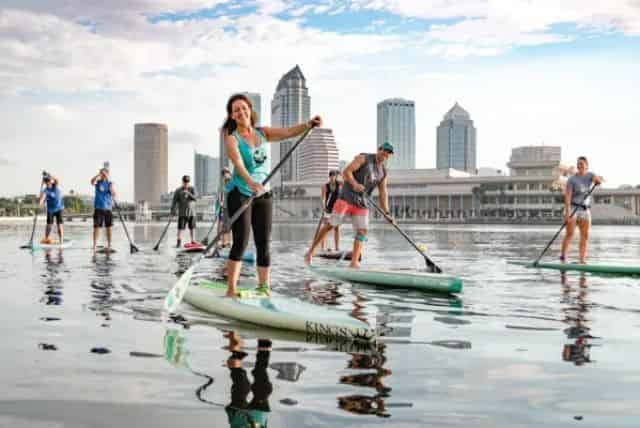 Group of Paddleboarders in Tampa - Image by Urban Kai
Generally, the places you can canoe or kayak are also places you can enjoy using a stand-up paddleboard (SUP). Paddleboards are great for lying down and peering into the watery depths to admire underwater plant and animal life.
The Little Manatee River features many shallow patches with great visibility. However, you may become frustrated in the shallowest areas of the river when you cannot paddle across them because they are too shallow for your board.
The deeper Hillsborough River won't frustrate your paddling, but it also won't provide such good visibility for checking out underwater creatures. But, as noted above, it is a great place to observe wildlife along the riverbanks. Fallen trees and branches will hamper your journey but also provide great perches for cormorants, stretching their wings to dry out in the sun. Watch out also for turtles lined up on half-submerged branches.
The Fort Desoto beaches offer powdery white sands and calm water ideal for paddleboarding. The water is shallow and clear, so you can admire the sea bottom. Look out for herons along the shore. And history lovers can also admire the Civil War fortress that gave the park its name.
Water skiing or Wakeboarding
Another thrilling watersport is waterskiing. When you hire a fast boat around Tampa Bay, you'll often find wakeboards or water skis conveniently included in the hire package.
Where to Water Ski or Wakeboard Around Tampa
Given how easy it is to fall while waterskiing or wakeboarding, the bay, with its shallow stretches and oyster beds, can be a dangerous place to practice. For that reason, you'll find artificial lakes around Tampa, such as the Boat Lake, designed especially for watersports enthusiasts to hone their wakeboard and waterskiing skills.
Jetski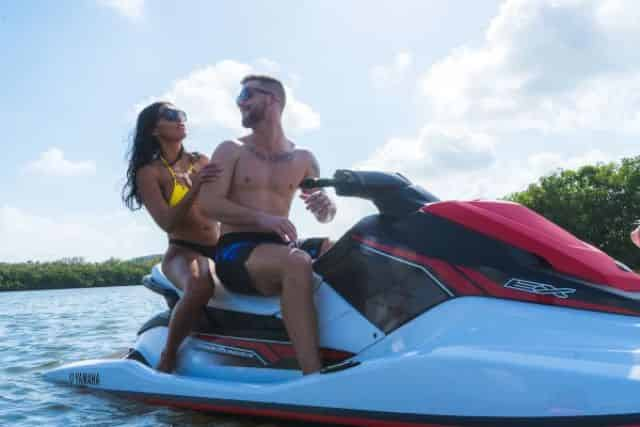 Couple riding Jet Skis with a rental from We Get You Wet Watersports
If you like to move a little faster across the water, jet skiing is fun. The 386 square miles of Tampa Bay means great waves and space to achieve maximum speeds and perform tricks. The large ships that exit and enter the bay's docks frequently provide large wakes suitable for jetski jumps.
If you don't have your own jetski, renting a jetski is easy and affordable. Rates typically start around $50-60/hour.
Snorkeling
The best spot for snorkeling around Tampa Bay is Egmont Key State Park, just southwest of Fort Desoto. You'll need to take a ferry from Fort Desoto Bay Pier to reach the key. While on the ferry, watch out for sea turtles, dolphins, and rare sightings of manatees.
From the key, you can snorkel through the submerged ruins of Fort Dade, where sponges, corals, and colorful fish thrive among the underwater historic remains. If you're lucky, you might even get the chance to swim alongside dolphins in the Gulf of Mexico while snorkeling off the shores of Egmont Key.
Scuba diving
Recreational diving is well established around Tampa Bay. An artificial reef of concrete culverts, bridge rubble, shipwrecks, and carefully constructed fish habitats has been created to encourage both marine wildlife and scuba divers.
Most recreational diving takes place at depths between 40 and 60 feet. The warm water of the Gulf of Mexico provides good conditions for coral growth and sea life. Along the Tampa shoreline, you'll discover slipper lobster, stone crab, scallops, and oysters. Advanced scuba divers can try their hand at spear-fishing. Game fish in the area include grouper, mackerel, bonito, kingfish, snapper, and cobia.
Sea Fishing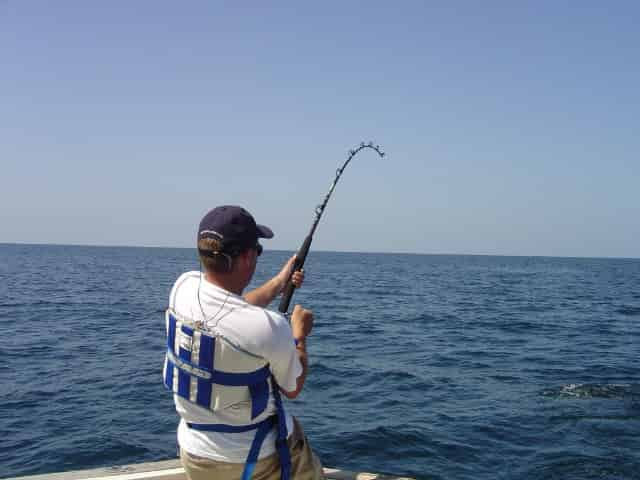 Image from Wikipedia
Fishing is a must-try activity when visiting coastal Florida. In fact, Fishing in Tampa even made it to #3 in our recent article, 15 Fun Things to do in Tampa for Adults. Tampa has a selection of popular fishing piers for keen sea anglers. For example, Ballast Point Park Fishing Pier provides anglers with access to a reef teeming with sheepshead, pompano, snook, redfish, and drum. The piers in E. G. Simmons Park and Picnic Island Park are also popular fishing spots.
Dedicated sea anglers can charter boats to take them out into the Gulf of Mexico for a completely different angling experience. However, you don't really have to stray so far. If you anchor around one of the bridges crossing the bay, you'll find plenty of fish that thrive around the underwater portion of the bridge's structure.
Freshwater Fishing
Tampa is also located within a short drive of some of west-central Florida's most popular bass fishing lakes. For example, Edward Medard Reservoir is regularly stocked by the Florida Fish and Wildlife Conservation Commission. It's submerged brush piles, weed beds, and docks attract bream, crappie, and largemouth bass. You should also check out Lake Thonotosassa or some of the smaller lakes and ponds found in Tampa's parks, such as Wortham Park and Dover Park.
The Hillsborough River and the Little Manatee River are home to catfish and bass, and the Hillsborough River's upstream wetlands are perfect for fishing from a kayak. The Tampa Bypass Canal also offers great fishing spots where you can catch catfish, sunshine bass, largemouth bass, and bream.
---
More Watersports in Tampa
There are even more incredible watersport activities in Tampa and the Tampa Bay area. Find rates, availability, photos, and information on dozens of water-related things to do in Tampa online at TripShock.com.
Tampa News
Keeping you informed
Be in the know!
be informed about our latest offers
You can unsubscribe at any time