What to do in Downtown Fort Lauderdale - 10 Best Activities
November 2nd 2023
Tripshock News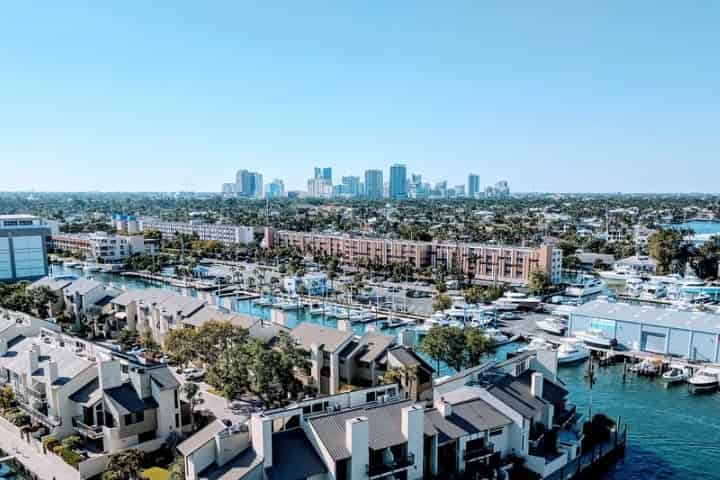 Fort Lauderdale, FL, is a thriving coastal city nicknamed "Venice of America," due to the canals that weave their way through downtown's infrastructure. Because of this, sunshine, blue skies, beautiful beaches, and watersports-a-plenty is what typically comes to mind for most when thinking of Fort Lauderdale. This city, however, has even more to offer!
A historical and cultural hotspot, Fort Lauderdale is also known for unique and luxurious shopping and dining, performing arts, historic districts and landmarks, and so much more than that! If you're wondering what to do in downtown Fort Lauderdale to make the most of your trip to this exciting and eclectic city, then keep reading for the 10 best activities the area has to offer!
Table of Contents
---
1. Museums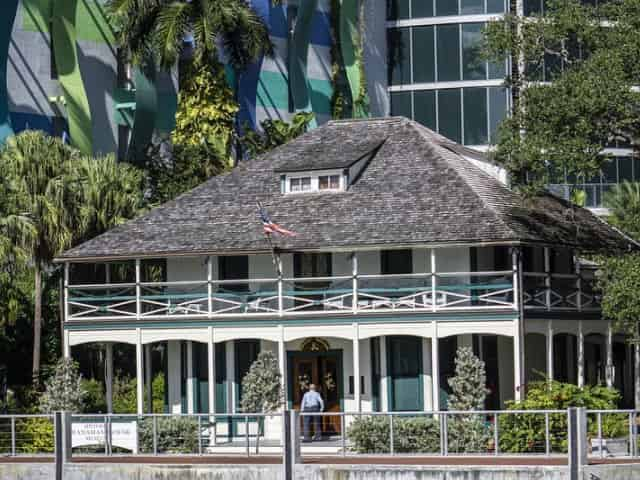 Pictured above is the lovely and historic Stranahan House Museum located in downtown Fort Lauderdale
Fort Lauderdale is a city rich in history and heritage, with 62 designated historic landmarks sites, and 14 locations on the National Register of Historic Places. It's easy to see why, with so much cultural and historical significance, that a city like Fort Lauderdale would be full of incredible museums to showcase their rich past and diverse present. Below are a few of the most popular Fort Lauderdale museums to enhance your fun and educational experience:
Historic Stranahan House Museum: Built in 1901, this is the oldest surviving building in Broward County. Address: 335 SE 6th Ave, Fort Lauderdale, FL 33301 | 954-524-4736
Naval Air Station Fort Lauderdale Museum: Great for children and adults alike, this museum is home to WWII torpedoes from a submarine, vintage aircraft models, tons of military history, and so much more! Address: 4000 W Perimeter Rd, Fort Lauderdale, FL 33315 | 954-359-4400
Bonnet House Museum & Gardens: This gorgeous 20th-century home is the perfect place to take in awe-inspiring art and architecture. Address: 900 N Birch Rd, Fort Lauderdale, FL 33304 | 954-563-5393
Museum of Discovery & Science: Kids of all ages will love this museum, as they can test their pilot skills in a simulated cockpit, enjoy the IMAX theater, and pet alligators at the Living in the Everglades exhibit! Address: 401 SW 2nd St, Fort Lauderdale, FL 33312 | 954-467-6637
Fort Lauderdale Fire and Safety Museum: Built in 1927, visitors can check out historic equipment used by Fort Lauderdale's Fire Department over the years. Address: 1022 W Las Olas Blvd, Fort Lauderdale, FL 33312 | 954-763-1005
Fort Lauderdale Antique Car Museum: This museum is a hot spot for those who love hot rods! Discover memorabilia consisting of pre-war cars, a gallery, engine parts, and more. Address: 1527 SW 1st Ave, Fort Lauderdale, FL 33315 | 954-779-7300
International Swimming Hall of Fame: This museum focuses on swimming and fitness, and offers a chance to learn about famous swimmers and Olympic Gold Medals! Address: 1 Hall of Fame Dr, Fort Lauderdale, FL 33316 | 954-462-6536
Another interesting museum experience offered near downtown Fort Lauderdale is the Glass Blowing Class and Museum Admission with Hollywood Hot Glass! This hands-on learning experience teaches guests the amazing art of hand-blown glass making, while creating your own masterpiece! After your creation is complete, head to the nearby Wiener Museum of Decorative Arts, and be amazed and inspired by their colorful collection of fired-art pieces.
2. The Arts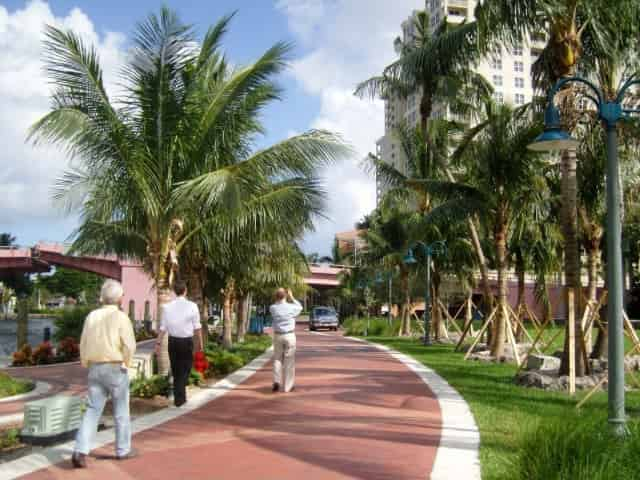 Image of the Riverwalk in Downtown Fort Lauderdale by Cristina Bejarano via Flickr
When most people think of Fort Lauderdale, many think of the beautiful beaches, exploring Las Olas canals, and the historic riverfront. Sunshine and watersports aren't the only thing this cultural and coastal city has to offer. The arts and entertainment scene is alive and well in downtown Fort Lauderdale, as well, offering everything from galleries, to murals, to live music, and more! If you're wondering what to do in downtown Fort Lauderdale, and the arts are speaking to your heart, you'll want to check these areas out:
Riverwalk Arts and Entertainment District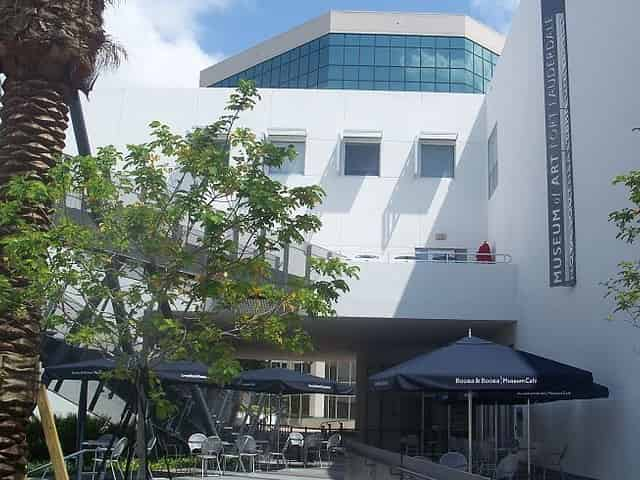 Pictured above is the NSU Art Museum in downtown Fort Lauderdale. Image from Wikimedia
The Riverwalk Arts and Entertainment District is a beautiful area that runs just over a mile along New River. Not only is this a great area to enjoy nature and the beautiful scenery downtown Fort Lauderdale has to offer, but it is also the place to experience the arts. This area is lined with must-see galleries, museums, eateries, and more, including these popular attractions:
NSU Art Museum: Founded in 1958, this museum has more than 7,500 pieces in their collection! They have the largest collection of art by American realist William Glackens, the most expensive holding in the country of works by post-World War II CoBrA artists, and a significant amount of Latin American contemporary art.
Broward Center for the Performing Arts: The Broward Center for the Performing Arts consistently ranks as one of the most-visited theaters in the world, and is home of the Florida Grand Opera! This spectacular and upscale venue features Broadway performances, opera, theater, family entertainment, concerts, and so much more! For more information, including showtimes and schedules, please click here: https://www.browardcenter.org/.
FATVillage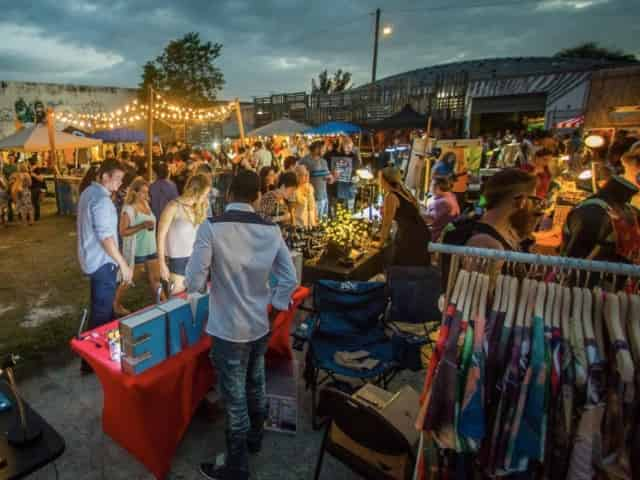 Image of the Art Walk at FATVillage courtesy of https://www.fatvillage.com/artwalk
FATVillage is probably not what you think it is! FATVillage actually stands for the Flagler Arts and Technology Village, which is the hub for local arts and entertainment. With art galleries, studios, and local artisans and vendors within reach, you never know what artistic treasures you'll find to bring back home with you as a souvenir.
FATVillage also hosts an Art Walk on the last Saturday evening of every month. This is the perfect opportunity to get outside, bring along friends, family, and Fido, and bounce from studio to studio. Those in attendance will not only just enjoy some incredible local art, but also live music, food, and fun! For more information, please visit https://www.fatvillage.com/.
Galleries and Murals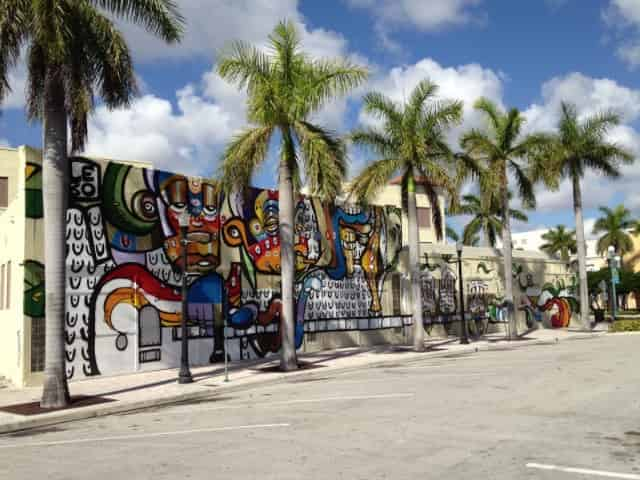 Pictured above is a mural by famous graffiti artist, Lebo, in downtown Hollywood, FL. Image by Phillip Pessar via Flickr
Right up the street from downtown Fort Lauderdale is Hollywood, Florida, the apex for street art and murals in South Florida. The Hollywood Community Redevelopment Agency has launched the Downtown Hollywood Mural Project to highlight the local culture and encourage the arts. Strolling through the streets of downtown will yield breathtaking and intricate murals from artists known both locally and worldwide!
If you're looking to beat the Florida heat after strolling through the decorated streets, then check out one of the many amazing and aesthetic art galleries that downtown Fort Lauderdale has to offer. Below are a few of the top galleries to appease even the most cultured of art connoisseurs:
MAC Fine Art Gallery
National Geographic Fine Art Galleries
Bellagio International Gallery
Sienna Fine Art
New River Fine Art
Wyland Galleries
Las Olas Fine Arts
3. Boat Tours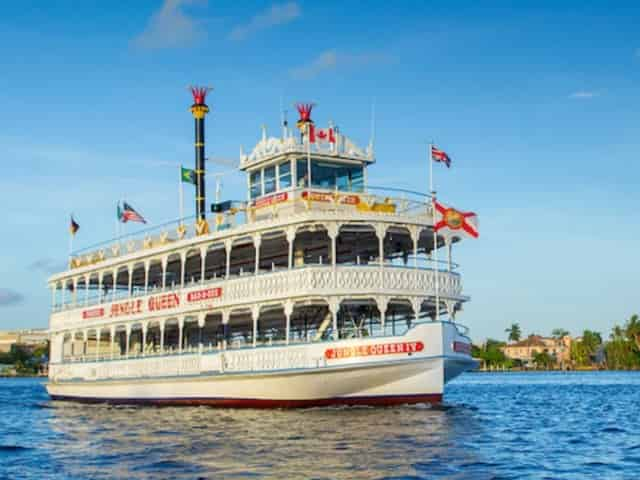 Pictured above is the Jungle Queen Riverboat sightseeing cruise, one of the best things to do for couples in Fort Lauderdale, cruising down New River in downtown
Now that you've hit the museums and experienced the local arts, you may be wondering what to do in downtown Fort Lauderdale for sightseeing. Luckily, the area's geographic location and scenic beauty provides unique opportunities to explore downtown in a completely different way. The New River runs through beautiful Fort Lauderdale, and boat tours like the Jungle Queen, for example, are a great way to see the city from an unparalleled vantage.
Fort Lauderdale boat tours are a great way to experience downtown, but with a wide variety to choose from, there's a boat tour to enhance every aspect of your South Florida vacation. Sightseeing cruises, dinner cruises, private charters, day trips and excursions, and combination tours are available to choose from. This means that when on a Fort Lauderdale boat tour, you're not just limited to downtown, but can explore the beautiful beaches, Las Olas Canals, and even Key West on a day trip from Fort Lauderdale.
4. Dining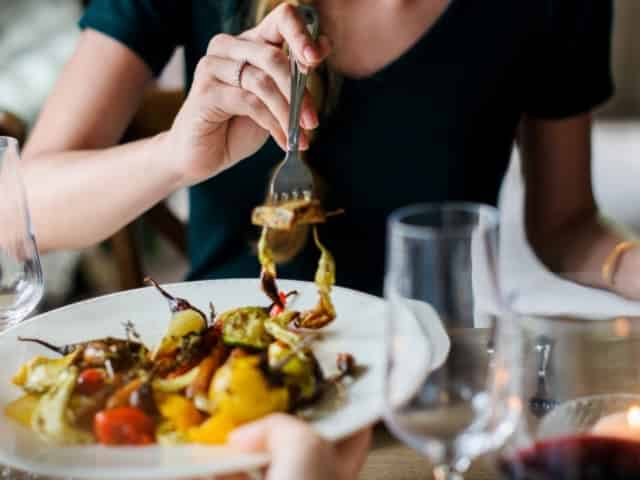 From upscale steakhouses to coastal seafood classics, Fort Lauderdale has everything you need to feed your appetite
Calories don't count when you're on vacation, right? Fort Lauderdale is packed to the brim with delicious eateries and tasty treats around every corner. Every craving is satisfied when in Fort Lauderdale, with restaurants ranging in culinary specialties from prime filet mignon to fish tacos! Tame your taste buds and check out these top restaurants located in downtown Fort Lauderdale:
Boathouse at The Riverside | 954-377-5494
Chima Steakhouse | 954-712-0580
Wild Sea Oyster Bar & Grille | 954-467-2555
Gilbert's 17th Street Grill | 954-768-8990
The Floridian | 954-368-9931
Louie Bossi's | 954-356-6699
5. Flamingo Gardens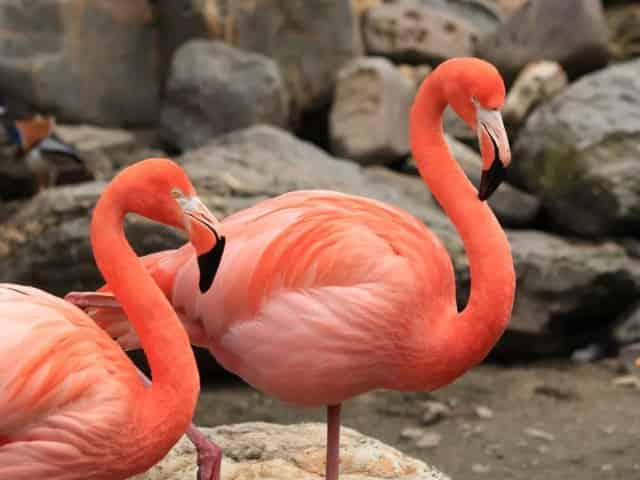 One of the top attractions in Fort Lauderdale is Flamingo Gardens, which houses the largest collection of Florida native wildlife including… you guessed it… flamingos!
Established in 1927, Flamingo Gardens is one of the oldest attractions and gardens in South Florida. Located just west of Fort Lauderdale, a trip to this 60-acre botanical garden and Everglades wildlife sanctuary is definitely worth the drive! Featuring over 3,000 species of flora, over 90 species of native animals, gorgeous gardens, the historic Wray Home Museum, and so much more, this is the perfect place to connect with nature and learn about the animals that inhabit the area. Popular animals you'll encounter here are:
American alligators
Florida panthers
Flamingos
Black bears
Bobcats
And MORE!
6. Shopping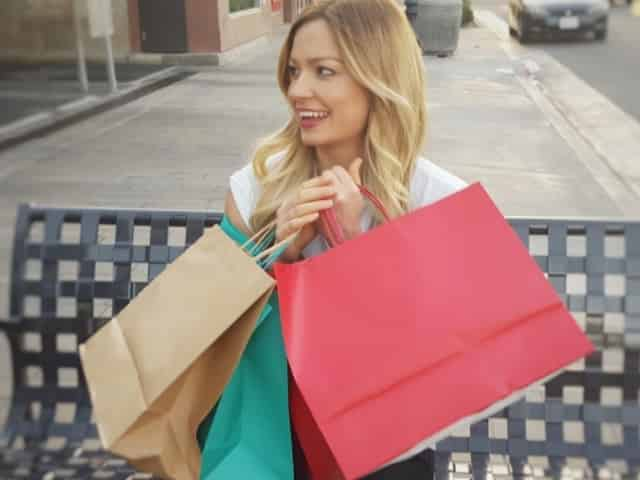 From local boutiques, to designer brands, strolling through downtown Fort Lauderdale and beyond makes for a superb shopping experience
Ready to shop until you drop? Luckily, we know exactly what to do in downtown Fort Lauderdale to make that dream a reality! Las Olas Boulevard, located in the heart of downtown, is one of the premier shopping experiences in South Florida. Not only that, there is something for everyone when shopping along the boulevard including art galleries, apparel, florists, sporting goods, and more! For a full list of what Las Olas has to offer, click here: https://lasolasboulevard.com.
While Las Olas has local charm and a ton of things to do, it is almost tiny in comparison to the massive Sawgrass Mills shopping center. The 20-mile trek from downtown Fort Lauderdale will be worth it once you get there! With 2,370,610-square-feet of retail space, and more than 350 stores, it is the 11th largest shopping mall in the country, and the second largest mall in Florida. Sawgrass Mills is full of amazing stores and designers including Armani, Bloomingdale's, Burberry, Coach, and so much more!
Even though it's not as large as Sawgrass Mills, the Galleria at Fort Lauderdale is another great shopping complex full of the top designers and name brands. With over 100 retailers to choose from, finding the perfect outfit before bar hopping on Las Olas Boulevard is easier than ever! Popular stores at The Galleria at Fort Lauderdale include:
Neiman Marcus
Macy's
Dillard's
Apple
Michael Kors
Sephora
Williams-Sonoma
H&M
And MORE!
7. Paddleboarding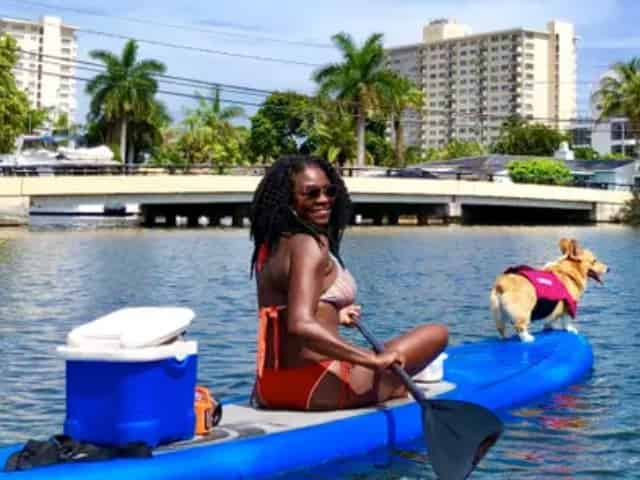 Pictured above is a traveler enjoying a guided paddleboard tour through downtown with Sup Pup Ft. Lauderdale
One of the things that makes Fort Lauderdale such a popular destination for nature-lovers are the beautifully scenic Las Olas Canals. Over 165 miles of these man-made canals twist and turn through Fort Lauderdale, creating easy access to wonderful wildlife and breathtaking natural views. One of the best ways to explore these canals is by renting a paddleboard or joining in on a guided paddleboard tour!
Paddling through the canals is the perfect opportunity for serenity, which can be a much needed break from the hustle and bustle of the big city. Paddleboarding is a safe way to enjoy some fun in the sun, and explore the city from a whole new perspective! Be sure to take in the incredible sights like extravagant real estate, yachts, marine life, and so much more. You never know what you'll see when paddling through the canals in downtown Fort Lauderdale!
8. Annual Events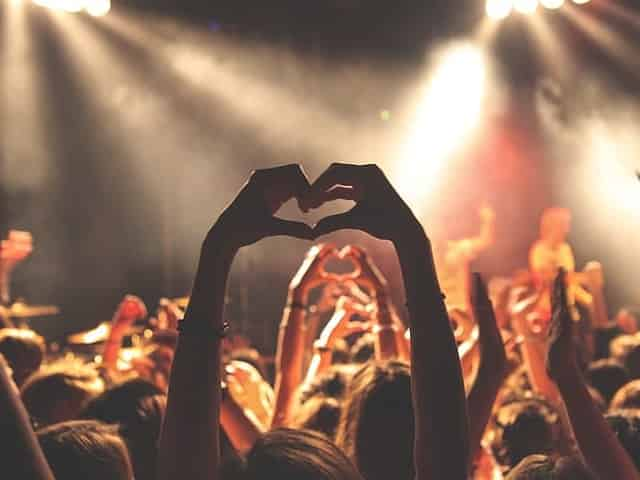 Travel experts agree, it's safer to travel if you do these things before heading to Fort Lauderdale for your music festival, tournament, or event
If you're wondering what to do in downtown Fort Lauderdale, sometimes that simply depends on the season. This lively city is known for their extraordinary and extravagant annual events, that attract visitors from all over, every year. With so many top-notch events taking place in Fort Lauderdale, there's sure to be something fun for the whole group, no matter when you decide to visit! If you'd like to base your trip around one of these awesome events, then check out a few of the fan favorites below:
Las Olas Art Fair: A local favorite, the Las Olas Art Fair takes place every year in January, and hosts more than 200 local and national artists. This event is a South Florida tradition, and provides a free, pet-friendly, outdoor activity the whole family will love! Those in attendance will enjoy incredible art, sculptures, jewelry, woodwork, and get the chance to chat with the artists about their work.
Tortuga Music Festival: Calling all country music fans! The Tortuga Music Festival is a 3-day event that takes place at Fort Lauderdale Beach Park every year in April. Showcasing the hottest headliners in country music, expect to hear from superstars like Tim McGraw, Billy Currington, Luke Brian, and more!
International Boat Show in Fort Lauderdale: The International Boat Show in Fort Lauderdale is the largest in-water boat show in the world, and takes place in Greater Fort Lauderdale every year at the end of October. Those in attendance will be able to check out over 1,500 boats including jaw-dropping yachts with all of the bells and whistles! Not only that, there will be vendors, worldwide yacht debuts, food, and nautical gear.
Fort Lauderdale International Film Festival: Cinema-lovers flock to Fort Lauderdale every year in November for their 17-day-long Fort Lauderdale International Film Festival. There will be more than 150 films from over 30 countries, covering a wide range of topics and styles.
Riptide Music Festival: Are you ready to rock? The Riptide Music Festival takes place at Fort Lauderdale Beach every year in November, and features the hottest alternative rock artists. This 2-day event has featured the likes of some incredible artists including The Killers, The 1975, Jimmy Eat World, and Fuel.
Seminole Hard Rock Winterfest Boat Parade: Most will probably be surprised to learn that this beachside paradise is actually the perfect place to spend the holidays. For example, every year in December, the Seminole Hard Rock Winterfest Boat Parade lights up the Intracoastal Waterway as boats, barges, and yachts make their way through the 12-mile parade route draped in festive holiday lights and decorations.
9. Nightlife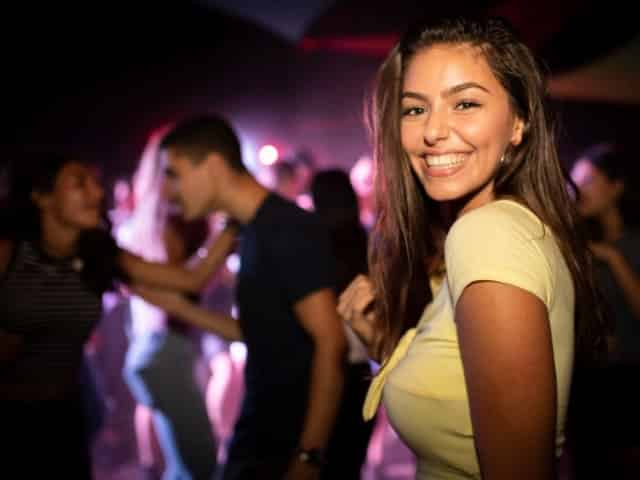 If you're wondering what to do in downtown Fort Lauderdale at night, visitors will be able to choose from plenty of amazing clubs, casinos, pubs, and more
After spending the day relaxing on the beach or paddling through the canals, letting loose and spending a night out on the town is just what the doctor ordered! Downtown Fort Lauderdale is known far and wide for their amazing nightlife and party scene. Most of the top bars and clubs are located within walking distance of each other, so you can easily choose your favorite, or hop from one spot to the next! These are a few of the top bars that are definitely worth checking out when wondering what to do in downtown Fort Lauderdale:
Original Fat Cats
Round Up Country Western Bar
Glitch Bar
33rd Street Wine Bar
Apothecary 330
Looking to turn it up a notch? Downtown Fort Lauderdale is also home to some of the top South Florida nightclubs! So, grab your favorite people, your dancing shoes, and head to one of these clubs and dance the night away:
Club Euro Nightclub
America's Backyard
O Lounge
SWAY Nightclub
Another great option for those looking for an alternative to the standard nightlife experience is a trip to the area casinos. See what lady luck has in store for you and try your hand in blackjack, poker, slots, baccarat, or one of the many other table games. Not only that, Fort Lauderdale casinos are known for their drinks, dancing, and entertainment, as well, making it the perfect place for an epic night out! The Big Easy Casino and the Seminole Hard Rock Hotel & Casino are two of the top casinos to check out while in the area.
10. Breweries and Pub Crawls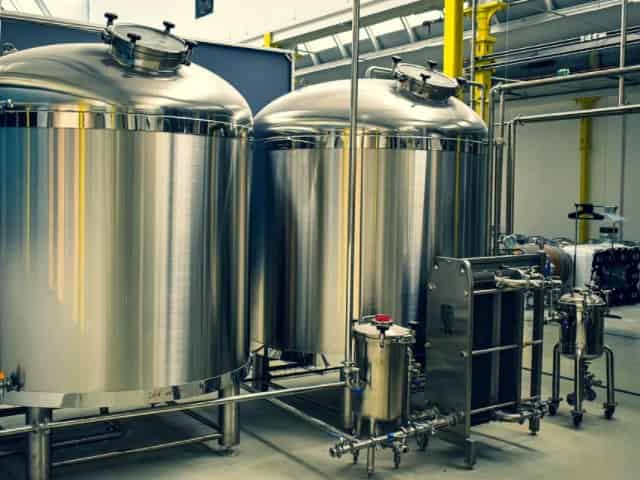 Visiting the area breweries is a great way to experience the local flavor in a fun and unique way
One of the best places to be a beer enthusiast is in Fort Lauderdale. There are an abundance of breweries and taprooms in the area, creating and offering locally-crafted beers in all types of flavors and styles. Choose between beer gardens, microbreweries, and brewpubs, with some even offering open-air cigar patios, pet-friendly seating, and axe-throwing! The options are practically endless, so if you're feeling overwhelmed, here are a few of the top breweries located near downtown Fort Lauderdale for your convenience: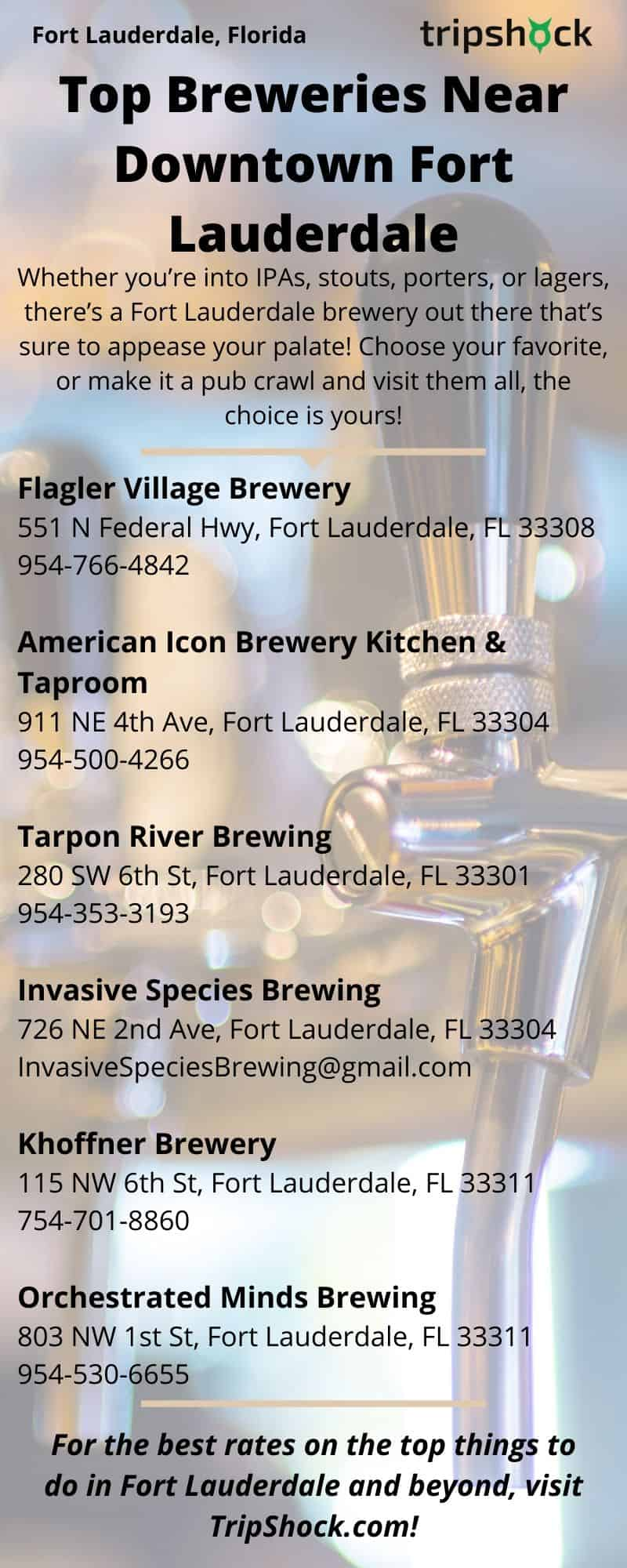 Pick the one that's best for you, or create your own pub crawl and visit them all, the choice is yours! If a pub crawl is more of what you're after, well you're in luck! For those who don't know, pub crawls are usually guided tours that take you to multiple watering holes to sample specialty concoctions at each location. This is a great option for visitors, because with a knowledgeable tour guide leading the way, you can rest assured that you're experiencing the best of what Fort Lauderdale has to offer!
---
Now that you know what to do in downtown Fort Lauderdale, it's time to get out there and make this trip to the Venice of America the most memorable one yet! No matter if you're shopping down Las Olas Boulevard, exploring downtown aboard a sightseeing cruise, or taking in the local history at one of the many area museums, you're in for a vacation full of fun and awesome experiences that will last a lifetime!
Be in the know!
Be informed about our latest offers
You can unsubscribe at any time