Booking & Payment
Customer Service Guide (Home) > Booking & Payment
Let's face it, online reservations may give you... well... reservations about booking online. Fortunately, TripShock offers simple and secure reservations with money-saving promo codes and plenty of payment types that make booking a breeze!
Learn more about TripShock Booking & Payment below:
Promo Codes
Promo codes are offered to TripShock customers as a means to save on popular activities. A promo code may apply site wide, or to a single tour, tour category, or destination. Promo codes sometimes include a minimum purchase amount or other stipulations like the inability to apply the code on an already discounted activity.
Valid promo codes are found in several locations. Promo codes may include expiration dates or a maximum number of uses. Some of the places customers can find promo codes are:
On the TripShock promo codes page - CLICK HERE TO VIEW
Listing special text
Official TripShock email promotions
Official TripShock social media posts (Facebook, Instagram, Twitter, etc.)
Partner websites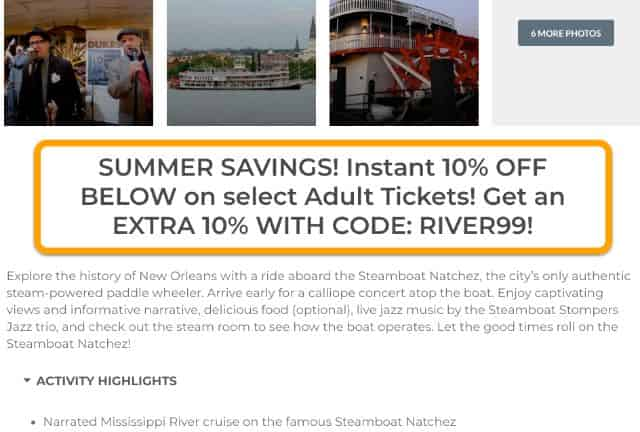 Promo code in the special text of the Steamboat Natchez Daytime Jazz Cruise (valid as of 09/2019)
Applying Promo Codes
Promo codes are applied in the shopping cart. To apply a promo code, please follow these steps:
Add the desired activity to the shopping cart
Enter the promo code into the "Have a promo code" section of the shopping cart
Click "APPLY PROMO CODE"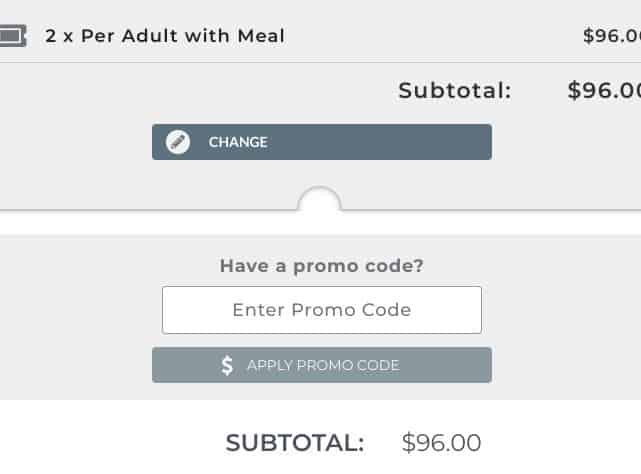 There is a field in the shopping cart to apply a promo code
---
Other Discounts
Besides promo codes, TripShock offers automatic savings on a wide range of activities. These savings are typically visible in the listing special text, listing pricing table, or the price in TripShock's search pages.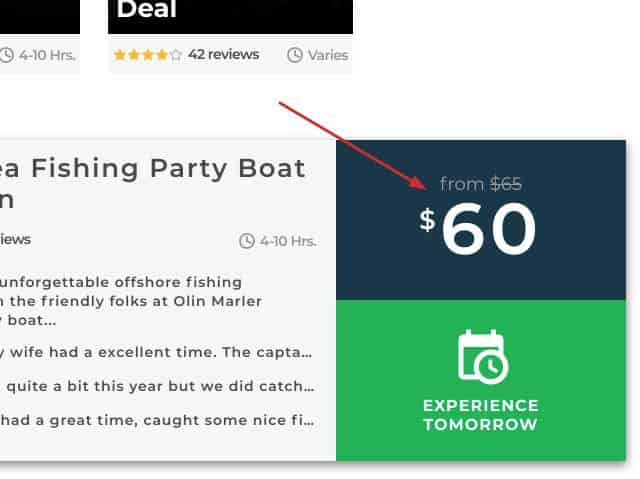 Automatic discount applied to a Destin, FL, Deep Sea Fishing Charter shown in the TripShock search pages
---
Rate Changes
Given the nature of the tour and attraction business including such factors as seasonality and weather events, rates for TripShock activities are subject to change. Once a booking has been complete, the rate at the time of booking will not change unless there was an error.
TripShock users are encouraged to book in advance to take advantage of low rates and increased availability.
In the rare event that rates were entered incorrectly by human error, a good faith effort will be made by both the supplier and TripShock to quickly resolve the incorrect rates to the satisfaction of both the customer and supplier. For more on this please refer to the PREPAID RESERVATIONS section of our TripShock Terms & Conditions.
---
Accepted Payment Types
With easy booking in mind, TripShock is proud to accept multiple payment types from the most trusted vendors.
As of 09/2019, TripShock accepts the following payment types:
Paypal
Apple Pay
Google Wallet
Visa
MasterCard
American Express
Discover
Accepted TripShock payment types are visible towards the bottom of each TripShock listing below the ticket options
---
If you have any questions regarding your reservation please contact our reservations department at 850-424-5125, or email us at [email protected].