10 Couples Activities on a Romantic Getaway in Florida Keys
Mike Fisher
May 20th 2020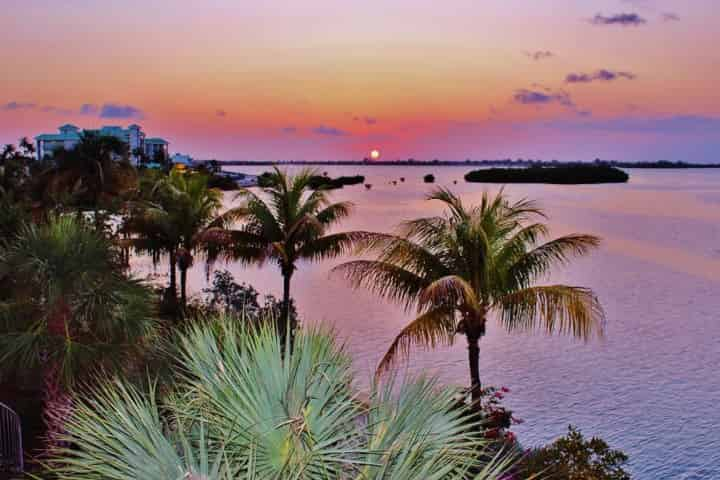 The Florida Keys is a destination teeming with romance. With picturesque sunsets, exotic islands, and eclectic cuisine not found anywhere else, couples plan a romantic getaway in the Florida Keys to escape reality and reconnect with one-another.
If you're planning a trip to the Keys with your loved one, or are in Key West now, you're probably searching for some memorable couples activities. Water-related things to do is a no-brainer, but there is more to Key West than vibrant coral reefs and miles of stunning beaches. Keep reading to discover the top couples activities to experience in Key West, FL.
Table of Contents
Romantic Getaway in the Florida Keys - How to Make the Most of it

Sailing
Witness a Key West Sunset
Sample the Local Cuisine
Parasailing
Check out a Local Event
Rent a Watercraft
Snap Some Insta-Worthy Photos
Experience Key West History
Go Fishing
Visit the Coral Reef

Plan Your Romantic Getaway TODAY!
---
Romantic Getaway in the Florida Keys - How to Make the Most of it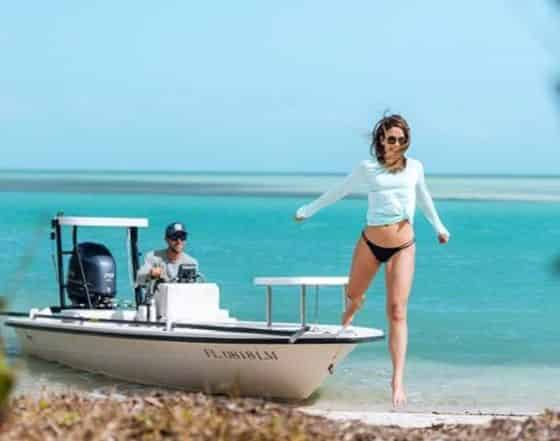 Image from greenpinapple_perry on Instagram
If you're headed for the Keys on a romantic getaway, you're looking to create memories that will last a lifetime. Don't worry if you're not a Key West pro, we've compiled 10 of the best things to do for couples. Whether you're planning a trip months in advance, or you just checked into your airbnb, there is something on this list that you and your partner are sure to love.
1. Sailing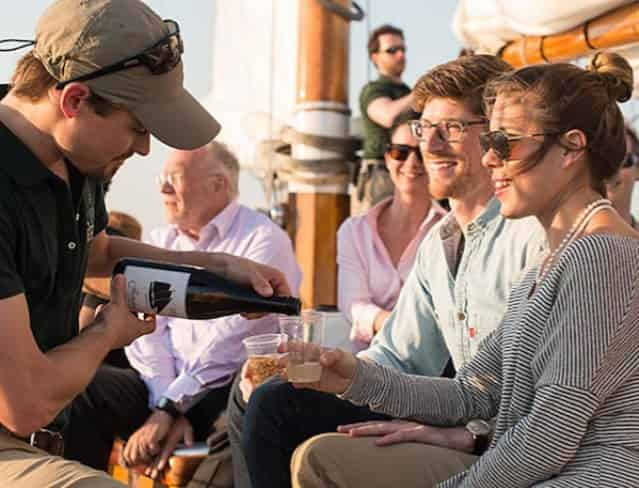 A couple enjoys a mimosa sailing charter with Classic Harbor Line tour company in Key West
Key West is known across the globe as a prime destination for sailing. Boating and sailing enthusiasts cruise the Key West waters year-round, partaking in fun activities like snorkeling, scuba diving, swimming, and island hopping.
Couples can get a taste of the "sailing life" by renting a sailboat, or reserving a spot on a group or private sailing charter. Taking in the sights, sounds, and sea air-smells of a sailing charter with your partner is a great way to experience a romantic getaway in the Florida Keys. If you aren't schooled in sailing, choosing the right sailing tour may be difficult. Check out our article covering the different types of sailing tours in Key West for help securing the perfect excursion!
2. Witness a Key West Sunset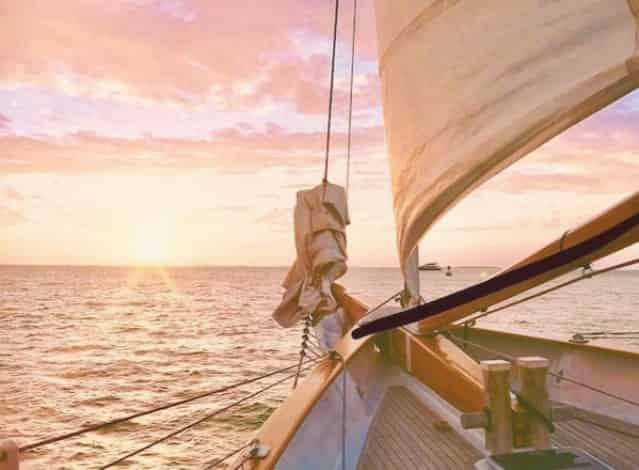 Sunset cruises are one of the most affordable and unforgettable experiences for couples on a romantic getaway in the Florida Keys
The sunsets in Key West are legendary, just ask anyone that's been on a genuine Florida Keys Sunset Cruise recently. There is nothing like cuddling up close with your sweetheart and sipping a tropical drink to the backdrop of a warm palette of yellows, oranges, blues, and reds.
3. Sample the Local Cuisine
Couples dining on delicious oysters in the Florida Keys
Key West has an eclectic food culture that is celebrated throughout South Florida. Some of the famous cuisine is known far and wide like the deliciously citrusy key lime pie, but other local meals are less common and just as delicious. Here are some of the top foods Key West is famous for from the foodies at whiskiedwanderlust.com:
Key West Pinks (Pink Shrimp)
Royal Reds (Shrimp)
Conch Fritters
Spiny Lobster
Cuban Cuisine
French Cuisine
Key Lime Pie (we told you!)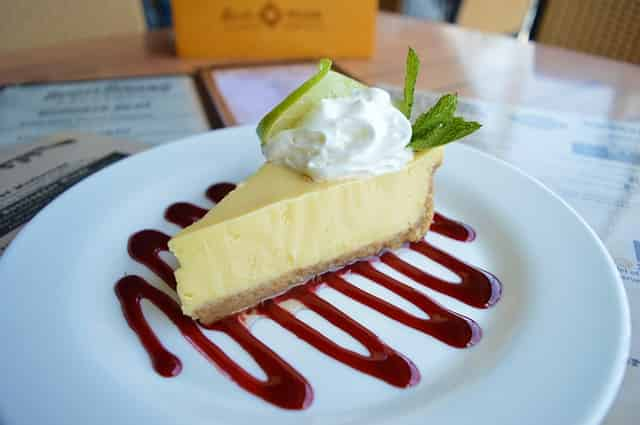 Key lime pie is a famous dessert made from scratch at many Key West diners and bakeries
There are so many incredible dining options in Key West, it's tough to choose one restaurant without feeling like you're missing out! If you're not sure where to dine out, check out some of these dining options from foodandwine.com:
Top Choice for Local Oysters: Half Shell Raw Bar
Top Choice for Date Night: Café Marquesa
Top Choice for Cuban Cuisine: El Siboney
Top Choice for Classic Seafood: Hogfish Bar and Grill
Top Choice for French Cuisine: La Crêperie Key West
Top Choice for Sweets: Glazed Donuts
4. Parasailing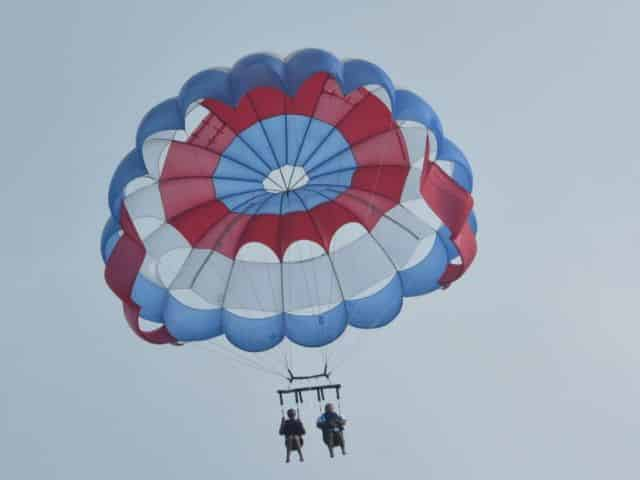 In a Key West Traveler Story, a married couple checks parasailing off their bucket list
The best view in town is from hundreds of feet up in the air! Get a birds-eye view of Key West on a parasailing tour. The best part? Special-made harnesses allow two people to share the experience! Witness marine life, local landmarks, and that irresistible sunset and create memories that will last a lifetime.
Key West parasailing excursions not only make for the perfect romantic getaway in the Florida Keys, but are also affordable and easy to reserve. Trips depart in small groups, so while others on the boat are taking their turn in the sky, you get to relax while cruising the waters!
5. Check out a Local Event
Superboat Key West World Championships Serafino Cazzani Herb Stotler - Image from Wikimedia
Key West draws travelers from across the globe for incredible events highlighting history, watersports, arts, and culture. Visit https://keywest.com/calendar/ for everything going on in town day to day. Here are some of the most popular annual events taking place in the Keys:
Hemingway Days - This festival celebrates the famed author and Key West local, Ernest Hemingway. Look-alikes wander the streets as cultural events like poetry readings take place across town. There is also a three-day marlin tournament to honor Hemingways love of deep-sea fishing.
Fantasy Fest - Dubbed the "Mardi Gras in Key West", Fantasy Fest is a 10 day celebration taking place in October with parades, costumes, and more!
Del Brown Permit Tournament - A fishing tournament honoring one of Key West's most influential fisherman, Del Brown.
Race World Offshore Key West Championships - An offshore racing competition featuring the fastest boats in the world.
6. Rent a Watercraft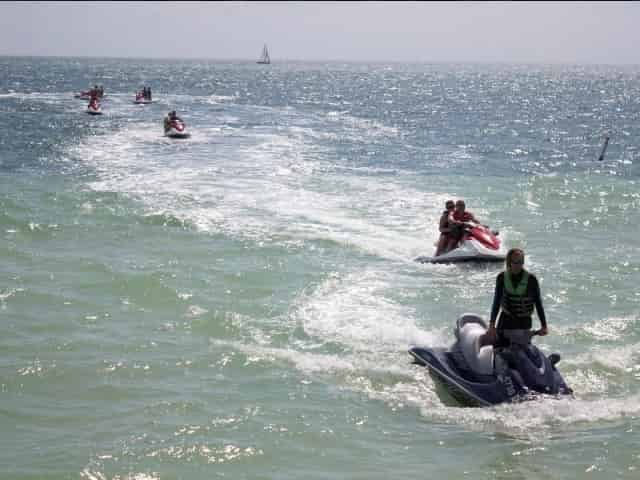 Pictured above is a magical and memorable guided jet ski tour through the crystal-clear waters of the Florida Keys
There is so much to do and explore on the water in Key West, why not rent your own boat? Swim, fish, snorkel, scuba dive, or simply anchor down at a secluded beach for a relaxing day in the sun.
Watercraft rentals are a popular choice for couples wanting to plan a carefree day together. There are lots of rentals to choose from. Watercraft rentals in Key West include:
Pontoon Boats
Center Console Boats
Deck Boats
Sail Boats
Jet Skis
Kayaks
Paddleboards
For couples, or couples groups on a romantic getaway in the Florida Keys, we recommend renting a pontoon boat or jet ski. Pontoons are slow moving, easy to maneuver, and run a long time off one tank of fuel.
Jet skis on the other hand are high-speed vessels that can whip, spin, and make waves in the water. Also known as waverunners, they can hold two passengers at once (depending on size), not to mention Key West jet ski rentals are far more affordable than any other powered watercraft.
7. Snap Some Insta-Worthy Photos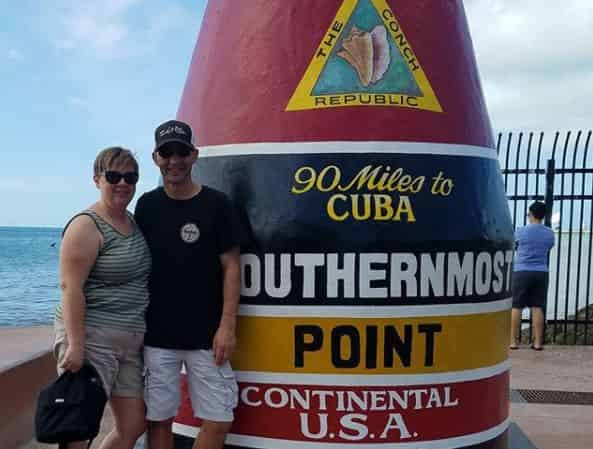 Southernmost Point in the USA - Image from sterling_silverware on instagram
There are few destinations that offer as many "gramable" pictures as the Florida Keys. Head to some of the local landmarks including the Southernmost Point in the US, the Key West Lighthouse, and Old Town Key West for incredible couples pics that will make your friends, family, and coworkers extra jealous!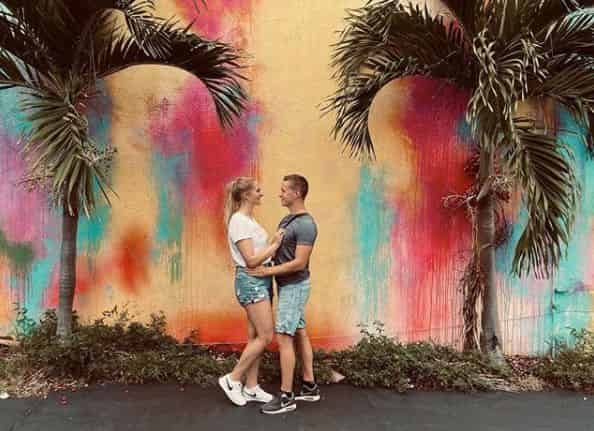 Image from kati_x3 on instagram
Beach photography sessions for couples is a unique way to capture the joy felt on the warm, sandy beaches of Key West. Professional photographers will set you up with a sunrise or sunset session for two, snapping photos to commemorate your vacation. However you want to frame it, Key West is a great spot for couples to test out their modeling skills!
8. Experience Key West History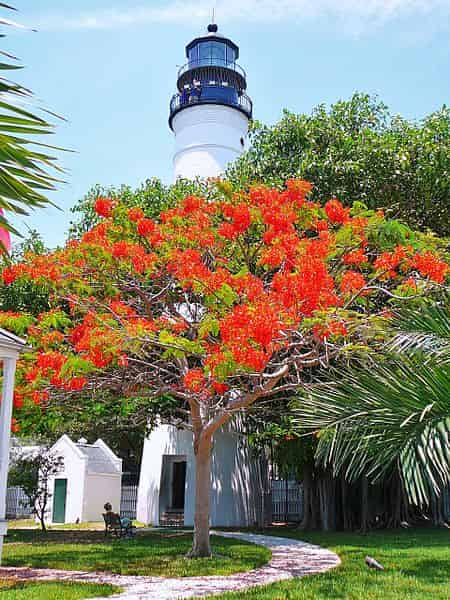 The Key West Lighthouse is a popular landmark for couples on a romantic getaway in the Keys
History is alive all throughout Key West, FL. From historic Forts like Dry Fort Jefferson and For Zachary Taylor, to fun and informative museums like the Ernest Hemingway Home and Museum. Everywhere you turn is an homage to the history that modern-day Key West is built upon!
9. Go Fishing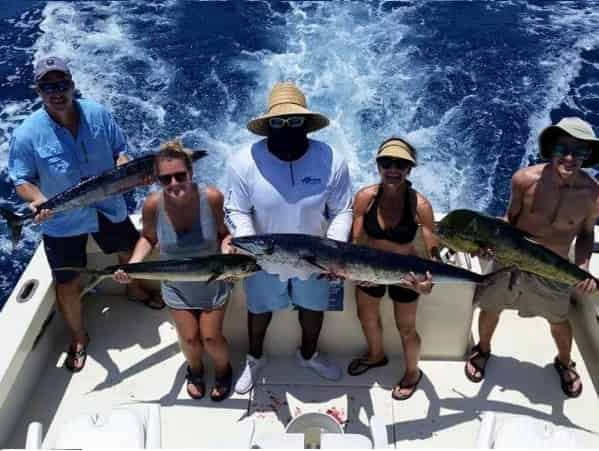 Group of anglers hold up the day's catch aboard Captain Conch Fishing Charters in Key West, FL
The fishing in Key West is world-renowned. Inshore, nearshore, or deep at sea, there is something incredible to catch here in Key West. If you're looking to create lasting memories by way of "fish tales", try a fishing trip in the Florida Keys.
There are plenty of spots to fish on your own including from the shore, the beach, a dock, or a fishing pier like the Edward B. Knight Pier. But this requires more planning and individual effort than most couples traveling to Key West. The best choice for a romantic getaway is a Key West Fishing Charter.
What is a Fishing Charter?
Charter fishing is a specially-catered fishing trip administered by experienced captains and their crew. There are several types of charters to choose from including Bay/Inshore Fishing, Nearshore Fishing, and Offshore Fishing. Each trip delivers a completely separate experience and targets different fish species.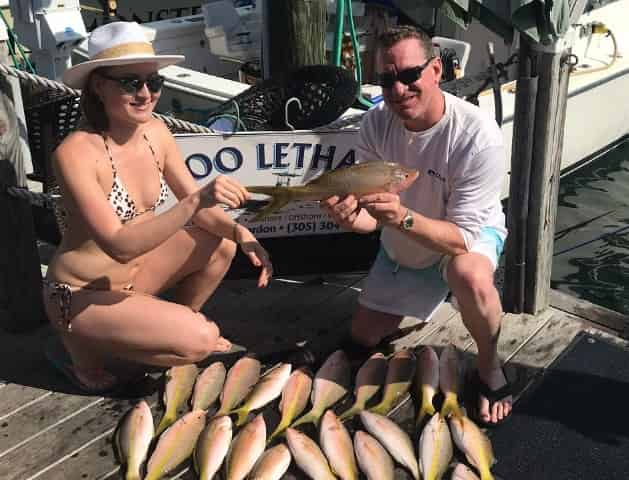 A couple shows off their catch of yellowtail snapper after a successful fishing trip aboard Too Lethal Charters
For an intimate fishing experience - For couples looking for an intimate experience, I recommend a private charter. A captain will plan a trip based on your wants and needs. This could range from catching shark and marlin, to targeting inshore species like permit and tarpon. You'll try several types of fishing techniques including trolling, casting, and bottom fishing, and utilize different baits and lures.
If you don't mind sharing the trip - If you just want to head out on the water and catch some fish, a party boat fishing charter (also known as "split charter") is your best choice. On a split charter you'll head out in a group ranging from 6 to over 50 people. These trips typically target deep sea destinations like reefs and wrecks, and rely solely on cut bait and bottom fishing.
10. Visit the Coral Reef
For most visitors, Key West snorkeling tours present the best value. Snorkeling is safe, simple, and prices start around $40
The coral reefs surrounding Key West are vibrant and full of life. Come face-to-face with colorful coral, and a host of sea creatures including sea turtles, shark, and over 500 species of fish.
The best way to visit the reefs in Key West including the Florida Reef, the only living coral barrier reef in the continental USA, is by reserving a spot on a snorkeling or scuba diving tour. Both can be booked for relatively cheap and require no prior experience.
---
Plan Your Romantic Getaway TODAY!
Now that you're seen all there is to do in Key West on a romantic getaway, it's time to get out there and have some fun! The magic of the Florida Keys is alive and well, and I hope you are able to let time slow, stress levels drop, and spend some quality time with the one you love. For more things to do in Key West, visit our TripShock Visitors Guide of Key West, FL, including things to do, traveler stories, and travel resources and articles.
Be in the know!
be informed about our latest offers
You can unsubscribe at any time