12 Best Things to do for Couples in Tampa
Carrie Jenkins
July 1st 2020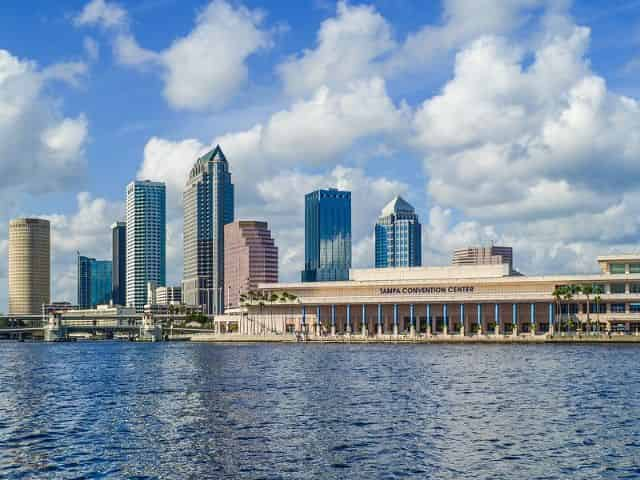 Heading to Tampa for a romantic get away with your sweetie?? Tampa certainly has a lot to offer. In fact, with so much to choose from, it can seem a bit overwhelming. So, we're here to help you maximize your time with these 12 Best Things to do for Couples in Tampa!
From amusement parks to incredible dining, with Clearwater Beach only 30-minutes away, (one of the top North American beaches) you're sure to have a fun-filled adventure in Tampa. So, without further ado, here are the best activities for couples in Tampa that will make your next couples holiday a memorable one!
Looking for more things to do in the Tampa area? Check out a full list of Things to do in Tampa online
---
1. Tampa Boat Tours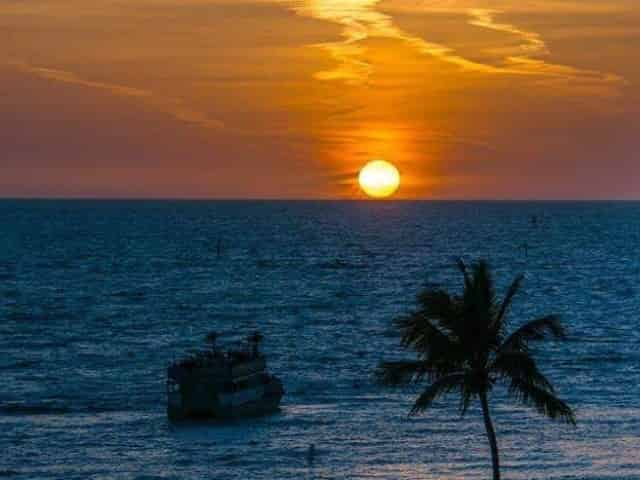 You can't truly experience Tampa until you've seen it from the water. There is nothing more romantic than taking in beautiful views as you glide through the sparkling waters of Tampa Bay with your main squeeze by your side. Go for a daytime cruise with Tampa Harbor and History Boat Tour, where you'll learn all about Tampa's history while sightseeing. Or choose a dreamy sunset cruise and toast as dusk dreamily settles across the horizon. Whatever you do, don't miss a chance to tour Tampa via boat!
Watch the sunset over the Gulf of Mexico aboard a Tampa Boat Tour
2. Busch Gardens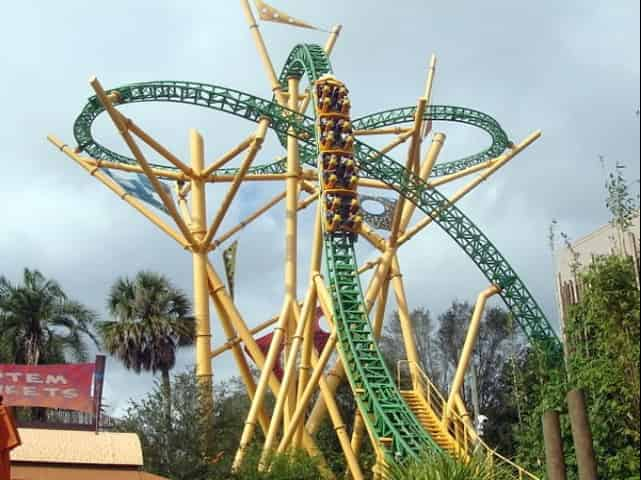 picture courtesy of Busch Gardens
Go be a kid again at Busch Gardens. Feel the butterflies in your stomach, scream yourself silly, then do it again on some of North America's top coasters. While you're there take a journey through Tampa's largest zoo, which features more than 300 animal species. You can even tour the mock-Serengeti, on their 65-acre Serengeti Plain in an open-air vehicle. If it's thrill rides you seek then not even Disney World can compare with Busch Gardens!
3. Take a Fishing Adventure!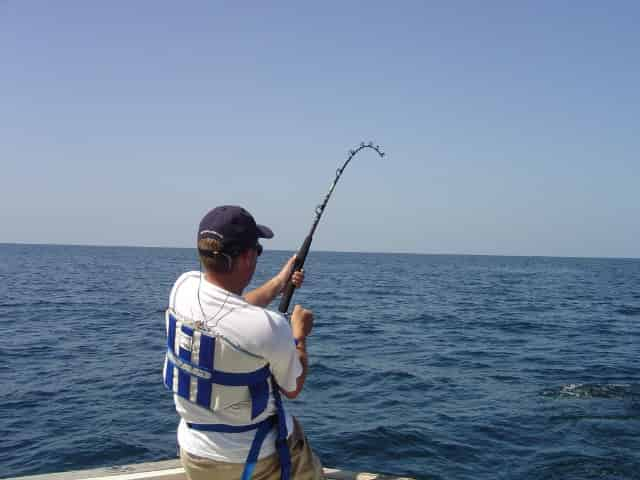 Image from Wikipedia

See for yourself why people come from all over to fish the waters of Tampa Bay. Even if you're not a professional, or even novice angler, fishing with the assistance of an expert guide provides a guranteed good time with bonus learning experience. And then there's the incredible adrenaline surge of hooking a big fish and the battle that ensues. If you're lucky enough to hook, wrangle, and reel in a seriously big fish, you may even have caught your own dinner (who doesn't like that?) Fishing offers you and your honey a great chance to bond, sightsee, learn, and perhaps form a new loved hobby you can do together!
4. Check out Tampa with a City Tour
Whether you and your partner are into history, art, food, cigars, or beer, there's probably a tour for it. City tours are a great way to get your bearings in a new town while you learn about the city's culture. They offer fun, education, new experiences, and often new friends, all in a safe way that is comfortable. So check out city tours in Tampa, and find one perfect for you!
5. Get out and Active on the Tampa Riverwalk

Image from Riverwalk Place

You'll find much to do along the Tampa Riverwalk that will get you and your honey out and about and enjoying the gorgeous Florida sunshine. Breathe that fresh coastal air as you stroll along the Hillsborough River on the 2.6 mile pedestrian trail. Or choose from one or all of the awesome options available to you: from biking, to paddling, kayaking, or biyaking on the river. You'll feel happier, healthier, invigorated, and ready to give in to that appetite you've worked up!
Find an activity near the Riverwalk that explores the culture of Tampa - Click Here
6. Tampa...A Foodie's Paradise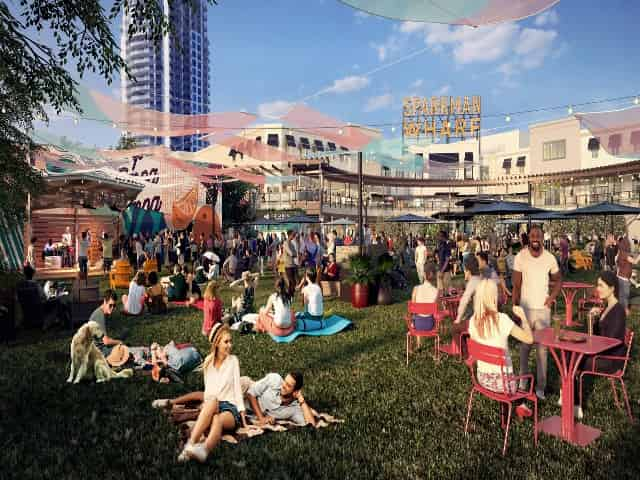 picture courtesy of 813area.com
Sparkman Wharf on the Garrison Channel in downtown Tampa offers a fun and unique experience in their Dining Garden. Featuring 10 innovative top chefs and restauranteurs the Dining Garden offers something for everyone and is usually open from 11 AM - 11 PM. They also host live music and have a very wide, over 24 taps, Florida craft beer selection in their open-air Biergarten.
Another awesome place to dig in is Heights Public Market in Armature Works, located in the Historic Tampa Heights neighborhood. Again, there are multiple vendors, all the cream of the crop of the Bay Area. Where else can you indulge in French-Asian fusion, sushi, top-notch coctails, and delectable treats??? Both options provide you with a one, or two, stop shop for fueling your inner foodie, bite after mouth-watering bite!
7. The Florida Aquarium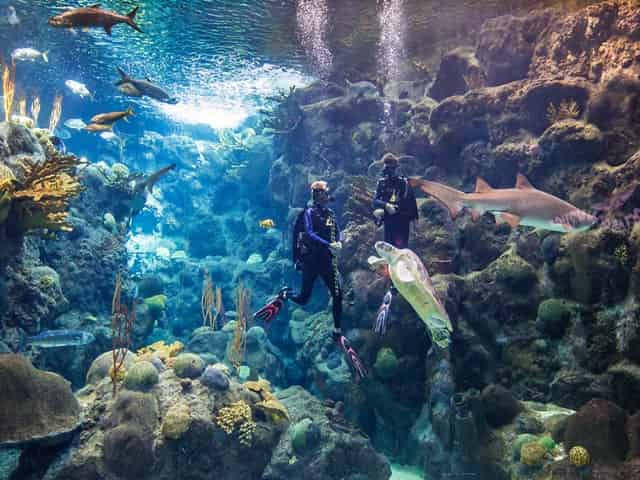 There is a jewell of a place located in the heart of Tampa, and it's called The Florida Aquarium. As one of the top-ranked aquariums in North America it provides hours of entertainment, education, and awareness about the many different aquatic ecosystems of our beautiful planet. Without ever leaving Tampa you can: Tour the Wetlands, Visit Bays and Beaches, and even take a Journey to Madagascar!
The Florida Aquarium has conservation and education at the forefront of their mission, and as such they do a lot of work to help preserve and protect our aquatic animals, so why not support them? If you happen to be unable to leave your kiddos at home on this get-away, they also have an amazing outdoor water play-zone.... just saying.
Get deals for your next Tampa Aquarium Visit: Top Aquariums in Tampa
8. The Tampa Theatre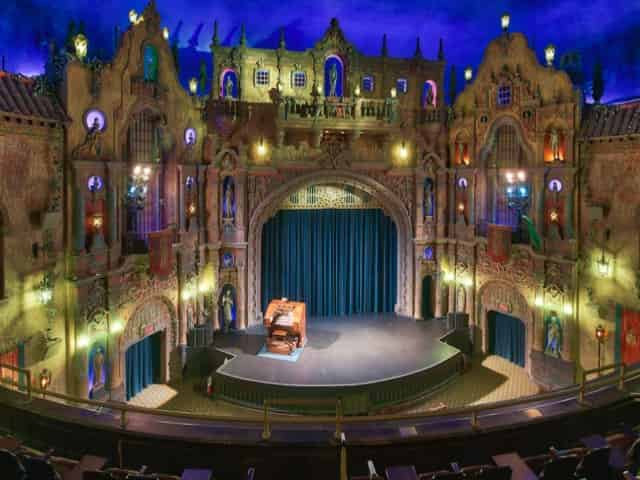 image courtesy of Tampa Theatre
The name Tampa Theatre does little to describe how majestic this historic and beloved venue actually is. Built in 1926, this movie palace looks like a grand Mediterranean courtyard. It's high painted ceiling mimicks the night sky and romantic statues decorate the walls. Managed by the not-for-profit Tampa Theatre Foundation, the Tampa Theatre is a sight to behold! They feature first-run and classic films, concerts, special events, corporate events, tours and educational programs, so check it out! You'll be glad you did, and did i mention this place is grand and romantic? So, dress up and go catch a show!
9. Visit Ybor City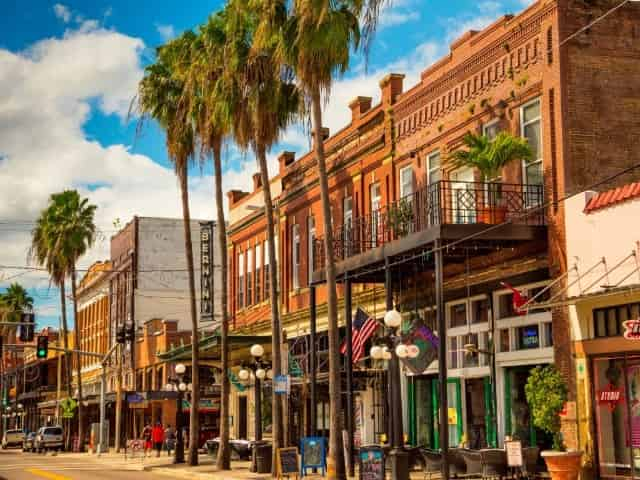 image courtesy of Yborcityonline.com
Ybor City is Tampa's National Historic Landmark District, and a seriously cool place. This may be because it's been around for more than a century! Founded in 1885, Ybor has been a melting-pot for culture. Ybor was unique in the South in that it was a successful town almost entirely populated and owned by immigrants: mainly from Cuba, Spain, and Italy. The charm of Ybor is second only to the romance that it inspires. Located only a few minutes from the downtown Tampa area, Ybor City feels a world away.
Come to Ybor for the history and stroll down the narrow brick streets. Come for the beautiful architecture and take in the tall red-brick buildings with cast-iron balconies. Come and enjoy a wide array of ethnic cuisine. Come to dine at Columbia, the largest Spanish restaurant in the world! Whether you come to Ybor city for a daytime visit, or to soak up it's vibrant night life, just be sure to make it a stop on your trip to Tampa!
10. A Tampa Dinner Cruise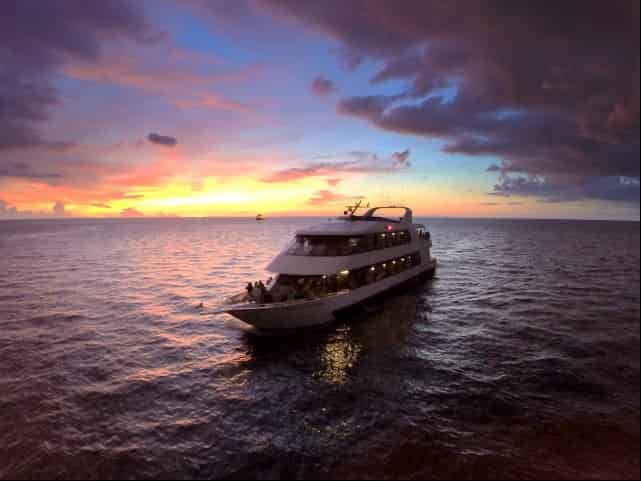 The perfect end to days spent bronzing on beautiful Clearwater beach, would be a Tampa Dinner Cruise. Take in the stunning sunset aboard a luxury yacht or party boat, whatever suites your mood, and satisfy your appetite at the same time. A great excuse to get dressed up, take a romantic dance with your honey buns, and enjoy a fine dining experience . Perhapps an all-you-can-drink, tropical-buffet style cruise with a up-beat DJ is more your speed? Did somebody say "rum-punch"? They have those!
11. Tampa Museums
picture courtesy of Tampa Museum of Art
Vititors to Tampa be warned, this city has world-class museums! I'm sure you could manage to find at least one that peaks your interest. Please allow me to list a few of my top choices. The Tampa Museum of Art showcases six temporary exhibits, an extensive permanent collection of Greek and Roman antiquities, and 20th-century sculpture.
The Tampa Bay History Center gives an in-depth look into Tampa's history, all 12,000 years of it! You can browse Seminole artifacts, learn about the Spanish conquestadors, and view a vast array of Tampa cigar-related objects. This museum houses Columbia Cafe, which is the sister restaurant to the famous Columbia restaurant in Ybor City, and features some of the same Spanish dishes.
The Henry B. Plant Museum is an exquisitely restored hotel, originally built in 1891 with striking architecture. As you stroll through the hotel with it's lavish furnishings and immaculate gardens you journey back through time to Florida's early days. Tampa has so many great museums to choose from and I can't list them all so, find the one best suited for you.
12. Tampa Rooftop Dining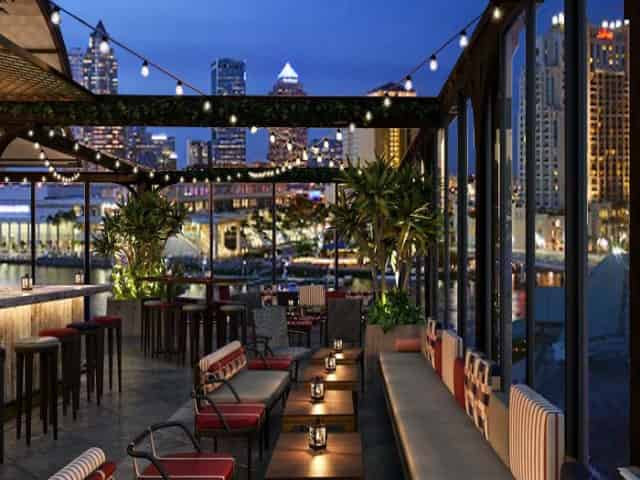 image by Topher Morrison
Whether you go for dinner, tapas, drinks, or all of the above, go up, up, and all the way to the rooftop to experience the best of Tampa. I know you can google and look up reviews, so I won't tell you where to go, but I will tell you to go. Come on, you know everything goes better with a stunning view! You soar above your worries and cares and let the ambiance of the Tampa Bay skyline bathe you in perfect lighting. If it sounds like something you can't miss, that's because it is!
---
Now that you know the 12 Best Things to do for Couples in Tampa... it's time to get out and have some fun! Don't forget to check out the TripShock Travel Blog for the latest Gulf Coast travel news.
Tampa News
Keeping you informed
Be in the know!
be informed about our latest offers
You can unsubscribe at any time