3 Cheap Panama City Beach Condos on Front Beach Road
Mike Fisher
May 21st 2020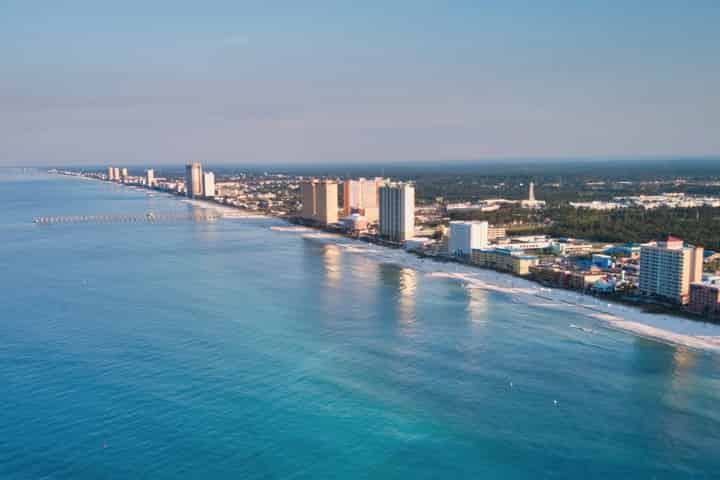 Panama City Beach Condos on Front Beach Road are among some of the top lodging in the area. Centrally located near world-class restaurants, clubs, and all-ages activities, Front Beach Road condos provide an exciting spot to vacation during your time on the Emerald Coast. For many visitors, affordability is the name of the game.
Booking cheap Panama City Beach condos on Front Beach Road seems like a great alternative to the pricey resorts, but without the proper knowledge, you could end up at a no-star dive devoid of the amenities we've come to expect out of PCB lodging, including beach views and resort-style accommodations.
That's why I've compiled a list of 3 Cheap Panama City Beach Condos on Front Beach Road! Rest assured these 3 top-rated beachfront resorts won't break the bank, leaving plenty of cash for food, fun, and adventures in Panama City Beach, Florida!
Table of Contents
Beachcomber By The Sea
Twin Palms
Tidewater Beach Resort
Things To Do Near Front Beach Road

Helicopter Tours
Dolphin Tours
Fishing Charters
---
Beachcomber By The Sea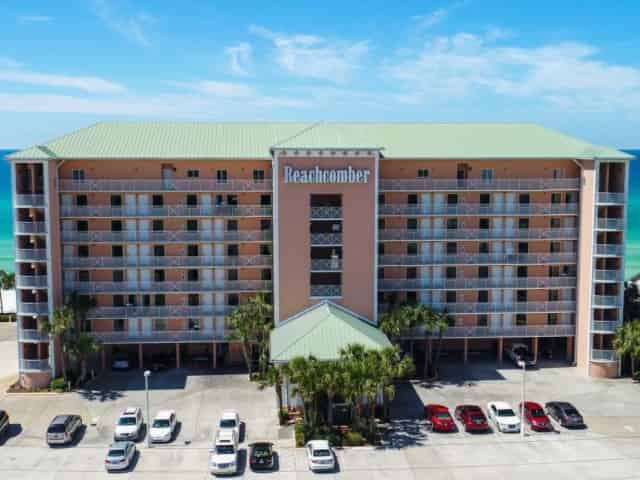 Image courtesy of booking.com
Beachcomber By The Sea's appeal comes in the fully furnished rooms, FREE continental breakfast, heated pool for year-round swimming, and close proximity to Frank Brown Park and Pier Park. Across the board, positive reviews rave about Beachcomber By The Sea's clean rooms, spacious balconies, and superb customer service.
Cheap Panama City Beach condos on Front Beach Road are hard to come by, but Beachcomber By The Sea is a real hidden gem with low rates and high-end resort amenities. For more information or to book a room at Beachcomber By The Sea, click here.
Twin Palms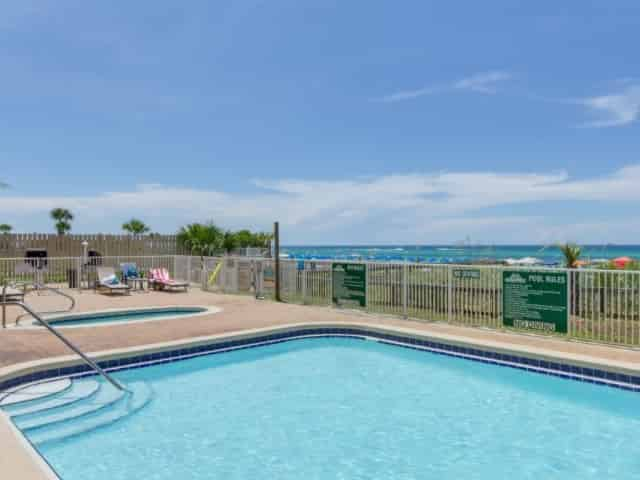 Image courtesy of booking.com
Twin Palms may not be one of the cheapest Panama City Beach condos on Front Beach Road, but a few bucks extra is worth the resort amenities including complimentary beach service (two chairs and umbrella set up daily), resort activities for kids and families, and the peace-of-mind of a secure gated property. Located near the famous Thomas Drive, Twin Palms offers the perks of staying on Front Beach Road, with the proximity to Thomas Drive restaurants and nightlife.
Twin Palms will definitely offer a cheap, but quality, Panama City Beach vacation rental, so it's worth it to keep this beachfront resort in mind during vacation planning. To book this condo, visit Twin Palms Panama City Beach online!
Tidewater Beach Resort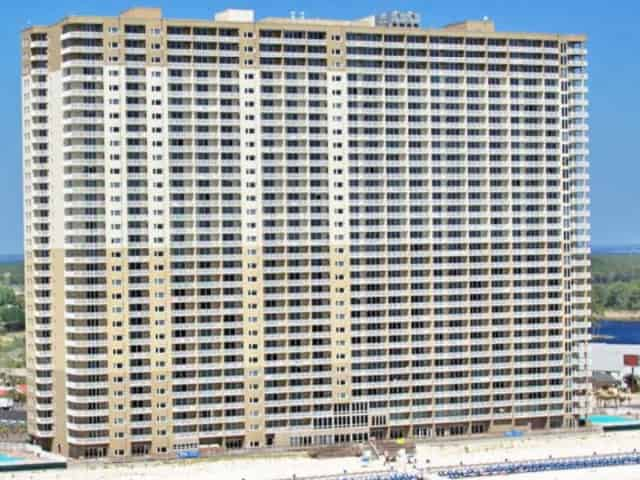 Image courtesy of booking.com
Low prices and incredible add-ons including activity promo codes and automatic savings make Tidewater Beach Resort an attractive choice for a cheap Panama City Beach condo on Front Beach Road! Located right down the road from Beachcomber By The Sea, this 4.5-star resort is also centrally located to Frank Brown Park and Pier Park.
The onsite restaurant, indoor pool, movie theater, and roman spa make vacationing at Tidewater a year-round escape rather than a typical beach vacation. Spacious rooms featuring full-kitchens and beachfront views make Tidewater Beach Resort a smart choice when searching for cheap condos on Front Beach Road! Visit Tidewater Beach Resort online at TripShock.com for more information including rates and current deals or discounts!
Things To Do Near Front Beach Road
The great thing about booking a Panama City Beach condo on Front Beach Road is that it is in close proximity to all of the fun this area has to offer! Just a quick drive (or walk) can lead you to some amazing experiences including beautiful beaches, family-friendly activities, shopping, dining, and so much more. Check out our favorite things to do near Front Beach Road, and use that money you saved booking an inexpensive condo on making memories that will last a lifetime!
Helicopter Tours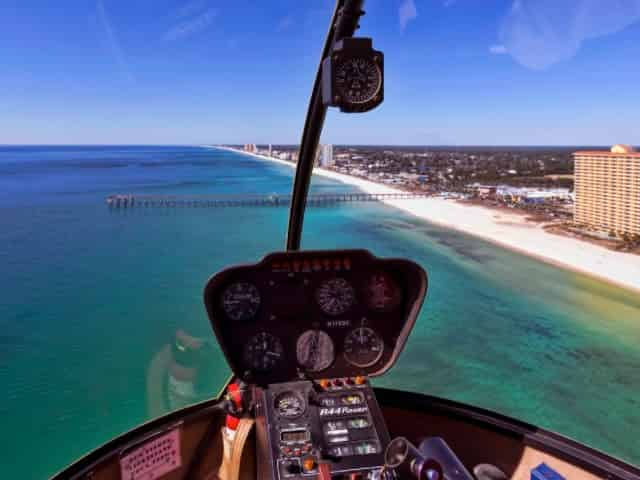 A stunning view from a helicopter tour over Panama City Beach, one of the top activities for couples visiting the area
It's a bird, it's a plane, no… it's a high-flying helicopter tour over the beautiful, crystal-clear waters of Panama City Beach, FL! Fly in the sky with Panhandle Helicopters, located on Front Beach Road, and take in the incredible views of the city, the water, and the animals that inhabit it. Don't forget to look out for your Panama City Beach condo on Front Beach Road!
Helicopter tours in PCB come in all shapes and sizes, meaning there is something for everyone. If it's your first time and you'd like a shorter trip to see how you feel, or if you're looking to propose and need as much time in the sky as possible, there's a helicopter tour to meet your needs. Below are the different helicopter tours to choose from:
Intro Tour: 5 miles
Miracle Tour: 10 miles
Shark Run: 16 miles
Run to the Pass: 22 miles
Shell Island Tour: 28 miles
Shell Island/Breakfast Point Tour: 36 miles
Dolphin Tours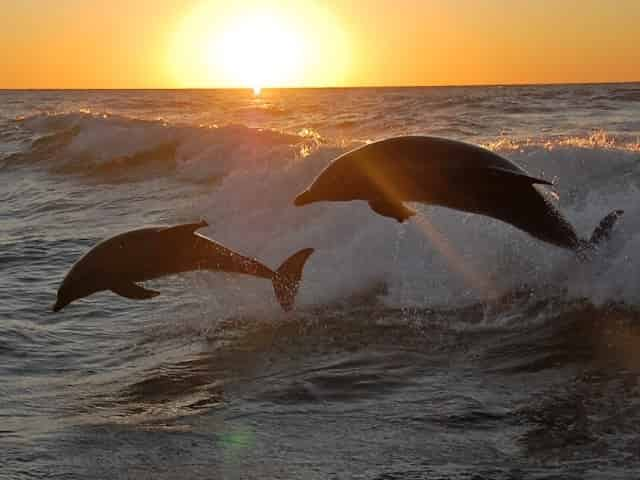 Dolphins jump the wake of the Sea Screamer dolphin cruise in Panama City Beach, FL
If you're looking to save money on your trip to Panama City, then a dolphin cruise is the perfect activity to do so. Fun and affordable, one traveler to Panama City said in a recent Traveler Story that their dolphin cruise aboard the Sea Screamer was, "worth every penny!" The best part, dolphin cruises get you up-close-and-personal with the Gulf Coast's favorite locals, the bottlenose dolphin! Other animals you may possibly see on a dolphin cruise include:
Pelicans
Herons
Sharks
Stingrays
Sea Turtles
And MORE!
Another great thing about dolphin cruises is that there are plenty of options to accommodate you and your party. Most companies will have different departure times throughout the day, so you can have some fun in the sun, or relax in the evening and watch the stunningly gorgeous sunset. Some dolphin cruises also come in the form of combination tours, offering snorkeling or diving options, as well. However, you decide to say hello to Flipper, he will surely be jumping for joy once you do!
Fishing Charters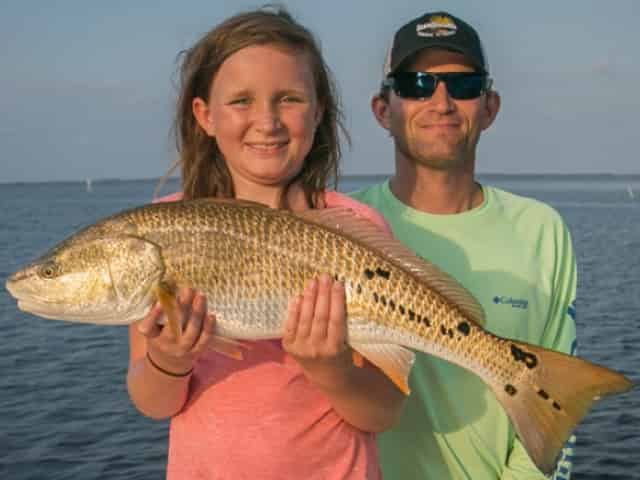 Young angler shows off a massive redfish caught on a family-friendly fishing charter in Panama City Beach
It's hard to visit the Emerald Coast and not at least test your luck behind a rod and reel. The fish are always biting in PCB, and your next trip to the beach is the perfect time to see that for yourself! Fishing charters are the best way to get out on the water, as they take the stress away from preparations and planning, including everything from fuel to fishing licenses. Not only that, with an experienced captain and crew on board, you will have plenty of assistance bringing home dinner!
When most people think of fishing charters, however, affordability is not usually what comes to mind. Luckily, in Panama City Beach, there are plenty of affordable ways to get out on the open water and reel in a giant Mackerel! Party boat fishing is a great option for those wanting to go deep sea fishing on a budget.
If you have your own equipment, fishing from shore or the pier is another great option! Just be aware if you are not fishing on a charter that you booked, you will need to obtain the proper fishing license. Please visit the Florida Fish and Wildlife Conservation Commission's website for more information: https://myfwc.com/fishing/.
---
Whether you're in one of the cheap Panama City Beach condos on Front Beach Road, an AirBnB, or camping on the beach in PCB, you're sure to have a blast! With so many fun things to do ranging from family-friendly dolphin cruises, shopping, dining, deep sea fishing charters, and so much more, there's something to appeal to travelers on any type of budget.
Be in the know!
be informed about our latest offers
You can unsubscribe at any time