7 Things You Can Strike Off Your Bucket List by Visiting Destin
Mike Fisher
December 30th 2020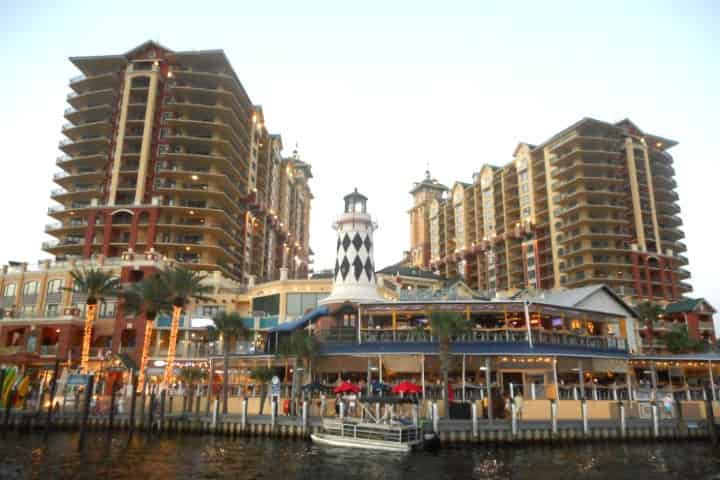 If you're heading to Florida, there's more than just Miami and Orlando where you can have an adventure. Instead, head up to the Panhandle in the northwest of the state and visit Destin. It's right on the Gulf of Mexico and offers great beaches, water sports, and plenty to do and see for the whole family!
In this article, we'll take a look at some of the things you can strike off your bucket list by visiting Destin. From parasailing trips above Crab Island, to sunset cruises on the Gulf, our list will help you to plan your trip and make some unforgettable memories! So, let's check out what there is to do…
Table of Contents
Parasailing
Hydrojet
Fishing
Sunset Cruise
Dolphin Encounters
Dinner Cruise
Snorkeling
---
1. Parasailing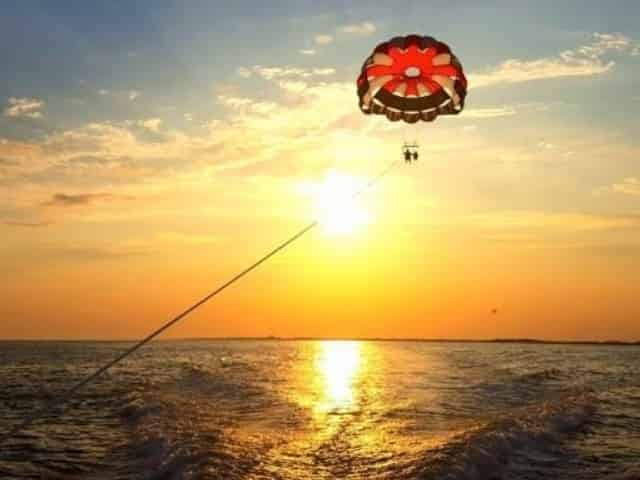 Fly high in the sky over the city on a Destin parasailing adventure
So, you've arrived in Destin and are wondering what those parachutes are going around the bay? Those are people who have already found one of the best bucket list activities in town – parasailing!
You'll be attached to a canopy wing and towed behind a boat, rising up, up into the air! This thrilling activity only gets better when you think about the views! Even if you're scared of heights, you'll still want to look down.
You'll have a bird's eye view not only of the city of Destin, but the Emerald Coast too. Lower down, you'll be able to pick out the shapes of dolphins and sea turtles, surely a memorable experience! If you're holidaying with a couple of friends, that's not a problem. Three people can enjoy parasailing at the same time!
2. Hydrojet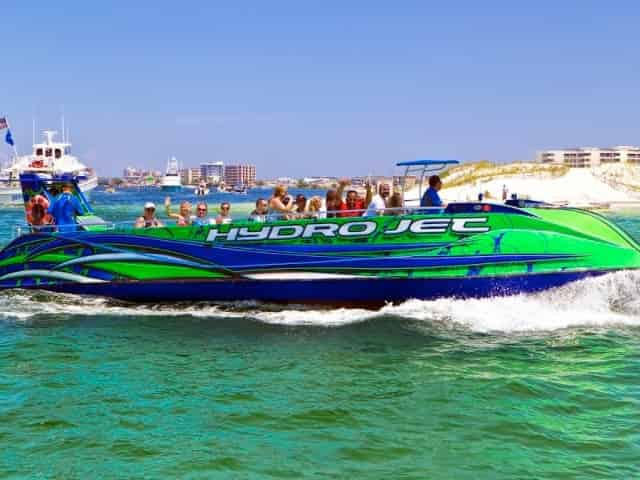 A recent Traveler Story describes the Hydrojet as exciting and energetic
So, you want to enjoy the waters of Destin but 300 feet above parasailing seems a bit nerve-wracking? Don't worry, I understand. Here's another great sports activity in Destin that will be a lot of fun without the fear of heights thrown in. The Hydrojet is the largest jet ski in the world, but all that weight doesn't slow it down. It skips across the water like a dolphin.
And speaking of dolphins, that's exactly what you'll be heading off on the Hydrojet in search of. A cruise that lasts up to an hour will see you jumping across the waves and hopefully having an encounter with a school of dolphins playing in their natural habitat! This is an activity that's not to be missed.
3. Fishing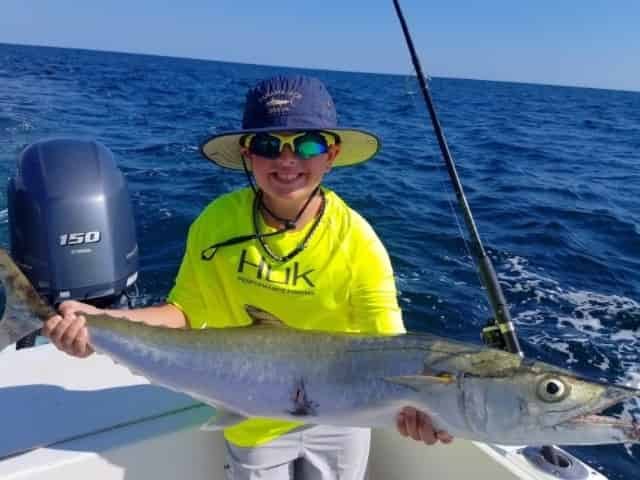 Want to reel in your own dinner? Check out the 5 best fish to catch and eat in Destin
One of things you'll notice about Destin is the number of great seafood restaurants that you can try out. But how do they get such tasty and delicious fresh fish? By deep sea fishing, of course. And that's an adventure you won't want to miss out on. In fact, you can actually do deep sea fishing on a party boat here in Destin!
You'll be with experienced anglers all along your trip, and the captain and staff on the boat can help you not only find the best snapper and grouper along the Emerald Coast but help you when it comes to gutting it too. This is a reel-y great experience!
4. Sunset Cruise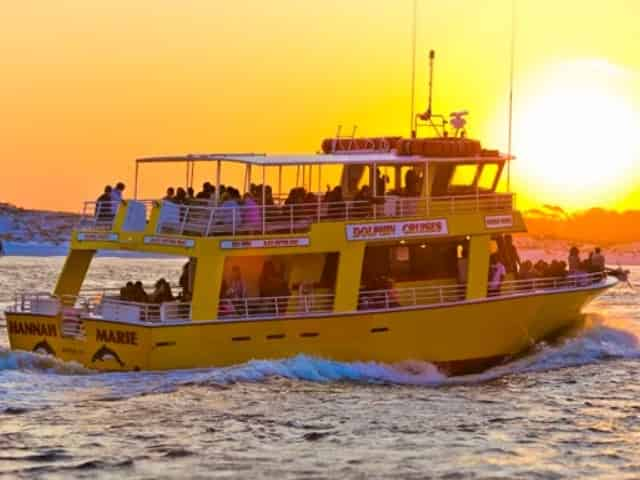 Pictured above is a scenic sunset cruise through the Destin Harbor with Olin Marler Charters
Sometimes, bucket list activities don't have to be fueled with adrenaline and almost enough to stop your heart from beating! No, sometimes we prefer something just a little more chilled but memorable all the same. That's where a sunset cruise comes in!
A narrated tour will regale you with facts about the history of Destin while you search for wildlife from the covered boat, protecting you from the hot Florida rays. This is such a cool activity, that you won't just be sharing it with tourists, but Destin's locals too! On Thursdays in the summer months, you'll be able to not only enjoy a cruise at sunset, but also the Destin fireworks show too.
5. Dolphin Encounters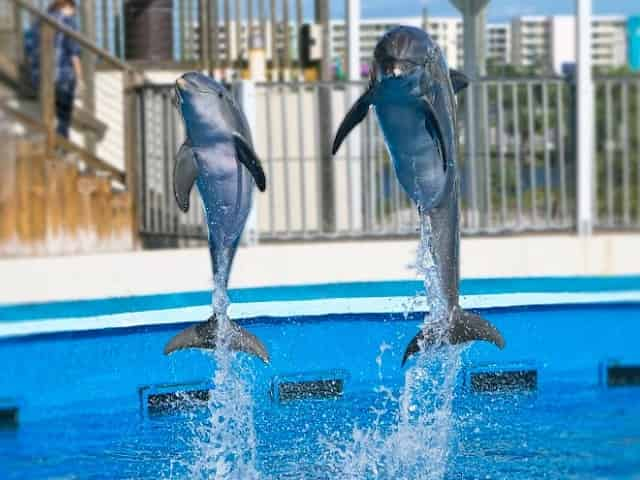 Watch dolphins jump for joy at the Gulfarium Marine Adventure Park
Many of the great tours in Destin involve seeing dolphins in their natural habitat from a boat. However, what happens when you want to get a little closer to these beautiful animals? Well, you could always head to the Gulfarium Marine Adventure Park and enjoy a Discover Dolphins Encounter!
This incredible experience will allow you to get up close and personal with gorgeous bottlenose dolphins, and you may even get to feed and pet them while being supervised by a trainer, who'll teach you communication signals and a little more about these creatures' anatomy. It's available to anyone from the ages of 5 upwards, and it's a perfect activity to do as a family!
6. Dinner Cruise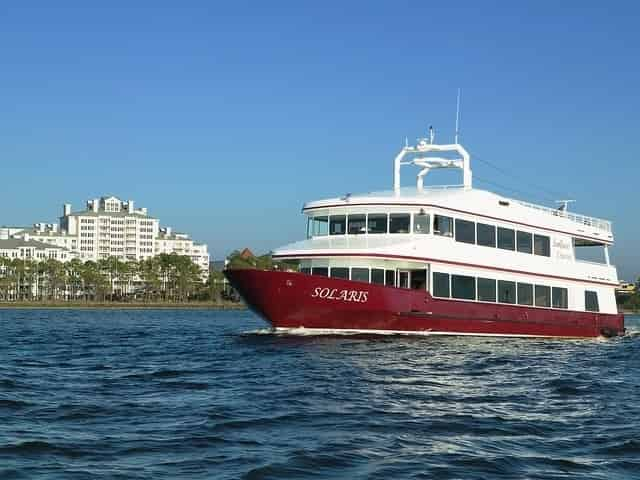 A scenic dinner cruise should definitely be at the top of your Destin bucket list
For a truly exclusive and luxurious experience, why not treat yourself to a meal and evening of entertainment aboard northwest Florida's only fine dining yacht? The Sandestin provides so much more than exquisite food, and the evening is definitely an activity that will live long in the memory.
Not only can you sample Gulf seafood or prime beef, but you'll be treated to brilliant entertainment and an on-ship bar. If that's not enough, you can get stunning views of the Emerald Coast and Choctawatchee Bay for the observation deck on the top deck. Don't miss this opportunity for a memorable and delicious meal, a lovely way to round off a fun filled day in Destin!
7. Snorkeling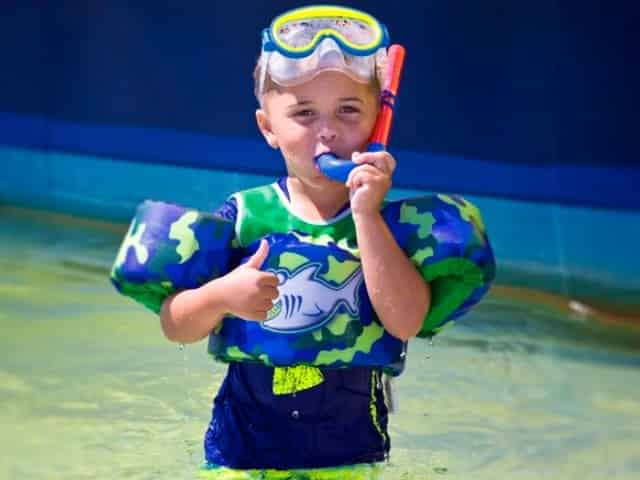 Snorkeling tours in Destin are fun for the whole family
It's great exploring Destin by boat, but sometimes that's just not quite enough. So, it's lucky that a snorkeling experience is just another activity that you can tick off your bucket list when you're visiting this lovely part of the world, right?
Look for marine wildlife, tropical fish, and crabs, all under the watchful eye of a trained and experienced snorkel instructor. Not only will they keep you safe, but they'll know all the best spots to see wildlife!
Snorkeling at places like the Jetties, Crab Island, and along the beach is a great way to experience the Emerald Coast. If you're lucky enough, you'll get to feed some of the fish too. If you're traveling with a family, this is another great activity for everyone to enjoy and have as a memory together!
---
Now It's Time to Plan Your Destin Vacation
Vacationing in Destin is an unforgettable experience. A place to stay in style is no problem at all as there are lots of vacation rentals in Destin, Florida, that you can stay and appreciate.
So this is the end of our list on the 7 things you can strike off your bucket list by visiting Destin. I hope you've found this article helpful and that you're counting down the days until your upcoming trip to the Florida Panhandle!
Check out this post from Crazy Family Adventure if you want more things to do in Destin, Florida.
Featured activities in Destin
See All
Be in the know!
be informed about our latest offers
You can unsubscribe at any time