5 Best Types of Fish in Destin to Catch and Eat
Suzanne Bratton
November 26th 2019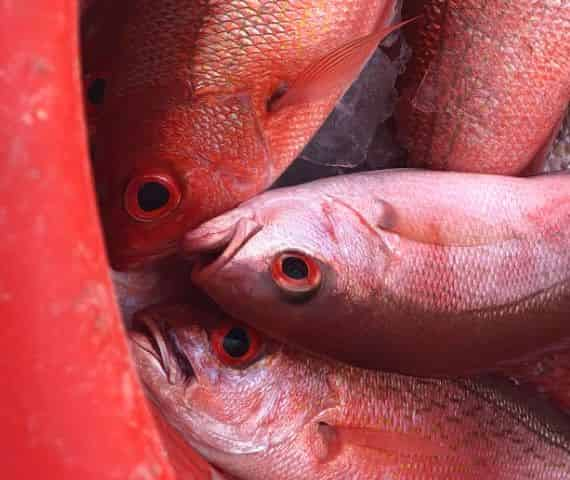 Destin, Florida, represents the best of the best with it comes to fishing in the beautiful waters of the Gulf of Mexico; it's not called the, "World's Luckiest Fishing Village," for no reason! With so many Destin, FL, fishing charters available to choose from, exploring the vast ecosystem that the Gulf of Mexico has to offer has never been easier. If you're unsure as to which fishing charter to book, but know you want to come home with dinner, consider booking a fishing charter that targets one of the 5 Best Types of Fish in Destin to Catch and Eat!
Catch these 5 fish and MORE on a Destin, FL, fishing charter today! Book Online for the best rates & tours
1. Snapper
Bottom fishing on a Destin Party Boat Fishing Trip or a private charter is an institution on the Destin Harbor. Bottom fishing is a common fishing technique used to catch fish that are found near the sea floor, like Snapper. These trips range from 4 hours to 12 hours, and beyond, making Snapper the perfect fish to target for first timers and experienced anglers alike.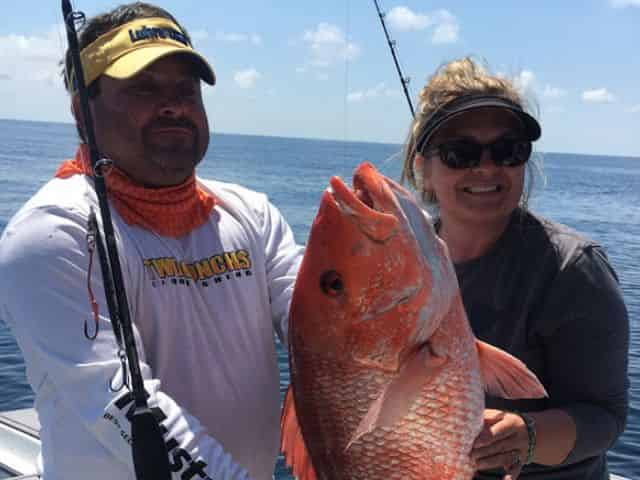 Red Snapper is one of the most popular and sought after types of fish to catch and eat, as they usually get up to 25 pounds, and are delicious any way you cook it! The record for the largest Red Snapper was actually reeled in at 46 pounds near Destin… that's a lot of fish tacos! There are federal and state Red Snapper Season Guidelines that must be followed, so please be sure to check those out before booking your charter.
Below are different types of Snapper that are also delicious, and can be caught all year:
Vermillion Snapper
Lane Snapper
White Snapper
2. Grouper
Groupers are another type of bottom fish, but unlike Snappers, fishing for grouper requires an 8-10 hour charter. Groupers can get much larger than Snappers, and are typically found in deeper waters. This can make for an epic fishing adventure, and make for a delicious story and dinner to bring home with you!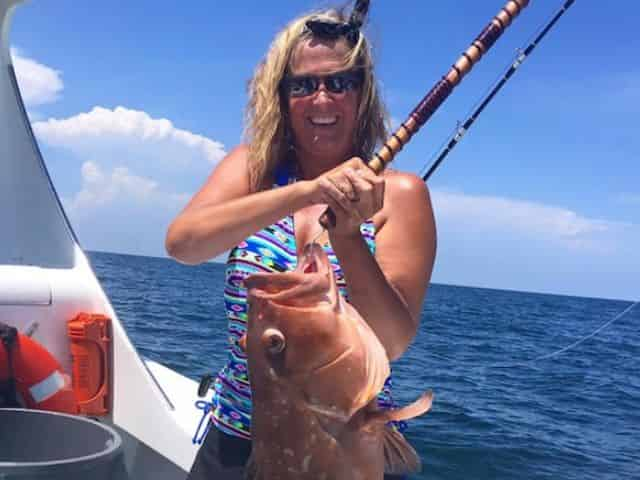 Groupers are similar to Snappers, however, as they are also regulated by state and federal rules. Some grouper, like the Goliath Grouper, for example, are endangered and illegal to catch.
Different types of Grouper you can catch and keep (subject to seasonal restrictions) include: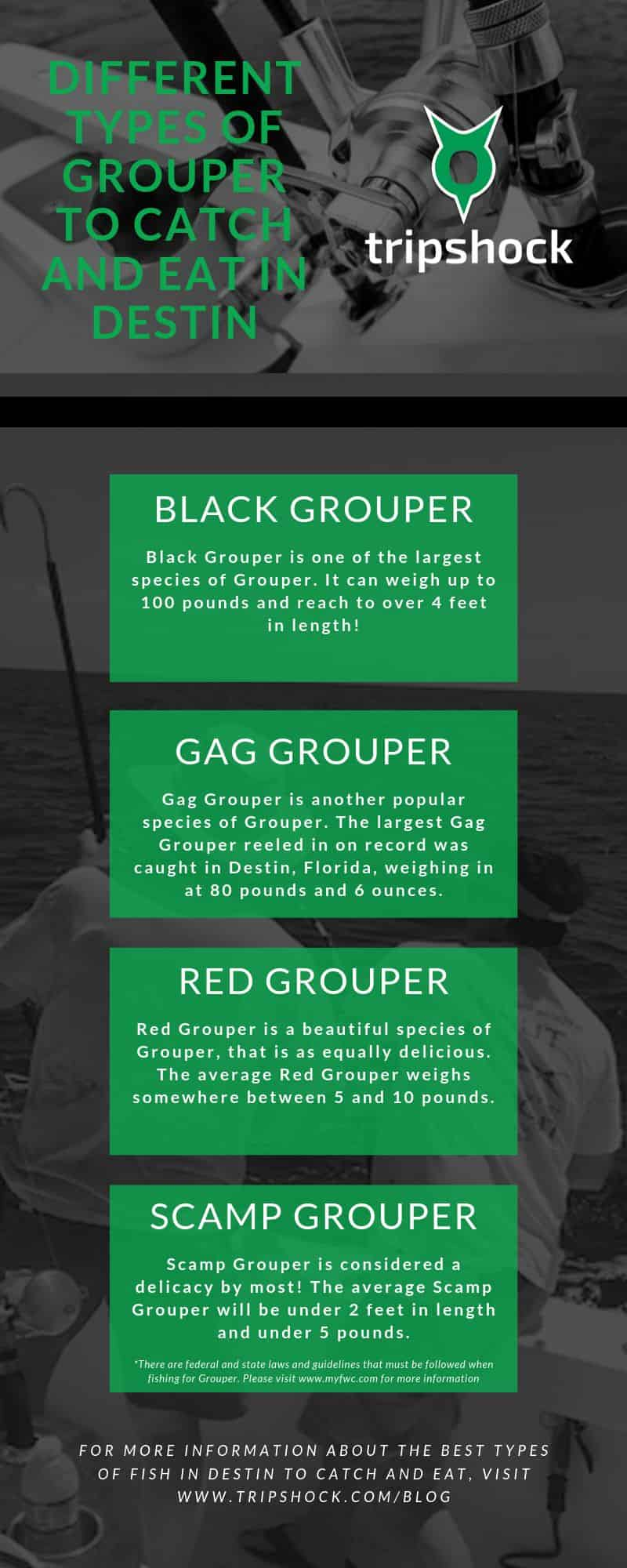 3. Amberjack
Shark Fishing in Destin, Florida, may be the only thing that comes close in comparison to the adrenaline and excitement associated with reeling in a massive Amberjack. The Greater Amberjack is a big, beautiful, delicious fish that can weigh up to 200 pounds! These large and in charge species will also require an 8-10 hour minimum charter, and a little upper body strength.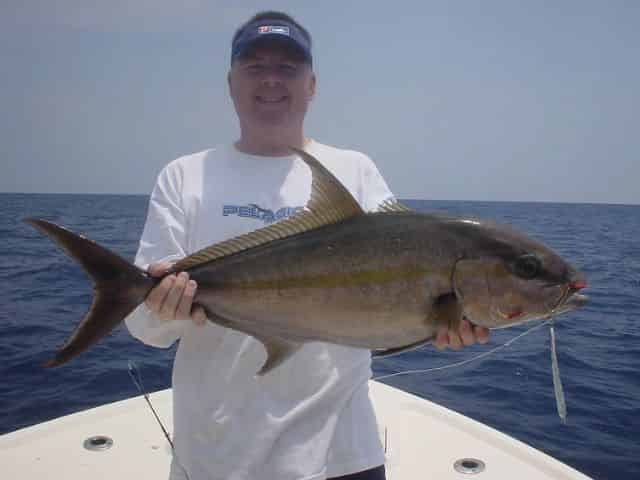 Image by Jed Record via Flickr
The outcome justifies the means, however, when reeling in one of these amber-colored beauties, as this flavorful fish makes for the perfect entree for the whole family!
4. Cobia
Cobia is a delicacy on the Emerald Coast, and is considered a prize in the recreational and commercial fishing world. Not only is this species popular in the Destin area, but the largest one recorded was caught in Destin weighing in at 130 pounds! Needless to say, reeling in one these colossal Cobias should definitely be on the top of your bucket list!
Around Destin, Cobia can be caught from a pier like the Okaloosa Island Pier, out on the bay, or offshore fishing in the Gulf of Mexico. The best way to catch Cobia is on a Destin, FL, fishing charter, but will require at least an 8-hour trip! When you catch the Cobia of your dreams, it makes for the best fish tales to bring home, the best seafood for the grill, and delicious memories that will last a lifetime!
5. Mahi Mahi
Fishing for a dolphinfish does not mean fishing for Flipper and friends! Dolphinfish is just another name for Mahi Mahi, which is quite possibly one of the most fun fish to catch in Destin! Even though catching a Mahi will require at minimum an 8-10 hour trip, it is worth the wait! These colorful creatures are absolutely stunning when pulled out of the water, and make for a delicious main course.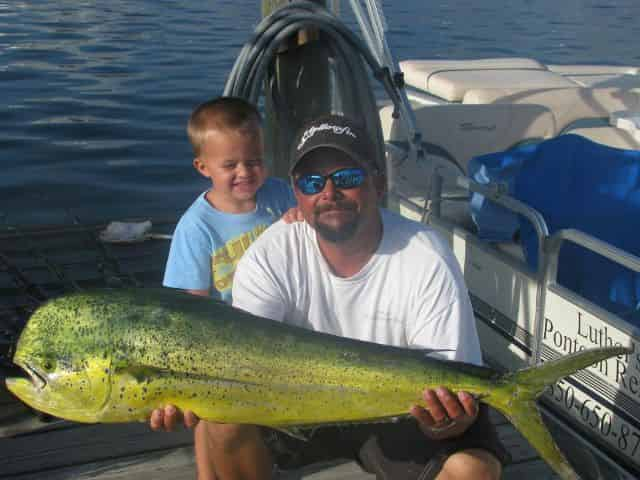 One of the best things about catching your fish and eating it too is that once you're at the docks, and your fish has been filleted, you don't even have to fire up the grill (unless you want to)! Many of the restaurants at the harbor, for a fee, will cook your catch for you. Those restaurants include:
AJ's Seafood and Oyster Bar
Harbor Docks
Dewey Destin's Harborside
Harry T's Lighthouse
Jackacuda's
..and those are only just a few Destin Restaurants to Feed your Beach Vacation!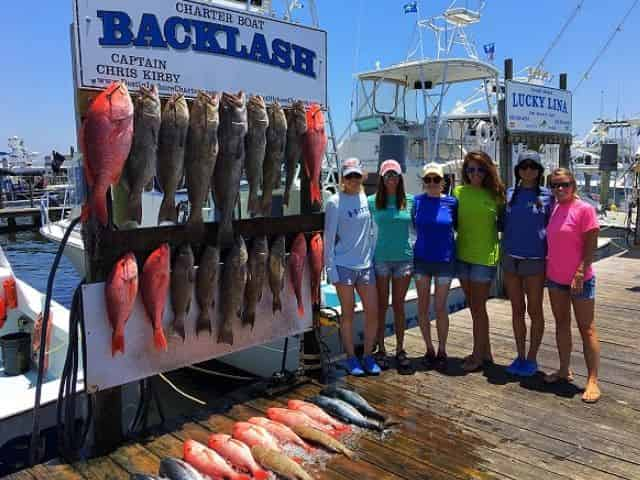 Lastly, just remember, if you don't catch one of these five types of fish, don't be discouraged! There are still plenty of other delicious fish in the sea!
Be in the know!
be informed about our latest offers
You can unsubscribe at any time