5 Destin Restaurants To Feed Your Beach Vacation
Mike Fisher
September 4th 2020
Searching for the best restaurants on the Emerald Coast? Destin, Florida, is known for a bustling fresh seafood market providing some of the finest dining in the world. Dozens of Destin restaurants offer a diverse menu, breath-taking views, and exciting entertainment that brings travelers back, year after year, to this beachside community.
From Irish eats to the freshest sushi, let TripShock.com help you find the five best Destin restaurants for your family beach vacation!
Table of Contents
McGuire's Irish Pub
Aj's Seafood & Oyster Bar
Fudpucker's Beachside Bar & Grill
The Back Porch Seafood & Oyster House
Harbor Docks

Reeling in the Freshest Food

Dine, Drink, and Dance on a Destin Dinner Cruise
---
McGuire's Irish Pub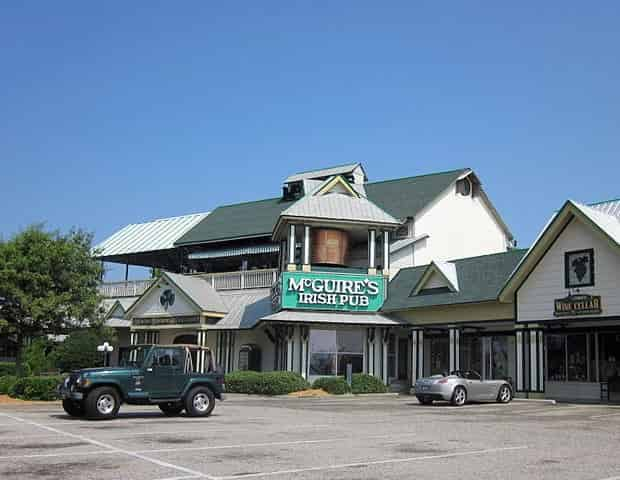 Image of McGuire's Irish Pub in Destin from Wikimedia
The most famous Irish Pub on the Gulf Coast is found in downtown Destin! McGuire's Irish Pub started in Pensacola, Florida, in 1977, with a second location appearing in Destin, Florida, in 1996. As an Irish Pub, expect delicious Irish fare from land and sea!
The steaks are the highlight of McGuire's Irish Pub, with a full menu of U.S.D.A. certified prime steaks prepared just the way you like it! Seafood at McGuire's is premium grade, with everything from shellfish to tuna entrees cooked using recipes from around the world including Maryland Style Crab Cakes, and Irish Fishmonger's Bouillabaisse.
If you're in the mood for more casual options, McGuire's offers a slew of pub fare including:
Build your own burgers
Soups
Salads
Shepherd's Pie
Corned beef and cabbage
The atmosphere inside McGuire's Irish Pub in Destin, FL, is delightfully overstated, and in one word, fun! Patron-signed dollar bills grace the walls and ceilings of the Irish joint, and Irish paraphernalia is peppered throughout.
After regular hours, head up to the rooftop club for entertainment, delicious drink specials, and stunning views of the bay, gulf, and Destin Harbor. Rocking Emerald Coast bands that frequently hold shows at McGuire's include:
The Good Lookings
Heritage
Black Eyed Blonde
I'MAGENE
Aj's Seafood & Oyster Bar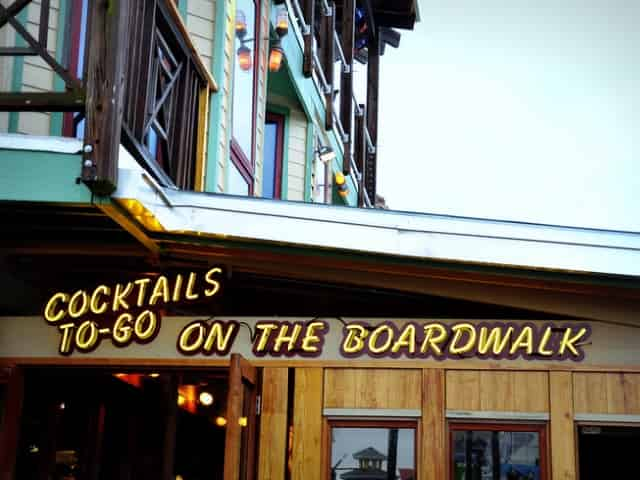 Aj's is famous not only for its delicious seafood, but also for their delicious drinks, live music, and good times! Image by mario via Flickr
Aj's Seafood & Oyster Bar located at the Destin Harbor is a staple of Destin waterside dining and entertainment! With clear views of famous Emerald Coast sunsets, and plenty of exciting harbor sights to be witnessed, Aj's offers second to none in coastal scenery.
Although many Destin diners visit Aj's Seafood & Oyster Bar for the atmosphere, even more come for the food! The raw bar at Aj's shucks fresh oysters daily, with happy hour specials running Monday through Friday.
Appetizers feature American bar favorites like cheese sticks, and seafood selections including peel and eat shrimp and home-made tuna dip. The entrees rely heavily on gulf seafood to satisfy patrons searching for something fresh and local. Pasta dishes blend Italian favorites with shrimp, scallops, and fish, and steamer buckets supply hours of scrumptious entertainment. The menu at Aj's Seafood & Oyster Bar is sure to appeal to the ficklest taste buds!
Located directly on the Destin Harbor, stop into Aj's while perusing the famous fish-filled landmark for a tropical drink at Aj's waterside Tiki Hut. Head in late-night for live music at Aj's Club Bimini and stay for the dancing and live music!
Aj's is also the perfect place to hang out and catch one of the Destin Harbor's many annual events! Check out the list below and discover the popular annual events in Destin that make this tropical beach destination fun year-round: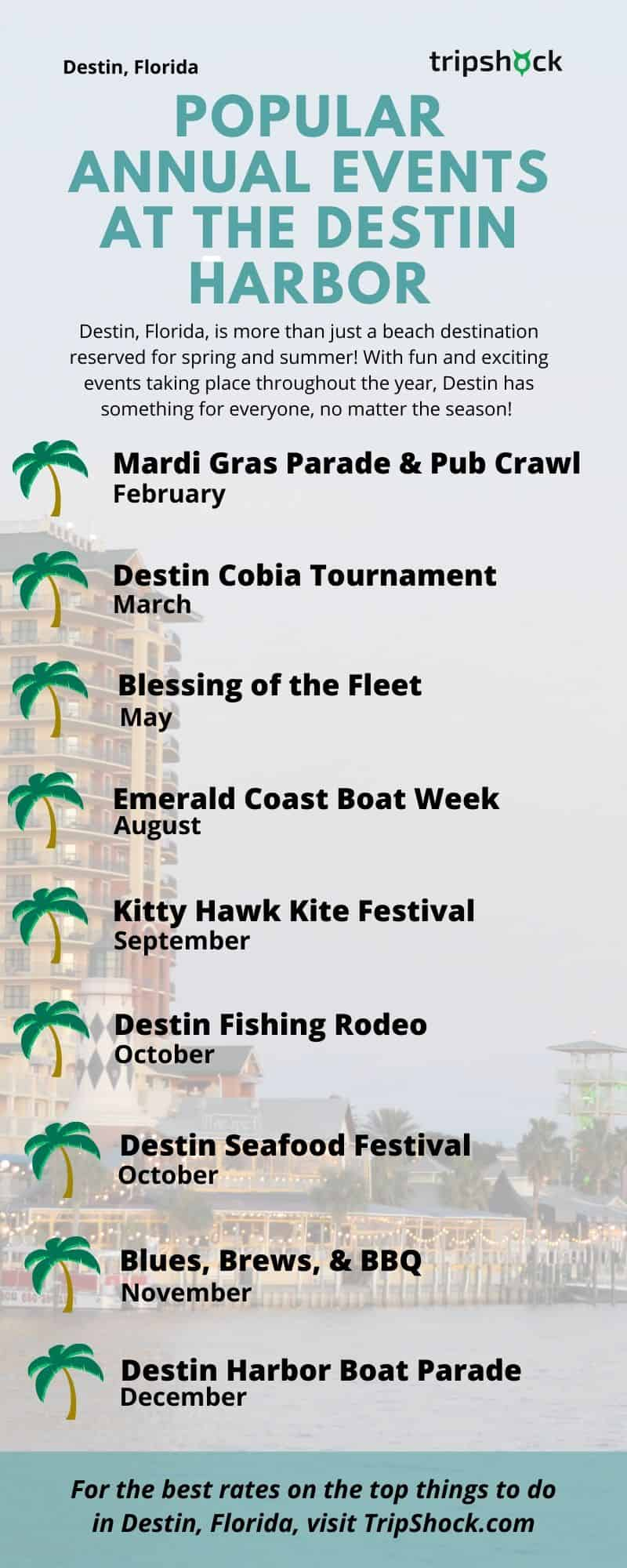 Fudpucker's Beachside Bar & Grill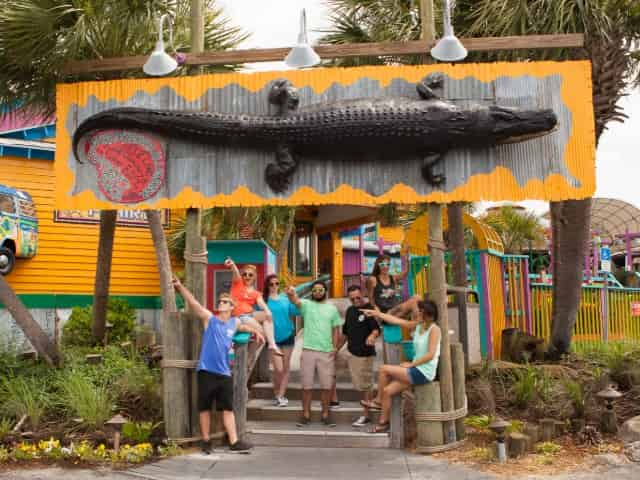 Patrons of Fudpucker's in Destin having a blast before lunch
Food at Fudpucker's Beachside Bar & Grill in Destin is best described as casual with an upbeat and exotic touch. Take a walk on the wild side with one of Fud's many gator items including alligator gumbo, or an alligator pucker sandwich. Eat like you're on a Florida beach vacation (which you probably are) with shareable entrees including:
Hot crab dip
Fried pickles
Stuffed shrimp
Gator balls
Generous portions are always a constant at Fudpucker's Beachside Bar & Grill with menu items ranging from seafood to steak, to an old fashioned American sandwich just like mom used to make. With a full bar at your disposal, enjoy a Mudslide, Pina Colada, or one of Fudpucker's many specialty drinks like the Fudpuckerita, a frozen lime juice infused Margarita!
A souvenir shop offering award-winning t-shirts, arcade, playground, and nifty novelty atmosphere definitely make Fudpucker's the most kid-friendly place to eat on this list, and perhaps the most family-friendly restaurant in Destin. Just ask the Emerald Coast locals, who voted Fudpucker's Beachside Bar & Grill in Destin the "Best Family-Friendly Restaurant" in 2014.
As our only listed eatery without direct Gulf views, Fudpucker's does their best to make up for it with plenty to focus on in and around the restaurant. Funny signage, colorful beach knick-knacks, and a draw-anywhere atmosphere will be sure to bring customers back vacation after vacation!
Alligator Tours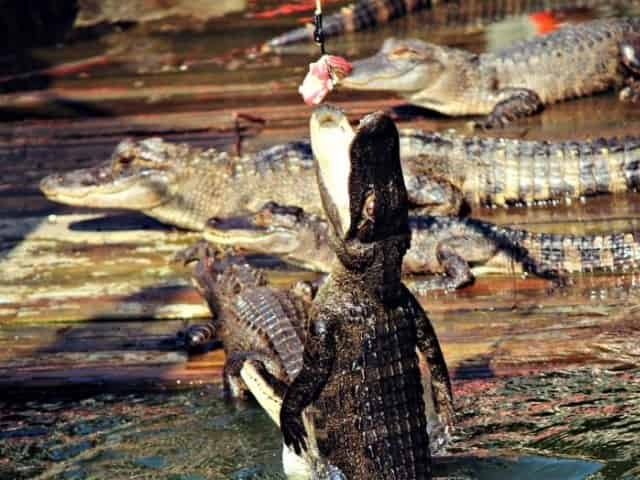 In a recent TripShock blog, one mother explains why Gator Beach at Fudpucker's is fun for all ages
Fudpucker's in Destin, FL, delivers not only a fun name to say (try to say it three times fast, I dare ya!), but an even more entertaining atmosphere! Fudpucker's is the only place in Destin where you can see, feed, and even take a picture with a LIVE ALLIGATOR!
Gator Beach is located within Fudpucker's and is a large alligator habitat housing over 100 gators! After you grab your lunch, head over to Gator Beach and watch the local gators have theirs. This exciting and educational alligator tour is fun for the whole crew!
The Back Porch Seafood & Oyster House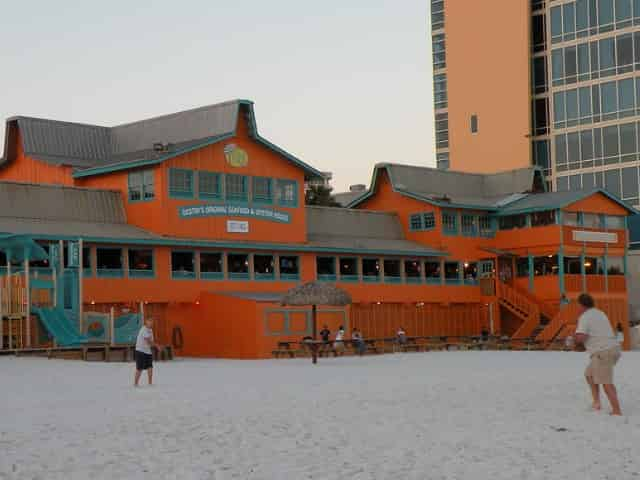 Image of the Back Porch in Destin, FL, by Kristin Nador via Flickr
The Back Porch Seafood & Oyster House is located directly on the white sand beach of Destin, FL, and takes the honor of being the longest running restaurant on our list. Serving Destin locals and visitors since 1974, The Back Porch sets itself apart from other Destin seafood restaurants with a focus on no-frill seafood and stunning ocean views.
What started out as a beach bungalow, has grown into a thriving Emerald Coast dining destination due to a strong local following and central location smack dab in the center of Destin. Bring the whole family for a sampling of the finest seafood the Gulf of Mexico has to offer including:
Fried seafood platters
Gulf shrimp
Oysters
Scallops
Locally caught fish
Crab cakes
Looking for something more casual? Take a seat on the "back porch" and watch the sunset with one of the restaurant's many appetizers, sandwiches, and a beer or mixed drink (up size to a 32oz. souvenir take-home bucket to show your friends back home what they missed).
Anxious parents can rest easy at The Back Porch in Destin. Kid-friendly activities come in the form of an:
On-site playground
Souvenir gift shop
White-sand beaches
Bottom line, if you're in the mood for beach view dining with a straightforward and always-fresh seafood menu, then get to The Back Porch Seafood & Oyster House!
Paddle at the Porch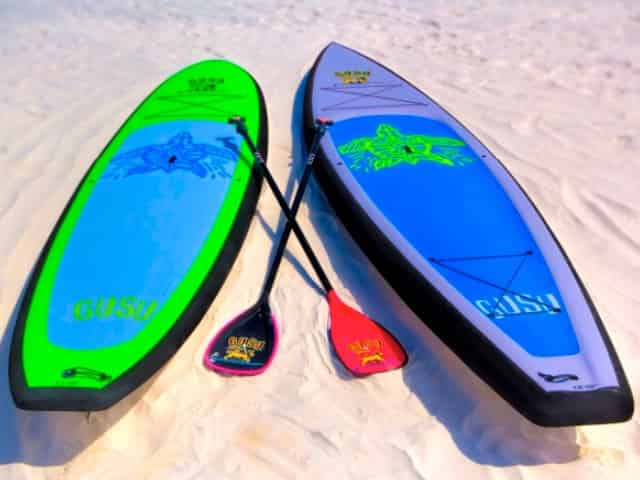 Pictured above are two paddleboard rentals available through GUSU Paddle and Surf
Paddle at the Porch is an annual event that takes place in the beautiful emerald waters directly behind The Back Porch. Each year, paddleboarders hit the seas and race for the title! The different races include a:
Kids' Fun Paddle
1-Mile Beginner Ride
3-Mile Recreational Race
6-Mile Elite Race
If paddleboarding sounds fun, but you're looking for something more calm and less competitive, then you may want to consider booking a paddleboard rental!
Renting a paddleboard in beautiful Destin, Florida, is the perfect way to get up-close-and-personal with the area's natural beauty. Just imagine hearing the gentle sound of the water as you paddle, smelling the salt air, and feeling the warm sun on your face. Paddleboarding is the perfect way to get some rest and relaxation when on vacation!
Harbor Docks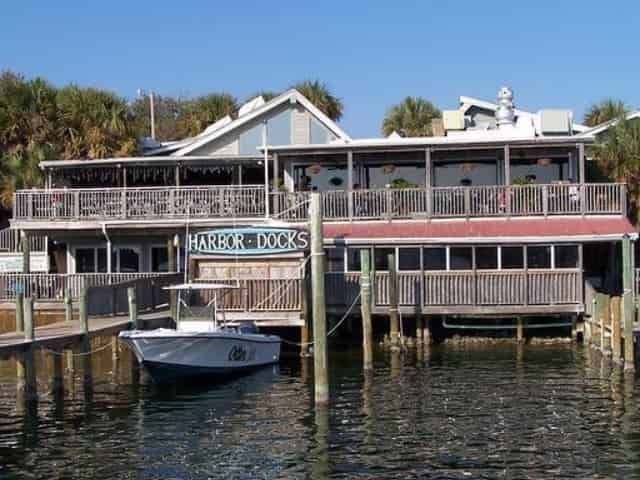 Image of Harbor Docks in Destin, FL, taken by Jessica Hunsinger via Flickr
Established in 1979, Harbor Docks has been providing fresh seafood to the Destin Harbor for over three decades. Harbor Docks is one of the few restaurants in Destin with a personal wholesale seafood market in operation on its lower level, guaranteeing that all the Gulf seafood on Harbor Docks menu is caught daily by local fishermen.
Local ingredients are utilized whenever possible, giving consumers a true sense of Gulf Coast dining. Perhaps the most exciting element of Harbor Docks' menu is the authentic sushi meals. Yoshia Eddings has been the sushi chef for over 25 years, introducing more people to the Japanese cuisine than any other chef in the Southeast!
The atmosphere at Harbor Docks is relaxed and elegant, with a valet out front, and harbor views in the back. Catch live music on the main stage with world-renowned acts including "I'll Be" singer Edwin McCain, stopping by more than a few times a year, and plenty of drink specials to give visitors enough courage to hit the dance floor.
If you're looking for a one-stop destination for dining, drinks, and entertainment in the Destin Harbor, look no further than Harbor Docks in Destin, Florida!
Reeling in the Freshest Food
Pictured above is an angler in the Destin Pass hoping to reel in dinner
Not only does Harbor Docks supply the freshest "Gulf to Table" seafood, they also encourage others to do the same! Harbor Docks is one of the many local restaurants in the Destin Harbor that will allow patrons to bring their catch from their days worth of fishing in and have it cooked in house, for a fee. Other popular restaurants that offer this include:
Aj's Seafood & Oyster Bar
Boshamps
Dewey Destin's
If this sounds more like the meal you're searching for, you may want to consider booking a Destin fishing charter. Destin fishing charters come in all shapes in sizes, meaning there is the perfect charter for every skill level. Destin is also considered by many to be the "World's Luckiest Fishing Village," and this is the perfect opportunity to find out why!
Dine, Drink, and Dance on a Destin Dinner Cruise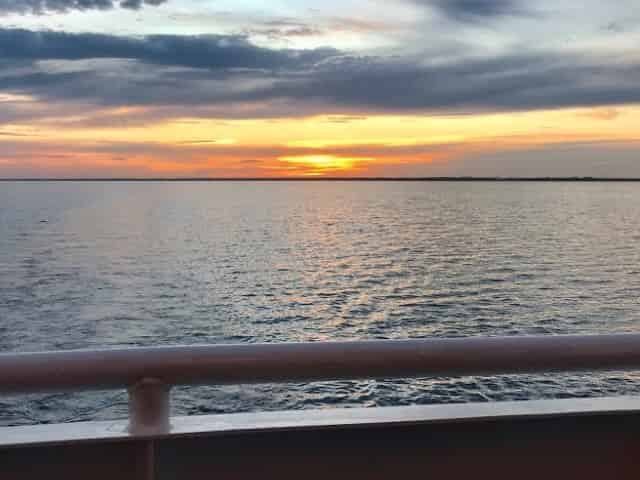 According to a recent Traveler Story, the view from a Destin dinner cruise, pictured above, is a magical sight to be seen
While it's not technically a restaurant, it wouldn't be right to not mention the incredible experience that is a Destin dinner cruise! Destin dinner cruises offer an intimate fine dining experience, with the most romantic setting of all - a Destin, Florida, sunset!
---
Destin, Florida, prides itself in providing the best and the freshest dining experiences for locals and travelers alike. While we highly recommend the list above, if you're dining local in Destin, you and your taste buds are sure to experience the perfect combination of delicious and local flavor.
Be in the know!
be informed about our latest offers
You can unsubscribe at any time