2022 Florida Red Snapper Season Guidelines
Mike Fisher
May 26th 2022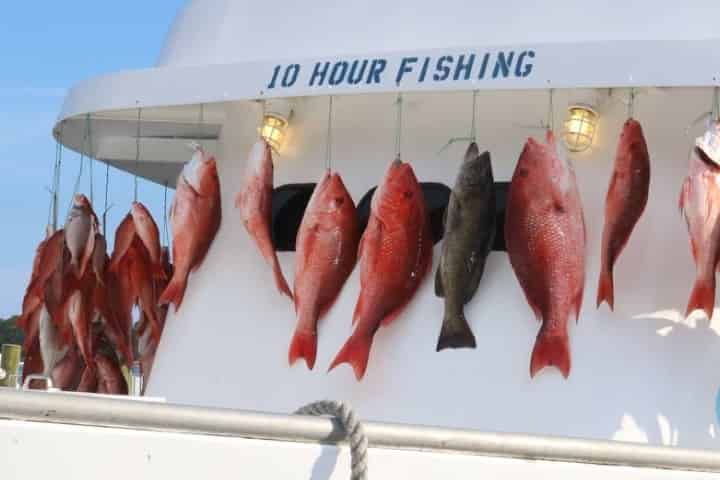 Coastal Florida offers some of the world's best saltwater fishing. Anglers with both novice and advanced skill levels travel to the Emerald Coast hoping to snag a prized catch in the Gulf of Mexico. From sharks to sea bass, no fish is out of range when casting a rod and reel in the sunshine state. That's why we created the
Florida Red Snapper Season Guidelines
for fishermen like you!
With any sport, there is always the "game-ender." For baseball it's a grand slam, hockey it's a hat-trick, and for Destin saltwater fishing it's catching the coveted Red Snapper. The Red Snapper is so fun to catch, and the meat is so delicious, it has become the focus of many Destin fishing charter trips.
Table of Contents
How Big do Red Snapper Get?

What to do After You Catch a Snapper - Storage, Filleting, Eating

How to Catch Red Snapper
2022 Florida Red Snapper Season Guidelines

Red Snapper Minimum Size Limit
Red Snapper Gear Rules
Florida Red Snapper Season - State and Federal

Where to Catch Red Snapper in Florida
Destin Fishing Vacation
---
How Big do Red Snapper Get?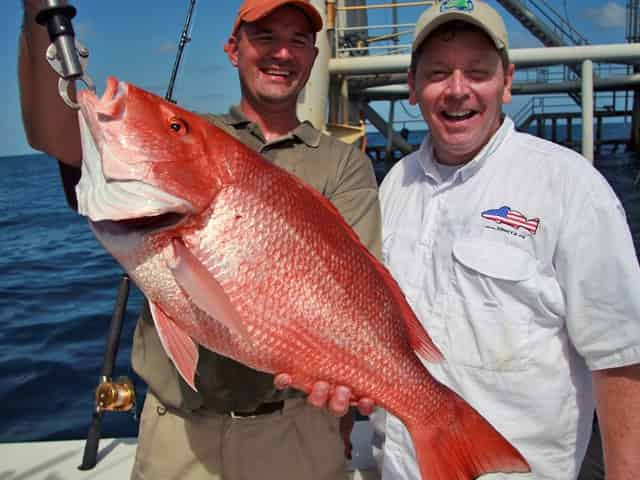 Two anglers showing off their giant Red Snapper caught on a Destin fishing charter
While a large Red Snapper could give a young angler (like the one in this fishing traveler story) a run for his or her money, they don't grow quite as large as other game fish or popular table fare, making Snapper hunting the basis of many Florida deep sea fishing charters.
The typical Red Snapper grows to a maximum of around 25 pounds, with the largest Red Snapper caught in Florida weighing in at 46 pounds (caught off the Destin, FL, coast).
What to do After You Catch a Snapper - Storage, Filleting, Eating
If you catch Red Snapper on your vacation, you'll want to freeze or fillet the fish as soon as you can. This ensures the meat is as fresh as possible. Here is how charter captains handle Red Snapper after they're caught:
Remove the snapper from the hook
Place the snapper on ice immediately
Fillet the snapper immediately upon returning to shore
Place the fillets in sealed freezer bags. Anglers are encouraged to cook the fillets immediately, put them in the fridge for up to 3 days, or freezer for later use.
Discard of the carcass in the water or trash
The best knives to use are specialized fillet knives for larger fish species like the Kershaw big game fillet knife.
CLICK HERE - For a very detailed video on filleting Red Snapper
Once you have the fillets, there are lots of different ways to prepare Red Snapper. It is a prized fish that sells for top dollar at seafood markets. As popular as it is, there are lots of ways to cook snapper. Red Snapper is delicious in so many ways including...
Raw/Sushi
Deep Fried
Air Fried
Sautéed
Cajun/Creole
Stews and Soups
Ceviche
Baked
Check out some awesome Red Snapper cookbooks on Amazon for inspiration!
How to Catch Red Snapper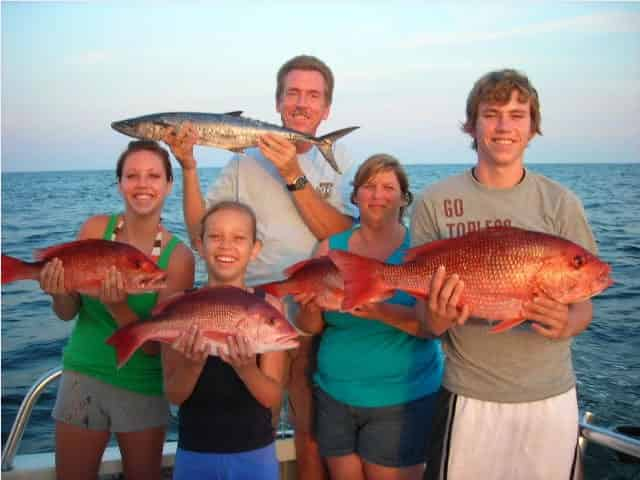 Family brings home a Red Snapper dinner while deep sea fishing in Destin
Red Snappers are typically found in deep waters, and like to hangout in schools near reefs, shipwrecks, and oil rigs. Your best chance at catching some tasty Snapper is to head out to deep waters, either in your own boat, or by booking one of the many fishing charters that Florida has to offer!
Towns like Destin, Florida, are especially popular for commercial charter fishing for some of the best species of fish to catch and eat like Snapper, Grouper, and Mahi Mahi.
Because of the value of Red Snapper, there have been State and Federal law restrictions placed on the species. In recent years, new laws were put into effect that will offer a much longer and more fruitful Snapper season to for-hire vessels, while tightening up on private vessels. Here is what you need to know about the 2022 Florida Red Snapper Season.
2022 Florida Red Snapper Season Guidelines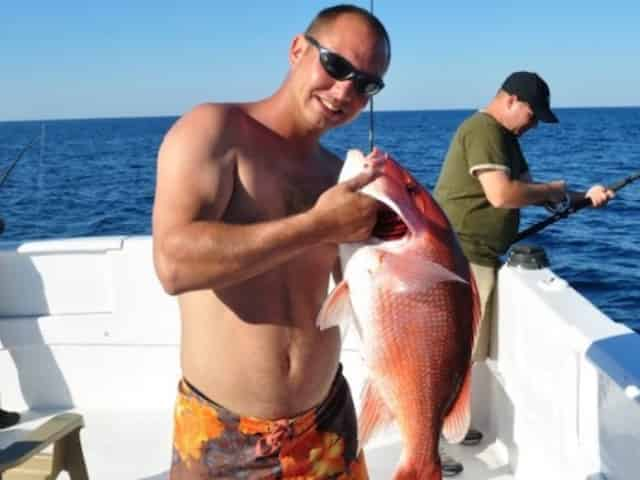 Angler boasts a big Red Snapper caught aboard a fishing charter with Miss Nautica in Destin, FL
Over the years, Red Snapper has been overfished due to its inherent value. Florida lawmakers have since instituted certain rules to help in growing the population back to normal numbers. There are different laws for the Gulf of Mexico and the Atlantic, the following are strictly based on laws created for fishing for Red Snapper in the Gulf of Mexico.
There are also different guidelines for Florida Federal and State waters, which will also be covered below. The guidelines are broken up into Red Snapper size limit, gear rules, season length for private vessels and for-hire charters, and bag limit.
Red Snapper Minimum Size Limit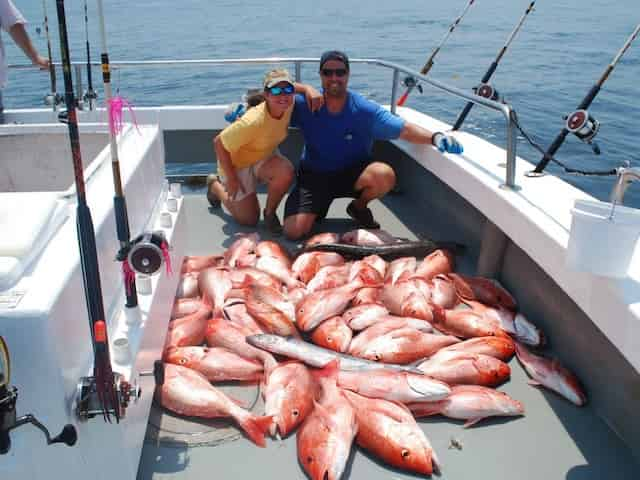 Large haul of Red Snapper brought in on one of the many deep sea fishing charters Destin, FL, has to offer
Minimum size limits are put into effect to assure that juvenile Snapper are able to grow and reproduce in the off-season. The minimum size limit on Red Snapper is 16 inches.
There is no weight minimum for Red Snapper. If you want to see how much your red snapper weighs, You can weigh the snapper you catch with a fish scale to see if you can break the record (46lb in Florida)!
Red Snapper Gear Rules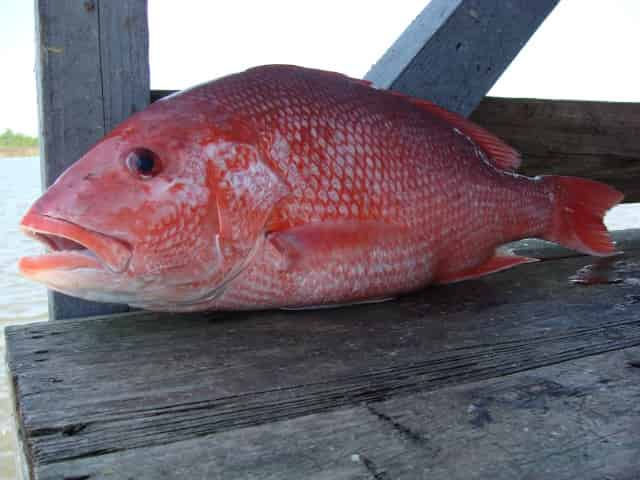 Gulf Red Snapper, Photo by Geeklikepi via Wikimedia Commons
State and Federal regulations require all fishermen to adhere to certain gear rules when hunting for snapper and other popular fish species. These species include:
Grouper
Snapper
Amberjack
Triggerfish
Porgies
Sea Bass
Hogfish
Tilefish
Required Gear: Circle hooks (non-stainless and not offset) must be used when using natural baits. If you're searching for a complete list of gear to catch snapper, we've put together a list of Red Snapper essential gear for you online. For a full list of Red Snapper rules, visit Florida Fish and Wildlife Conservation Commission's Recreational Regulations
Florida Red Snapper Season - State and Federal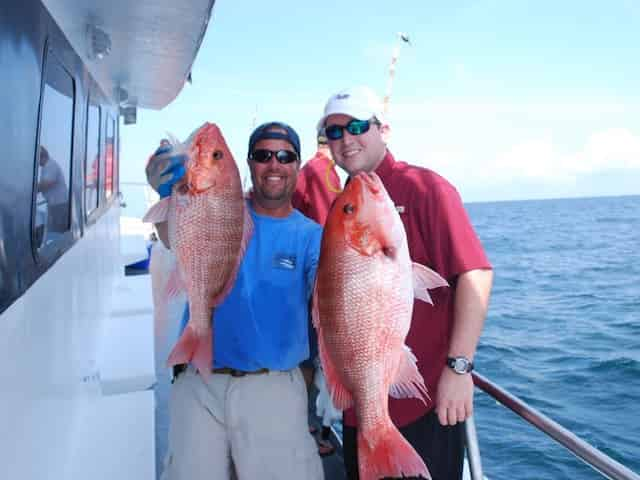 Whether you're renting your very own fishing gear and heading out to sea solo, or hopping aboard a party boat fishing charter, there are guidelines to be aware of no matter how you choose to fish for this species
Florida State waters are from shore to 9 nautical miles into the Gulf of Mexico, and 3 nautical miles into the Atlantic. Anywhere past that is considered Federal waters. Florida Red Snapper Season lengths vary depending on where the fish is caught with a 2 per person daily bag limit (included in the 10 per harvester per day State Snapper aggregate bag limit).
State Season (Gulf of Mexico) - The 2022 season is June 17th through July 31st. The season will re-open the following dates:
Oct. 8-9 (Sat. & Sun)
Oct. 15-16 (Sat. & Sun)
Oct. 22-23 (Sat. & Sun)
Nov. 11-13 (Fri., Sat. & Sun - Veterans Day weekend)
Nov. 25-27 (Fri., Sat. & Sun - Thanksgiving weekend)
Federal Season (Gulf of Mexico, Private) - The 2022 season is same as state season above
Federal Season (Gulf of Mexico, For-Hire Vessels) - The 2022 season is same as state season above
Federal Season (Atlantic Private & For-Hire Vessels) - The 2022 Atlantic Federal Season will open July 8 and close July 10.
Where to Catch Red Snapper in Florida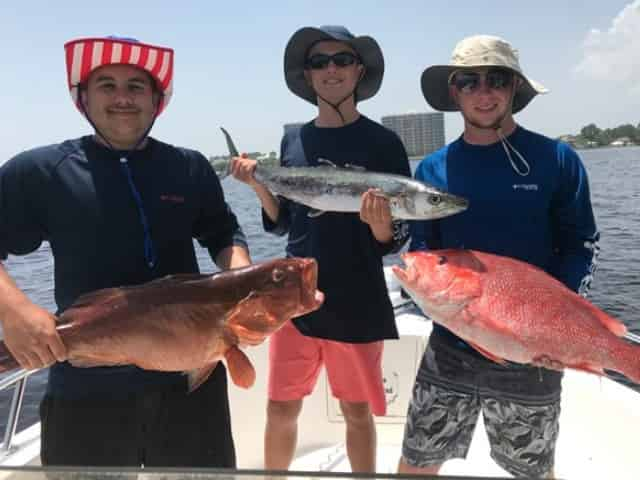 Group fishing off the coast of Florida showing off the different species of fish they reeled in
In America, Red Snapper can be caught in moderate depths in the Gulf of Mexico, and along the southeastern Atlantic Coast. Here are some locations where you can catch snapper in Florida.
Destin Fishing Vacation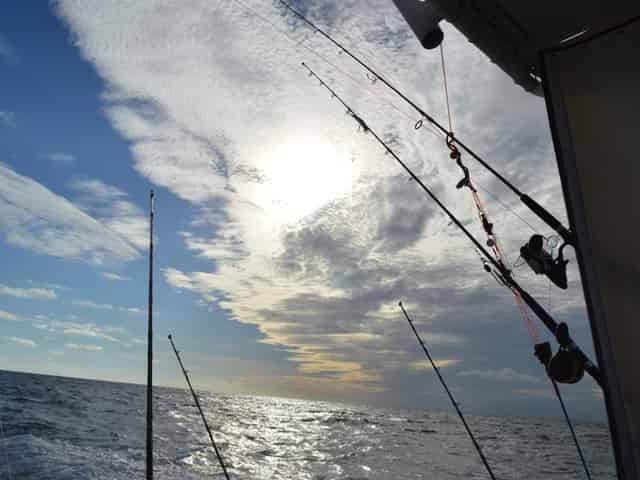 Ready to start your deep sea fishing adventure in Destin? Check out this recent TripShock blog for everything you need to know about Florida fishing licenses and more
If you haven't experienced Destin fishing before, don't wait! Spring and summer are peak seasons for many of the Gulf's most cherished fish species, and charter boats book up fast. There are fishing charters for all ages available in the Harbor, along with many other family activities in Destin, Florida.
---
Resources:
Featured activities in Destin
See All
Be in the know!
be informed about our latest offers
You can unsubscribe at any time