What is the Best Month to go to Destin, Florida?
Tess Hart
September 28th 2020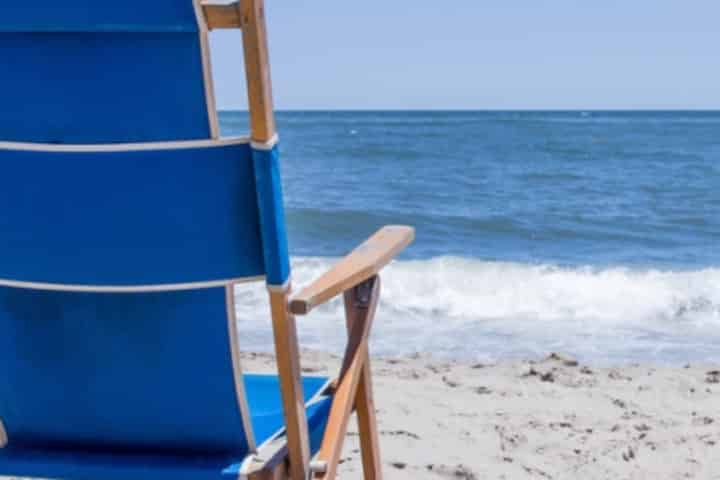 So you want to take an amazing vacation to the gorgeous Destin, Florida, but don't know when the best time of the year to go would be? The good news is that there really is no bad time to go with beautiful outdoor adventures and exciting indoor activities all over the city year-round.
If you really want to know what is the best month to go to Destin, Florida, make sure to read below on what a trip to Destin looks like during each month of the year! Keep in mind, no matter what month you choose to go on vacation, there are an endless amount of activities in Destin to enjoy.
---
January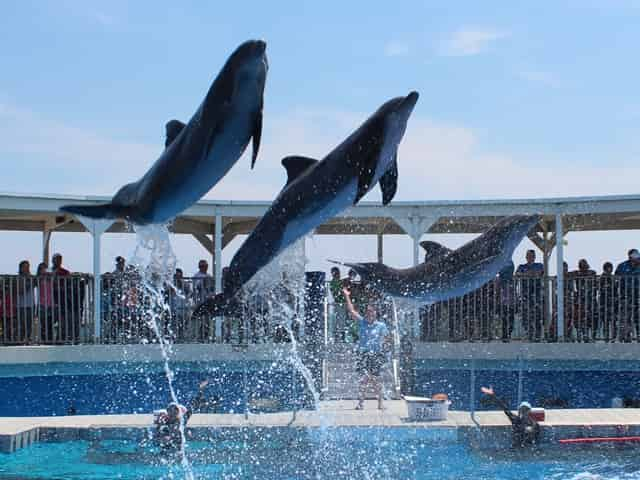 Dolphin Show at the Gulfarium Marine Adventure Park
You might wonder what there really is to do in Destin during the dead of winter. It's true that it might not be the ideal time to go swimming and that many popular tours take a winter break from hosting guests, but there is still so much to do in this fun city!
From catching a magic show to exploring the Gulfarium Marine Adventure Park, you will be far from bored in Destin in January. For great ideas on what there is to do in Destin, FL during the winter, make sure to check out more of TripShock's best winter activity ideas!
February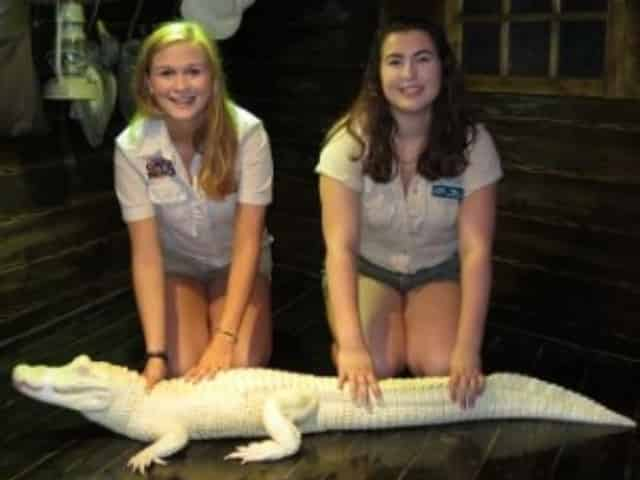 Destin's Alligator Beach is a great spot to encounter wildlife
Destin, FL is one of the few lucky cities in the country that doesn't ever get too terribly cold. You will still be able to enjoy many fun activities in February with the average high in the mid-60s this time of year.
A great place to start for your February vacation is to plan some fun animal encounters to enjoy with your travel group. Watch dolphins flip out of the water, meet reptiles up close, and pet an alligator all for yourself.
March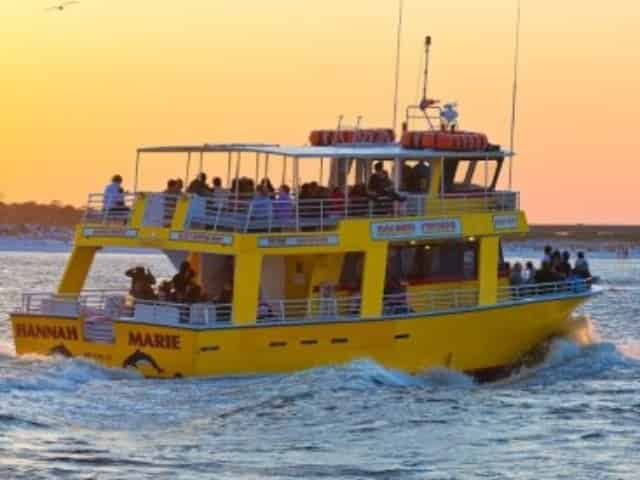 Families love the Sunset Dolphin Watch & Destin History Cruise
You probably still are wondering what is the best month to go to Destin, Florida? And the truth is that that is a really challenging question to answer. Although March is the start of the peak season, with spring break especially bringing in droves of tourists, you will find the most options for your trip.
One of the very best things to do any month of the year, but especially in the spring, is to go on a dolphin cruise and tour in Destin, FL. Make sure to check out the beautiful dolphins that call this city home for yourself!
April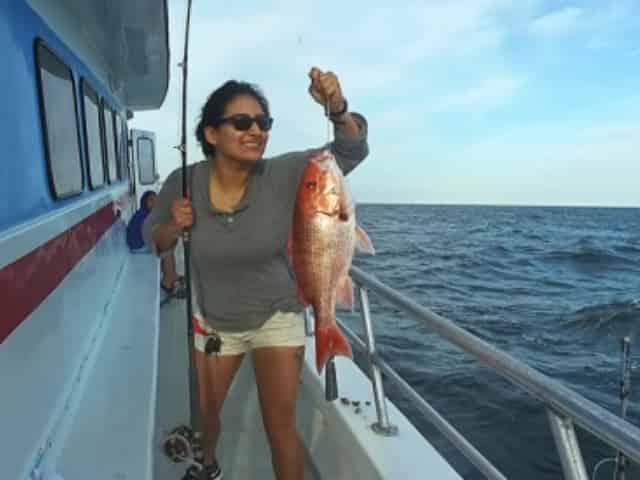 Catching a Red Snapper on a Deep Sea Fishing Trip
We know you are definitely planning on enjoying the delicious local seafood while in the area, but have you ever thought of catching some for yourself? If you find yourself in Destin in April, you should check out one the many Deep Sea Fishing Charters in the area.
April is a great month to go to Destin, but tends to be quite busy due to all of the schools with later spring breaks. If you don't mind some crowds, this is still a good month to go due to the gorgeous weather this time of year!
May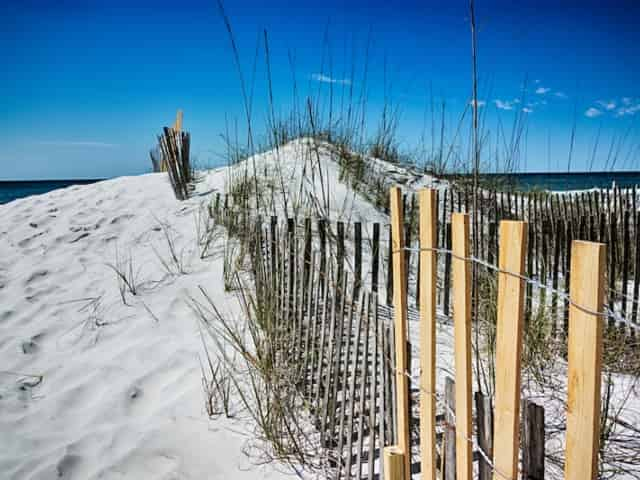 Destin, FL, beach with sand dunes and sea oats
You can't go to Destin and not spend a day, or five, on the sandy beaches. There are so many things to do on the beach that you will never want to leave!
Whether you play sand volleyball with new friends or old, or sunbathe with a cold drink in your hand, you will love the beauty of the beaches in Destin. Make sure to check out the best ways to relax on the beach before your May vacation!
June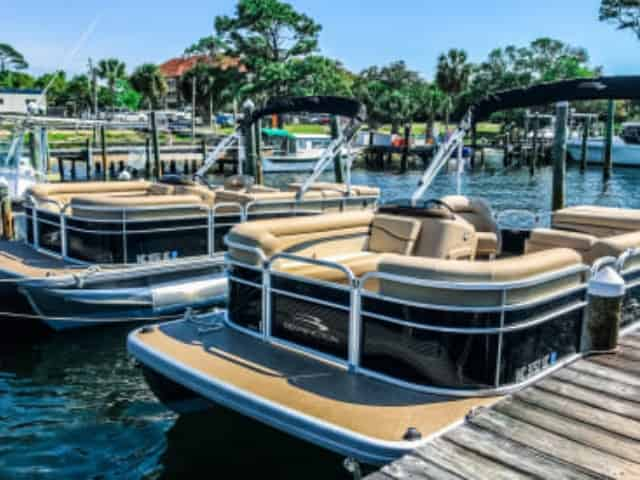 Renting a pontoon is a great way to explore the Destin waters
There is so much to explore in Destin, and the best way to do it is by water! Why not take control of your adventure for yourself, and rent a pontoon boat for the day?
There are many different companies you can rent a pontoon boat through, and they all offer different packages to help you make the best of your day on the water. Make sure to check out all of the pontoon boat rental options there are at tripshock.com.
July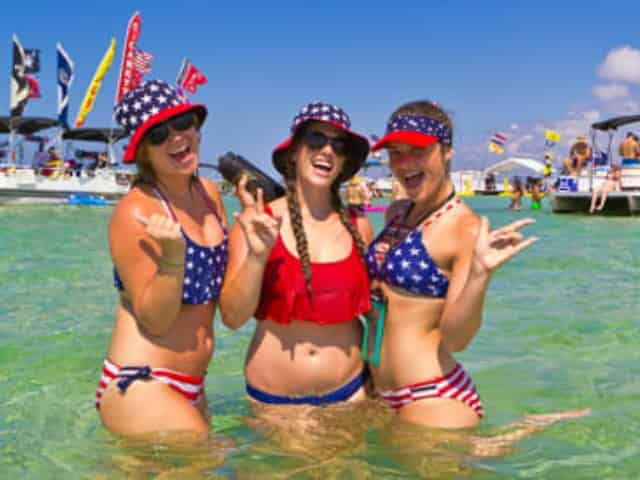 Young women enjoying their day at Crab Island
You can't go to Destin and not visit Crab Island! When thinking about what is the best month to go to Destin, Florida, we can't help but think about how the summer months are some of the most ideal times to go to this gorgeous locale.
Crab Island in Destin, FL is one of the best locations on the Gulf Coast to let off some steam. Here you'll find music, food, and entertainment on every single summer day. Plus, you will get to enjoy it with over a thousand visitors no matter what day you decide to go in July!
August
Man enjoying a Jet Ski Rental in the bay
With August being one of the hottest months to be in Destin, Fl, you are definitely going to want to stay cool. One of the best ways to do that, while also getting to experience something exhilerating, is by renting a jet ski!
Whether you choose to go on a tour or to just rent a jet ski to explore on your own, you will love feeling the wind in your hair and the splashes of water coming up off the waves. You can pick out the perfect jet ski rental or tour through TripShock!
September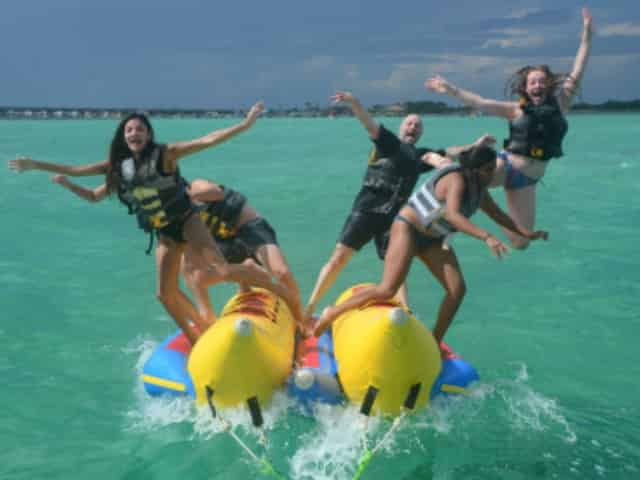 Banana Boat Rides offer an extreme experience for the whole family
September is an amazing time to choose to go to Destin! It starts to get less crowded with kids back in school, especially later in the month, but it's still warm enough to enjoy all of the best actvities in the area!
One of the most unique things you can do in Destin, is to go on a super fun banana boat ride! Put on your life jacket and hold on tight, while you bounce across the waves on a hilarious banana shaped raft!
October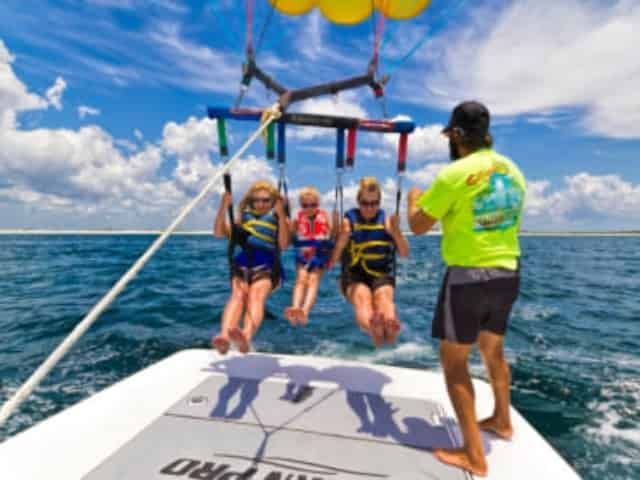 Parasailing can take up to three riders hundreds of feet in the air
Destin is filled with addrenaline pumping activities year-round, and if want to experience something truly unique, you should check out all of the parasailing options in the area!
October is a beautiful month for Destin, and you will get to enjoy the best things the city has to offer without getting overheated like you might in the summer. Although, it might not be the best time to swim due to the slightly chilly water temperatures, you will remember your trip forever by booking experiences like parasailing!
November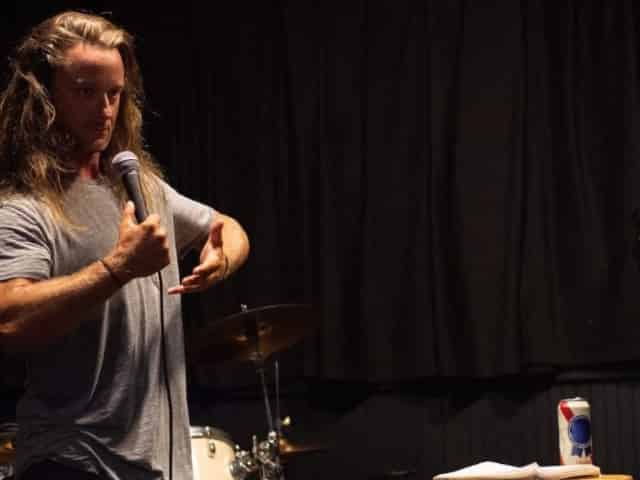 When the weather gets cooler, live shows are a great choice
Thinking about what is the best month to go to Destin, Florida, you might not think November at first, but there are so many fun experiences to still have this time of year! Although it won't technically be cold in Destin in November, this time of year does lend itself better to indoor activities.
A really fun thing to do on your late-fall vacation is to go to one of the many comedy shows in Destin, FL. Prepare to laugh your butt off while enjoying shows by the best comedians in the area!
December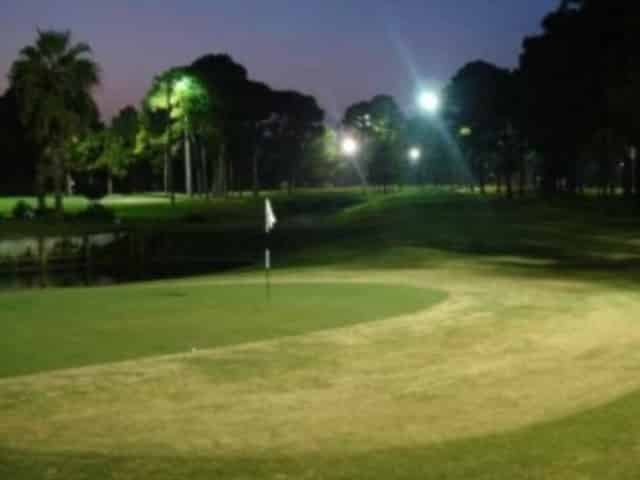 There are lots of great golf courses in Destin including Golf Gardens
Destin, Florida makes such a great vacation spot due to how beautiful the weather is all year long! Although, you will want a jacket this time of year, you can still enjoy many of the best Destin activities on your December trip.
Something that most people in your group would find super fun, is going golfing! There are lots of premium courses in town including Emerald Bay and Kelly Plantation (designed by pro-golfer Fred Couples).
If you're looking for something more relaxed, you can Take in the beautiful landscape of the city at a family-friendly golf center like Golf Gardens in Destin that offers a 9-hole golf couse anyone would love!
---
So, What is the Best Month to go to Destin, Florida?
If we were to pick our top time of year to go check out Destin, we would have to go with late September. You will find a lot less crowds to deal with due to kids being back in school, the rates are a little lower for lodging due to it not being peak season, and all of the best tours and attractions are still open with the warm weather still around.
For even more ideas of what to do while in Destin, FL, check out our top choices for fun things to do in this beautiful city
Be in the know!
be informed about our latest offers
You can unsubscribe at any time