8 Things To Do In Orange Beach AL for Adults on a Kid-Free Vacation
Mike Fisher
May 28th 2020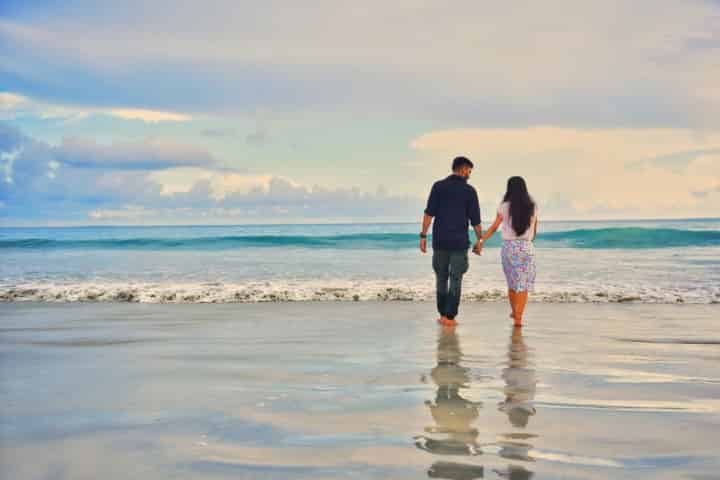 Family vacations are great, but every once in a while us adults need a getaway that doesn't include the little ones. Orange Beach, Alabama, is the perfect spot for a kid-free beach vacation!
It's easy to find fun, all-ages activities, but when you're looking for activities for adults in Orange Beach, it doesn't hurt to have some help! That is why we've compiled a list of 8 Things To Do In Orange Beach, AL, for Adults, including some of the most extreme, relaxing, and downright breathtaking tours and attractions on the Gulf Coast!
Table of Contents
Helicopter Tours
Parasailing
Paddleboarding
Watercraft Rentals
Kayak Rentals
Visit Hugh S. Branyon Backcountry Trail
Fishing
Enjoy the Nightlife
---
1. Helicopter Tours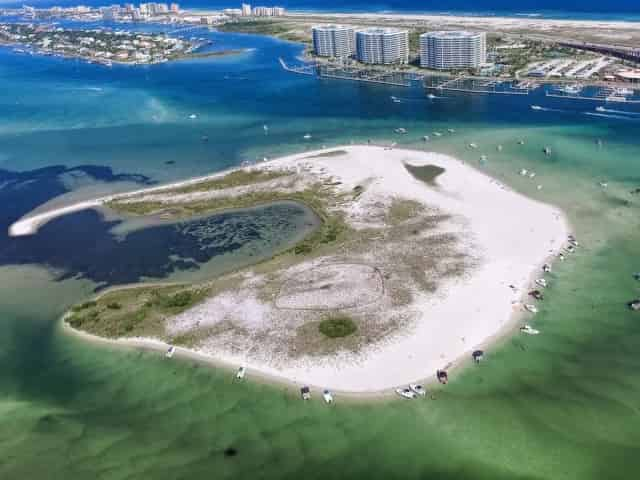 Amazing aerial view of the Orange Beach Islands from a helicopter tour
Take to the skies and enjoy a stunning view of the Gulf Coast on an Orange Beach helicopter tour with Lost Bay Helicopters! Helicopters only hold 3 at a time, with a 2-person minimum to guarantee a private flight. Avoid the crowds with this scenic activity while traveling up to 40 miles up and down the Orange Beach and Gulf Shores coastline.
2. Parasailing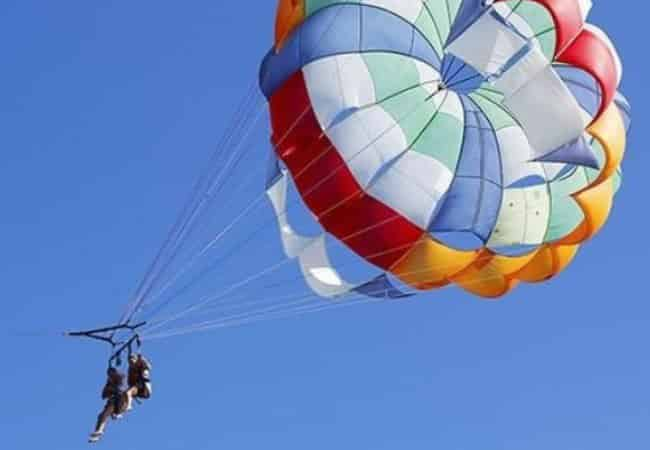 While parasailing is considered an extreme activity, one recent traveler to Orange Beach describes it as "peaceful" once you make it up among the clouds
Leave your cares on the ground and float in the clouds on a parasailing trip in Orange Beach, Alabama. Exceed heights of 400 feet while enjoying panoramic views of the bays, bayous, and beaches of Gulf Shores and Orange Beach, Alabama! This tour is absolutely one of the coolest and most memorable Orange Beach, Alabama, activities for adults. You can even ride with one or two of your favorite pals!
3. Paddleboarding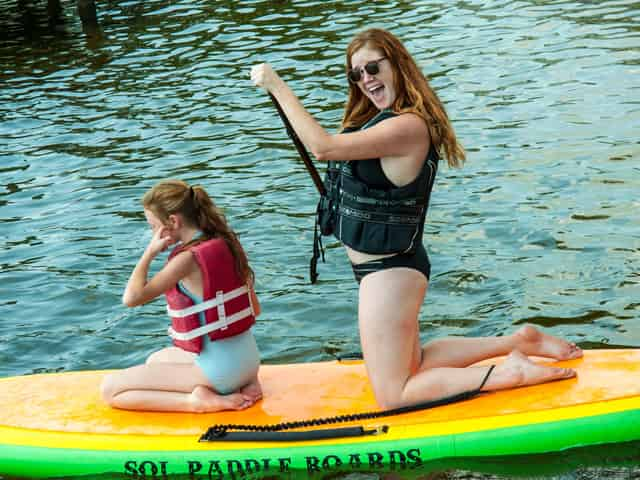 Take it slow and take in the scenic beauty with your very own Orange Beach, AL, paddleboard rental
Take a load off with your very own paddleboard rental! Launch from the popular "Safe Harbor Drive" in Orange Beach, close to local islands and other points of interest. Maps and local, expert advice are available upon request, as well as a personal flotation device and whistle. Do a bit of nature-watching, swim the crystal clear waters, or pull up on a nearby beach for a secluded afternoon of soaking up rays!
When renting a paddleboard in Orange Beach, you have the option to keep your board from one hour up to 9 hours. This means that you will definitely have enough time to fully enjoy what the beautiful waters of Orange Beach have to offer without needing to stop for nap time, baby feeding, or a technology-starved teenager!
4. Watercraft Rentals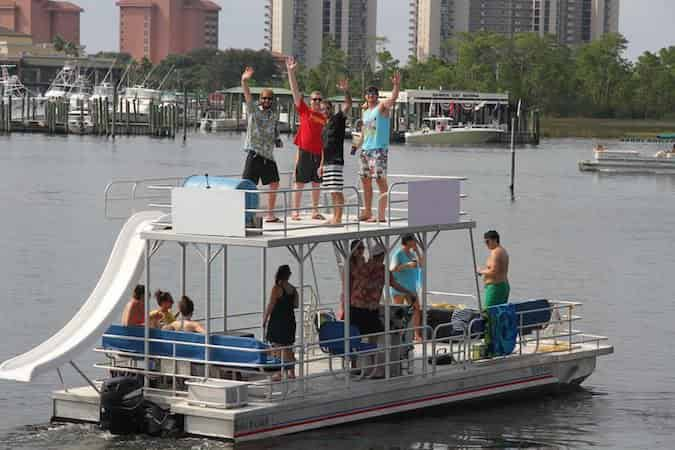 Explore the bay on an Orange Beach pontoon rental for a private experience that truly connects you with the surrounding nature
Luxury and relaxation is the name of the game when it comes to pontoons. A slow pace and plenty of space to move about, a pontoon is the perfect option for larger groups. Perhaps the most popular of the Orange Beach boat rentals, a pontoon is fully equipped for long days on the Emerald Coast. For sure, with amenities like a radio for solid tunes and dancing, a ladder to get in and out of the water, and a cabana to keep you protected from the sun, we totally understand what the fuss is all about!
Pontoon rentals are also a great way to take advantage of your kid-free beach vacation as you can explore the Perdido Pass, Rabbit Island, and even more picturesque water-side stops. Bring the whole group along on your pontoon adventure, with boats carrying up to 14 people at a time! Pontoon rentals offer more freedom and group interaction than many of the other things to do in Orange Beach, AL, for adults, giving renters a full day of swimming, fishing, boating, beaching, and maybe even a little boozing!
Looking for something a bit… faster? They say a bad day on the water is better than a good day on land and certainly, when you're talking about a harbor speedboat, we couldn't agree with that saying any more! With a variety of great models to accommodate from 4 to 6 friends or family members, take the role of Captain and get out there for some serious fun. Check out beautiful Wolf Bay, Bay La Launch, or Bayou St. John. No matter what, you can't go wrong as each offers beautiful sights, sounds, and adventures. A speedboat let's you crank up the speed and slice through the waves and the water with precision and control.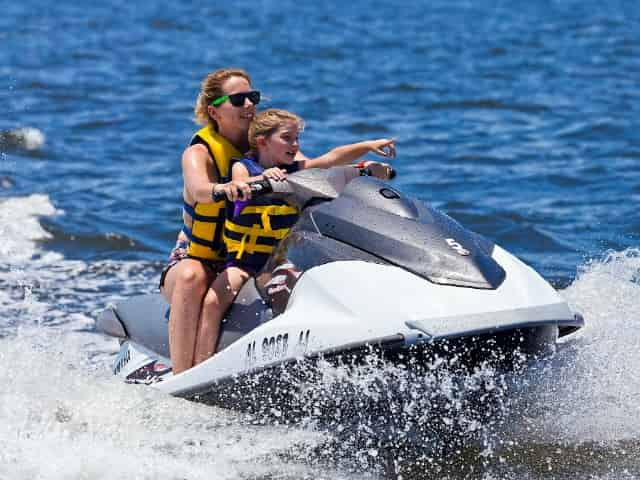 Zig and zag through the famous Orange Beach Islands for an adrenaline-pumping ride through the bay and beyond
Nimble and exciting, jet skis are a terrific way to get your hair wet and your heart pumping. Jet skis allow you to duck and dash through the waves at incredible speeds as the Gulf breeze whistles by. Also called a waverunner, we love jet ski rentals for a variety of reasons.
One reason is that you can get up close and personal with marine wildlife without being too intrusive. Another reason is the fact that you can really crank up the speed and have a super exciting ride on the surf. Rent a single jet ski and ride with one or two of your favorite people for some additional bonding time, or rent multiple and chase one another up and down the coast!
5. Kayak Rentals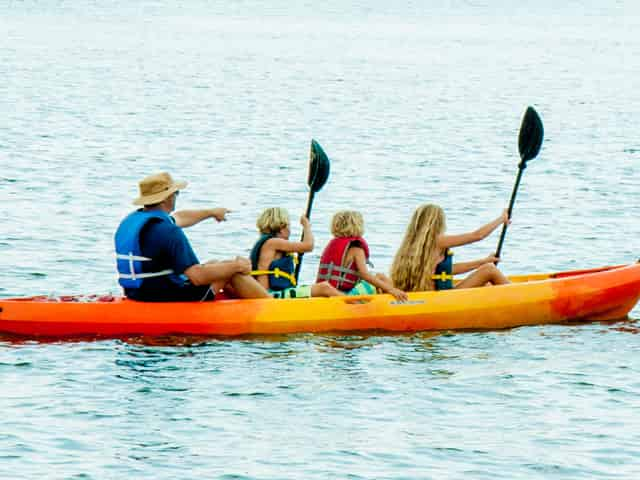 Kayak rentals make for an intimate Orange Beach adventure on the water
Paddle the waters of Orange Beach, Alabama, in a one or 2-seat kayak! Rentals last from 4-9 hours with life vests, safety gear, maps, and instruction included. Drift through Perdido Pass, kayak past Walker Island, and enjoy peace and serenity kid-free! Out of all the outdoor activities for adults in Orange Beach, kayaking provides perhaps the closest connection with Gulf Coast marine life and ecosystems.
With some luck you will be greeted by jumping dolphins or flying ospreys, eagles, and herons. The ideal way to check out some of the beautiful creeks and rivers in the area like Portage Creek, kayaks allow you to enjoy the wild side of the Alabama Coast without disrupting delicate habitat and coastal wildlife.
6. Visit Hugh S. Branyon Backcountry Trail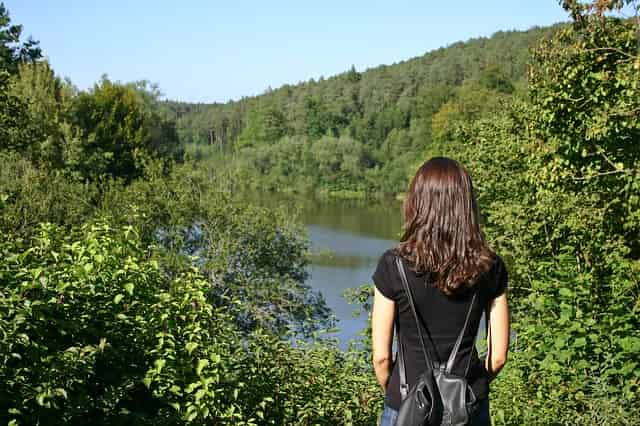 Pictured above is just one of the many amazing views you'll see when visiting Hugh S. Branyon Backcountry Trail
One of the most talked about hiking trails in Alabama, the Hugh S. Branyon Backcountry Trail is a must-see attraction in Orange Beach. Enjoy scenic views along miles of paved trails. Encounter Gulf Coast wildlife including eagles, deer, woodpeckers, and alligators (from a safe distance of course) while walking, jogging, or biking through the well-maintained passages. Far from city streets and noise pollution, The Hugh S. Branyon Backcountry Trail is one of the best FREE Orange Beach, Alabama, activities for adults!
7. Fishing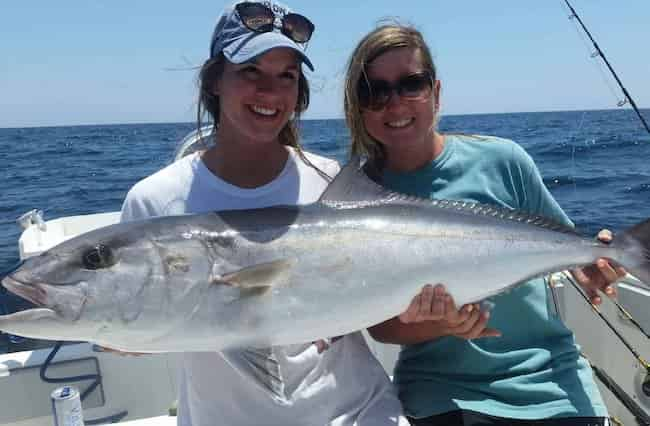 With coupons available for the top attractions in Orange Beach and Gulf Shores, fishing and other fun activities are more affordable than ever
The Gulf Coast of Alabama is known for its beautiful beaches, crystal-clear waters, and incredible fishing! Catch prized saltwater species including snapper, grouper, and shark. Whether fishing inshore, or miles from land, there are plenty of hard-fighting fish ready to bite!
8. Enjoy the Nightlife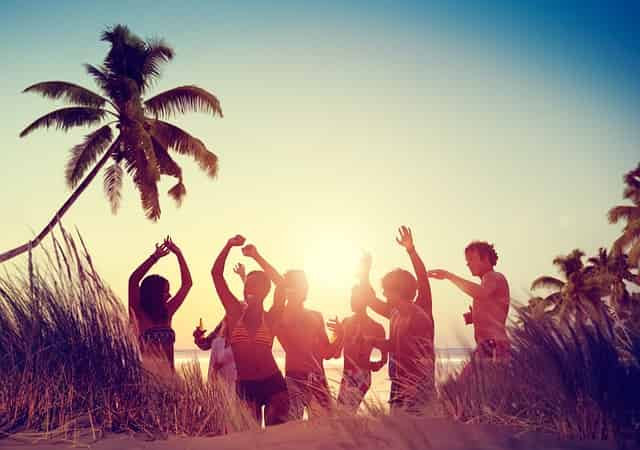 Image from Max Pixel
No kid-free beach vacation is complete without a little night-time fun! Orange Beach nightlife is perfect for couples visiting the area, and consists of mostly colorful beach bars and clubs. On any given night find juke-jivin live bands and beat-pumpin DJ's at bars and clubs from coast to coast in Orange Beach.
Flora-Bama is situated on the border of Perdido Key, Florida, with a roadside-bar atmosphere specializing in music and dancing with multiple stages. Live Bait on 182 is your clubbing headquarters, and The Hangout is a cover-free destination music venue with outdoor and indoor entertainment. Don't miss out on nightlife fun in Orange Beach, Alabama!
---
Orange Beach, Alabama, is the beach that bears the fruit of sun and surf. Come to Orange Beach and behold the beautiful white sands and the pristine emerald waters as far as the eye can see. With so many fun things to do in Orange Beach, AL, for adults on a kid-free vacation, you can rest assured you'll be having as much fun as can possibly be had without the little ones in tow.
Be in the know!
be informed about our latest offers
You can unsubscribe at any time