12 Top Orange Beach, Alabama Attractions Near Your Hotel or Condo
Carrie Jenkins
June 10th 2020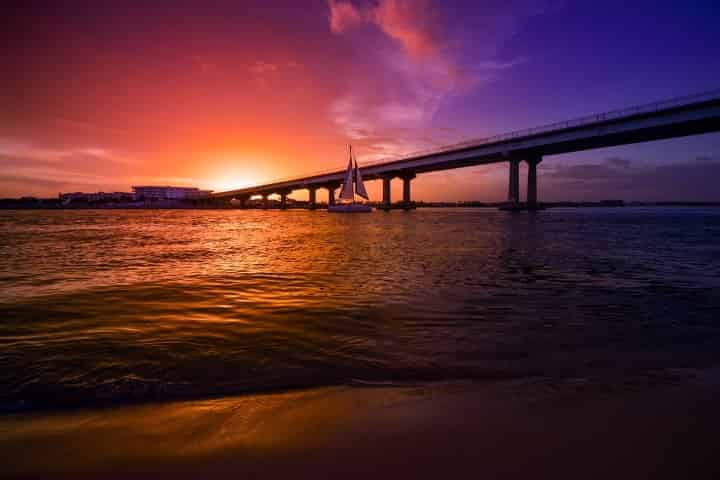 So, you booked a sweet beachside pad for your Orange Beach vacation... now what?? Obviously, the next step is to find some awesome attractions near your hotel or condo. Being the phenomenal gulf-side destination that Orange Beach is, there are plenty of unforgettable attractions just minutes away. Luckily, we're here to help you find the perfect one, two, or twelve for your entire group!
With so much to offer, it's no wonder Orange Beach has become a popular vacation destination. But there's more than just miles of pristine white-sand beaches and aqua Gulf Coast waters to enjoy. Here are 12 Orange Beach, Alabama, attractions near your hotel or condo that are sure to make your next vacation unforgettable!
Table of Contents
The Cetacean
Alabama Gulf Coast Zoo
The Wharf Amphitheater
Gulf Island Charters Swim, Grill, and Chill Excursion
The Sunny Lady Dolphin Cruises at The Wharf
Beach Cruiser Bicycle Rentals by Pedal Pushers
The Park at OWA
Brandon Styles Impressions and Magic Show
The Track Gulf Shores
The Hummingbird Zipline Course at The Wharf
Lucy Buffet's Lulu's in Gulf Shores
Chute for the Skye Parasailing at Tacky Jack's
---
1. The Cetacean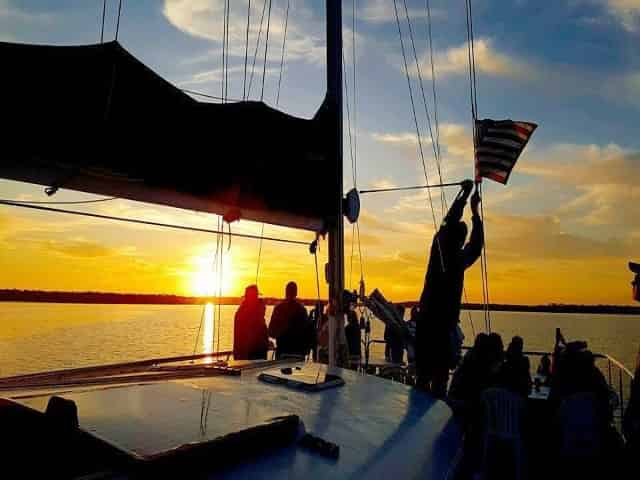 Guests enjoying a scenic sunset sail with Cetacean Cruises Dolphin and Sailing Tours
Ask a nautical and they will tell you that the ideal conditions for sailing include spacious waters, sunshine, and medium winds. Lucky for you, Orange Beach hits all these points and more, making it the perfect destination for sailing adventures!
Experience the wonder of a dolphin cruise on a luxurious catamaran aboard the Cetacean, where you'll enjoy refreshments and music while getting up-close-and-personal with bottlenose dolphins. This attraction is for ages 13 and up, and offers alcoholic beverage options for adults. This 2-hour cruise departs from The Wharf Marina, and sails the smooth waters of the Intracoastal Canal.
2. Alabama Gulf Coast Zoo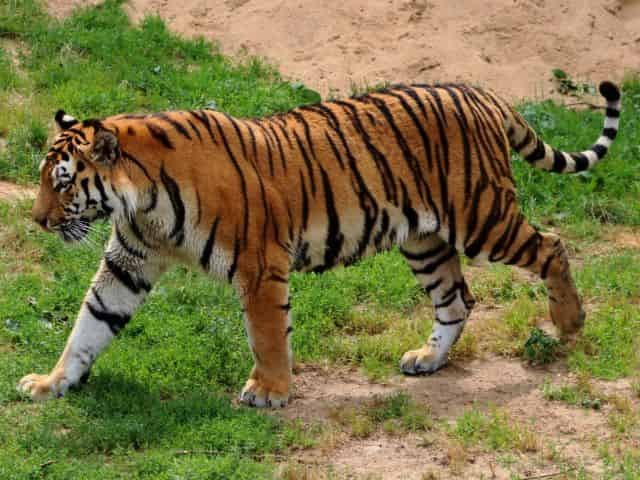 The tiger is just one of the many majestic animals you'll encounter when visiting the Alabama Gulf Coast Zoo
Monkey around and scurry on down to one of the biggest and best wildlife exhibits on the entire Emerald Coast at the Alabama Gulf Coast Zoo. A family-friendly Orange Beach, Alabama, attraction with over 500 different animal species, the Alabama Gulf Coast Zoo is guaranteed to amaze and educate even the most well-read visitors and wildlife enthusiasts. The zoo boasts a variety of large animals and exhibits including:
Siberian tigers
Bengal tigers
Wolves
An exotic bird exhibit
A monkey exhibit
Petting zoo
Reptile garden
and MORE!
For an additional $10 fee, you can get up-close-and-personal with some of the zoo's featured stars, on a Live Animal Encounter!
In 2004, Hurricane Ivan completely devastated The Alabama Gulf Coast Zoo. The massive evacuation efforts led to a series featured on Animal Planet entitled, "The Little Zoo That Could," which incited support from animal lovers far and wide. The beautiful history of this little zoo is part of what makes it such a local gem, and so full of character, hospitality, and charm.
3. The Wharf Amphitheater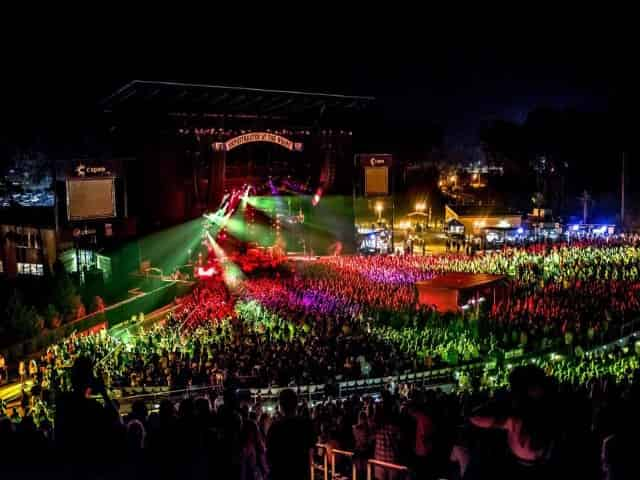 Image Courtesy of The Wharf at Orange Beach
Enjoy great dining options, catch a movie at AMC Theatres, or enjoy some live music at The Wharf in Orange Beach! When you're at the Wharf, anything goes! One of the top spots for shopping and live entertainment in the region, The Wharf boasts a long list of top designers and merchandisers including:
Lucca
Archipelago
The Orange
Build-a-Bear Workshop
Not only a great place to shop, dine, and take a Ferris wheel ride, The Wharf also boasts an excellent music venue, hosting some seriously big acts in 2019, from Jimmy Buffett to Chris Stapleton, with affordable ticket prices. Pull your loved one close, as you dance under the broad southern sky, to your song.
Enjoy the warmth and openness of the outdoor amphitheater, as you share drinks with friends. You're certain to make some unforgettable memories that will have you coming back to The Wharf Amphitheater for your next concert!
4. Gulf Island Charters Swim, Grill, & Chill Excursion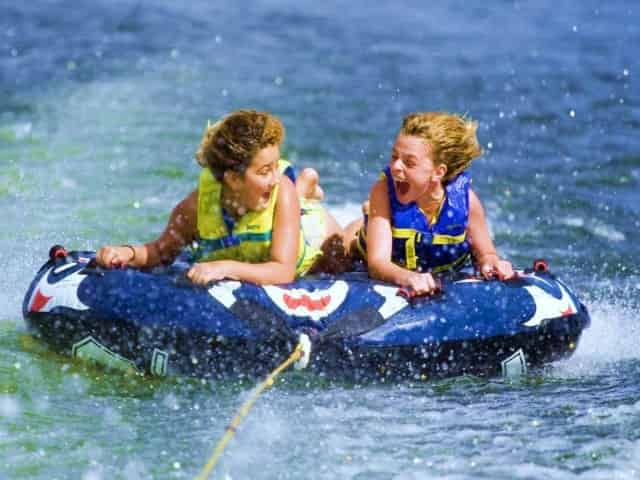 The Swim, Grill, and Chill Excursion is a great way to experience beautiful Orange Beach from a different perspective
There isn't much better than time spent on a boat, and on this charter, you'll experience all the boating life has to offer! Captain Don will chauffeur you around to local hotspots to sightsee, fish, tube, and swim. You can even grill your own fresh catch! This activity is so jam-packed with fun, you'll be coming back year after year as you make memories that will last a lifetime!
5. The Sunny Lady Dolphin Cruises at The Wharf
According to a recent Traveler Story, a dolphin cruise aboard the Sunny Lady is a must-do
Sparkling waters and an abundance of bright sunny days can make anyone smile. Throw some bottlenose dolphins, majestic marine birds, and the occasional sea turtle sighting into the mix, and you have yourself one of the top Orange Beach, Alabama attractions!
Enjoy dazzling displays of sea bird antics from local Gulls, Pelicans, Blue Heron, and Ospreys as an appetizer to the main attraction of dancing dolphins! Local charters and their captains know exactly where to go and how to attract these super-intelligent creatures to the side of the boat. Who knows, you might even get a glimpse at a Manatee in the surf!
The 1.5-2-hour cruise is light-hearted fun, and offers multiple decks for your comfort and viewing pleasure, an air-conditioned cabin, men and women's restrooms, and a snack bar. There's also a great photo opportunity, as children can don the captain's hat and grab the wheel. Dolphin cruises in Orange Beach are the perfect way to create memories your kids will never forget!
6. Beach Cruiser Bicycle Rentals By Pedal Pushers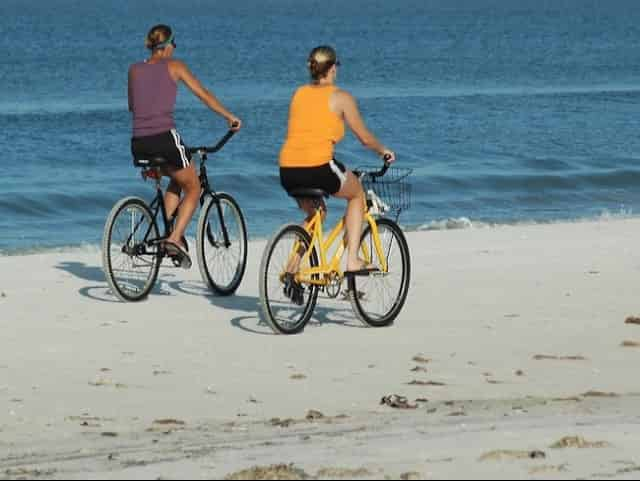 Orange Beach bike rentals are a great way see the sights, while getting up-close with the area's natural beauty
There is no better way to tour Orange Beach on-land than by a beach cruiser! Bicycle rental companies will allow you to pick your delivery location, and will bring your beach cruiser right to you. Feel the sun on your face and the breeze at your back as you cruise to local hot-spots, eateries, and shops.
If you prefer to go off the beaten path, just get your bike delivered to you at one of the Gulf State Park Trailheads. Experience miles of beautiful Gulf State Park as you retreat from the crowds and take in nature!
A few of the biggest and best tourist attractions in Orange Beach, Alabama, are the Hugh S. Branyon Back Country Trails and Bon Secour National Wildlife Refuge. A couple of protected habitats for local wildlife, both Branyon and Secour deliver incredible views and picturesque settings for an amazing bike ride!
7. The Park At OWA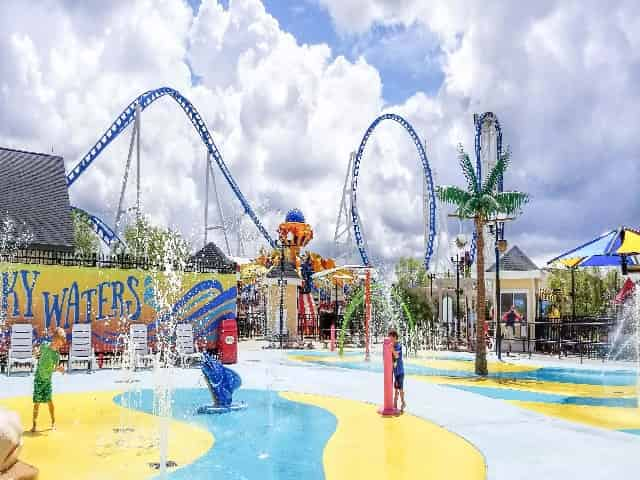 Image Courtesy of https://visitowa.com/
Just a short drive from the beach is a brand-new amusement park, with serious roller coasters and over 21 amusement park rides. OWA, which means "big water" in the Muscogee Creek language, also boasts a huge water-themed fun park called "Wacky Waters."
To top it all off, there is a fabulous downtown area for shopping, dining, and strolling, featuring restaurants such as:
Wahlburgers
Crazy Doughnuts
Paula Deen's Family Kitchen
If your family is into amusement parks, you need to check out OWA in Orange Beach!
8. Brandon Styles LIVE Impressions & Magic Show at OWA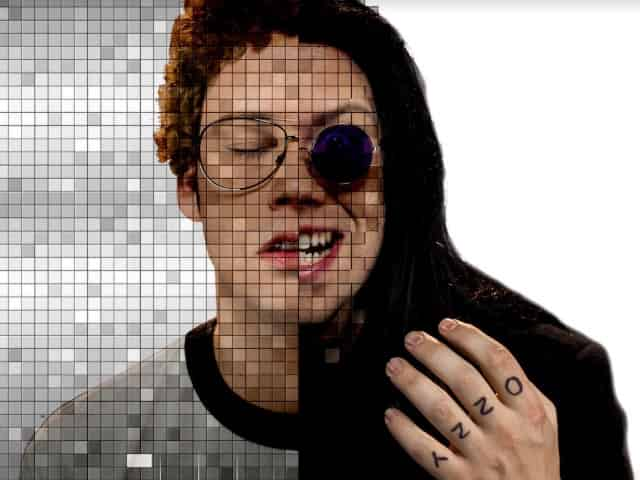 Pictured above is Brandon Styles, doing one of his many impersonations
The super-talented Brandon Styles will have you laughing non-stop with his hilarious impressions of stars from Michael Jackson to Justin Bieber. You will be entertained from start to finish with comedy, magic, dance, and ventriloquism. Maybe you can't get to Vegas this year, but you can experience a Vegas-style act super close to Orange Beach!
9. The Track Gulf Shores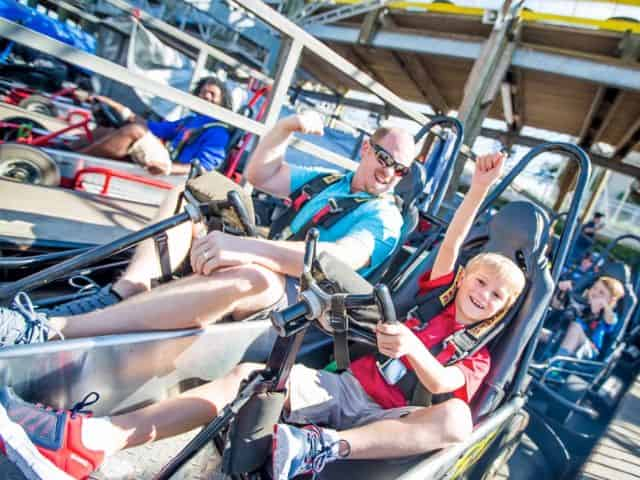 Image Courtesy of The Track
I can vividly remember coming to The Track as a kid. There is absolute magic in riding along on the "woody," the wooden track for adults, as your parent peeled around the curve and attempted to pass the go-cart ahead of you.
The thrill of The Track will offer up memories that last, as I attested earlier, but not just because of the go-carts. The Track is stacked with bumper boats, a sky-coaster, and an arcade, making it the place to be when the sun goes down. You will not regret a trip to The Track with your family!
10. The Hummingbird Zipline Course at The Wharf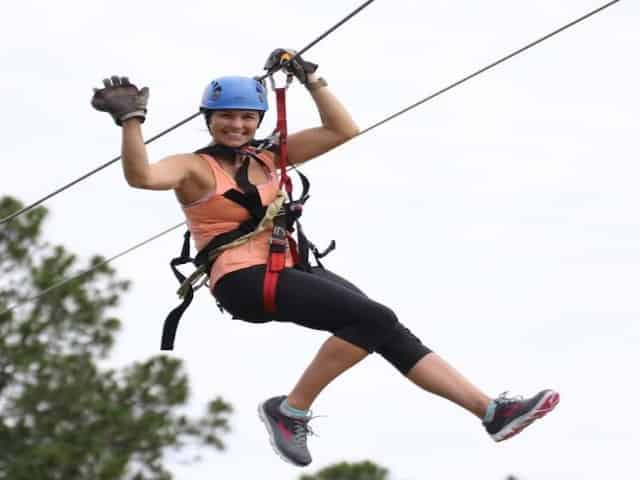 Traveler zipping along the Hummingbird Zipline Course at The Wharf
For the thrill-seeker in your family, look no further than the Hummingbird Zipline Course. You'll whiz, drop, and soar along 1,600 feet of course over treetops, scenic wetlands, and the Intracoastal Canal. Your adrenaline will race right along with you, as you ride the ropes at a screaming 30mph! So, for 2-hours of adrenaline-packed fun, check out the Hummingbird Zipline Course at The Wharf!
11. Lucy Buffet's Lulu's Gulf Shores, Alabama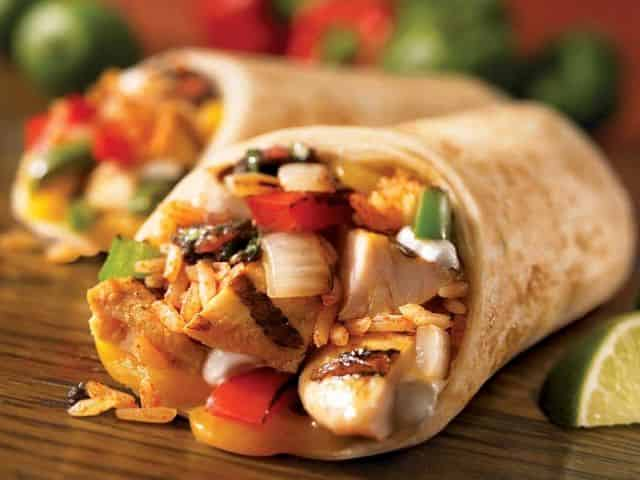 Lulu's in Gulf Shores, Alabama, consistently ranks as one of the most popular restuarants on the water
How about we get to the food already? Lulu's offers some delicious dining with enough options to please everyone in your family, but your kids are probably more concerned with playing. Welcome to Lulu's, where everyone gets what they want. Your kids can play to their hearts content!
There is an arcade, youth and munchkin climbing course, ropes course, and sandpit, and you can watch it all with an umbrella drink in your hand! Located right on the Intracoastal Canal, Lulu's offers up stunning views of the bay, as well as a charming marina. This is one local favorite that you won't want to miss!
12. Chute For The Skye Parasailing - Tacky Jack's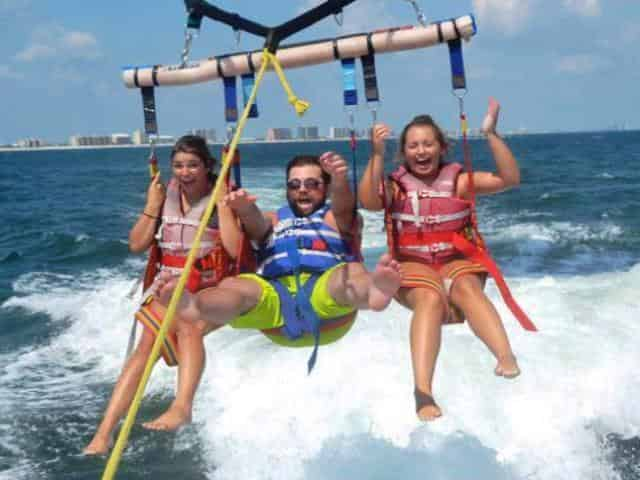 Parasailing is one of the top Orange Beach activities for families
There is something magical about rising high above your surroundings, the butterflies in your stomach, the warm breeze on your cheek, and the noise fading away. Parasailing in Orange Beach offers a unique balance of peace and exhilaration that takes your breath away. Also, parasailing is a great way to catch sight of sea turtles, stingrays, and dolphins, not to mention stunning views of Orange Beach!
The boat leaves out of popular local hotspot Tacky Jack's, and the company offers an optional picture package. Soar up to 500 feet and get a bird's-eye view as you parasail with Chute For the Skye!
---
Now that you know the top Orange Beach, Alabama, attractions near your hotel or condo... it's time to get out and have some fun! Don't forget to visit TripShock.com for ideas on the best things to do while visiting the Alabama Gulf Coast.
Be in the know!
be informed about our latest offers
You can unsubscribe at any time