Top 10 Places to Eat in Pensacola Beach, FL
August 24th 2022
Mike Fisher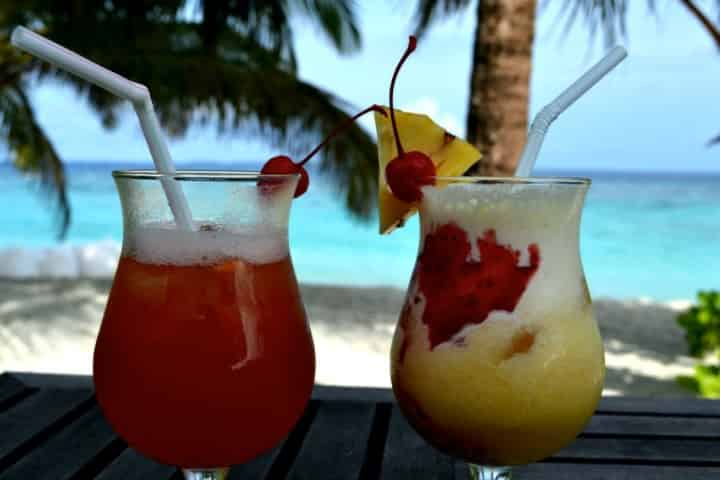 Pensacola Beach is known for the bright Florida sun, white sand beaches, and emerald green waters. This historic tourist destination has drawn millions of visitors over the past century with its laid-back atmosphere and family-friendly attractions, activities, and things to do.
But no island destination is complete without delicious dining! Dozens of popular restaurants specializing in seafood and American cuisine line the island coast. Keep reading to discover the Top 10 Places to Eat in Pensacola Beach, FL!
Table of Contents
Peg Leg Pete's
Native Cafe
McGuire's Irish Pub
Papa's Pizza
The Grand Marlin
The Fish House
Crabs
Wine Bar
Casino Beach Bar & Grille
Cactus Flower Cafe
---
Peg Leg Pete's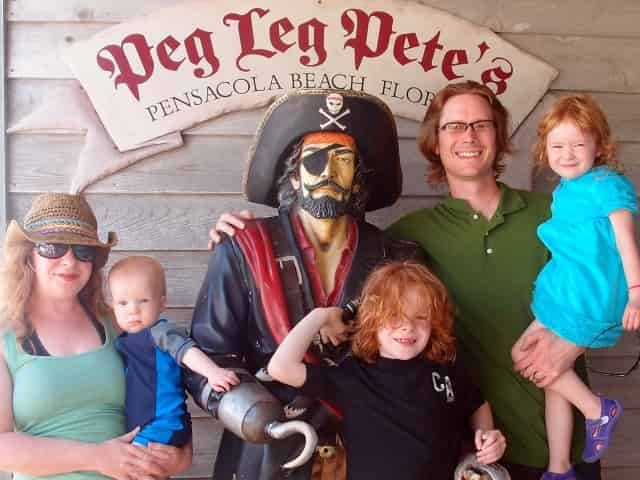 Image by Olaf Gradin via Flickr
Now in its 26th year of operation, Peg Leg Pete's offers up classic American/seafood fare including seafood steam platters, tasty sandwiches, and a variety of oyster items from the oyster bar. A kid-friendly attraction, Peg Leg Pete's prides itself on quality food, friendly service, and being one of the best places for live music in the area. A full bar is ready to supply libations, and a gluten-free menu is available for diners with an allergy to the pesky proteins!
Address: 1010 Fort Pickens Road, Pensacola Beach, FL, 32561
Native Cafe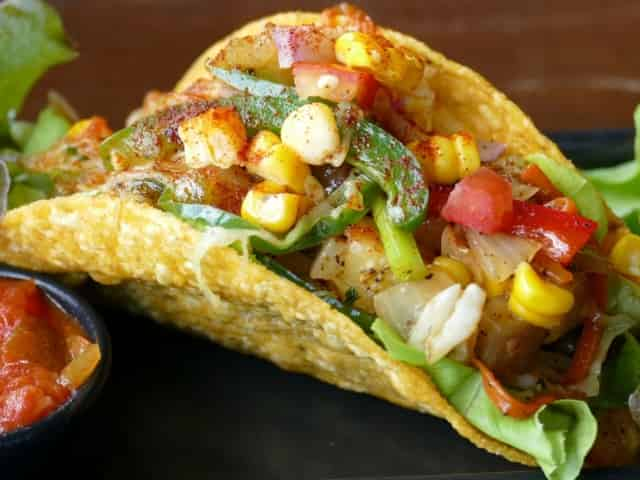 Fish tacos, like the ones pictured above, are a must when dining at Native Cafe
Searching for a reasonably-priced menu without sacrificing quality? Try Native Cafe on Via De Luna Drive. This cozy cafe offers breakfast, lunch, and dinner, with delicious recipes unique to the "steak, seafood, and potatoes" Pensacola Beach dining scene. With a kids menu, healthy dining options, and plenty of sharable selections including mahi mahi fish tacos and barrier island steak kabobs, Native Cafe is a must-stop dining location for a solo, duo, or group meal.
Address: 45a Via De Luna Drive, Gulf Breeze, FL, 32561
McGuire's Irish Pub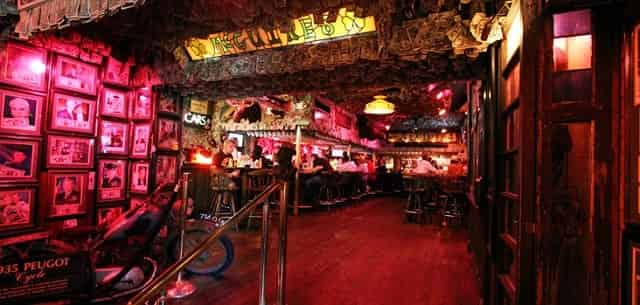 Pictured above is McGuire's Irish Pub. Image by mcguiresirishpub.com.
Mcguire's Irish Pub is located in downtown Pensacola, FL. Even though the list is called the "Top 10 Places to Eat in Pensacola Beach, FL," due to the excellent dining experience the pub provides, it is definitely worth the short drive from Pensacola Beach lodging. Downtown Pensacola offers a unique travel experience by itself, but add a stop at McGuire's, and you have yourself an unforgettable visit! This authentic Irish eatery offers traditional Irish cuisine with a full dose of fun! With a second location in Destin, FL, McGuire's Irish Pub is the go-to restaurant for family-fun on the Emerald Coast. Live entertainment, eclectic cocktails and drinks, and an award-winning menu foster an atmosphere of goodwill and laughter.
Irish Coffee Brunch on Sunday mornings and a fairly-priced lunch menu gives late-sleepers a reason to wake up early. A kid's menu and late-night menu are also available, so there is something for all-ages at all-times. Make sure to try the Shepherd's Pie, Homemade Meatloaf, and 18-cent Senate Bean Soup! View the full menu here.
Address: 600 E. Gregory Street, Pensacola, FL, 32502
Papa's Pizza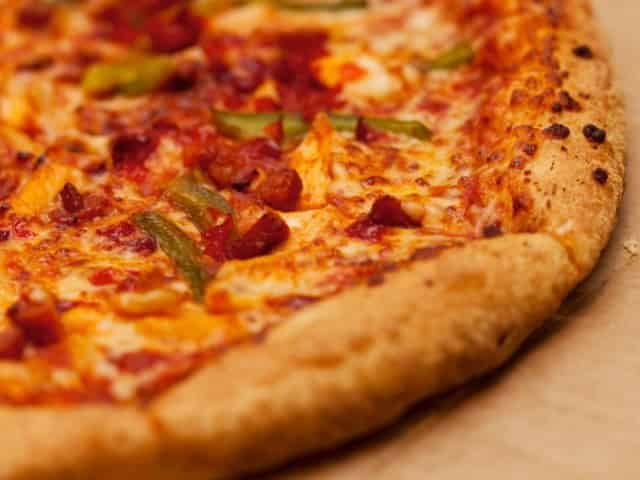 The delicious pizza at Papa's Pizza is just one of the many reasons you need to visit the Pensacola Beach Boardwalk
No dining list is complete without an outstanding pizzeria! Pizza and family vacations go together like waves and the ocean, but not any pizza place will satisfy your hunger for the perfect slice. Located at the Pensacola Beach Boardwalk, Papa's Pizza has fed Pensacola Beach residents and visitors for 67 years. Offering authentic New York and Sicilian-style pizzas and Italian entrees for dine-in, carry-out, or delivery, it's no wonder why Papa's Pizza is one of the top places to eat in Pensacola Beach, FL. Imported spices, fine cheeses, and fresh dough make Papa's fun menu items like "The Frank Sinatra" pop off the plate! Why settle for the big chain pizzerias when you can fill your mouth with a bite of Papa's Pizza?!
Address: 400 Quietwater Beach Boulevard, Unit #1, Pensacola Beach, FL, 32561
The Grand Marlin
Located on the water, The Grand Marlin offers breathtaking views, beautiful beaches, and is close to all the fun activities like parasailing, go karts, and unforgettable Pensacola Beach dolphin cruises
This highly decorated seafood restaurant boasts accommodations from OpenTable, Best of the Bay, WineSpectator, and TripAdvisor. The modern decor is reminiscent of a trendy Los Angeles eatery, but with stunning views of the water. Summer entertainment runs weekly Thursday-Sunday, and daily drink and dining specials make Grand Marlin a perfect choice for upscale dining on a budget!
Address: 400 Pensacola Beach Boulevard, Pensacola Beach, FL, 32561
The Fish House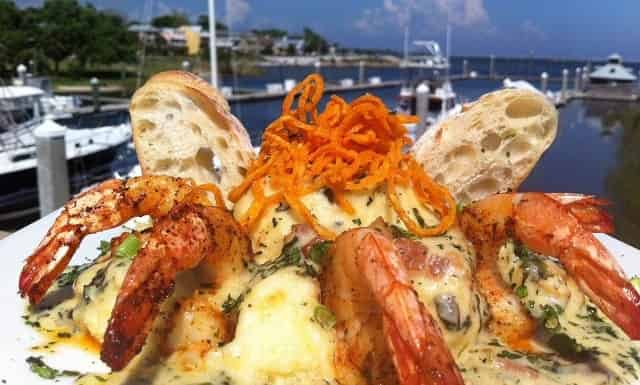 *Pictured above is a seafood dish at The Fish House. Image by The Fish House Facebook Page. *
At The Fish House, you'll find delicious seafood dishes prepared in an upscale environment. After tasting them, you'll understand why The Fish House is one of the top restaurants in Pensacola Beach, FL. This iconic establishment has been featured on popular Food Network shows such as Emeril's Florida and Andrew Zimmern's Bizarre Foods.
Address: 600 S Barracks St, Pensacola, FL 32502
Crabs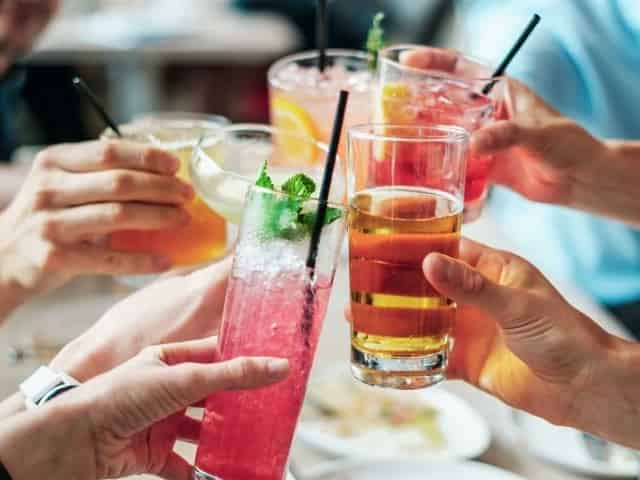 Pictured above is a group enjoying the delicious cocktails at Crabs on Pensacola Beach
Crabs' slogan is "Crabs, We Got Em!," and they sure do! Located directly on the beach, Crabs offers your favorite seafood with a large selection of tropical cocktails. The kid-friendly atmosphere is complete with a play area, freshwater fish tank, and blue crab aquarium!
As the name suggests, Crabs specializes in fresh crab dinners including several species of tasty crab from around the world. Live entertainment and daily hermit crab races are fun for everyone, and scenic gulf views are enjoyed from almost any table in the restaurant. Directly on the beach, this is the perfect place to grab a bite to eat, utilize your Pensacola beach chair rentals, and soak up the sun!
Address: 6 Casino Beach Boardwalk, Gulf Breeze, FL, 32561
Wine Bar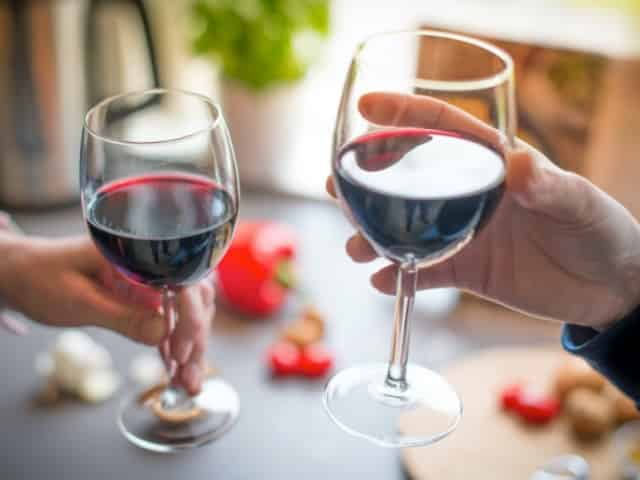 It's never the wrong time for a delicious glass of wine at Wine Bar
Hand selected wines and craft beers, along with a menu of inviting comfort food, makes Wine Bar in Pensacola a refined option for an afternoon or evening meal. Shareable appetizers including artisan cheese plates and hummus are great for relaxing with a large group, while classic surf or turf dinner entrees including mussels, lamb, and an inventive veggie pasta work to slate hunger around meal-time. The wine bar's menu contains low-key salads and sandwiches up to fine-dining options, so there really is something for everyone.
Address: 16 Palafox Place, Pensacola, FL, 32502
Casino Beach Bar & Grille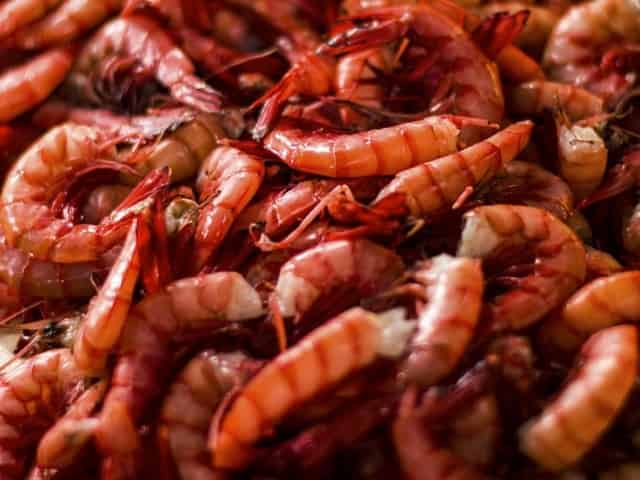 While most come for the fresh seafood, pictured above, many stay for even tastier views
Casino Beach Bar & Grille takes a different approach to the beachside dining experience. Like its neighbor "Crabs," Casino has the views and outdoor atmosphere. But where Casino Beach Bar & Grille differs is in its modern approach to the traditional beach restaurant menu and look. The ultra-modern and sleek decor reminds diners of a high-end Caribbean resort, and an eclectic menu takes an artisan approach to classics like fish tacos, burgers, and shrimp & grits.
Located on Fort Pickens Road, this is the perfect excuse to hop on your bicycle, scooter, or golf cart, take the scenic route, and enjoy Casino Beach Bar & Grille's scenic views. While you wait, post up on Casino Beach's patio or stick your toes in the sand directly behind the restaurant.
Address: 41 Fort Pickens Road, Pensacola Beach, FL, 32561
Cactus Flower Cafe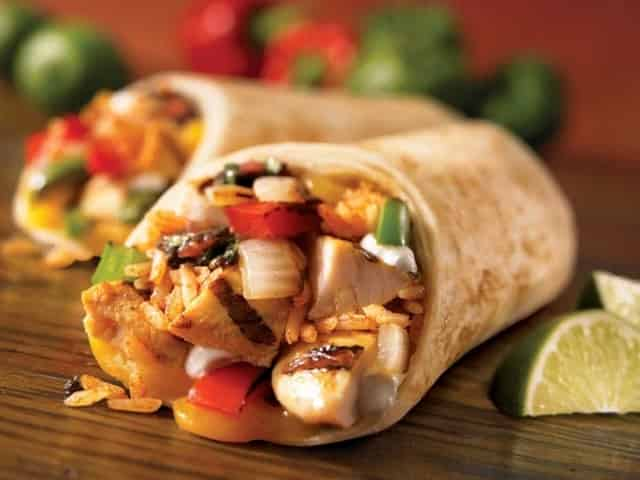 Cactus Flower Cafe is the place to be for authentic Mexican cuisine on Pensacola Beach
At Cactus Flower Cafe, California Style Mexican is the name of the game! Leave this cafe feeling full and refreshed with big portions cooked healthy with fresh ingredients. With locations in Navarre and Pensacola, Cactus Flower is a fast-growing restaurant here on the Emerald Coast for a reason. Serving up Mexican drinks and desserts, Cactus Flower Cafe offers not only dining, but a chill spot to hang with friends and satisfy your sweet tooth!
Address: 3425 N. 12th Avenue, Pensacola, FL, 32503
Be in the know!
Be informed about our latest offers
You can unsubscribe at any time