Top 7 Kid Friendly Activities in Pensacola Beach, Florida
Mike Fisher
March 24th 2020
Pensacola Beach, Florida, has remained a popular family-friendly vacation destination for decades. Surrounded by emerald Gulf waters, visitors to Pensacola Beach are quickly swept away by the beachside culture. Beach activities, watersports, historical sites, and a strong military presence offers a wide variety of things to do in Pensacola Beach, FL!
With spring break already in motion, and summer vacation right around the corner, TripShock.com has compiled a list of the top 7 kid-friendly activities in Pensacola Beach, Florida. With family vacations in mind, the list below was built on activities that are affordable or free, and most of all, kid friendly!
Travelers Tip: A free trolley runs through Pensacola Beach and beyond. The service is provided by the Santa Rosa Island Authority, and is perfect for transporting the whole family to some of the activities below including the Pensacola Beach dolphin cruise and the Pensacola Beach pier. Trolley service is seasonal and begins in mid-May.
Table of Contents
Dolphin Cruise
Blue Angels Practice Cruise
Pensacola Beach Gulf Pier and Boardwalk
Family Fishing Excursion
Explore the City
National Naval Aviation Museum
Gulfarium Marine Adventure Park
---
1. Dolphin Cruise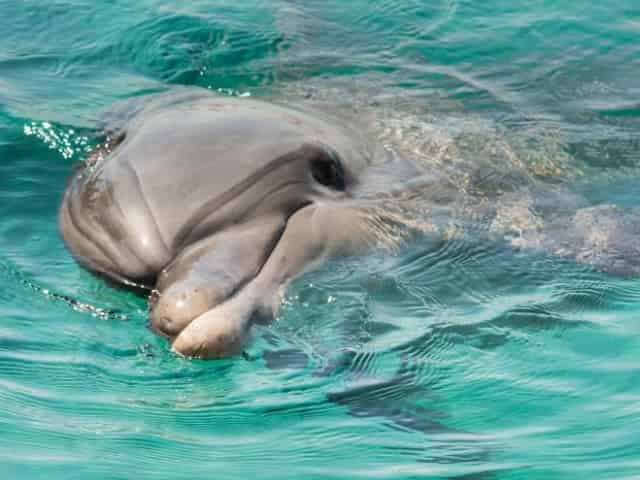 See bottlenose dolphins like the one pictured above on a Pensacola Beach dolphin cruise, and make memories that will last a lifetime, just like this family did in a recent TripShock Traveler Story
Looking for a water activity that's fun, affordable, and doesn't wear you out? A family fun dolphin cruise in Pensacola Beach provides hours of relaxing sightseeing for all ages. Adults enjoy educational narration and the serene landscapes of Pensacola Beach, while the kids revel at the sight of dolphins and other marine life. Boats tour in relatively calm waters, leaving motion sickness a rare occurrence. Food and beverages are available on most excursions, as is covered seating. Dolphin tours depart daily and year-round!
2. Blue Angels Practice Cruise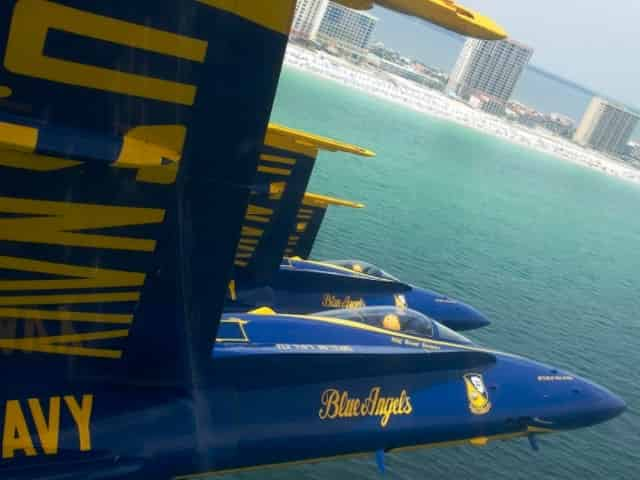 Pictured above are the Blue Angels soaring high in the sky over Pensacola Beach's beautiful, emerald waters
Family vacationers in Pensacola Beach can expect to see and hear plenty of action in the skies. From Air Force Helicopters to Navy Jets, the Emerald Coast is brimming with military action. With Eglin Air Force Base, Hurlburt Field, and Naval Air Station (NAS) surrounding Pensacola Beach, it's no surprise that some of the world's finest pilots setup shop in town. Among the best of the best, however, are the Blue Angels.
This team of Navy Pilots is known worldwide as some of the fastest flying and most technically experienced pilots. Blue Angels air shows draw crowds in the thousands, but you could see them in Pensacola Beach from the comfort of a 63' catamaran! Hitch a ride with a handful of other anxious spectators and catch a LIVE Blue Angels practice run with Premier Dolphin Cruise. This boat cruise is exciting for all ages, but especially makes for a fun activity for kids in Pensacola Beach, FL. While riding aboard the catamaran, the sights aren't limited to the skies. Look to the water to find marine life including:
Dolphins
Stingrays
Sea birds
Sharks
3. Pensacola Beach Gulf Pier and Boardwalk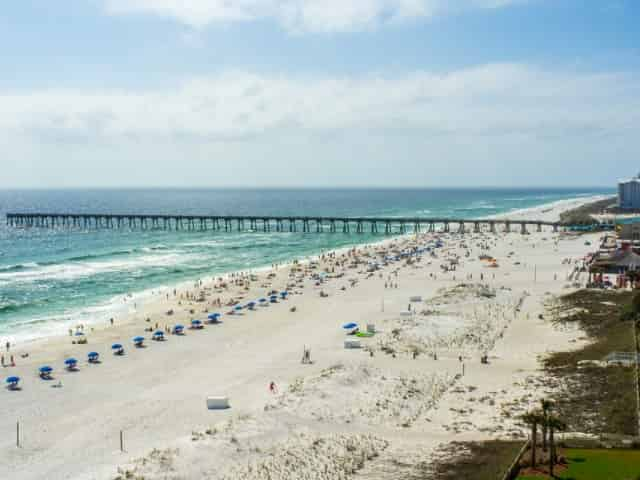 Image of Pensacola Beach by David Henderson via Flickr
Searching for a fun, family activity close to the beach? Then the Pensacola Beach Gulf Pier is the place for you! For a small fee, try your hand at fishing off this massive dock, and you may just catch a dinner of Cobia, Mackerel, Redfish, or Mahi Mahi. To make things easy, the pier provides rentals and sales of all you need for a day of fishing in Pensacola Beach at a low cost including:
Rods
Reels
Bait
Coolers
Nets
Daily, weekly, and annual pier passes include temporary fishing licenses, as well! Whatever you catch you can keep (pending size and quantity requirements), and if you get hungry, there's an on-site snack bar to provide food for you and the kids. The Pensacola Beach Gulf Pier offers something different than your typical watersports tour, and will provide fun family memories for years.
Smack dab in the center of Pensacola Beach is the Pensacola Beach Boardwalk, and you just can't hit up the pier without taking a stroll down the boardwalk. Relax on the beach, grab a cocktail, or enjoy the many shops and restaurants! The Boardwalk is a family destination in Pensacola Beach with safe swimming areas and frequent games and events held during peak season. Open year-round, the boardwalk is a must-see destination offering plenty of Pensacola Beach activities for the whole family!
4. Family Fishing Excursion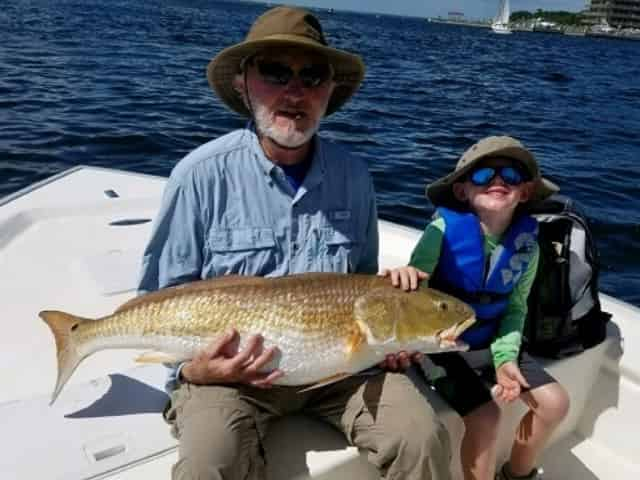 Anglers on a kids fishing charter showing off a massive Redfish caught in the bay
The pier makes for an amazing family-fun day in Pensacola, but fishing on the pier requires preparations, and knowledge of saltwater fishing that many don't have time to acquire. After all, when you're on a beach vacation in Florida, the last thing you need to think about is how to tie a fisherman's knot! That is why sometimes it's better to take the family on a family fishing excursion.
Many local fishing charters specialize in family-friendly fishing trips that are tailored for first time or novice fishermen. But just because the trip is ok for beginners, doesn't mean you won't catch prized fish! With year-round trips, expect to catch the following:
Redfish
Speckled Trout
Snapper
Flounder
Shark
And MORE!
Bait, tackle, and fishing licenses are included in the cost, and by days end you'll be so stocked up on table fare and fond memories, putting a price on the experience will be impossible. Book fishing charter tours early in the year for reduced rates!
5. Explore the City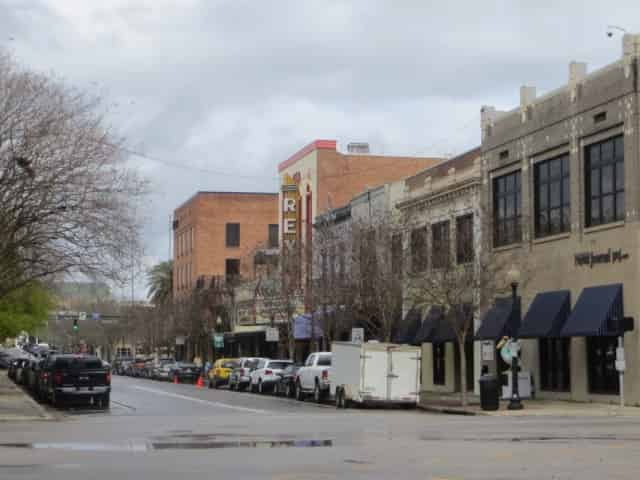 Image of historic downtown Pensacola taken by David Wilson via Flickr
Ranging from history, to culture, to ghosts and graveyards, Pensacola city tours offer something for everyone! With most tours priced at around $18, you'll be amazed at how far your dollar will go on one of these fascinating and fun guided tours. Pensacola, Florida, located just minutes from Pensacola Beach, is teeming with rich history and culture steeped in eclectic design, dining, and a strong military presence. Experience all these things, and more, on a specially crafted Pensacola city tour!
If you're looking to explore the town on your own, one of the best ways to do so is with a Pensacola bicycle rental. Bike rentals in Pensacola are all-ages, with children's bicycles available upon request. Delivery downtown is included in the price of the rental, as is a helmet and bike lock. Cruise historic bike routes Admiral Mason Park, Plaza Deluna, and the Pensacola Bay shoreline! With plenty to do and see for the whole family, a bicycle rental in Pensacola, Florida, is well worth the $15.00 per person price tag!
6. National Naval Aviation Museum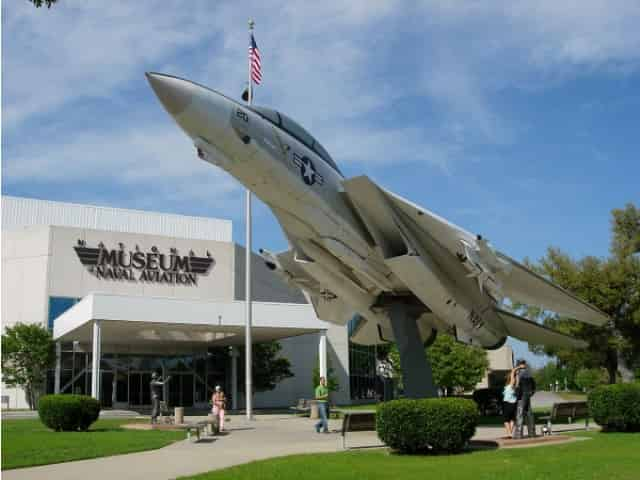 Image from Wikimedia
The Naval Aviation Museum in Pensacola, FL, is home to one of the most visited museums in Florida. The all ages exhibits feature REAL historic aircraft, vintage documents, uniforms, and dioramas that display America's Naval history in shining brilliance. The family activities continue at the Naval Aviation Museum with attractions including the:
IMAX Theatre
Flight Simulator
Blue Angels X4D Experience
And MORE!
And let's not forget the Cubi Bar Cafe, a delicious restaurant and replica of the famous Cubi Point Officers Club. Best of all, admission is FREE to the Naval Aviation Museum which results in a cheap and extraordinary family-fun day in Pensacola Beach, FL! Click here for more information about the National Naval Aviation Museum.
7. Gulfarium Marine Adventure Park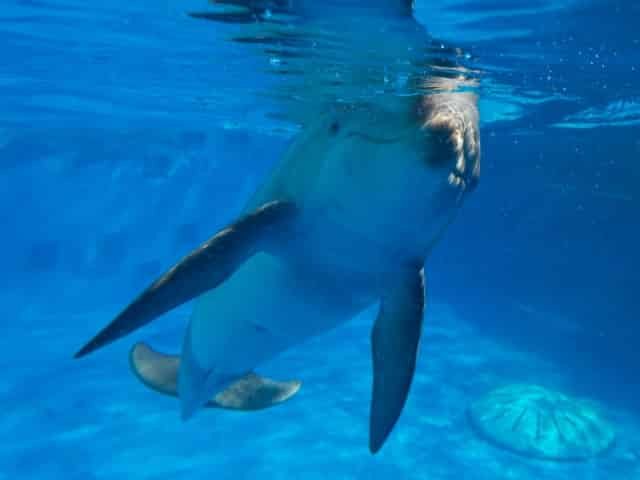 Visiting the dolphins at the Gulfarium Marine Adventure Park is one of the most fun and inexpensive things you can do near Pensacola Beach
A Florida beach vacation is not complete without a first-hand encounter with exotic marine life! The Gulfarium Marine Adventure Park on Okaloosa Island offers spectacular shows, educational exhibits, and beautiful Gulf views. With kid-friendly activities left and right, there is no better place to take the family on your Gulf Coast beach vacation. Sea lions, penguins, sea turtles, and live dolphin shows are just part of the reason the Gulfarium is one of the top activity ideas in the area!
Most of the park is covered and open rain or shine, and an on-site restaurant and retail shop provide guests with all they need for a full day of aquatic adventures! Tickets currently start at only $19.99, and TripShock.com frequently offers exclusive discounts, so be sure to book your Gulfarium Marine Adventure Park tickets online through TripShock! The Gulfarium is open 7 days a week (besides Thanksgiving Day and Christmas Day), and free parking is available to all guests.
---
Pensacola Beach is a premier beach destination on the Gulf Coast. Visitors from across the world choose Pensacola Beach for its awesome activities which include the water, beach, and nearby downtown Pensacola tours and attractions. Discover this amazing family-friendly vacation hot spot, and make this trip one for the books with the top kid-friendly activities in Pensacola Beach, Florida, and beyond!
Be in the know!
be informed about our latest offers
You can unsubscribe at any time