Top 7 Kid Friendly Activities in Perdido Key
Mike Fisher
May 12th 2020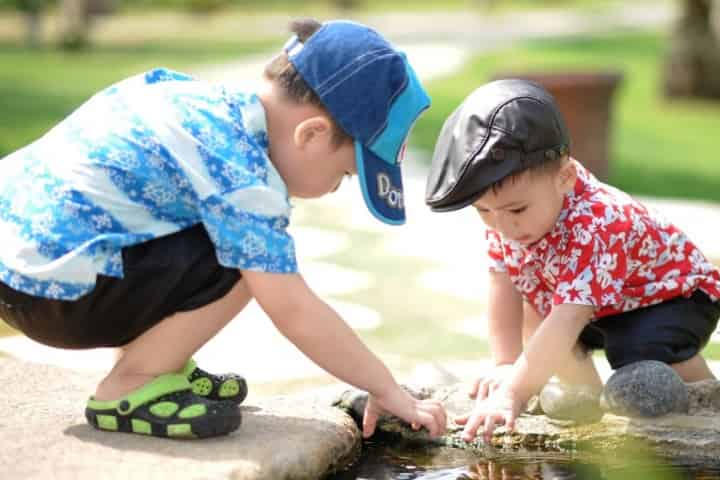 There are tons of fun things to do in Perdido Key, but not all are kid-friendly. This up-and-coming paradise destination continues to evolve year-after-year, attracting new visitors, and offering a growing number of activities and attractions. Like many of the other top beach destinations, families who visit Perdido Key can now enjoy kid-friendly tours including parasailing, dolphin tours, fishing, and watersport rentals.
These relatively new tour options are why, year after year, families will continue to choose the Perdido Key area to spend time together. Looking for fun things to do in Perdido Key with the whole crew? Discover the Top 7 Kid Friendly Activities in Perdido Key for family fun on your next vacation!
Table of Contents
Perdido Key Jet Ski Rentals
Orange Beach Pontoon Boat Rentals
Parasail Tours in Orange Beach
Pensacola Beach Dolphin Cruises
Perdido Key Family Fishing Excursions
Orange Beach Paddleboard Rentals
Family-Friendly Pensacola City Tours
---
Perdido Key Jet Ski Rentals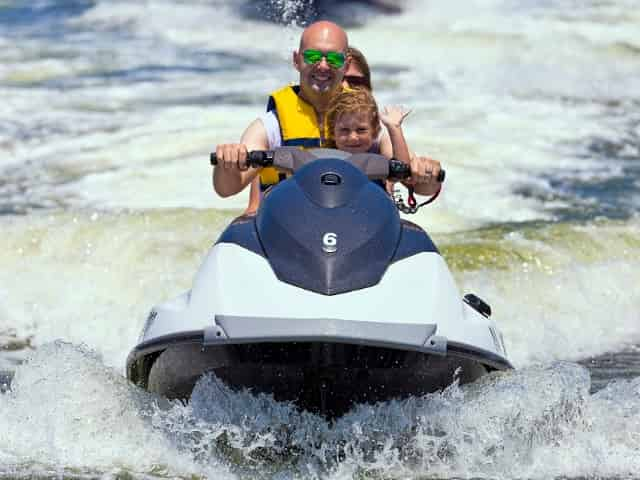 Hop aboard a waverunner rental in Perdido Key and make a serious splash
What better way to explore the waters of Perdido Key than with your own personal waverunner rental! Hop aboard a 3-seater Yamaha Jet Ski for an extreme adventure in the Perdido Pass and beyond. Waverunner rentals through Alabama Extreme Watersports are affordable and fun, with short no-wake zones and a tank of fuel included!
Orange Beach Pontoon Boat Rentals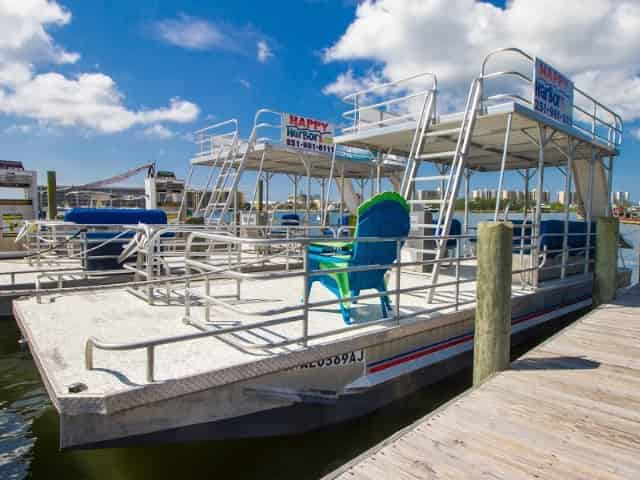 Pictured above is a double decker pontoon rental available through Happy Harbor Marina in Orange Beach
Take up to 12 passengers along on an Orange Beach pontoon boat rental! With vendors located just minutes from the beautiful Orange Beach Islands, pontoon boat rentals in Orange Beach, AL are simple, easy, and efficient. Visit the Perdido Pass and more on a rental ranging 4 - 9 hours, and including such fun amenities as a swim ladder, guide map, and water slide!
Parasail Tours in Orange Beach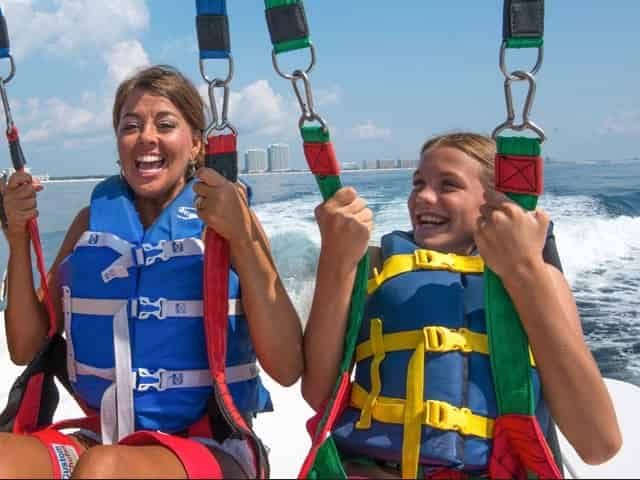 Fly high above the sky parasailing in Orange Beach and take in the city's incredible beauty from above
Fly high with Chute for the Sky Parasail in Orange Beach, AL! Up to 3 people can fly at once on this exciting activity, making it perfect for siblings, parents, and even grandma! Heights exceed 500 feet, giving passengers a birds-eye-view of marine life including sharks, dolphins, and sea turtles along the beautiful Gulf shoreline!
Pensacola Beach Dolphin Cruises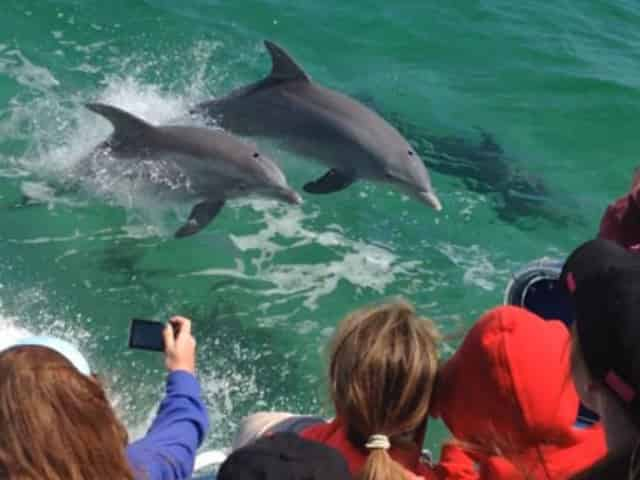 One visitor to Pensacola explains in a recent Traveler Story that a Gulf Coast dolphin cruise is an amazing and memorable experience
A Pensacola dolphin cruise is a fun and affordable boat tour departing from Pensacola Beach. Set sail from the Portofino Boardwalk on a 2-hour narrated tour in search of dolphins and other marine life including sharks, sea turtles, and a myriad of seabird species!
Enjoy open views and plenty of space aboard the Portofino I, a 63' catamaran equipped with food and beverages (available at an extra cost). This all-ages dolphin cruise is one of the top dolphin tours Pensacola visitors will love! Take the family for a memorable boat ride, and bring along a camera to capture the moment forever. With multiple days and departure times each week in the spring and summer, take your pick of when to head out on this one-of-a-kind Pensacola dolphin cruise!
Perdido Key Family Fishing Excursions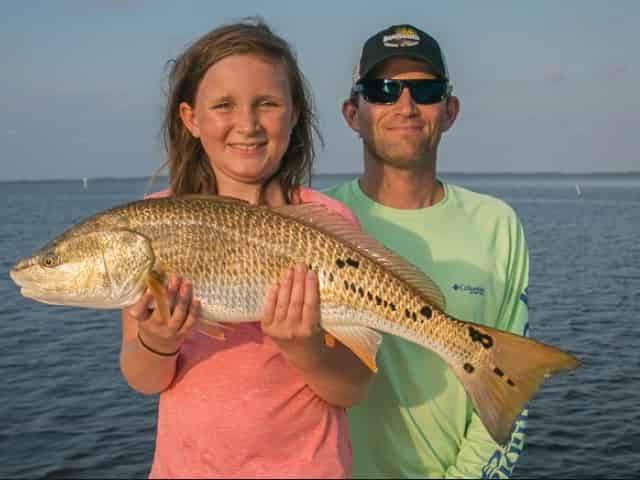 With discounts and coupons available, fishing in Perdido Key/Pensacola can be both fun and affordable
Some of the fondest memories one can make as a child is fishing with mom and dad! Give your kids the fishing trip of a lifetime in Perdido Key. Book a kid-friendly fishing charter in search of:
Redfish
Speckled Trout
Flounder
And MORE!
Many Perdido Key private charters stay close to shore, and offer onboard bathrooms, bottled water, and hands-on help for inexperienced anglers.
Orange Beach Paddleboard Rentals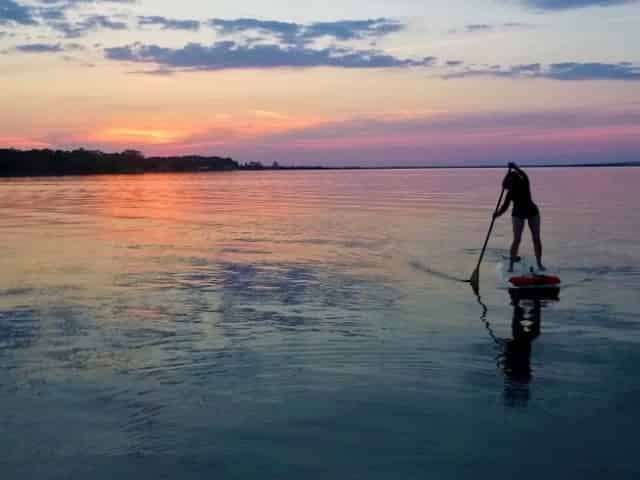 Paddleboard rentals are a great way to relax and reconnect with nature
The stand-up paddleboard craze is here to stay! Cruise through the Perdido Pass to the Orange Beach Islands for nature watching and lounging in the sun. Rent a board as long as 9 hours, allowing plenty of time to explore the Gulf waters with the whole family! Boys and girls of all ages can enjoy their very own paddleboard under adult supervision, making it one of the only extreme activities that children and young teenagers can enjoy right alongside their parents.
Family-Friendly Pensacola City Tours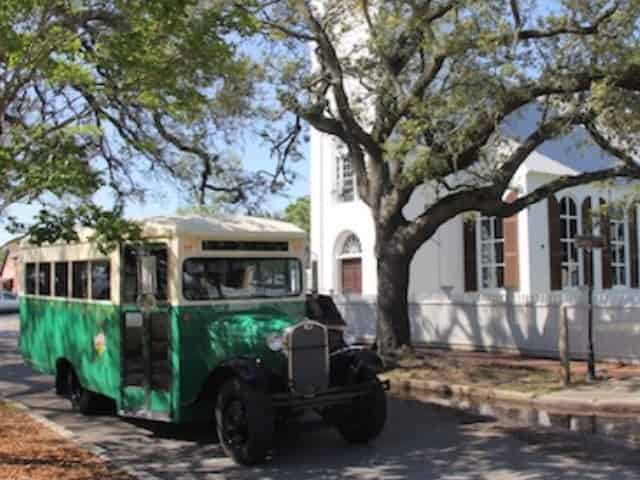 Pictured above is the Hop On Hop Off Pensacola Bus Tour embarking on a fun and factual history tour
Choose from several family-friendly tours in downtown Pensacola highlighting the city's history, culture, and design. The Pensacola Landmark City Tour offers participants an in-depth view of important monuments, businesses, and buildings in the downtown area, and the Ghost and Graveyards Tour takes passengers through sights of spiritual turbulence including spooky cemeteries!
Perdido Key News
Keeping you informed
Be in the know!
be informed about our latest offers
You can unsubscribe at any time