Watch the Blue Angels Fly in Pensacola, FL
Mike Fisher
July 31st 2020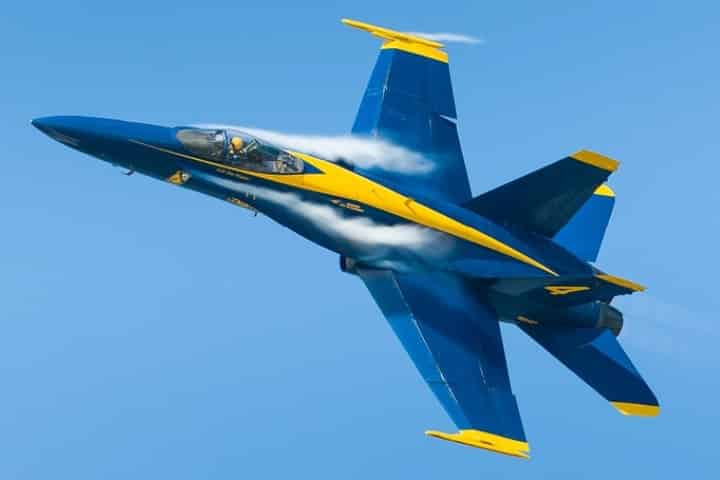 A strong military presence can be felt when exploring Pensacola, Florida. Air Force, Army, Navy, and Special Forces bases are spread throughout the Florida Panhandle, home to thousands of military men and women.
Although most military operations are confined to government property, certain aspects of military life spill over to the civilian world. Uniformed military personnel are frequently spotted out with their families, and military exercises are sometimes seen taking place in the sky or sea, including pilot and paratrooper training.
It's not uncommon to catch pilots practicing maneuvers in Black Hawk Helicopters or B-2 Bombers, but nothing quite compares to the Blue Angels Navy flight squad. Out of all the things to do in Pensacola, you won't want to miss a flight demonstration from these famous fighter pilots! Find out more about the Blue Angels including why they exist, when they fly, and the best way to see the squad in action!
Table of Contents
Blue Angels Flight Shows
Blue Angels Practice Boat Cruise
National Naval Aviation Museum Viewing Area
Who Are The Blue Angels?
---
Blue Angels Flight Shows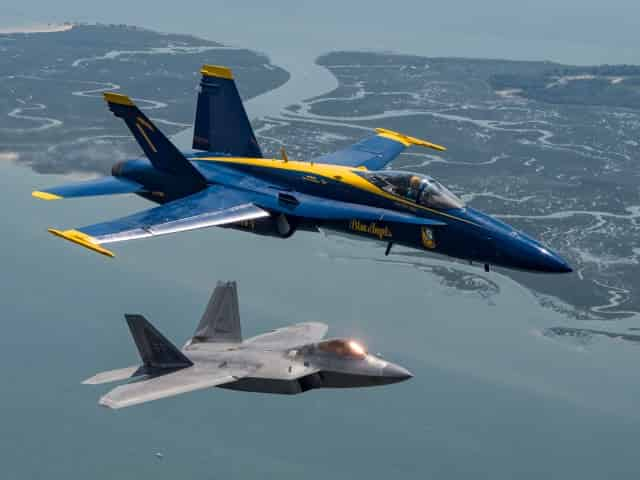 Seeing the majestic Blue Angels fly overhead is just one of the many reasons you should visit the Pensacola Beach Boardwalk. Image courtesy of the Official U.S. Navy Page via Flickr
In Pensacola, FL, Blue Angels practice runs are a must-see event! The Blue Angels jets take over the sky, causing locals and tourists to stop in their tracks to catch a glimpse of the amazing spectacle. Practices are a true representation of a full Blue Angels airshow, and take place in conjunction with the flight team's touring schedule. View their show information and schedules here: https://www.blueangels.navy.mil/show/.
Blue Angels Practice Boat Cruise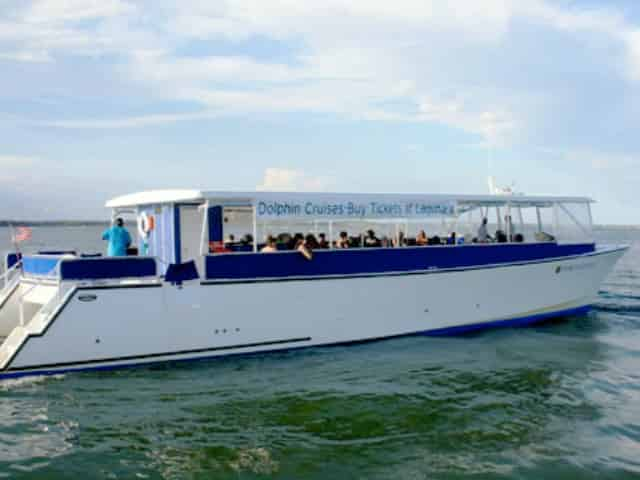 Pensacola boat tours are the perfect way to see the Blue Angels, as well as the beautiful scenery, dolphins, pelicans, and more
Take a family friendly boat cruise to catch the Blue Angels. This 63' catamaran offers comfortable "front-row" seating to the masterful aerial maneuvers performed by the flight team. The excitement doesn't stop in the sky, witness dolphins and other marine life in their natural habitat during the 2.5-hour boat tour. Blue Angels boat tours in Pensacola coincide with their practice schedule, and seating is limited so make sure to book in advance!
While a boat cruise may be one of the most fun and exciting ways to see the Blue Angels spread their wings, it isn't the only way! There are numerous places to see the spectacle firsthand. Besides boat tours, the National Naval Aviation Museum has a viewing area perfect for you and the whole crew. Don't want to waste any time not at the beach? Beach chair rentals through Splendid Setups are the perfect way to sit back, relax, and watch the show up above!
National Naval Aviation Museum Viewing Area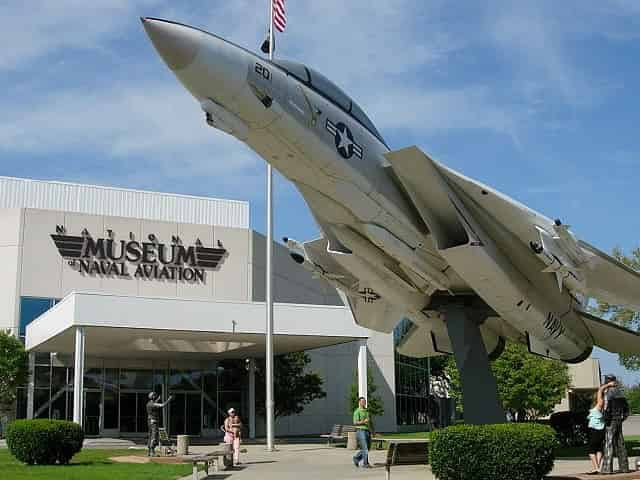 One of the top kid-friendly activities in Pensacola, visiting the National Naval Aviation Museum is both exciting and educational. Image from Wikimedia
The National Naval Aviation Museum in Pensacola, FL, offers FREE viewing to fans of all ages! The outside viewing area is located on the Museum Flight Line north of the museum. Bleacher seating is available, or chairs can be rented for $3 per chair. Practices typically begin around 11:30am (central time) and last about 75 minutes, so be sure to dress light and prepare yourself for the Florida heat!
Who Are The Blue Angels?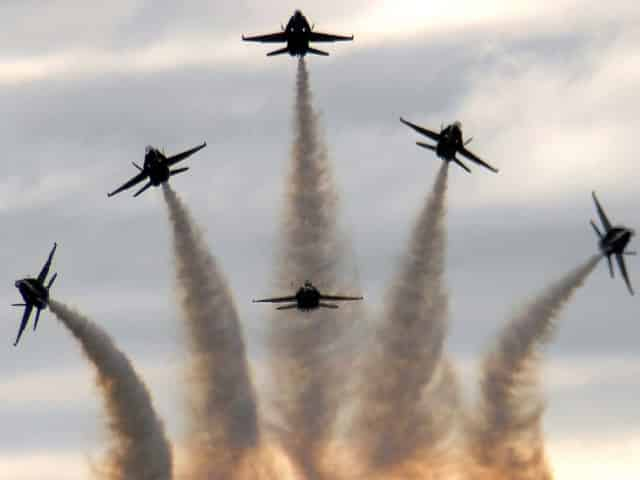 Pictured above are the high-flying Blue Angels putting on a show in the sky
The Blue Angels were formed in 1946, making them the second oldest flying acrobatic team in the world. The order to build the team was issued by the Chief of Naval Operations Admiral Chester Nimitz, and the original team was assembled by Lieutenant Commander Roy Marlin "Butch" Voris, an accomplished World War 2 fighter pilot. The mission of the Blue Angels is to showcase the pride and professionalism of the United States Navy and Marine Corps by inspiring a culture of excellence and service to the country through flight demonstrations and community outreach.
The Blue Angels call both Pensacola, Florida, and El Centro, California, home. During the winter, team members practice at El Centro, and in the warmer months return to Pensacola as a home base for the airshow season. Blue Angels are a 16-man team, with all team members from the ranks of regular Navy or United States Marine Corps units. Pilots serve two to three years, with the 2015 Blue Angels flying team consisting of:
Flying Blue Angel No.1, Captain Thomas Frosch, USN (Commanding Officer/Flight Leader)
Flying Blue Angel No.2, Lieutenant Matt Suyderhoud, USN (Right Wing)
Flying Blue Angel No.3, Lieutenant Andrew Talbott, USN (Left Wing)
Flying Blue Angel No.4, Lieutenant Commander Nate Barton, USN (Slot)
Flying Blue Angel No.5, Lieutenant Mark Tedrow, USN (Lead Solo)
Flying Blue Angel No.6, Lieutenant Ryan Chamberlain, USN (Opposing Solo)
Flying Blue Angel No.7, Captain Jeff Kuss, USMC (Advance Pilot/Narrator)
---
Besides the Blue Angels flight shows, there are plenty of fun things to do in Pensacola and Pensacola Beach, Florida. Deep sea fishing, parasailing, and searching for Flipper on a fantastic dolphin cruise are among the favorites of seasoned Emerald Coast visitors. See all that Pensacola has to offer at Pensacola Beach on TripShock.com!
http://www.visitpensacola.com/listings/1391/?event_id=28467#event_28467
http://www.blueangels.navy.mil/show/faq.aspx
Be in the know!
be informed about our latest offers
You can unsubscribe at any time