Louisiana Airboat Tours: What to Expect w/ Photos & More
Dan Woods
July 22nd 2020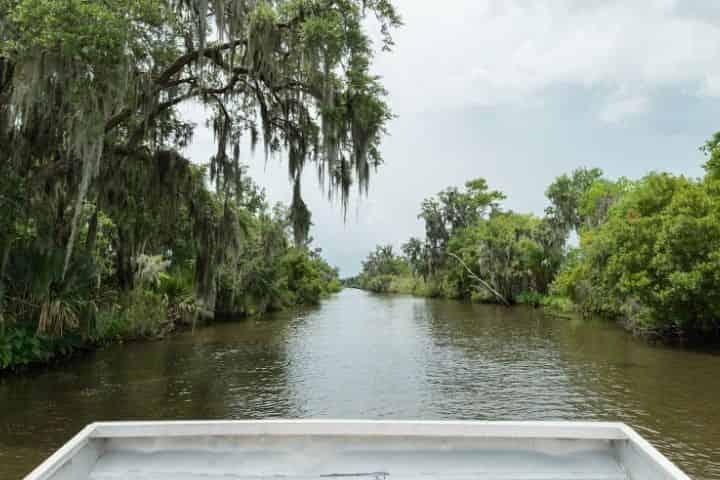 Chock full of gators and gullies alike, the swamps surrounding the Crescent City boast biodiversity and beauty unlike anywhere else. The best way to get out there and enjoy it for yourself is aboard an airboat, with a local captain to guide the way. So, what are you waiting for? Strap on your seatbelt, grab your binoculars, and prepare yourself for the journey of a lifetime!
Table of Contents
What is an Airboat?
Why Take an Airboat Tour?

Travel Back in Time
Educational and Informative
Adrenaline Pumping Fun

What You're Expected to See on an Airboat Tour
Airboat Tours and How to Book Them

Drive-Out Tours
Tours with Transportation
Combination Tours

What to Know Before You Go

Restrictions
Weather
Traveling to your Tour
Accessibility

Other Incredible Louisiana Swamp Tours

Swamp Boat Tours
Kayak Swamp Tours
---
What is an Airboat?
Gliding and zipping across the calm swamp waters is just one of the many exhilarating reasons you need to take a Louisiana swamp tour
What is an airboat, you ask? Quite simply, it's a boat powered by air created by a giant fan in the back. Airboats typically have a flat-bottom, making them the perfect watercraft to navigate through shallow waters and swamplands.
Not only are airboats quick, they are also agile. This agility gives them the ability to zip and zoom through the beautiful Cypress trees of the Louisiana swamps, allowing you to get up-close-and-personal with Mother Nature!
Why Take an Airboat Tour?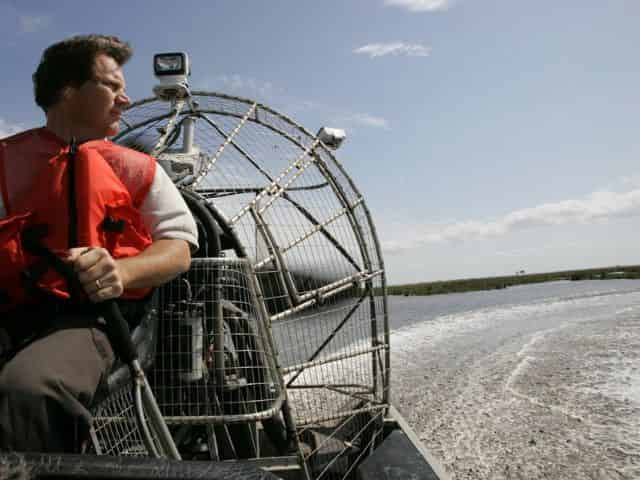 Not only are airboat tours a blast, but they can also be affordable by using swamp tour coupons and discounts
The swamps of Southern Louisiana are a treasure chest for those who love fresh air, interesting creatures, and beautiful scenery. With tens of thousands of acres of brackish bayou to explore, no two trips out and about are the same! With that being said, there are still a few things you can expect with every Louisiana airboat tour.
Travel Back in Time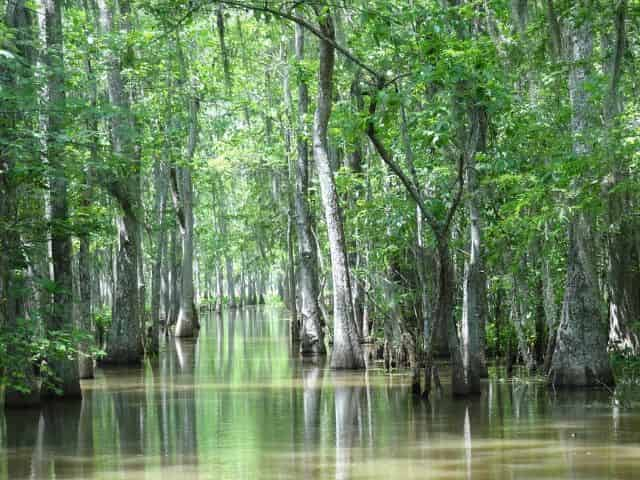 Discover the natural beauty of New Orleans swamp and plantation country and see incredible sights like the one pictured above. Learn more about the area, here: https://visitnopc.com/
When witnessing all of the unspoiled nature on a Louisiana airboat tour, it's almost like being sent back in time to the age of the Louisiana Purchase. Moss-covered Cypress and Tupelo-Gum trees line the banks of the rivers and lakes as far as the eye can see. Meanwhile, the pristine, prehistoric wilderness is teeming with curious creatures such as alligators, hawks, and turtles that await you around every turn!
Educational and Informative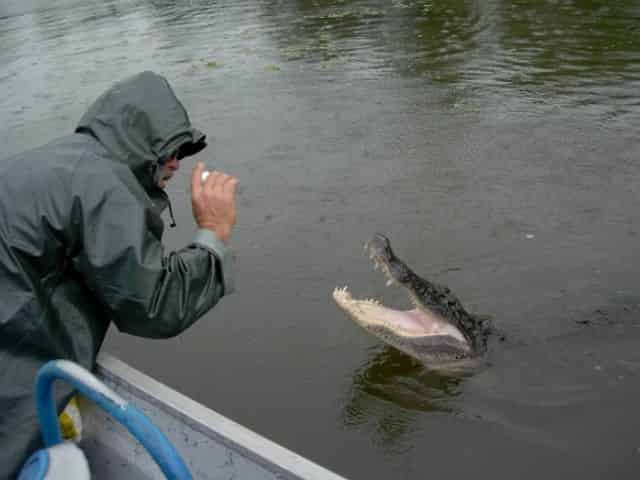 Louisiana swamp tour guides are full of facts and practically fearless
Airboat tours in Louisiana are more than just spins and speed, as well. Throughout the tour, your enthusiastic and knowledgeable guide will point out local plants, animals, and landmarks, and teach you everything you need to know about the bayou. Entertaining and educational, airboat tours have something for everyone!
Adrenaline Pumping Fun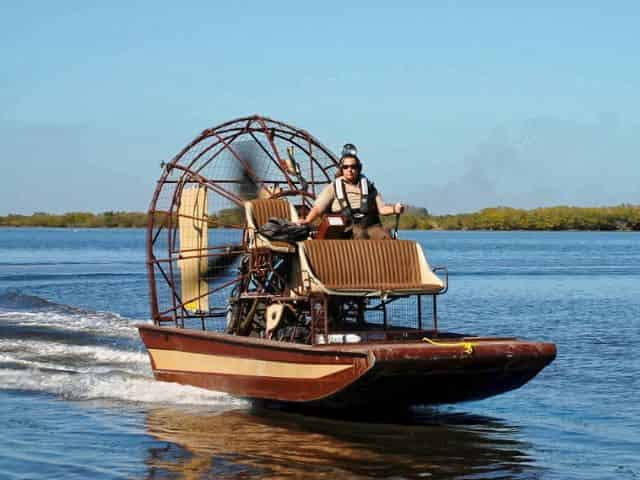 One of the many reasons you need to take a Louisiana swamp tour is because of the boat-loads of fun you will have
Everything else aside, airboat tours are just down-right fun! Spinning through the swamp, splashing the alligators, and zooming through the Cypress trees is so much fun, you won't be able to stop smiling!
What You're Expected to See on an Airboat Tour
The specific sights and sounds of an airboat tour are like snowflakes, no two are exactly the same, and just like Bourbon Street on a weekend, you never know what you'll see!
This is just one reason why tourists come back to visit, year after year, and take yet another unforgettable airboat tour! Another huge reason people are drawn to take an airboat tour is the incredible and diverse flora and fauna of the Louisiana swamplands.
Wildlife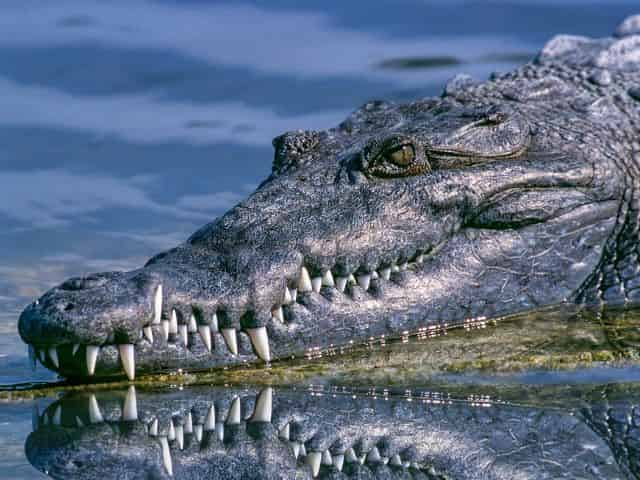 According to a recent traveler story, their most memorable swamp tour moment was learning about the local wildlife, like alligators
See regional wildlife like birds, reptiles, and more! Kick back as your airboat captain takes you out to the middle of nowhere to reconnect with yourself and the natural world around you. Birds of prey, or raptors, are just one of dozens of types of birds you will come across on your next Louisiana airboat tour. Watch these magnificent creatures sit proudly in the trees, effortlessly float the Delta breeze, or pluck fish out of the water like they were at the supermarket!
In addition to hawks and bald eagles, the swamps are also home to wading bird species such as herons, egrets, and ibis. These interesting winged-wonders can be seen cruising the swamps searching for yummy fish and other seafood to fill their bellies. The heron is particularly wondrous as it sits perfectly still waiting for its prey and the perfect strike!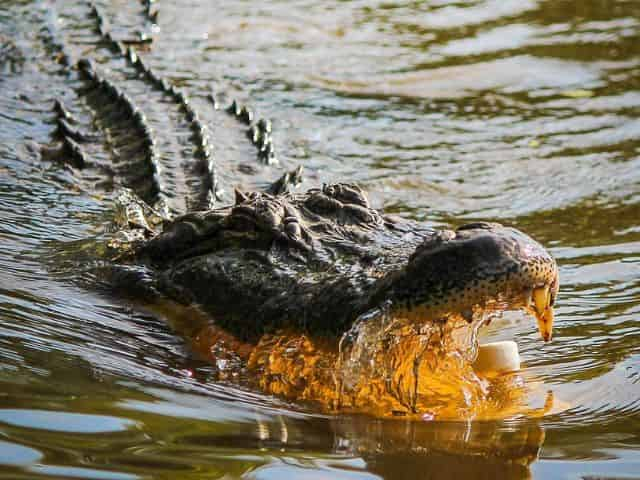 Louisiana's wild alligator population is estimated to be around 2 million
Moving from high up in the sky down to the water, swamps, lakes, and streams of Southern Louisiana are a great place to find reptiles of various shapes and sizes. See snake species like the Cottonmouth, and turtle species like the Common Snapping Turtle. Perhaps the most popular, and probably the biggest attraction when it comes to airboat tours Louisiana, alligators are the magnificent monsters of the deep!
Often times, alligators will swim right up to the side of the vessel, because they know that most tour guides are ready with tasty treats! Behold the magnificent gators as they jump and dance on the water in their pursuit of delicious morsels. An incredible sight to see, your captain will work to facilitate a sweet show featuring regional wildlife, all while keeping you safe, secure, and seated high up on your airboat.
Other wildlife you may see on an airboat tour include:
Wild Pigs
Nutria
Otters
Louisiana Black Bear
Vegetation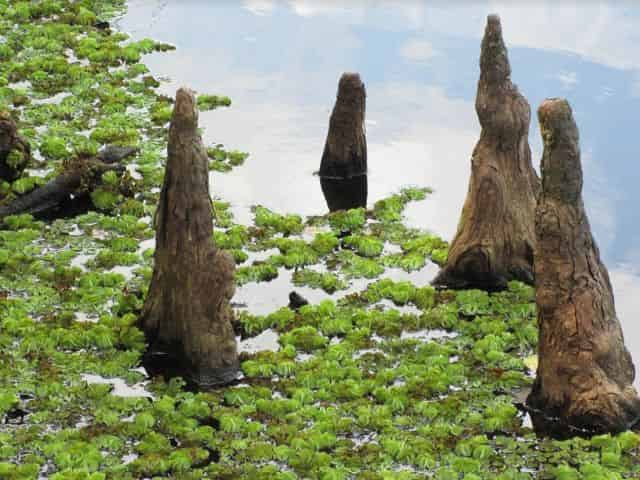 The tallest Cypress knee on record is 14 feet, and was found on a tree growing on the shore of the Suwannee River
While most people come for the gators, they stay for the greenery. Louisiana swamps are full of lush plant life, including beautiful Cypress trees, Tupelo-Gum trees and haunting Spanish Moss. Probably the most intriguing, however, are the trees with knees!
That's right, the beautiful Cypress trees grow what are called, "Cypress knees." Cypress knees are cone-shaped pieces of wood that grow vertically from the root of the Cypress tree. The knees can shoot up to 13 feet out of the water!
Airboat Tours and How to Book Them
Choosing to take a thrilling airboat tour through the bayou is basically a no-brainer. With that being said, there are a few things to consider before booking that airboat tour of a lifetime! Check out these different airboat tour options available to you, and make an informed decision before booking: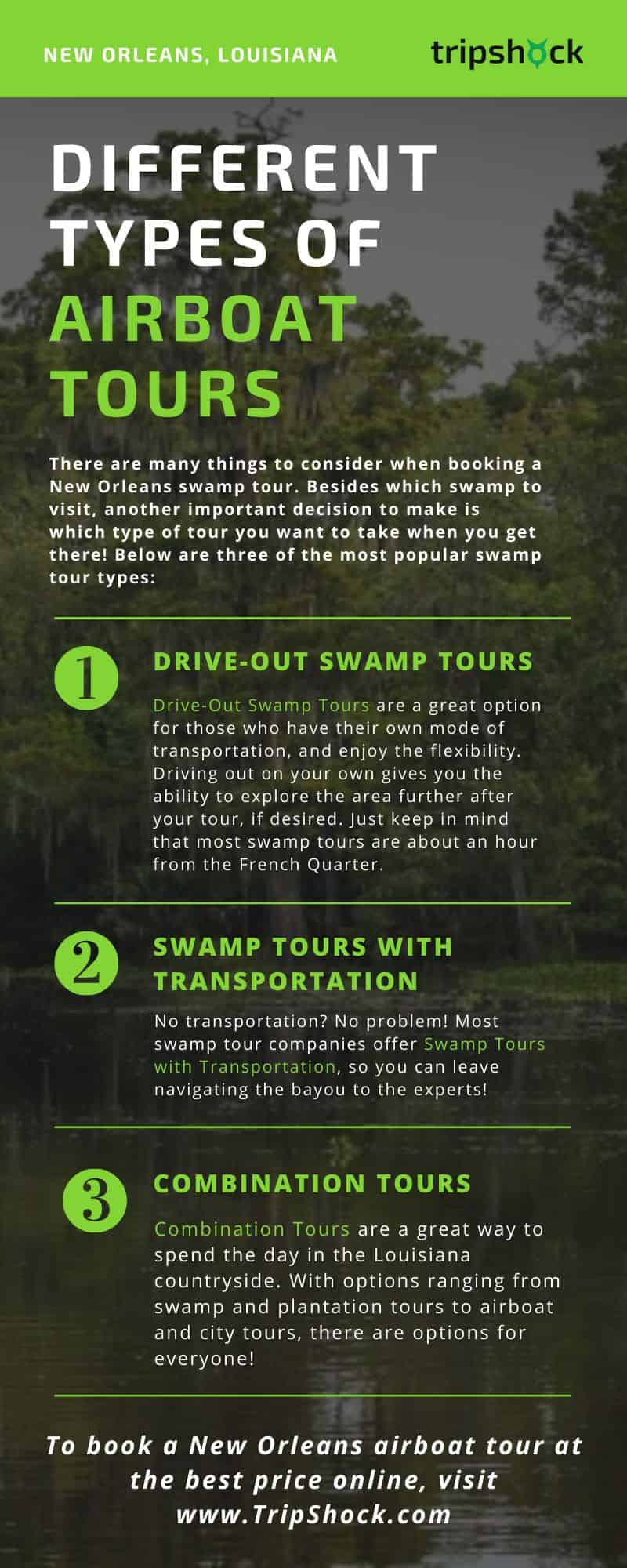 After you've decided which tour to take, you're ready to book your next adventure! Booking the best tours at the best price is easy with TripShock.com. Online booking is available 24/7, and customer service by phone or LiveChat is also available 7 days a week!
What to Know Before You Go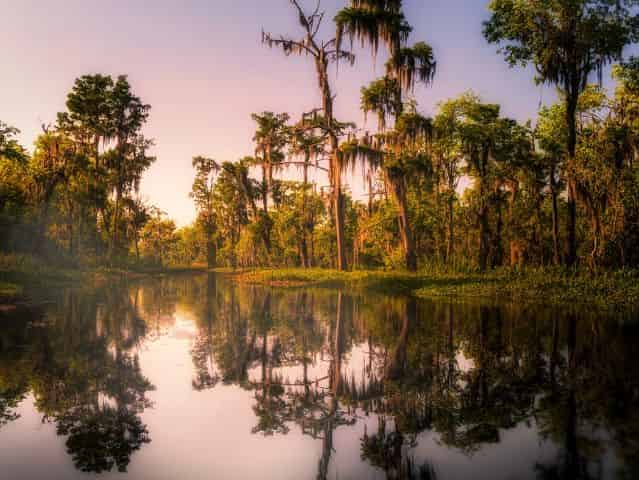 Being prepared is important, because with views like these to attend to, you don't need to be worried about anything else
Even though visiting a Louisiana swamp is something everyone at some point should experience, taking an airboat tour to do so may not be for everyone.
Restrictions
Check out these restrictions to be sure you are eligible to ride before making your reservation:
Pregnant women are not allowed to ride airboats
Children under 5 years old are not allowed to ride airboats
People with neck and back problems are not allowed to ride airboats
Anyone less than 48" tall is not allowed to ride
It is recommended to leave any expensive jewelry and anything you're afraid of losing behind, as it may fly off during the ride
Weather
Please check the weather conditions before heading to your airboat tour, and dress appropriately. Summers are very hot in Louisiana, and winters on the water are equally cold. Being unprepared for the weather can make for a miserable time on the bayou when you're more worried about the temperature, than the turtles.
Traveling to your Tour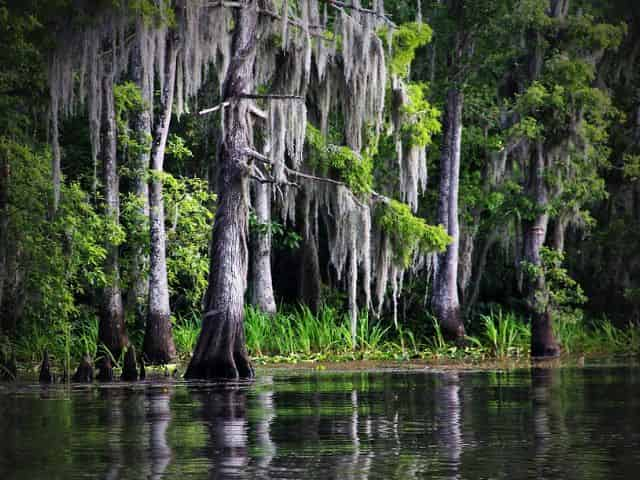 Seeing the swampland and its natural beauty is worth the hour drive from the French Quarter
As with most other tours, it is recommended to arrive early and consider traffic when figuring out how much time you need to give yourself to get there. Most swamp and airboat tours are about an hour from the French Quarter, so missing a tour by a few minutes that you drove an hour to get to is not how you want to spend your vacation.
Many swamp and airboat tours, like those through Airboat Adventures, will include optional transportation, so if this is something you are interested in, just let your booking agent know! Be sure to also check your voucher that you will receive after booking to confirm the details of your reservation, along with any transportation information.
Accessibility
There are also a few important things to consider in reference to airboats and accessibility, as well:
Pets or service animals are not allowed on the airboats, for your safety and theirs
Many transportation buses and airboats are not handicap accessible
If any of these restrictions affect you, it is important to let your booking agent know, so they can assist in finding the perfect accessible swamp tour for you.
Other Incredible Louisiana Swamp Tours
If after all you decide that an airboat tour isn't for you, or you've just finished your airboat tour and are looking for the next adventure, we've got you covered! Below are two other popular swamp tour options:
Swamp Boat Tours
Slow and steady wins the race on a Louisiana swamp boat tour
Looking for that same up-close-and-personal bayou experience, without the need for speed? Swamp boat tours are a great way to take a relaxing ride down the swamp! The peace and quiet the swamp has to offer can truly be experienced on a slow-moving swamp boat.
Kayak Swamp Tours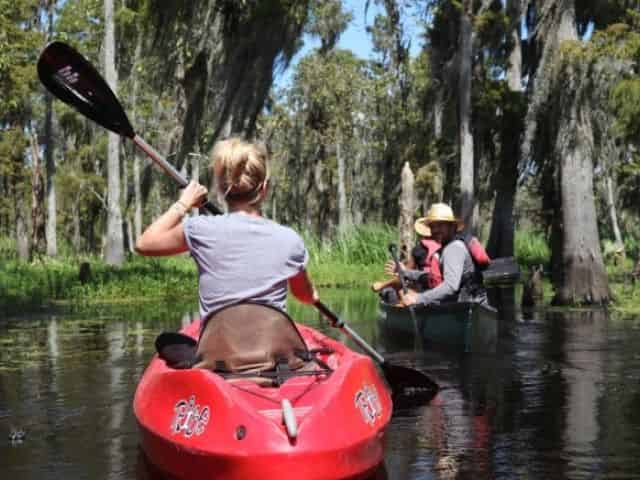 Guided kayak swamp tours are an experience like no other, and truly let you become one with nature
Kayak swamp tours combine the relaxation of the swamp boat and the excitement of the airboat by allowing you to keep it slow and steady, but getting you as close to nature as possible. This makes for the perfect activity for groups looking for a thrill, and to chill!
---
The swamplands are truly a place of mystery and wonder. From the still waters of the bayou to the gators jumping for joy, there's something for everyone on a Louisiana swamp tour. Whichever tour you decide to take, you can't go wrong with a romp through the swamp!
Be in the know!
be informed about our latest offers
You can unsubscribe at any time