How to Make the Most of the 2020 Destin Fishing Rodeo
Mike Fisher
May 27th 2020
Destin has boasted the title, "World's Luckiest Fishing Village", for some time. The local fishing industry has attracted millions of sporty travelers over the years looking for both a beautiful spot to visit, and a serious destination for angling.
The Fishing Rodeo is a tradition dating back almost a century. If you're planning on being in Destin this October for the tournament, you may find yourself overwhelmed with the size of this event. From fun activities in the Fall, to Fishing Rodeo deals and events, here's How to Make the Most of the 2020 Destin Fishing Rodeo!
Table of Contents
What is the Destin Fishing Rodeo?

Brief History of the Fishing Rodeo
Tournament Details

Registration & Rules
Awards & Prizes

How to Make the Most of the Destin Fishing Rodeo
Join the Tournament

Aboard a Fishing Charter

Deep Sea Fishing
Bay/Inshore Fishing

Using a Private Vessel

Privately-Owned Boat
Kayak
Paddle Board

Fishing From the Shore

Paddle Board
Pier, Bridge, & Jetty
Surf & Shoreline

Head to the Destin Harbor

Daily Weigh-ins
Dining & Nightlife
Family Fun Things to do

Try a Destin Activity, Tour, or Attraction

Dolphin Cruises
Pontoon Boat Rentals
Parasailing
More Things to do in Destin

Catch a Destin Fishing Rodeo Event

Destin Seafood Festival
Weigh-in Events
---
What is the Destin Fishing Rodeo?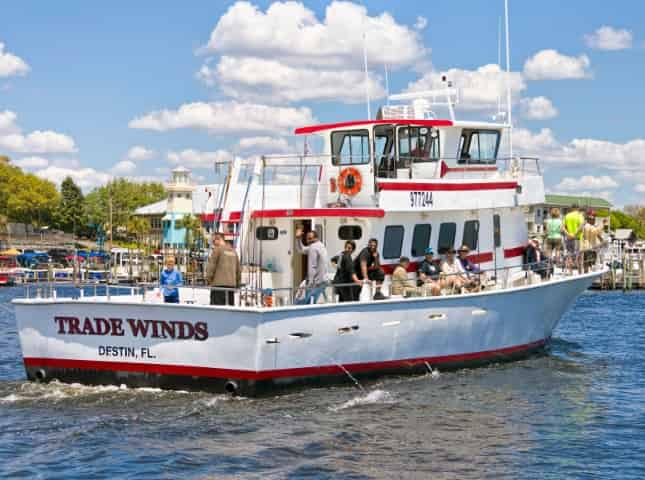 This Destin, FL, fishing charter vessel is one of many that regularly participates in the Fishing Rodeo
The Destin Fishing Rodeo is a massive saltwater fishing tournament spanning the entire month of October. Anglers come from across the globe to enter the tournament for a chance at prizes, awards, and the glory of the biggest catch!
This beloved fishing tournament is one of the largest in the world. In the 2006 Rodeo, there were around 36,518 participants from 27 states and 5 countries (destinfishingrodeo.org). Since then, the popularity of the competition has only grown.
Brief History of the Fishing Rodeo
In this photo, some of Destin's first residents, including 2 with the "Destin" name, show their love of the sea - Photo courtesy of destinhistoryandfishingmuseum.org
When famous Destinites Howard Marler, Jewel Melvin, and Willie Marler created the Fishing Rodeo, the reason was simple... extend the tourist season for another month. Even back in 1948 when the Destin Fishing Rodeo was founded, Destin was a popular southeast tourist destination for fishing (except with less condos, Starbucks, and discount beach supply outlets).
I'm happy to say their plan worked! The Destin Fishing Rodeo quickly grew into the premier saltwater fishing tournament in the country. In following years, the Fishing Rodeo grew to include categories for kids, ladies, seniors, kayak fishing, paddleboard fishing, and more.
Tournament Details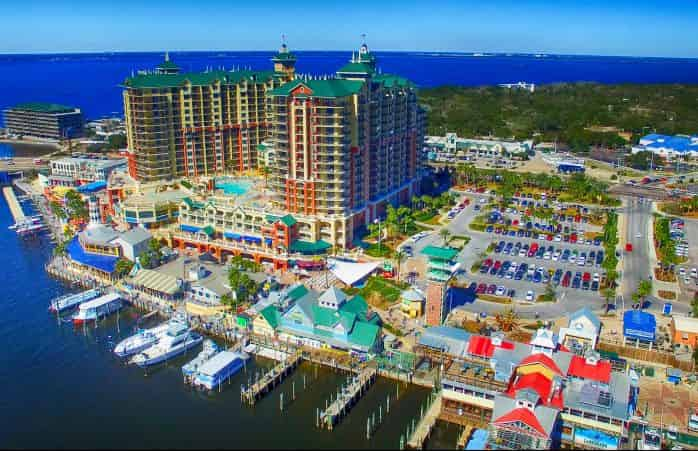 Many of the tournament events take place in the Destin Harbor and Downtown Destin
Registration - Registration is made easy so that no one is excluded from competing. To register for the Destin Fishing Rodeo you can...
Book a fishing excursion on a registered fishing charter. This applies to for-hire charters only, but is the easiest way to participate as you aren't required to individually register or pay any fees.
Register your private boat including kayak and paddleboard.
Register to fish from shoreline, surf, pier, bridge, or jetties.
Register for one of the special tournaments within the Rodeo.
Rules - There are several rules in play for Fishing Rodeo participants, but 3 that every angler needs to know (wikipedia).
Anglers must declare division of entry at the time of weigh-in.
Anglers cannot win multiple awards for single fish (excluding bonus and jackpot awards).
The Destin Fishing Rodeo Rules Committee governs all activities related to angler and fish eligibility.
Awards & Prizes - Destin Fishing Rodeo awards are mainly composed of Fishing Rodeo trophies and cash prizes ranging from $100 to thousands of dollars depending on the category. There are other great prizes awarded including annual pier passes and fishing merchandise. For complete information on registration, rules, and awards, please visit https://www.destinfishingrodeo.org/register/.
How to Make the Most of the Destin Fishing Rodeo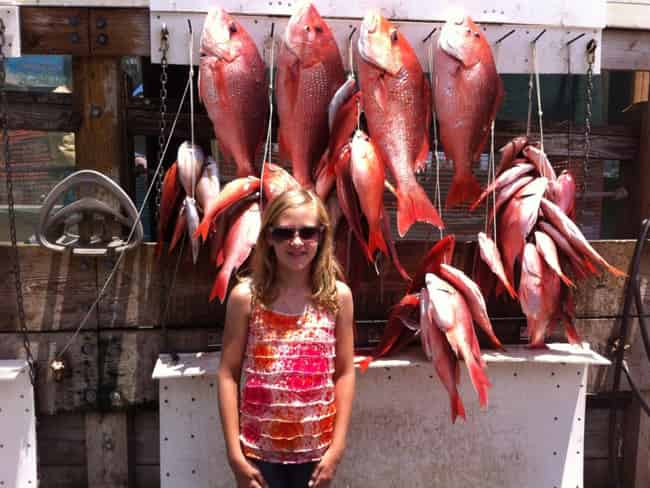 Proud girl shows off her catch of Red Snapper from her trip aboard the Swoop Fishing Charter
You may be surprised at how much there is to do in Destin during the Destin Fishing Rodeo. That's why we've compiled a nice, neat list for you!
From tournament tips to family fun dolphin cruise trips, here are some of the ways you can make the most out of the Destin Fishing Rodeo this year!
1. Join the Tournament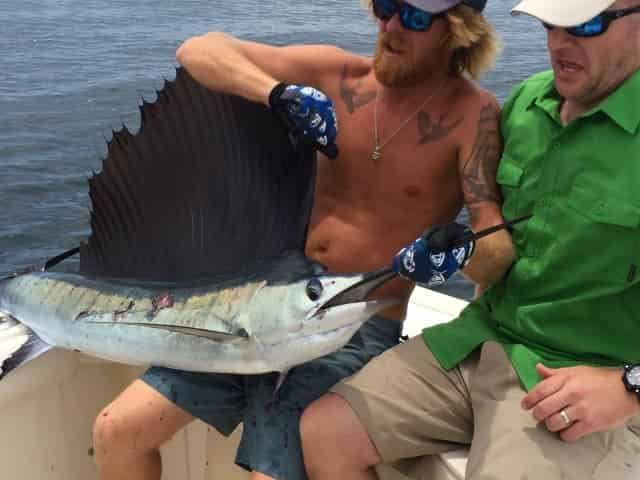 A lucky angler aboard the Reel Deal Charter reels in a sailfish
Simple, right? If you want to make the most of the Rodeo, join in on the fun! It's more easy and affordable than you may think. Whether fishing from the shoreline on Okaloosa Island, or on a Destin Charter Boat, learn all the ways you can participate in the Destin Fishing Rodeo below.
Aboard a Fishing Charter
Deep Sea Fishing Charters in Destin offer a fun and affordable way to enter the Fishing Rodeo
For-hire fishing charters that are registered for the tournament allow anglers to participate without needing their own boat, equipment, or even a fishing license!
Deep Sea Fishing - There are two ways to experience Destin, Florida charter fishing in the deep blue sea. The first way is by Party Boat Fishing. Party Boat Fishing transports several groups of anglers to popular fishing spots. These trips usually last 4 to 8 hours and target the most popular types of fish in Destin including Snapper, Grouper, and Triggerfish.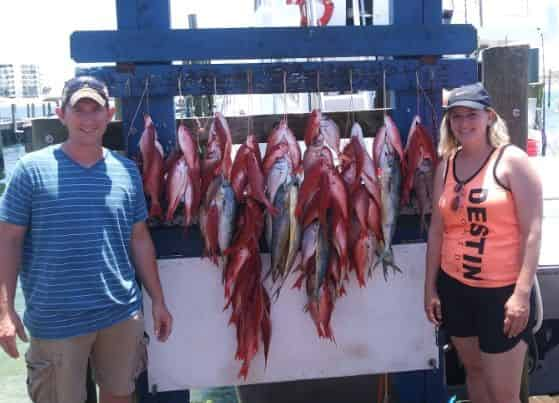 Happy couple tells their fishing story after a Destin Party Boat Fishing Trip
Private Deep Sea Charters take groups of 6 max passengers out into deep waters on an offshore adventure. These trips are specialized, usually giving the anglers customized options for what to catch, and how to catch it. If your goal is to target bigger game species like Sailfish, Marlin, Shark, and Tuna, a Private Charter is the way to go!
Bay/Inshore Fishing - While Deep Sea Fishing may capture most of the attention during the Rodeo, there are still plenty of prizes up for grabs for Bay/Inshore Fishing as well. Not exactly sure of the difference between Bay Fishing and Deep Sea Fishing? Don't worry. Our recent blog explains the difference, as does our handy chart below.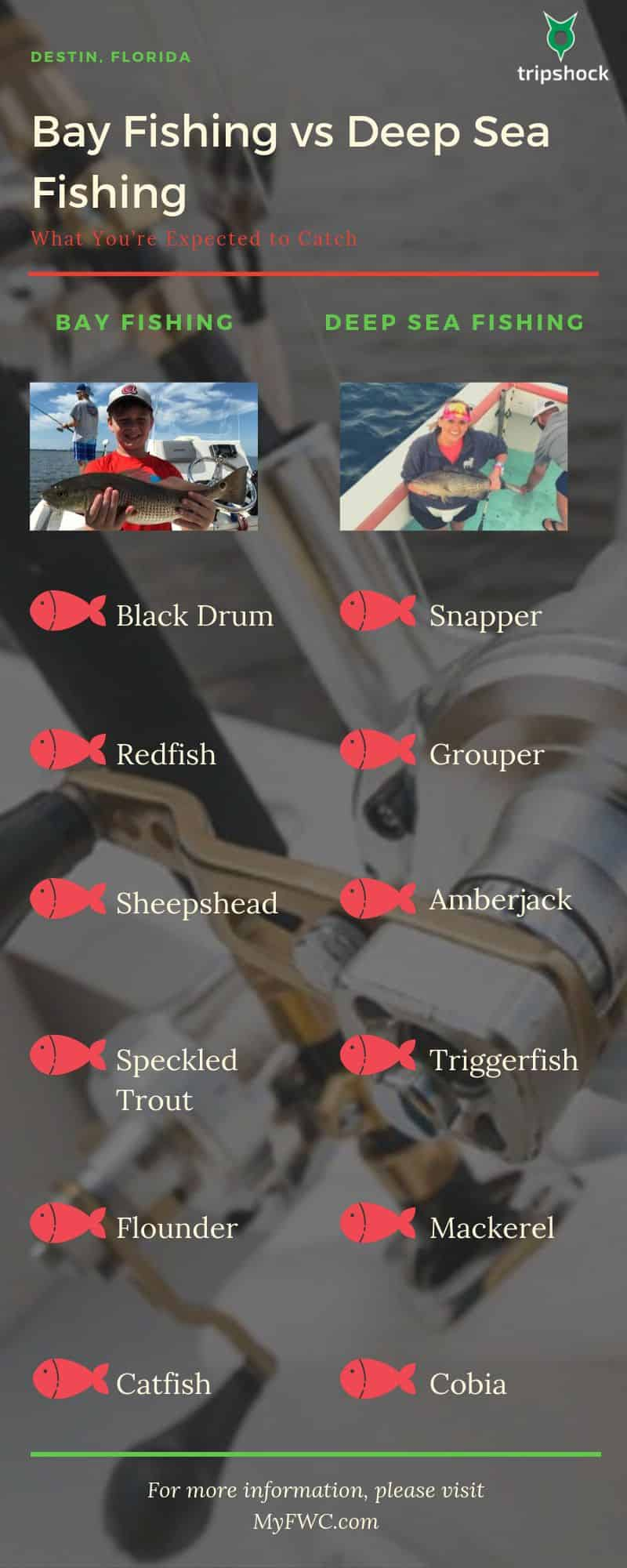 Using a Private Vessel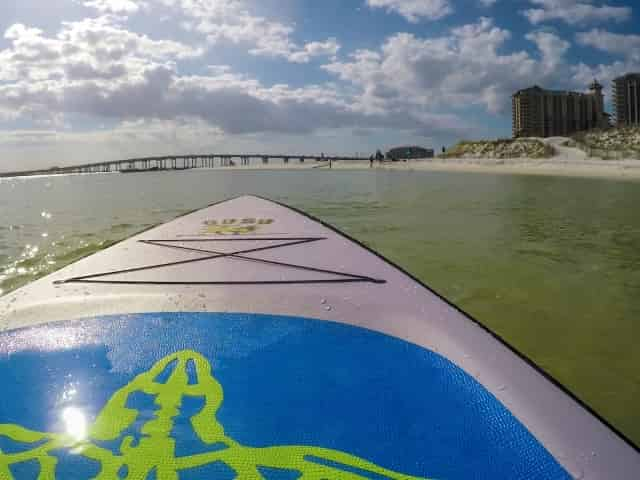 Fishing from a Paddleboard, like this rental from GUSU in Destin, is a sporty new category in the Fishing Rodeo tournament
Fishing from a private vessel is another way to enter the Fishing Rodeo. Private vessels that qualify for the tournament must be registered and include...
Fishing boats of all kinds
Destin Pontoon Boat Rentals
Kayaks
Paddleboards
If fishing from a private vessel, each angler must have a valid Florida Fishing License. If you're not sure if you need a fishing license in Destin, please visit https://myfwc.com/.
Fishing From the Shore
If registering in the "fish from shore" categories you better be prepared, you're up against some of Destin's top local fishermen. Fishing from shore may seem simple, but it requires the most DIY effort and fishing know-how to compete. From the right gear to the best spots to fish, you can bring home a top prize in this category without ever stepping foot on a boat!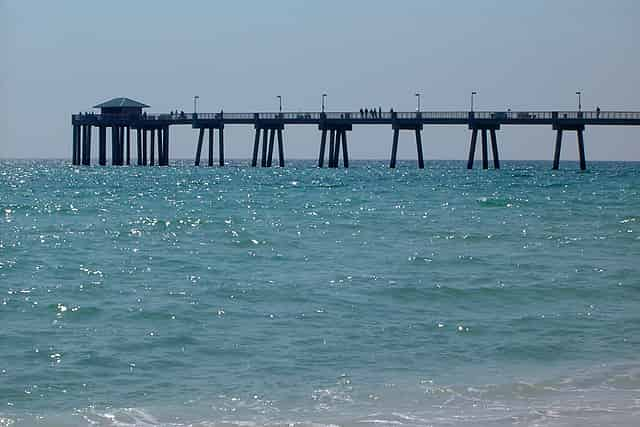 The Pier on Okaloosa Island is one of the most popular destinations for Fishing Rodeo contestants
The following categories are open to the public during the Rodeo:
Pier
Bridge
Destin Jetties
Surf
Shoreline
Most of the best fishing spots from shore are accessible to the public, though places like the Okaloosa Island Pier require an access fee.
2. Head to the Destin Harbor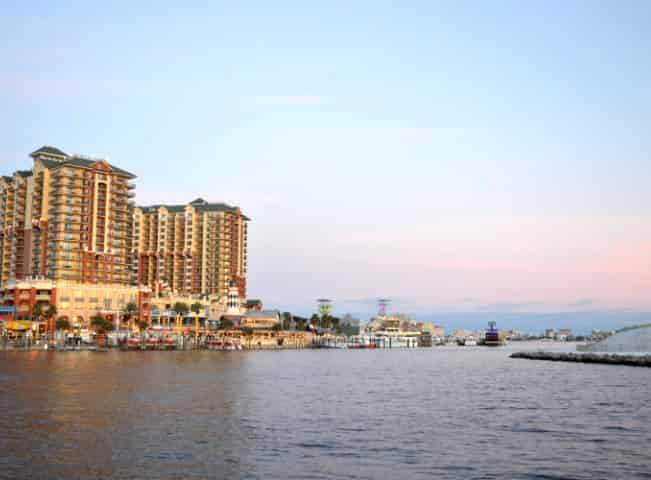 Sunset at the Destin Harbor
Not only is the Harbor in Destin a great place to go for any occasion, it is also home to all the best Destin Fishing Rodeo action!
Learn more about why you should head to the Destin Harbor during the month-long Fishing Rodeo.
Daily Weigh-ins
The Fishing Rodeo weigh-ins are quite a spectacle. Every day during the month of October catch a glimpse of the day's haul. Witness some of the biggest fish you've ever seen including massive...
Shark
Grouper
Marlin
King Mackerel
Wahoo
and MORE!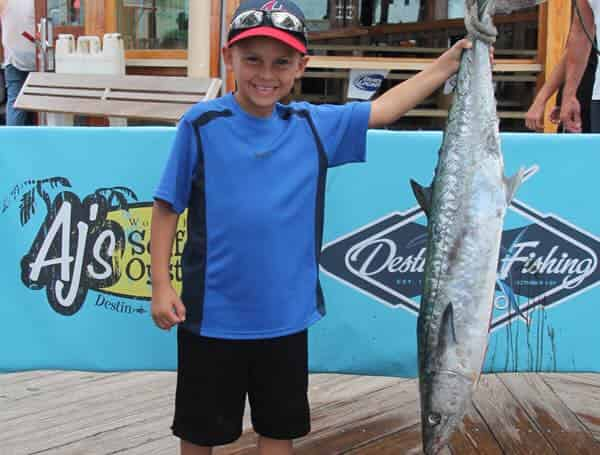 A young angler weighs his catch during Fishing Rodeo weigh-ins - Image courtesy of the Olin Marler Charters Facebook
Weigh-ins take place behind AJ's Seafood & Oyster Bar from 10am til 7pm. This jaw-dropping event is free to the public. But fair warning... the viewing areas are standing room only!
Dining & Nightlife
HarborWalk Village is the perfect place to say cheers and celebrate your next special occasion
The Destin Harbor, including HarborWalk Village, is one of the top destinations in the region for dining and nightlife. The Harbor is home to world-class seafood dining and entertainment, picturesque views, and a friendly atmosphere that screams "southern charm".
Dining - If you've come for the food, you're in the right place. From local-favorites like Boathouse Oyster Bar, to well-known spots like Margaritaville, the Harbor has an assortment of dining options specializing in coastal fare.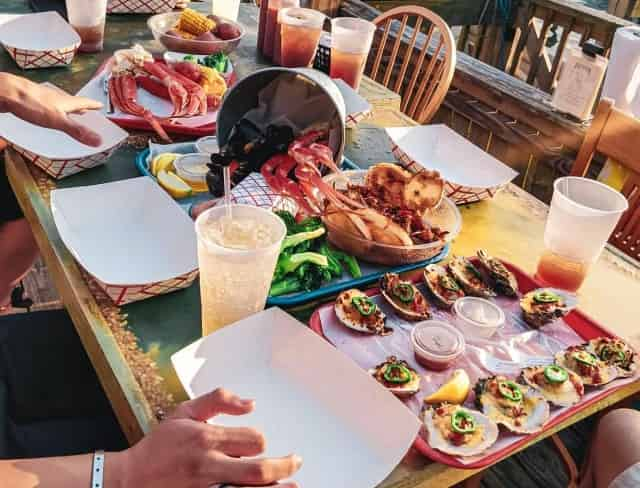 Diners enjoy a seafood spread from Boathouse Oyster Bar in the Destin Harbor
Nightlife & Entertainment - For an unforgettable night in Destin, head to the Harbor. With several bars, clubs, and music venues, your night at the Harbor will be filled with tropical drinks and rockin tunes you can dance to.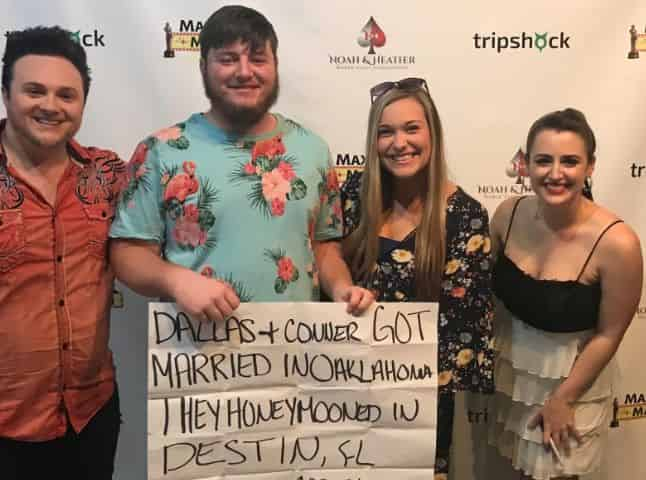 A couple takes a photo with the stars of the Maximum Magic Show in the Harbor
One of the best places to go in Destin for live entertainment, prepare to be treated to live shows ranging from family-friendly magic to sultry dance music.
Popular Spots for Live Entertainment in the Destin Harbor:
Destin HarborWalk Village Stage
Harry T's
AJ's Seafood & Oyster Bar
McGuire's Irish Pub (Across the Street from the Emerald Grande)
Family Fun Things to do
The Destin Harbor and HarborWalk Village also offer lots of fun family activities like games, ziplining, interactive experiences, and more! Food trucks and unique craft vendors add more excitement and more to do and see while walking along the docks.
Get down to the Harbor during the Fishing Rodeo to explore the heart of Destin!
3. Try a Destin Activity, Tour, or Attraction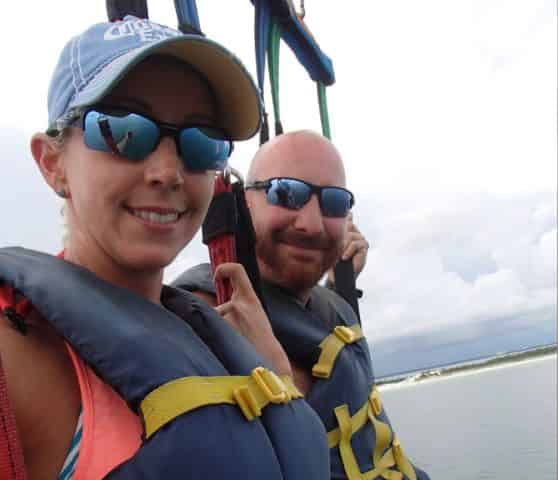 Couple parasailing over the Destin Harbor
While Destin may be most popular for fishing, it doesn't mean there aren't tons of other fun things to do in Destin FL! Whether you are visiting with your family, friends, or going solo, consider trying one of these activities to make the most out of the Fishing Rodeo this year.
Dolphin Cruises
A must-do activity in Destin is a dolphin cruise. Not only are these cruises affordable, but they're also great for the whole family, even babies and toddlers!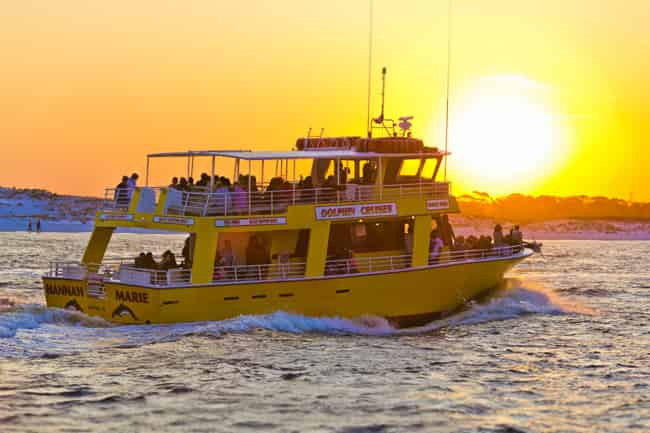 A dolphin sightseeing cruise with Olin Marler Charters
From scenic sunset dolphin cruises, to waverunner dolphin tours that put you right in the action, there are lots of dolphin cruise experiences for all ages and interests.
Pontoon Boat Rentals
A pontoon rental in Destin from Gilligan's Watersports
Pontoon Boat Rentals aren't only a great way to explore the Destin waters with a large group, but they also allow you to participate in the Fishing Rodeo! To participate using a rental pontoon you must register your pontoon with the tournament, as well as hold a valid fishing license. Learn more about saltwater fishing licenses from https://myfwc.com/license/recreational/saltwater-fishing/.
From easy access to Crab Island, to secluded beach trips, to fishing adventures in the Destin bay and bayous, a Pontoon Rental is a must-do while visiting during the Fishing Rodeo.
Parasailing
Parasailing is an extreme activity that is both safe and affordable. From elementary school-age kids, to adventurous seniors, everyone can have fun on a Destin Parasailing tour.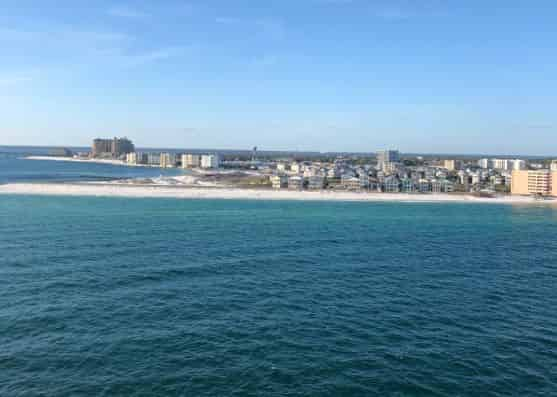 See beautiful Destin, FL, from above while parasailing, and be sure to look for dolphins, sharks, turtles, and more
More Things to do in Destin
Now that you know a few of the awesome activities Destin has to offer, you can get out there and have some fun! But there is so much more to do on and off the water than what meets the eye.
Keep reading to learn about the incredible events that take place during the Fishing Rodeo.
4. Catch a Destin Fishing Rodeo Event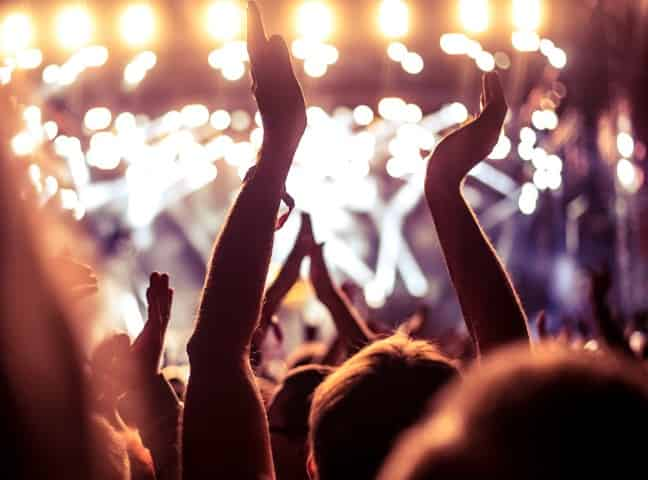 Destin Fishing Rodeo events include live concerts during the Destin Seafood Festival
A lot goes on in the month of October in Destin, almost all of it revolving around the Fishing Rodeo. The Destin Chamber even provides a nifty calendar with all the cool things to do throughout the month.
Here are a few of the most popular activities you can experience while visiting Destin for the annual Fishing Rodeo.
Destin Seafood Festival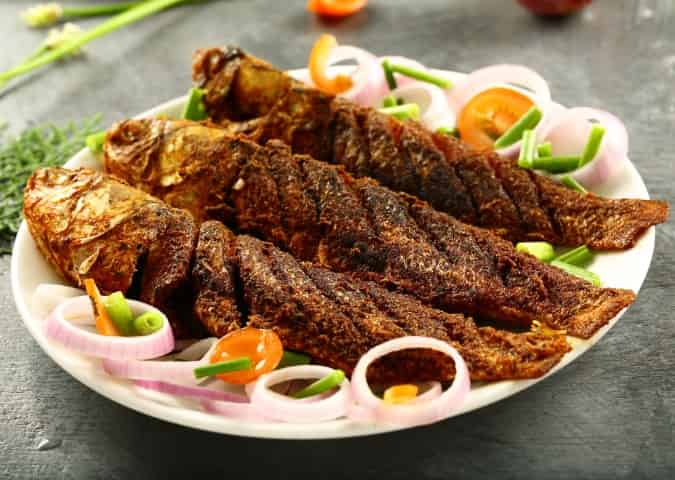 Fried Mullet is one of the most unique and popular meals found at the Destin Seafood Fest
The Destin Seafood Fest kicks off the Fishing Rodeo with a bang! Destin's finest restaurants, entertainers, shops, and attraction providers converge on the Destin Harbor for a 3 day extravaganza. If you want a first-hand look into the coastal mixing-pot culture of Destin, Florida, this is the way to do it!
Check out our in-depth article covering this year's Destin Seafood Fest for all you need to know before you go.
Weigh-in Events
Weigh-ins offer a fun opportunity to get a little crazy! Shark Saturdays take place every Saturday highlighting all things shark. Come out for some of the most exciting catches of the tournament including stunning shark species like hammerhead and mako.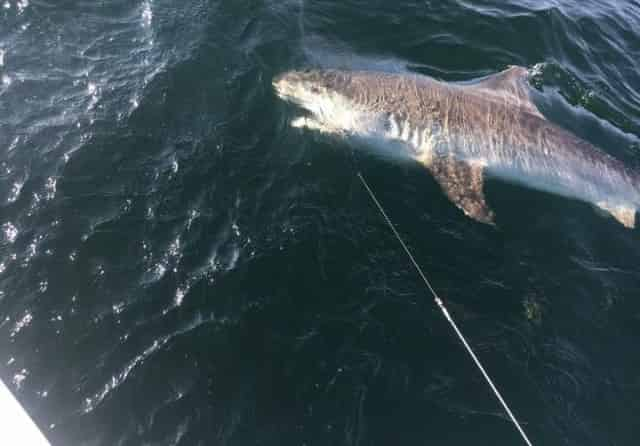 This shark was caught on the Big Deal Charter in Destin - View this and more on TripShock.com
On the final day of the tournament, October 31st, things get a little spooky! Halloween on the Harbor takes over with fisherman, captains, and Rodeo volunteers dressing in costume during weigh-ins.
For more Destin Fishing Rodeo Events, visit destinfishingrodeo.org/rodeo-fun-for-everyone/rodeo-events/
---
Now that you know how to make the most out of the 2020 Destin Fishing Rodeo, it's time to start planning your trip with TripShock.com! If you're traveling with a group, visit our Destin Group Travel page to inquire into special rates on the best activities in town - a service we provide at no cost!
Best of luck at the Destin Fishing Rodeo this year!
Be in the know!
be informed about our latest offers
You can unsubscribe at any time