Food and Fun at the Zydeco & Crawfish Festival in Gulf Shores, AL
Mike Fisher
February 17th 2020
The Zydeco & Crawfish Festival in Gulf Shores, Alabama, takes place April 4th, 2020 from 10:00am until 6:00pm. This family-fun event takes place at Waterway Village in Gulf Shores (under the intercoastal bridge). This location makes for a perfect water-side event in a brand new tourist destination!
With a prime location, the city of Gulf Shores assures this year's festival will be bigger and better than ever! The Zydeco & Crawfish Festival is free to the public, and plays host to a 5K run that is open to enter until the day of the event. Keep reading and discover all you need to know about the 2020 Zydeco & Crawfish Festival!
Table of Contents
What to Expect at the 2020 Zydeco & Crawfish Festival
Zydeco & Crawfish Fest 5K Run
Festival Lodging
Nearby Attractions and Activities

Family Fishing
Dolphin Cruises
---
What to Expect at the 2020 Zydeco & Crawfish Festival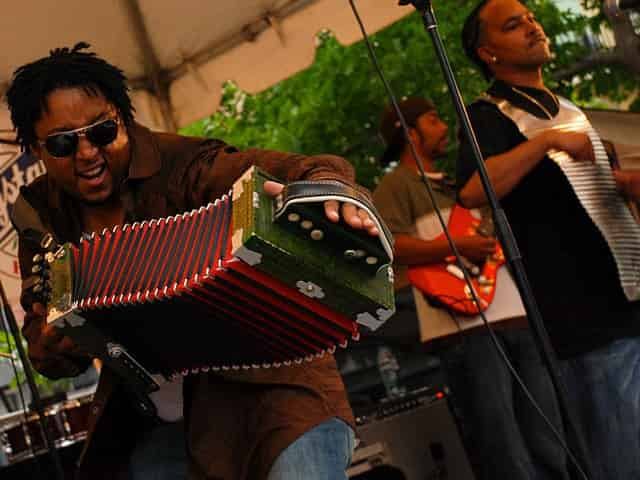 Pictured above are Zydeco musicians playing a Zydeco accordion and a washboard. Image from Wikimedia
The 2020 Zydeco & Crawfish Festival in Gulf Shores, AL, is a celebration of Southern Creole culture. Zydeco music originated with the Creoles in southwest Louisiana, blending native music with rhythm and blues. Signature instruments for Zydeco musicians include:
Piano
Accordions
A form of a washboard known as a "rub-board," or frottoir
Zydeco music will be performed throughout the day with renowned acts including Step Rideau & Chubby Carrier playing southern tunes right for dancing, drinking, and dining on the food of the day, crawfish!
With Zydeco music ruling the entertainment side of the festival, crawfish takes over in the dining department, with plenty of food vendors, events, and games featuring the red crustacean. Crawfish themed meals, races, arts, crafts, and even boat rides are at your fingertips at the Zydeco & Crawfish Fest.
Full of fun activities for both children and adults, you won't be able to stop smiling at this crawfish celebration! Children will be entertained in the children's art area, and adults will be entertained by dozens of drink vendors and fine art sellers. There is something for the whole family at this Gulf Shores festival, including history and culture exhibits highlighting life on the Gulf Coast!
Zydeco & Crawfish Fest 5K Run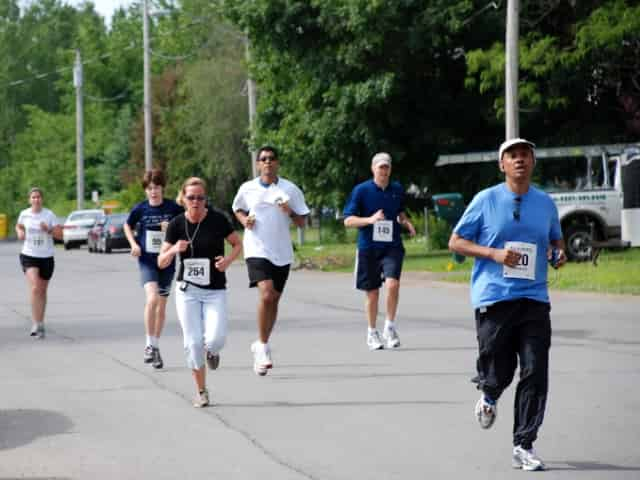 Grab your running shoes and lace up for the Zydeco & Crawfish 5K Run
Run in the 5K and support a local animal charity, Furrever Home. The race takes place on the day of the festival, April 4th, and starts at 8:00am. Participants will find food and refreshments (including FREE BEER) waiting at the finish line.
The race begins at Waterway Village and includes a 1-mile fun run for the long-distance running impaired! Visit the Zydeco & Crawfish Fest 5K Run registration website for more info on the event.
Festival Lodging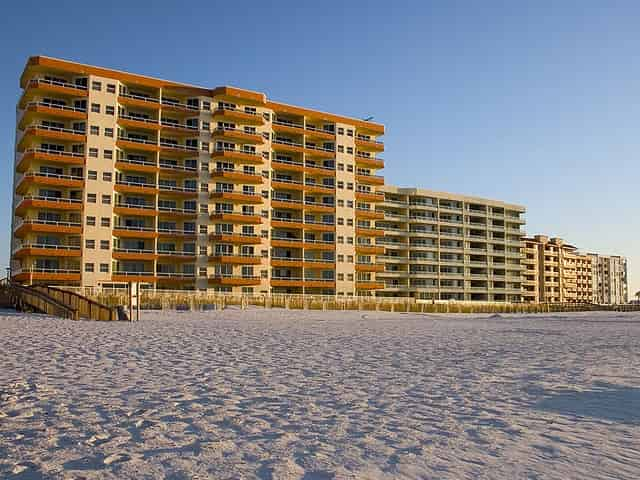 Some of the top area attractions are near your Gulf Shores condo, meaning you're just minutes away from all the fun! Image from Wikimedia
Looking for places to stay near the Zydeco & Crawfish Festival in Gulf Shores, AL? Well, you're in luck! This area is full of incredible hotels and condos at affordable rates with unbeatable service and amenities.
Travel Tip: As Spring wears on, prices for lodging increases, and less opportunities for deals and discounts are available. Book in advance to reserve a Gulf Shores or Orange Beach condo for the lowest price possible!
Nearby Attractions and Activities
Gulf Shores, AL, is known for beach and water activities, and with the festival running only one day on April 4th, don't miss the opportunity to take advantage of the beautiful waters of Gulf Shores and Orange Beach. Check below for the best Gulf Shores things to do provided by TripShock.com!
Family Fishing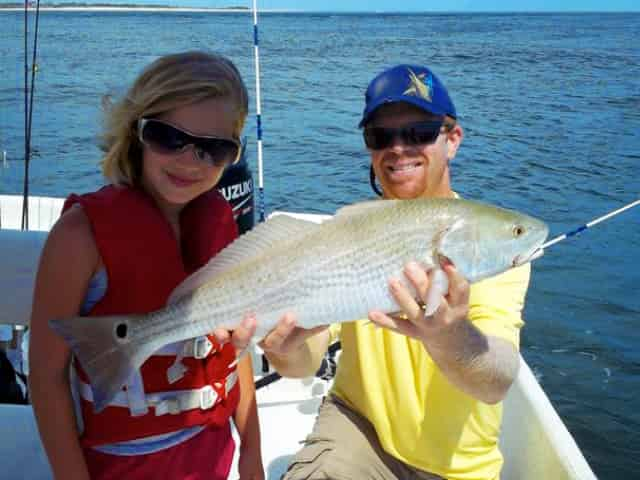 Girl shows off her catch of the day after reeling in a giant Redfish with Powers Fishing Charters
Enjoy a guided inshore or offshore saltwater fishing trip on the Gulf Coast with the whole family! Year-round fishing is available with a great variety of saltwater specimens including:
Redfish
Snapper
Speckled Trout
Flounder
Pompano
Sheepshead
Shark
Mackerel
Family-fun fishing charters are offered for the Florida and Alabama Gulf Coast, from Destin to Mobile and all points in between. This trip is great for kids itching for their first big catch!
Dolphin Cruises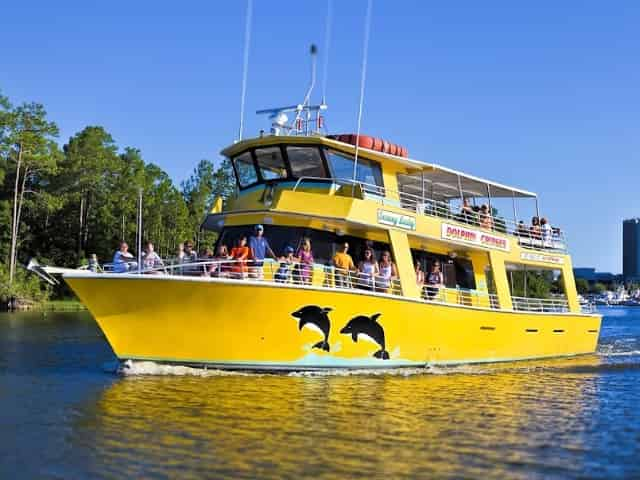 According to a recent Traveler Story, dolphin cruises in Gulf Shores are a "must-do for all families"
Grab the whole family and hop aboard an exciting dolphin and sunset cruise in Orange Beach. Just a short ride from the 2020 Zydeco & Crawfish Festival, dolphin cruises are an ideal way to relax after a full day of 5K runs, soulful music, beer drinking, and a whole heap of crawfish! Most dolphin cruises through Orange Beach are 1.5-hour narrated cruises through the scenic back bays and beyond.
Be in the know!
be informed about our latest offers
You can unsubscribe at any time