Here's What You Should do When You Get Sick on Vacation
Suzanne Bratton
September 4th 2020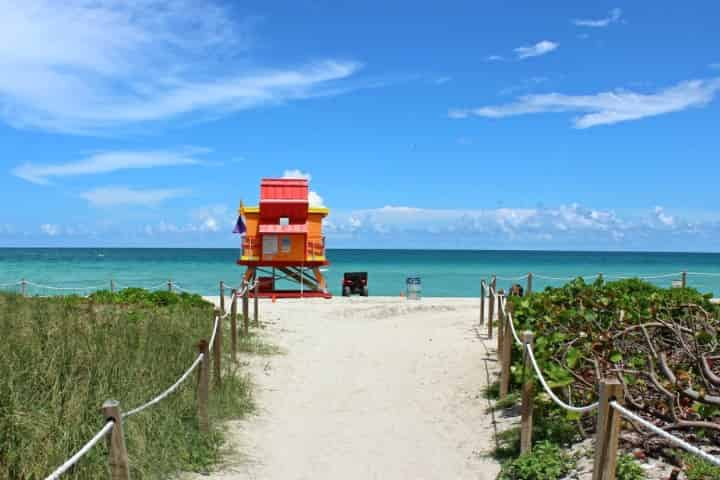 You made it! After traveling across the country to beautiful and sunny Miami, FL, you rent a car, check in to your hotel, park the rental car, bring your luggage upstairs to your wonderful waterfront condo… then it happens. "Ah Choo!" While everyone politely says "bless you," and continues on with their pre-beach selfies, you say to yourself, "oh no, I hope I'm not getting sick."
While most of the time it was just your sinuses getting used to a new smell and location, the worst case scenario is that you're getting sick before vacation has even started. Even though this sometimes has the potential to ruin your well-planned and highly-anticipated vacation, it doesn't necessarily have to. Keep reading and discover what you should do when you get sick on vacation to minimize symptoms, feel better fast, and make the most of your trip to the beach!
Table of Contents
What Should I Do if I Get Sick on Vacation?

Be Aware of Others and Don't Panic
Nourish your Body and Rest
Monitor your Symptoms
Check in with your Insurance Provider
Find a Doctor in your Network

When Should I go See a Doctor?
Top Vacation Activities for Avoiding Infection

Airplane & Sky Tours
Boat Rentals
Picnics on the Beach & in the Park

Things to Avoid to Stay Healthy on Vacation
---
What Should I Do if I Get Sick on Vacation?
Especially with the coronavirus pandemic that's sweeping the country, and the globe, it's not an unreasonable reaction to get nervous when you experience the first signs of a cold or flu. COVID-19 or not, getting sick on vacation is no joke and should be taken seriously. Before you call it quits and head back home, there are a few things you should do that will make it safer when you travel, and may ultimately help salvage your trip. Check out the following information to discover what to do if you get sick on vacation, and turn that travel frown upside down!
Be Aware of Others and Don't Panic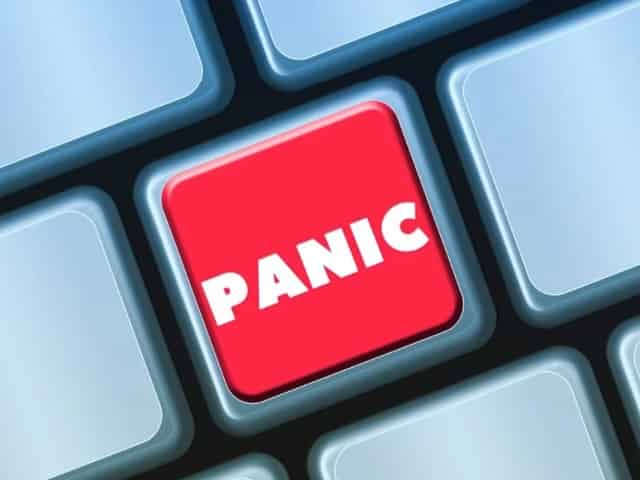 Try not to panic at the first signs of getting sick, it could lead to your symptoms getting worse
While anyone's immediate response to getting sick during vacation is to panic, that's the last thing you should do! Stress can actually make you feel worse, while staying calm and thinking positive can have just the opposite effect. So, even though it may feel like an impossible task at the time, staying calm and not panicking is a great way to feel better faster!
Another important thing to do at the first sign of being sick is to let those you traveled with know. This will give everyone the time to take necessary precautions to make sure your bug doesn't spread to the rest of your friends and family. This is also a great time to make sure you're using Clorox wipes to wipe down the surfaces that you touch, being careful when interacting with others, and washing your hands thoroughly. Check out the information below on how to properly wash your hands, courtesy of unicef.org: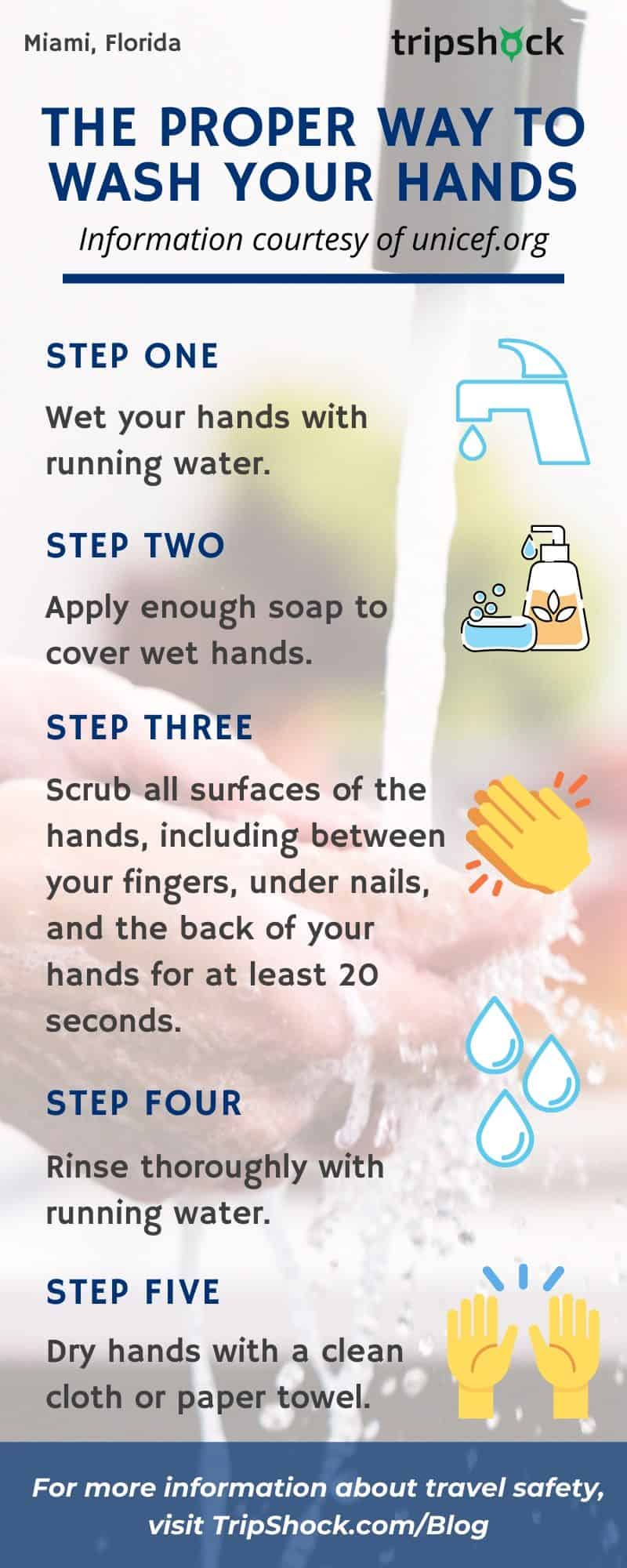 Nourish your Body and Rest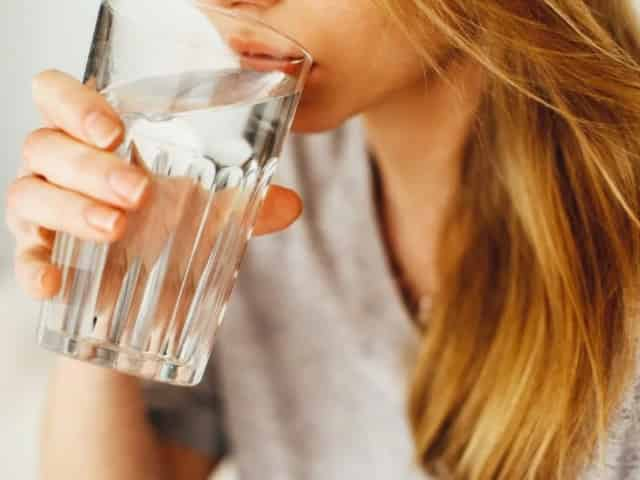 Drinking plenty of water is essential to feeling better, and feeling better fast
While forgetting your eating and sleeping habits when on vacation is a societal norm, you will want to be more careful and avoid doing this if you are sick. Besides making sure you're eating good food often, you will also want to be cautious of where your food is coming from. Making sure your food is fresh and cooked all the way through can be the difference between healing and making the most of your trip, and being stuck in your hotel or condo for the duration of it.
Drinking plenty of water is key when trying to avoid getting sick or recovering from being sick, as well. It is recommended to drink a minimum of eight cups of water a day. While you should stick to the golden rule when it comes to drinking water, especially when you're sick, if you need to switch it up, Gatorade and Pedialyte are also great options for rehydrating and replenishing electrolytes and nutrients.
The last part of the nourishment trifecta is getting some rest. While resting is the last thing on the agenda when it comes to vacationing, it's a necessary evil and works wonders on the human body. Getting enough sleep can help you feel better faster by boosting your immune system and fighting infection.
Monitor your Symptoms
Keeping up with your temperature and making sure you're not developing a fever should be a priority when monitoring your symptoms
Monitoring your symptoms is a great way to decide if you need to take the next step and visit a doctor. Hopefully, your cough or sneeze was your body simply adjusting to the new environment that it's in. If that's the case, your symptoms should ease off and you're good to continue with your regularly scheduled vacation plans. If your symptoms are staying the same or getting worse, however, then you know it's time to find a doctor.
Check in with your Insurance Provider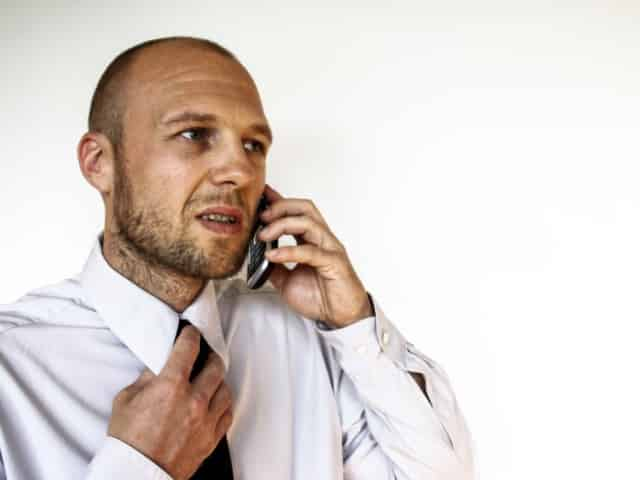 A simple phone call to your insurance provider can save you a lot of money, and stress, in the long run
If your symptoms do progress, and it's time to see a doctor, before taking a taxi to the nearest emergency room, you should start with a call to your insurance provider. When traveling overseas especially, you will want to make sure someone knows where you are, the staff is competent, can speak your language, etc. The Embassy is a helpful resource with this, as well, as they can recommend local hospitals, assist with transferring funds, transportation, contacting family members, and more.
For those traveling within the United States, all it takes to find a doctor near you in your network is a quick phone call to your insurance provider. They will be able to tell you everything you need to know, and make sure you're getting the medical attention you need.
On another note, medical insurance isn't the only insurance to look into pre-vacation. Especially the elderly, young children, and those with pre-existing medical conditions should look into purchasing travel insurance. This way, if something were to come up before your trip, you're covered if you need to cancel or reschedule. With some inexpensive options available out there, it's definitely worth looking into, and could save you some major money in the long run.
Find a Doctor in your Network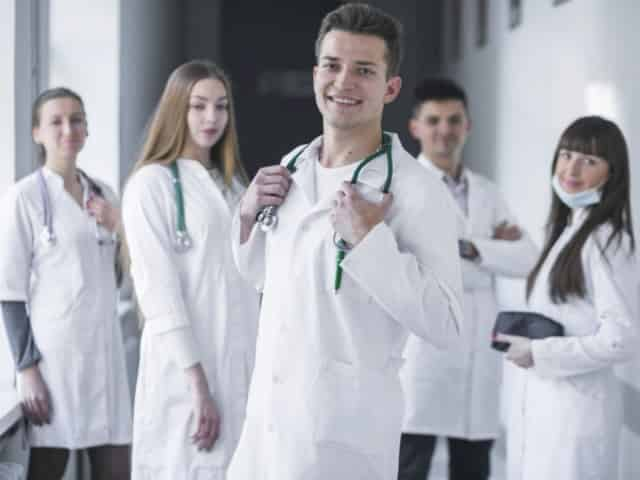 Choosing a doctor can be overwhelming; working with your insurance provider to find the best one for you will save you time, and possibly money
Last but not least, after dealing with your insurance provider and doctors in your network, all that's left to do is choose the one you want to see and head that way! Considering the current coronavirus pandemic, it's also a smart idea to let any doctor's office you visit aware of your visit before you arrive. This way, not only can they prepare for your arrival, but you can also let them know your symptoms and any recent traveling you've done, so they can protect themselves, as well.
When Should I go See a Doctor?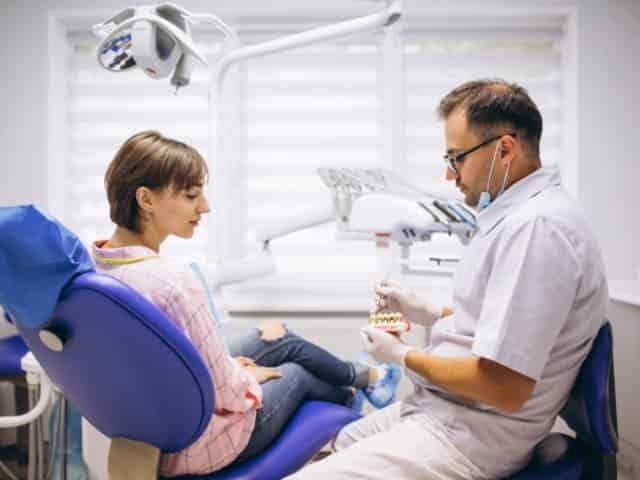 If you end up visiting a doctor, it's important to follow their instructions and start taking your prescribed medicine right away for a speedy recovery
When on vacation, going to visit the doctor is the last thing on the agenda, but sometimes, it's unavoidable. If you've tried the above tips and tricks like rehydration and rest to no avail, it may be time to see a doctor. If you're still unsure, below are nine good cues that it's time to see a physician:
Your symptoms are not letting up and/or getting worse
You have a constant high fever
You experience shortness of breath
You're experiencing chest, abdominal, and/or pelvic pain
Bowel movement or urination has changed
Bright flashes interrupt your vision
You experience mood changes or confusion
You suspect you've had a concussion
You develop new symptoms after a recent procedure or change in medication
Please be aware that the above list is not definitive, but is a general guideline for common symptoms that require a trip to the doctor. Sometimes, you just have to listen to your instincts, as no one knows your body better than you. If you feel as if something is wrong and you need medical help, it is always smart to seek medical assistance.
Top Vacation Activities for Avoiding Infection
While there aren't necessarily activities that have more germs than the other, one thing we're certain of is that avoiding germs is much easier when on a private or small group tour. With that being said, check out these amazing activities without large crowds, that are perfect for staying healthy and having fun!
Airplane & Sky Tours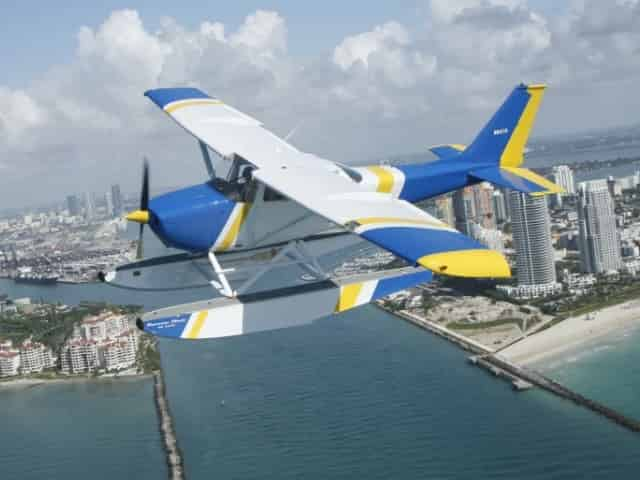 Pictured above is a seaplane with Miami Seaplane Tours souring over the city
Soar through the clouds in the sky for an unforgettable, high-flying seaplane experience! Seaplanes are incredible aircrafts, with the ability to take off and land in water. If that wasn't exciting enough, seaplane tours not only give you the take off and touch down experience of a lifetime, but also provide you with unmatched views of the city and the gorgeous water that surrounds it.
Most seaplanes accommodate a minimum of two and a maximum of three passengers, meaning this experience is one of the best ones when it comes to avoiding germs. Not only that, with multiple flights to choose from, there's no telling what you'll see from a seaplane!
Boat Rentals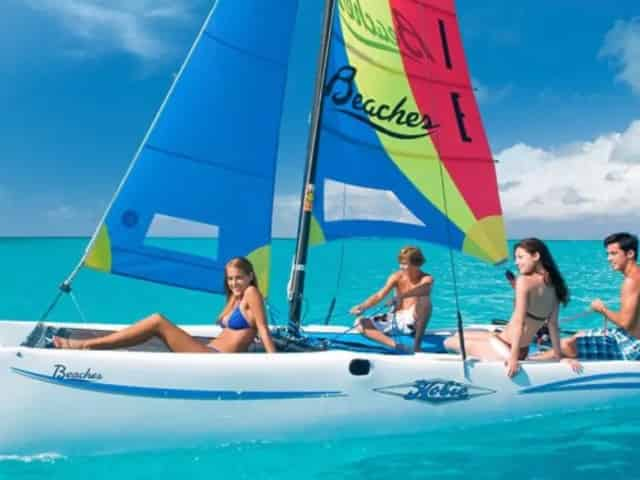 Pictured above is a group enjoying a sunny day aboard a Hobie Cat sailboat rental
It doesn't get more private than renting your own sailboat, and throwing caution to the wind! A watercraft rental is a great idea if you're looking for fun while avoiding crowds. Many tour operators even facilitate rentals that require zero person-to-person contact. Not only are rentals easy when practicing social distancing, it gets you an up-close experience with the landscape and its wildlife; be sure to look out for:
Dolphins
Stingrays
Tropical Fish
Tropical Birds
Natural Landscapes
Waterfront Attractions and Landmarks
And MORE!
Watercraft rentals like jet skis, sailboats, and pontoons will typically accommodate one to 15 passengers, creating a private experience away from large groups (and their germs). With life jackets, safety equipment, and instruction included, you can leave your stress at home and sail off to serenity!
Some of the most popular boat rentals include:
Pontoon Boats
Jet Skis
Speed Boats
Sailboats
Kayaks
Stand Up Paddleboards
So, do you need a license to rent a boat? It depends on your age, location, and the type of boat. Check out our blog detailing Florida boating license rules & regulations if you plan on renting a boat in the state of Florida.
Picnics on the Beach & in the Park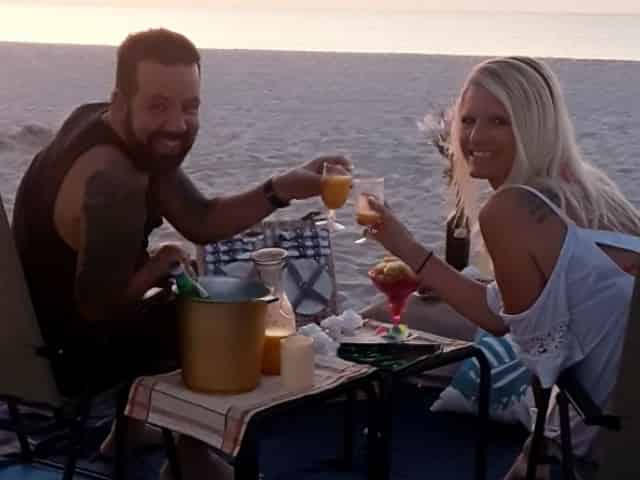 Pictured above is a couple enjoying a romantic beachfront picnic in Miami, FL
If you're wanting to avoid getting sick on vacation, a picnic is always a fun idea! Most travel destination offer a nice park, wooded area, or beach to lay down a blanket, chow down, and sip on a drink!
Whether planning a private Miami beachfront picnic, or a family picnic in Central Park, a picnic is a great way to enjoy to experience the area's beautiful scenery and sample local cuisine without crowds of people surrounding your set up. Perfect for date nights, anniversaries, girls' night, family outing, or even just a unique dining experience, a picnic is an unforgettable family activity.
You can also book a private picnic with certain vendors in travel destinations like Miami. A private Miami beachfront picnic includes the following for your convenience:
Set up and break down
A canopy during sunset
Chairs
A beach rug
Pillows
Candles
Flowers
Lighting
Non-alcoholic beverages
Picnic supplies (plates, forks, glasses, and a cork screw)
With the hard part taken care of for you, all you need to bring is your favorite people, food and libations if you so desire, sunscreen, sunglasses, weather appropriate attire, and any music or games you'd like to enjoy while you're there.
Things to Avoid to Stay Healthy on Vacation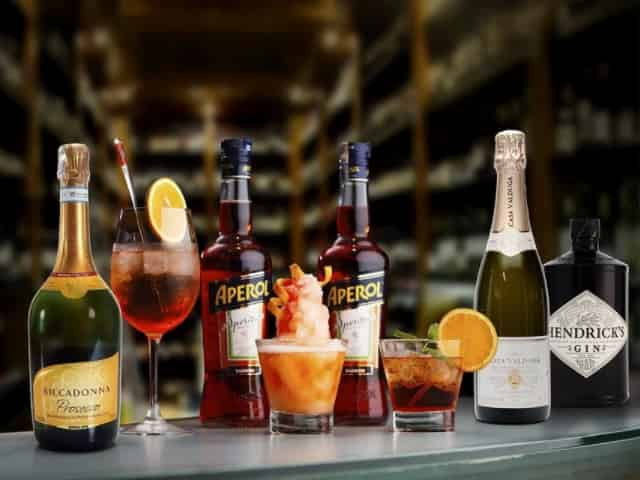 Avoiding excessive amounts of alcohol while on vacation may help you to stay healthy and avoid getting sick while on vacation
There is no foolproof plan to avoid getting sick on vacation, as it's impossible to avoid every germ out there. There are things you can do and things you can avoid, however, that will make it easier for you to stay healthy and happy. Check out our tips and tricks for staying healthy on vacation, and make the most of your next trip to Miami:
Make sure to bring all necessary prescriptions and medications with you on your trip
Get proper vaccines if necessary before you travel
Always wash your hands
Stay hydrated and eat well (if traveling overseas drink bottled water, not tap)
Stay active (in moderation)
Get enough rest and avoid stress as much as possible
Protect yourself against the sun (don't forget to pack the sunscreen)
Don't get too much sun once you're there (serious sunburns and sun poisoning are no joke)
Avoid drinking too much alcohol or caffeine
When it comes down to it, awareness and preparation is key. Being aware of simple things like drinking enough water and applying sunscreen can make or break a vacation. On the same note, all of the preparation before you even jump on the plane is just as important, from getting the necessary vaccines, to making sure you pack the essentials.
Avoid getting sick and stay healthy during your vacation by taking the extra time to plan, prep, and take care of yourself while you're at your destination.
---
The only way to guarantee you can't get sick on vacation, is to plan a staycation. Getting sick is always a possibility, so even though it may seem initially like your vacation is ruined, it doesn't have to be!
As long as you don't panic, take care of yourself and others, monitor your symptoms and see a doctor if needed, and book private or small group tours during your trip, you can still come home healthy and happy with memories of a fantastic vacation.
Be in the know!
be informed about our latest offers
You can unsubscribe at any time