The Ultimate Staycation (10 Best Family Activities When You Can't Travel)
Mike Fisher
March 21st 2020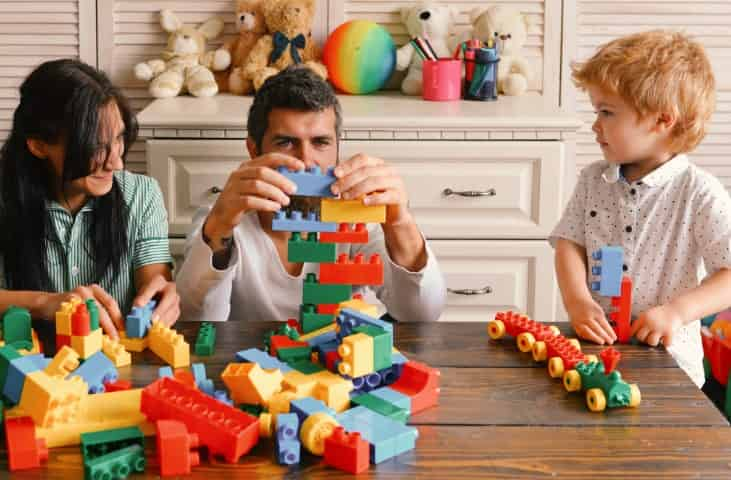 With so many options for vacation, sometimes you forget that a staycation may be the best option. As a father of a 3 year old daughter, I know that things can get dicey when you run out of fun things to do. You may think, "how do I keep the whole family entertained for a week or longer at home?" Well... you're in luck!
From easy outdoor excursions to movie marathons, keep reading to discover the 10 best familiy activities for the Ultimate Staycation!
Table of Contents
What is a Staycation?
10 Best Family Activities When You Can't Travel

Explore Nature

Binge on Movies, TV, & Video Games

Build a Sweet Fort

Channel Your Inner Chef & Get Cooking

Build Something Great Together

Play with Toys - Blocks, Legos, & More

Enjoy the Water - Swimming, Fishing & More

Plan Your Next Vacation

Set up Camp in Your Backyard

Get Creative - Home Movies, Art, & Music
---
What is a Staycation?
A staycation is a term for any vacation where you don't travel. Staycation can be spent comfy under the covers of your bed, or exploring the fun things to do in your hometown.
Staycation vs. Vacation
Wondering what the pros and cons are of a staycation vs. vacation? Well, we've thought about it too. Check the table below for a side-by-side comparison of staycation and vacation:
| | Staycation | Vacation |
| --- | --- | --- |
| Cost | Low | High |
| Planning | Easy | Difficult |
| Things to do | Mostly Indoor; Some Outdoor, Attractions, & Dining | Mostly Outdoor, Dining, & Attractions; Some Indoor |
| Demographics | Best for young children and seniors | Best for older children and adults 18-65 |
| Memorability | Low to Moderate | High |
| Safety | Very Safe | Moderately safe to dangerous (depends on transportation, destination, and agenda) |
| Overall Difficulty | Very Low | Moderate to High (depends on transportation, destination, and agenda) |
10 Best Family Activities When You Can't Travel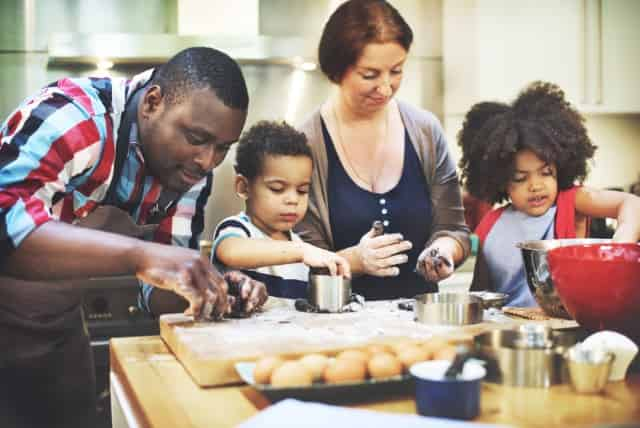 Cooking as a family is a fun activity to try during any staycation
A staycation can be fun for the whole family, but you need to plan ahead for the ultimate staycation. If you're not traveling due to low budget, safety concerns, or general lack of interest for planning a full-blown vacation, then you may as well make the most of your time at home.
Here are 10 of the best family activities to do in or around your home when you can't travel!
1. Explore Nature
Taking a family trip to the park is a great way to spend the afternoon during a staycation - Image by pxfuel.com
Whether you live in the city, country, or the suburban jungle, you can't be too far from nature. Get out in your own backyard, or a nearby park to enjoy mother nature with your family.
This activity is all-too-often taken foregranted in this day and age. Here are some family-friendly activities you can try out in nature:
Hike a nearby nature trail (be sure to bring along healthy snacks, drinks, and first aid).
Ride bicycles through a park or bike-safe path.
Catch and observe bugs around your home like worms, roly-polys, beatles, grasshoppers, crickets, and black ants.
Watch for different birds around your home or in a nearby park, beach, or wooded area.
Collect and identify different leaves, trees, bushes, and plants around your house.
2. Binge on Movies, TV, & Video Games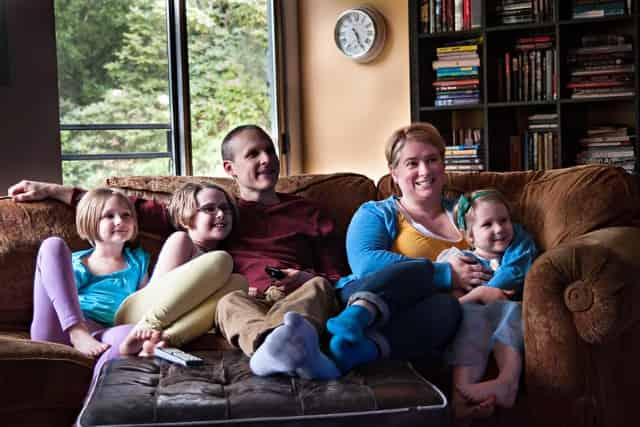 Image from Personal Creations on Flickr
Ok, ok, ok, I know this isn't the best option. But some of my best memories of Holiday Break at home is watching movies, tv shows, and playing video games with my brothers and friends. In the age of streaming services, this has never been easier!
I definitely wouldn't recommend sitting infront of a screen for too long. But for many reasons, including rainy days and bad sunburns, you may want to keep this option in your back pocket!
3. Build a Sweet Fort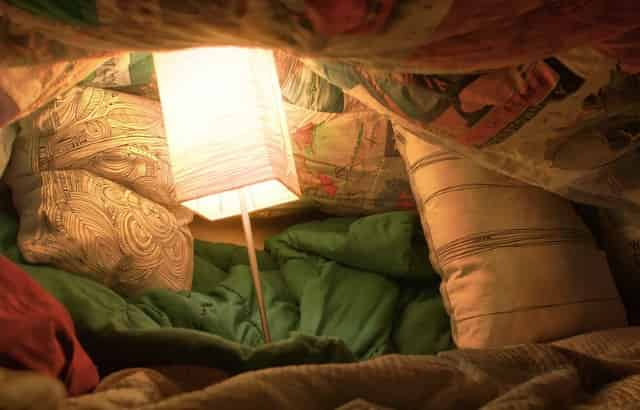 Image from Flickr
Now we're talkin! One of my favorite things to do with my 3 year old is build awesome forts in our living room! After a bit of research, I've compiled the coolest home fort ideas.
The Cushion Fort - Put your couch cushions to good use with the ultimate cushion fort. This involves collecting all the pillows and cushions as you can, and spread them out across the living room. This makes for a safe and fun fort that you can hang out in while watching movies or eating snacks!
The Blanket Fort - The most common of home-made forts, the blanket fort involves several chairs, and at least one large blanket. Face the backs of the chairs to one-another in a square or circle, and drape the blanket over the top. This is even more fun when you include board games, toys, and flashlights in the fort!
The Table Fort - Even easier than the blanket fort is the table fort! Drape a blanket over a large table with enough slack to hang down to the floor. This makes for an instant fort your whole family will love!
4. Channel Your Inner Chef & Get Cooking
Cooking is a fun, not to mention valuable, activity for the whole family. Try out new, tasty recipes for breakfast, lunch, dinner and dessert. If you're new to cooking, no worries! Most recipes include a time limit and a difficulty level.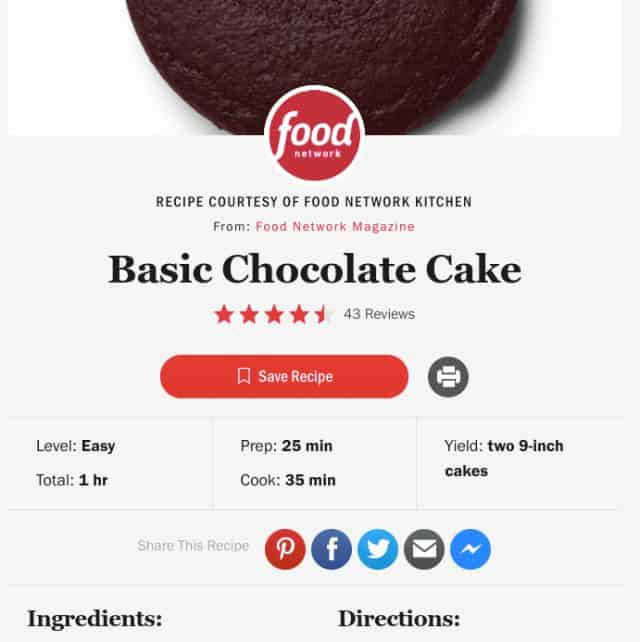 Chocolate cake recipe from foodnetwork.com that displays difficulty, time, ingredients required, and more
The best part is assigning tasks to your children and watching the excitement in their eyes as they mix, blend, mash, and chop. Always be sure to use any safety precautions including keeping small children away from hot burners, ovens, boiling water and oil, and sharp knives and cooking utensils. Here are some of the things your kids should be able to handle:
Chopping (with a child-safe knife)
Rinsing fruits and vegetables
Turning on and off appliances like the blender or toaster
Mixing ingredients in a bowl with a spoon or electronic mixer
Adding various ingredients to the mix
Stirring soups and sauces in the pot
Adding the toppings
Maybe the final result won't be perfect, but the memories will last forever!
5. Build Something Great Together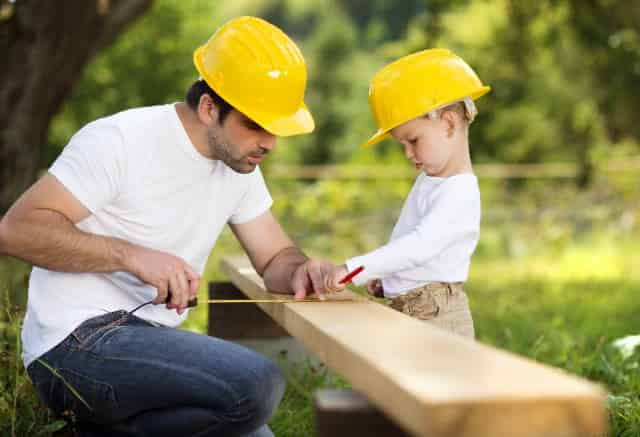 Fun projects give families a sense of togetherness and pride. Take your next staycation as an opportunity to grow closer as a family.
Got a home project you've been putting off? Now's the time to make it happen! Your kids been begging you for a treehouse? Make their dreams come true! Here are a list of fun and simple things you can build together as a family.
Garden
Treehouse or Playhouse
Building or fixing furniture & toys
Painting rooms, doors, fences, or furniture
6. Play with Toys - Blocks, Legos, & More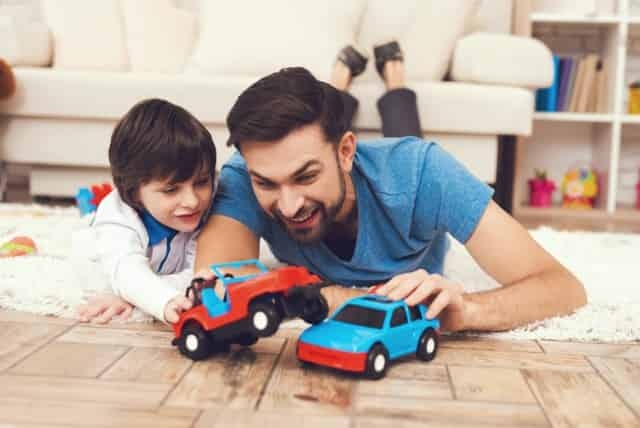 Kids love when parents let loose and join in on the fun! Remember what it was like to be a kid and stack those blocks, connect those legos, and pretend the Paw Patrol are saving the day!
7. Enjoy the Water - Swimming, Fishing & More
Water-related activities are especially fun in the warmer months! If you live near a lake, river, or the coast, spring and summer break are a great time to enjoy the water.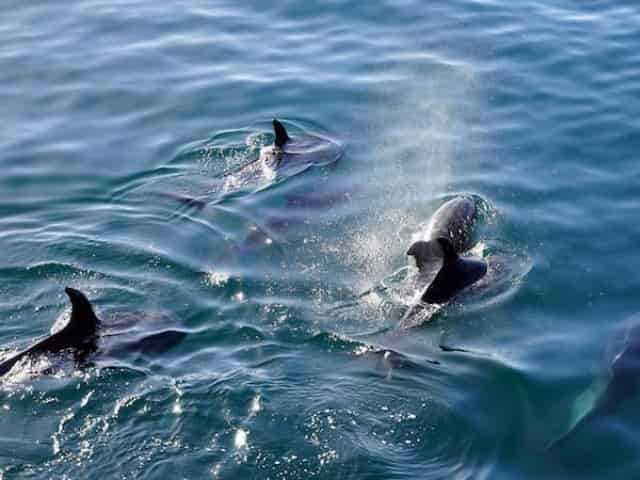 If you live near the coast, you can see dolphins while out on the water!
Check out some of the top activities you can try with your family on the water:
Fishing
Swimming
Boating (pontoon, speed boat, center console)
Tubing, wakeboarding, or water skiing
Jet skiing
Kayaking and Paddleboarding
In a recent blog discussing the perfect Staycation in Northwest Florida, we clearified that swimming and watersports are some of the best activities during a viral outbreak. So if you're staying at home for safety sake, then water activities is the perfect way to get some fresh air away from crowded parks and attractions.
8. Plan Your Next Vacation
After a few days together, your family may begin to run out of new things to talk about... so why not start discussing your next vacation or staycation?!
Talk to your family members about where you'd love to visit, things you'd like to do, and even plans for your next staycation at home. Start thinking about future travel plans when the family is in a better situation with health and finances.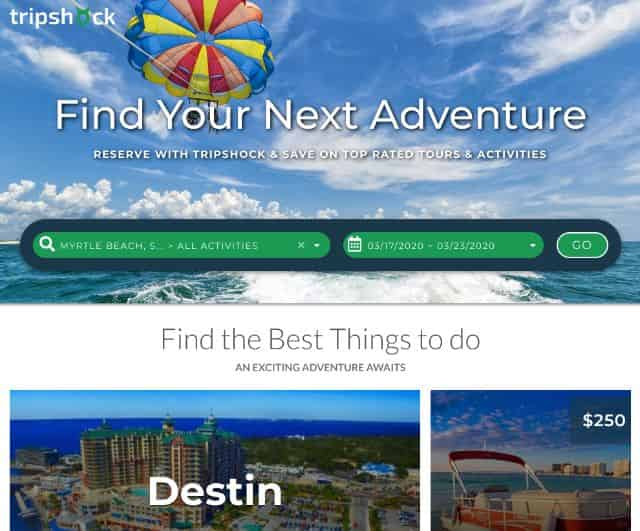 TripShock.com is a travel website offering things to do in the top US destinations
If you're consider planning a family vacation, you'll want to check out TripShock.com. TripShock offers thousands of tours, activities, and attractions in dozens of the top US destinations including...
Destin, FL
New Orleans, LA
Miami, FL
Key West, FL
New York, NY
Nashville, TN
Gulf Shores, AL
and so many more!
You can browse tours, read travel resources and articles, and plan your next family vacation on TripShock.com.
9. Set up Camp in Your Backyard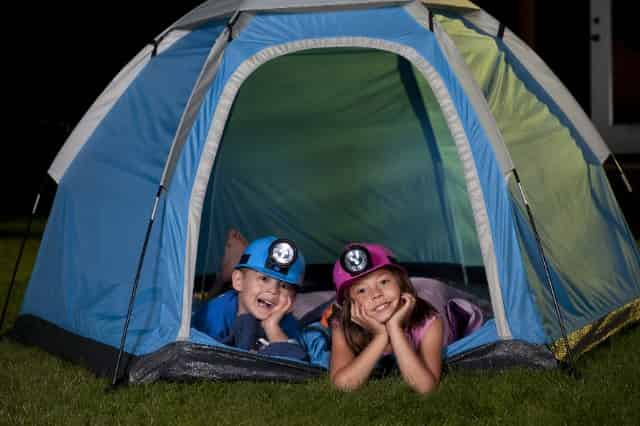 No one can resist the allure of a backyard campout! This fun and affordable staycation activity creates memories to last a lifetime. Growing up in rural Michigan, my friends and I loved a good campout complete with a tent, sleeping bags, portable grill for campfire, and stories by flashlight.
You'll need some supplies for this ultimate staycation activity. Click on each to purchase online.
Tent (optional)
Sleeping Bags
Portable Grill or Campfire substitute (or a real wood-log fire if this is legal in your community)
Skewer for roasting (I recommend an old-fashioned tree branch)
Roasting ingredients - Marshmallows, hot dogs, chocolate and graham crackers for s'mores
Water, juice, soft drinks, and adult beverages (21+ of course)
Flashlights and/or lanterns
Portable heater (for coolor climates)
Bug spray
10. Get Creative - Home Movies, Art, & Music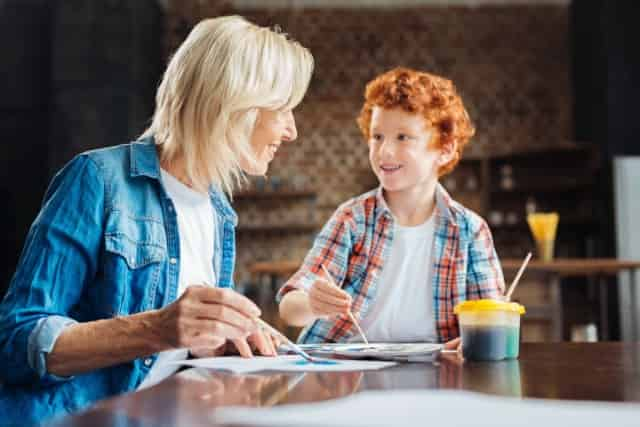 For some families this may be the toughest activity on the list, but creative outlets are great for passing the time. With the invention of smart phones and tablets, we all have access to media-making tools like high-quality cameras, and apps for video editing, music editing, and graphic design.
Join your kids in creating unforgettable home movies, funny songs, and awesome artwork during your staycation.
Check the table for cool ways to get creative at home with your family:
| Things You Can Create | Difficulty Level | Supplies You'll Need | Popular Apps & Software |
| --- | --- | --- | --- |
| Home Videos | High | Props, Costumes, Cell Phone w/ Camera; Optional: Video Camera, Computer | iMovie, iMotion (stop motion), Adobe Premier, Windows Movie Moments |
| Music/Songs | Moderate-High | Cell Phone; Optional: Instruments, Microphone, Tape Recorder, Computer | GarageBand, Audacity, Voice Memos, Sound Recorder |
| Puppet Shows | Easy | Puppets (Hand-Made or Store-Bought), Puppet Theater; Optional: Props | N/A |
| Digital Artwork | Moderate | Tablet, PC, or Cell Phone; Optional: Stylus Pen | Canva, Adobe Illustrator, Sketchbook, Canva, Pixlr |
| Hand-Made Artwork | Very Easy | Paper or Blank Canvas, Paints, Markers, Crayons, Paint Brushes | N/A |
| Crafts | Very Easy | Craft Supplies of Your Choice | N/A |
| Fun Family Photos | Very Easy | Props, Costumes, Cell Phone w/ Camera | Social Media Filters, Adobe Lightroom, Square Sized |
---
Now that you know how to put together the ultimate staycation, go ahead and get started planning today! Whether the fact that you're staycationing is intentional, or out of your control, you can make it the best staycation it can be with fun activities outlined in this article.
Be in the know!
be informed about our latest offers
You can unsubscribe at any time