Myrtle Beach Dolphin Cruise Coupons - Best Dolphin Adventures in the Carolinas
Dan Woods
July 1st 2020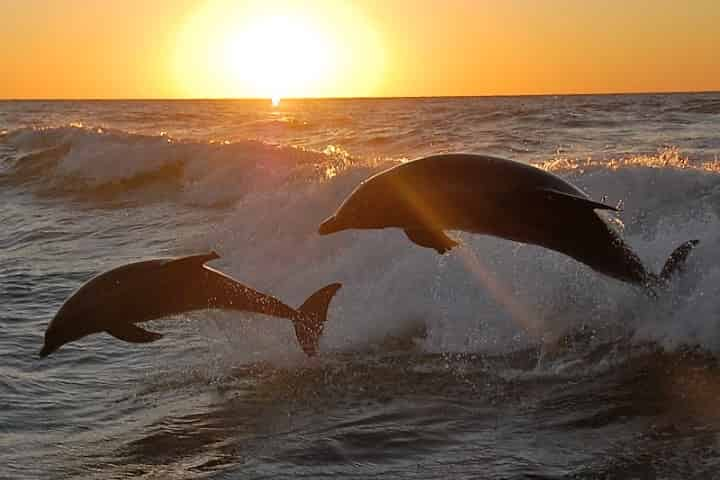 Enjoy the lowest prices on the internet with exclusive Myrtle Beach dolphin cruise coupons from TripShock, your one-stop-shop for everything awesome to do and see in Myrtle Beach. The next best thing to growing a dorsal fin and eating fresh seafood each and everyday yourself, a dolphin cruise will get you close to these majestic creatures as they dance and dash among the waves. A great idea for families with small children, this is your opportunity to sit back, relax, and let the captain do the rest!
Table of Contents
Why Take a Myrtle Beach Dolphin Cruise?
Myrtle Beach Dolphin Cruise Highlights
Other Myrtle Beach Family Activities
Myrtle Beach Dolphin Cruise Coupons
About Myrtle Beach's Bottlenose Dolphins
---
Why Take a Myrtle Beach Dolphin Cruise?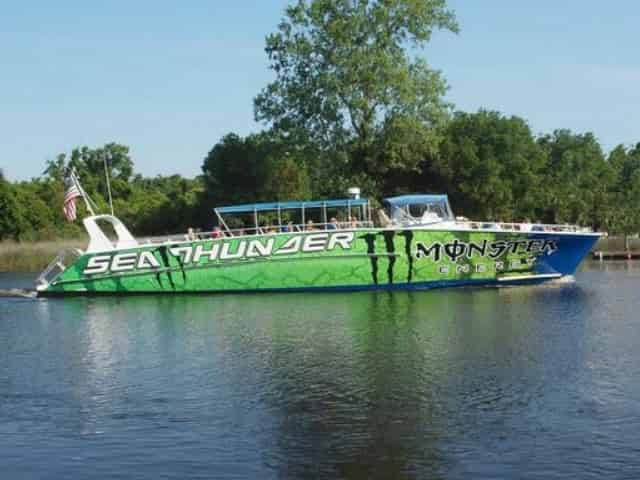 In a recent Traveler Story, one parent explains why a Myrtle Beach dolphin cruise is something the kids need to experience
A dolphin cruise is one of the most popular family-friendly tours at the beach for a reason. First and foremost, dolphin tours are super affordable. Between transportation, food, and lodging, vacation costs can add up quickly. At around $20 per person with a TripShock coupon, you can get your family out of the hotel room and offshore for a lot less than you think. A few other economical choices include going to the beach to lounge about and play frisbee (did someone say frisbee?) or enjoying the sights and sounds of Broadway at the Beach.
Another reason you need to book a dolphin cruise in Myrtle Beach is because of the actual boats themselves. Unlike your average jet ski, speed boat, or plain old pontoon, dolphin cruise boats are as luxurious and comfortable as they come. Enjoy stadium seating for you and your family as you float the waves in style. And speaking of floating the waves, these boats were born and bread for ocean adventures meaning no sea sickness—just knowledge, good folks, and good friends. In particular, both Little River's Sea Screamer and North Myrtle Beach's Sea Thunder are two of the biggest and baddest boats around!
Myrtle Beach Dolphin Cruise Highlights
Pictured above is a friendly bottlenose dolphin, similar to the dolphins you'll encounter on your Myrtle Beach dolphin cruise
On top of the deals and the boats, perhaps the best reason of all to utilize TripShock's exclusive Myrtle Beach dolphin cruise coupons is for… get ready for it… THE DOLPHINS! As smart and sociable as they come, bottlenose dolphins (also known as Tursiops truncatus if you want to be fancy about it) are truly magical creatures. Their enthusiasm for the company of other dolphins (female dolphins typically travel together in groups or "pods" of 3 to 15) makes for spectacular scenery as they play with each other among the waves.
So, if you're wondering where to see a pod of dolphins for yourself in Myrtle Beach, a dolphin cruise is definitely a great place to start! The dolphins of Myrtle Beach are actually quite used to dolphin cruises and will sometimes even seek out the boats to put on a show. Pretty darn cool! With that being said, here are some of the highlights of a Myrtle Beach dolphin cruise:
Watch pods of dolphins dance, dash, and jump among the waves!
Daily departures through spring and summer
Cost effective and family friendly
Large cozy boats for relaxed cruising
Sunset cruises available
Scope other marine wildlife like turtles, pelicans, and more!
Other Myrtle Beach Family Activities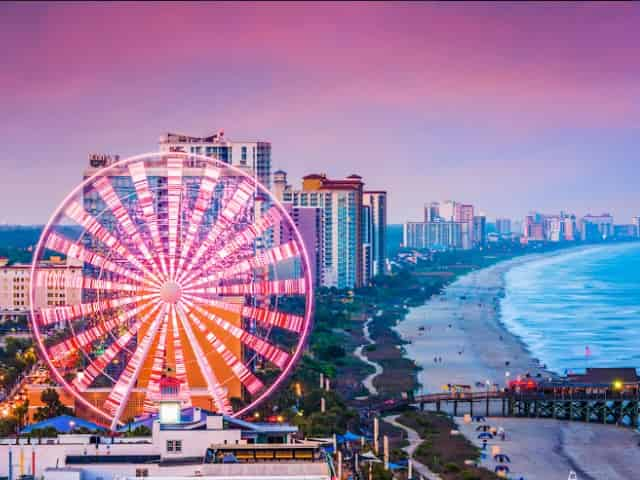 Myrtle Beach, SC, pictured above, is full of activities that the whole family will enjoy
Myrtle Beach plays host to plenty of cost-effective, family friendly activities on both land and water. For example, both kids and adults alike can agree on an engaging and educational trip to WonderWorks, an interactive museum that features a variety of hand-on exhibits to facilitate learning. Another great option for families on a budget is the Hollywood Wax Museum. Finally, for those looking to enjoy the peace and quiet of nature, you might want to try heading just of the city to Huntington Beach State Park. A great mix of marsh, forest, and ocean, this park is a true gem and an ideal destination for a scenic hike or family picnic on the water.
Myrtle Beach Dolphin Cruise Coupons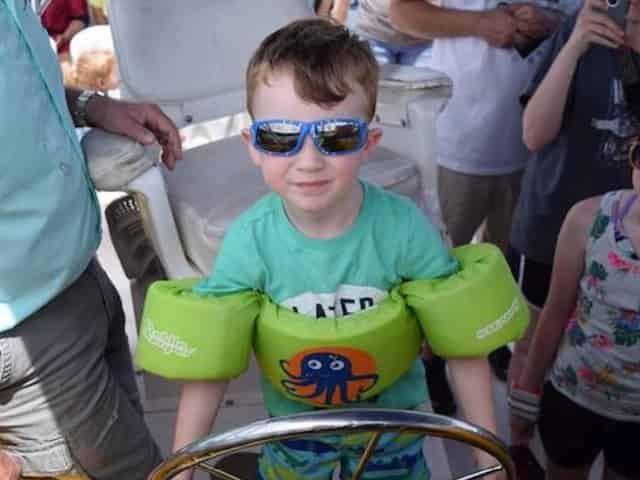 With dolphin cruise coupons available, hopping on this top family activity in Myrtle Beach is both fun and affordable
Myrtle Beach dolphin cruise coupons are easy to purchase and use when booking online! Whether at home, in the hotel room, or driving down Ocean Boulevard, guests can book a tour online easily using a cell phone or mobile device, NO PRINTING NECESSARY! Use the following Myrtle Beach dolphin cruise coupon for the cheapest dolphin tours in the city:
Cruise For Just $23
The discount applies directly upon booking. Head to our Myrtle Beach dolphin cruise page to get started! (having trouble with your booking? Call 850-424-5125 for online assistance)
About Myrtle Beach's Bottlenose Dolphins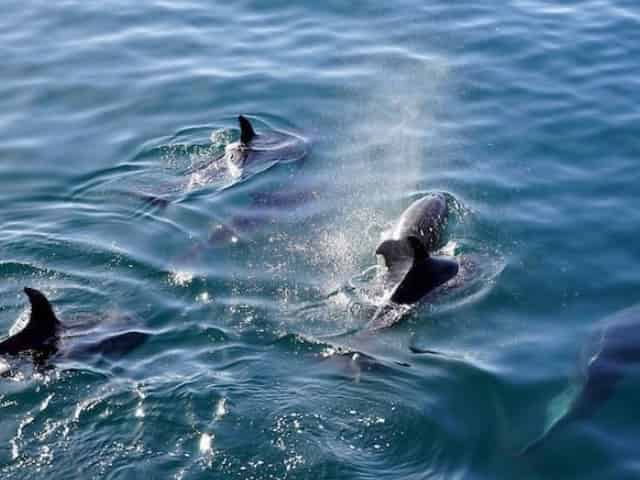 Pictured above is a pod of bottlenose dolphins, a sight you can expect to see on a Myrtle Beach dolphin cruise
Up to this point, you've heard plenty of reasons why a dolphin cruise is a great idea for traveling families. But what about the traveling dolphin families themselves? For this, we take a deeper look. First and foremost, dolphins are mammals—not fish. The dolphins that you will see off the coast and among the intracoastal waterways of South Carolina are bottlenose dolphins. Male bottlenose dolphins can weigh around 650 pounds and can live as long as 40+ years. Bottlenose dolphins can be found all over the world in temperate, subtropical, and tropical waters.
Bottlenose dolphins are carnivores, and they feed mostly on small fish as well as crab, octopus, shrimp, and mollusks. In fact, they can eat as much as 20+ pounds of seafood in one day! As mentioned previously, dolphins are highly social and females travel in pods of up to 15. Male dolphins, meanwhile, are more solitary, but will join small groups or pods for brief periods of time to mate. Overall, though, the group atmosphere serves a variety of purposes, from hunting to protection and even companionship.
Be in the know!
be informed about our latest offers
You can unsubscribe at any time