Where to See Dolphins in Myrtle Beach, SC
Tess Hart
May 22nd 2020
People have long been fascinated with dolphins. Why wouldn't they be with how gorgeous these creatures are? If you are looking for one of the best cities in the country to check out some dolphins for yourself, look no further than Myrtle Beach, SC.
You might wonder how you can ensure that you will be able to see dolphins on your vacation, and while there is no money-back-guarantee of course, TripShock is here to point you in the right direction.
Check out all of the great options of where to see dolphins in Myrtle Beach, SC below. Get ready to be blown away at the sight of dolphins jumping, flipping, and playing in the water around you on your next vacation!
Table of Contents
Dolphin Cruises
Jet Skis
Boat Rentals
Fishing
From the Beach
---
Dolphin Cruises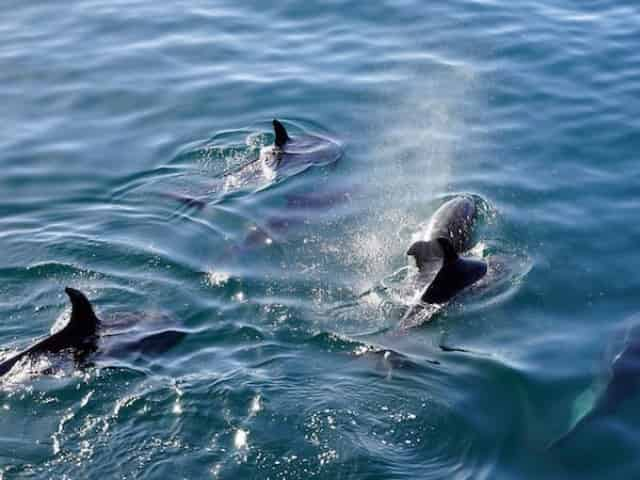 Pictured above is a pod of dolphins spotted on one of the many incredible Island Time Cruises
Of course, one of the absolute best ways to see dolphins is on one of the many dolphin cruises and tours in Myrtle Beach, SC. If your concern is seeing as many dolphins as possible, then you will definitely want to make sure you don't miss out on this memorable activity.
The captains of these boats are experts in the locations that pods of dolphins like to swim and how to attract them to the boat. A lot of these dolphin tours offer drinks and snacks, and with Myrtle Beach dolphin cruise coupons available, seeing dolphins in the wild is more affordable than ever! Not only that, you will be thrilled when you see dolphins flip in and out of the water all around you. Some of the most popular tours in the area are:
Sea Thunder Dolphin Cruise Myrtle Beach - On this cruise, you will get to learn all about how the Intracoastal Waterway and local marine wildlife, while seeing dozens of dolphins along the way.
Dolphin Adventure Cruise Aboard the Hurricane II - If you are craving a bigger boat for your dolphin adventure, the Hurricane II is a whopping 90 feet long! This deep sea adventure is perfect for families and is unique in that it tags alongside shrimping boats that attract dolphins and sharks!
Sea Screamer Dolphin Cruise Myrtle Beach - Aboard the Sea Screamer, riders will see dolphin pods in their natural habitat on a 1.5 to two hour long cruise. They guarantee that you will see dolphins or your next cruise is on them! In a recent Traveler Story, one guest states they even got to hold a baby shark on their Sea Screamer dolphin cruise!
Jet Skis
A pod of dolphins spotted on a jet ski tour in Myrtle Beach, SC
When thinking about where to see dolphins in Myrtle Beach, SC, you might not think of a jet ski at first, but they are an excellent option! Think about it, you will be racing across the water with the wind in your face surrounded by dolphins swimming right along with you! What could be better than that? When thinking about what companies might be best to rent jet skis from, you should start by checking out these:
Ocean Jet Ski Rentals by Myrtle Beach Watersports - Renting through this company will ensure that you get a premium ocean jet ski to race across the water on. They offer one hour jet ski rentals, but you might come back for more after getting addicted to hunting down the best views of local dolphin pods.
Jet Ski Dolphin Tour with Myrtle Beach Watersports - If you don't know where to start when it comes to paths to take on your jet ski, you should check out one of the dolphin tours Myrtle Beach Watersports offers. These 2.5 hour tours are guided and take you through the dolphins natural habitat on your way to a nearby private island.
Awesome Myrtle Beach Waverunner Rentals - If you don't want to be in a time crunch, you can rent a waverunner for up to eight hours here! You will be able to explore all of the beautiful shorelines and waterways in the area while seeing some of the most gorgeous dolphins along the way.
Boat Rentals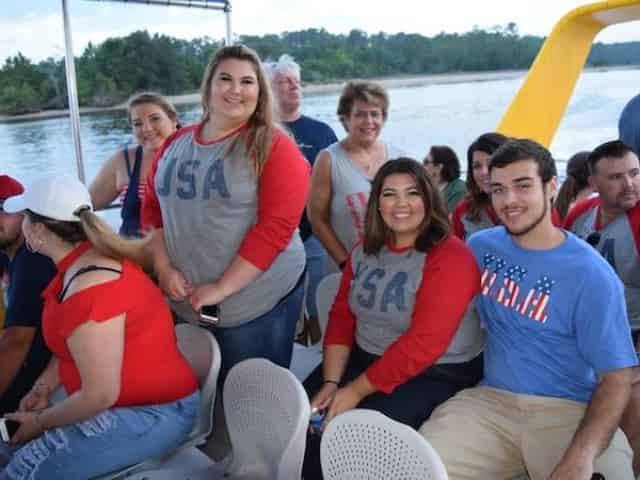 Renting a watercraft is the perfect way to get out on the water and search for our favorite Myrtle Beach locals, the dolphins
Another option that comes to mind when thinking about where to see dolphins in Myrtle Beach, SC is aboard a boat rental. You will be able to take complete control of your dolphin search by being your own captain. Some great pontoon boat rental options are:
24 ft. North Myrtle Beach Pontoon Rental - 12 of your family and friends will be able to board one of these giant pontoon boats along with you. You will be in complete comfort while looking for dolphins, since these boats have Bluetooth for you to blast your tunes and canopies to grab some shade to escape the sun.
Myrtle Beach Pontoon Rental - By chartering your own pontoon boat, you will get to take charge of your boating adventure. The best part is that these boats are brand new, so you have nothing to worry about on your ride!
Fishing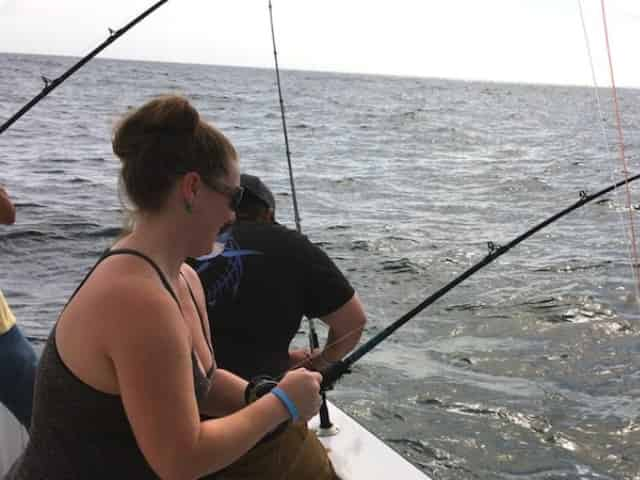 You never know what you'll reel in on a fishing charter in Myrtle Beach! For more information on rules, regulations, what's in season, and more, click here: http://dnr.sc.gov/fishing.html
Whether you are already an avid fisher or just want a fun new experience on your trip, a fishing charter is actually a great way to see some dolphins. While reeling in your own catches, you will see dolphins hunting for their next meals, as well.
These charters differ in length and type, so you are sure to find the one that best aligns with your day. You will be able to catch black sea bass, flounder, sharks, and plenty of great views of the many dolphins surrounding you.
From the Beach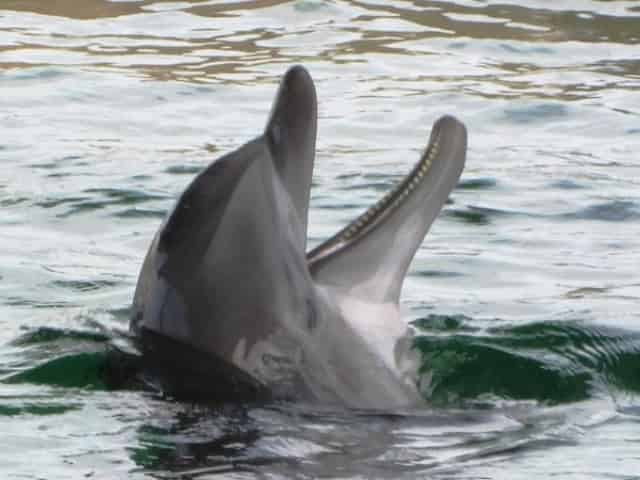 Whether you see dolphins or not, going to the beach is one of the best things for couples to do in the area
Thinking about where to see dolphins in Myrtle Beach, SC, you might just want to keep it simple and find a local beach to view them from. You will be able to enjoy sunbathing, sand castle building, and swimming while waiting for these beautiful creatures to pop out of the water.
All of the beaches in the area are great options for seeing dolphins, with early morning or dusk being great times to see them. They are also more likely to come closer to shore when they are ready to feed, so maybe you can try and sync up your dinner plans with theirs with a picnic on the beach.
---
You can't take a trip to Myrtle Beach without going to see the dolphins that call this area home. You should definitely try to visit at least a couple of the places to see dolphins in Myrtle Beach, SC, on your next vacation. Dolphin sightings are sure to make it a trip you will never forget!
Be in the know!
be informed about our latest offers
You can unsubscribe at any time