Parasailing Biloxi, MS Prices 2020
Carrie Jenkins
September 2nd 2020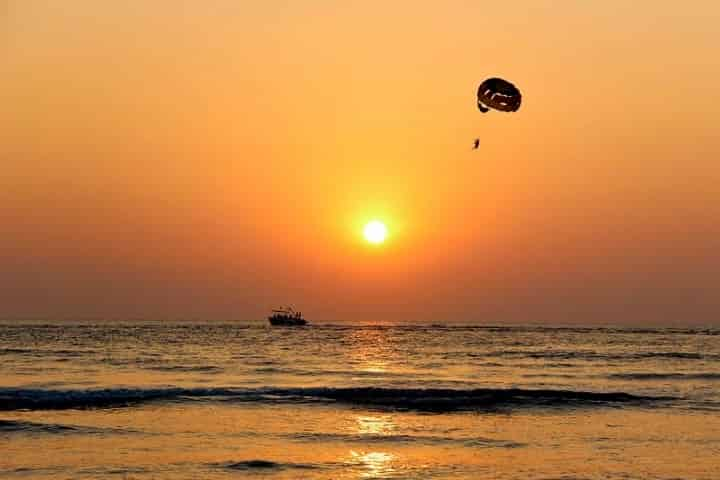 Taking a trip down South is something that should be on everyone's bucket list, but it is no easy task to figure out where to explore this vibrant region of the country. Between cities like New Orleans, Birmingham, and Charleston, it can be a bit overwhelming to decide on the best location for your next vacation.
If you want to alleviate some of your trip planning anxiety, look no further than the adventurous city of Biloxi, Mississippi! You might initially think of this southern gem's well-known casinos and prime location on the beautiful Gulf of Mexico, but there's more adventure than what first meets the eye.
An amazing experience for kids and parents alike that you must try on your trip is parasailing! Whether you have tried parasailing or not, you are in for the once in a lifetime treat of seeing gorgeous views of the Gulf of Mexico and this historic town from up above.
The best part about parasailing in Biloxi, MS? It's super affordable for almost any budget, with prices usually ranging anywhere from $50 to $85 a person, depending on the company and specifications of the experience you sign up for.
Before you get ready to fly, make sure to check out the great options for parasailing in Biloxi
---
What is Parasailing?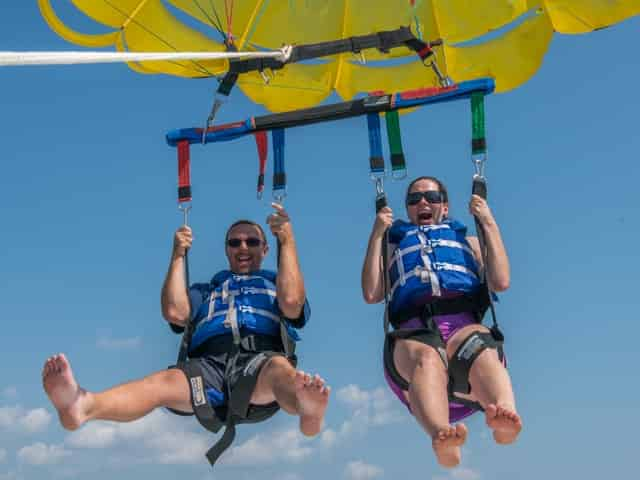 Have you ever wondered what it would feel like to fly? No, not in a plane, but to actually fly? Give your group the experience of soaring hundreds of feet above the air by parasailing!
You might be nervous to pick this adventurous activity for your trip to Biloxi, MS, but it has become a safe and well-run experience that your group would definitely regret not trying.
Parasailing is basically where a person is towed behind a vehicle, usually a boat, with a parasail wing attached to them by a harness. A parasail wing is essentially a giant parachute.
You might think that parasailing would be complicated, but after the crew sets up your harness and gets you airborne, you really just get to enjoy the ride! No steering required on your end at all!
And don't even start to worry about landing! With parasailing originating back in the 1960s and 1970s, companies have got this down! If you are being pulled by a boat, the driver will essentially get close to the beach and slow down, which will let you slowly descend back onto the sandy beach or gentle water.
The best thing about choosing to go parasailing in Biloxi, MS is that depending on the company, most people can participate in this adrenaline pumping activity, so no one in your group will be left out.
Try this top rated Parasail Excursion with Parasail Adventures in Biloxi - BOOK NOW
Parasail Biloxi, MS Prices
Most parasailing trips last about an hour to an hour-and-a-half depending on how many people are boarding the boat. This makes parasailing a perfect activity if you are planning on being at the beach all day and want to break up the morning or afternoon.
You will most likely not be going up alone, which is comforting if you still are a bit nervous! Instead, two to three people are sent up at a time to parasail for around 10 minutes of flight time.
The average price for parasailing in Biloxi ranges from $50 to $85. Prices may vary depending on the amount of people flying at once (up to 3 for most tour companies), and the time of year. Rates may be lower in fall and winter than spring and summer.
Preparing to go Airborne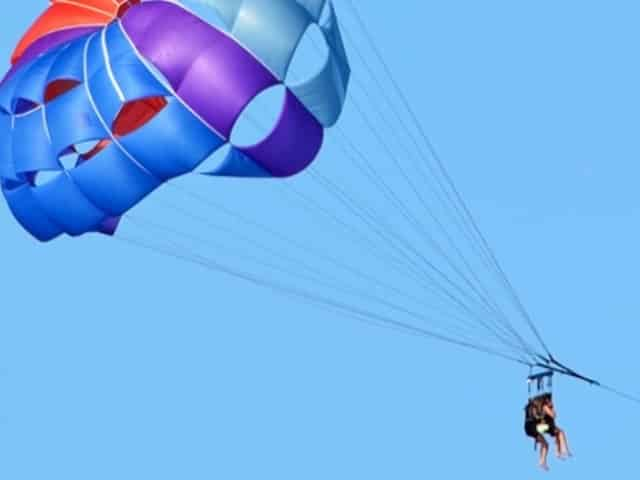 There's not a ton of preparation that your group will have to do prior to going parasailing. Most companies really take care of the major details and supply all equipment you will be required to have for your exciting flight.
Once you get to the parasailing company's location, you should go through a safety orientation that will get you familiar with the parasailing process and gear. Outside of that brief training, you really will just be able to let your mind go free while you experience the sensation of weightlessness that comes with parasailing.
There are a few things you might want to bring with you on this crazy adventure. :
You will want to have a camera, or at least your phone, to be able to take pictures to prove how brave you were to friends and family back home.
No one likes a sunburn, and while you should definitely wear sunscreen your whole trip, you will without a doubt want it when parasailing in Biloxi, MS.
Similarly, you will want to bring your sunglasses for when you are watching others from down in the vehicle. Additionally, a towel will be a necessity, unless you prefer to just naturally air dry. To each their own!
There's so much to do in Biloxi, MS! Take a look at all of the activities there are to do in this beautiful city at tripshock.com
Soak it All in!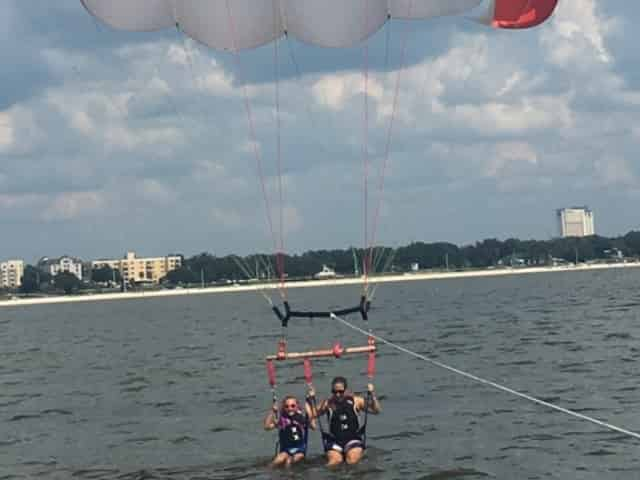 You can't even begin to imagine the amazing views you will have while parasailing in Biloxi, MS! While hundreds of feet above the ocean, you will be able to see for miles in every direction. If you have ever wondered what would be the quickest way to tour Biloxi, MS, this is it!
Many participants say the highlight of the experience is getting to see wildlife below them. Depending on the area and time of year, you could be able to see:
schools of fish
turtles
sharks
stingrays
pelicans
dolphins
and many others!
If you truly want a full parasailing experience, you can ask for "the dip" during your landing. This is where the driver will intentionally time your dissent so that you dip into the water at the very end of the experience.
We can't guarantee that you will get to see dolphins while parasailing, so be sure to also take one of the many dolphin cruises and tours available in Biloxi, Mississippi
---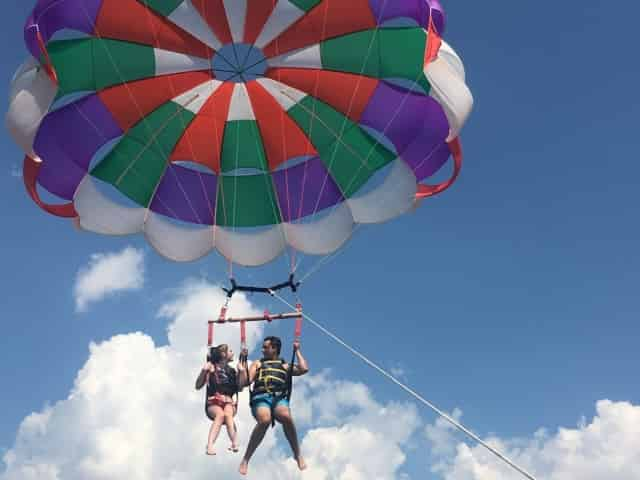 No matter what your budget is for your trip, parasailing in Biloxi, MS is an affordable option. Plus, parasailing is one of the most memorable experiences you can give your family or group.
Make sure to make the most of your vacation, by experiencing the weightless feeling of being high in the sky. It is truly the best way to see the beautiful city you are exploring and the amazing vastness of the ocean.
Plan for adventure for all of the other days of your vacation too! Make sure to explore all of the day trips and excursions in Biloxi, Mississippi with Discount Day Trips on TripShock
Be in the know!
be informed about our latest offers
You can unsubscribe at any time