Top 10 Kid Friendly Activities in Gulfport, MS
Mike Fisher
June 10th 2020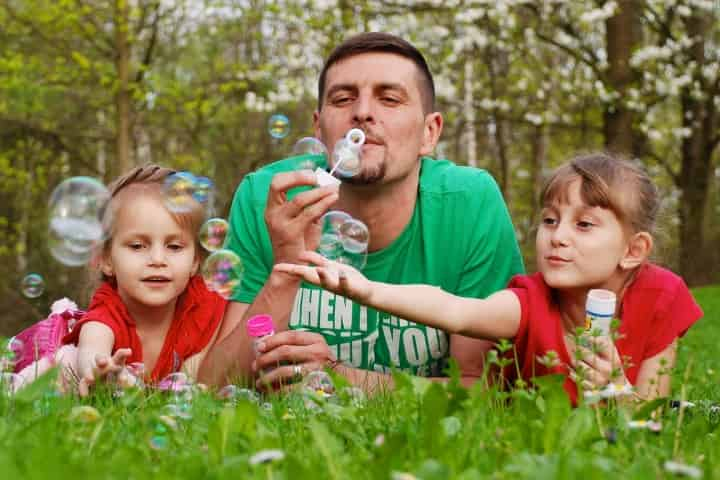 Trying to find something that's a great choice for the whole gang can be tough. Luckily, there are a ton of great kid-friendly activities in Gulfport, Mississippi, that will make your next trip extra memorable and a lot more relaxed.
From exciting amenities like waterparks and ziplines, to educational experiences at museums and wildlife exhibits, Gulfport is sure to have something that you and the kiddos will both enjoy! So, get down to the beach today and check out our Top 10 Kid Friendly Activities in Gulfport, MS, for an awesome family experience!
Table of Contents
Gulf Islands Waterpark
Zip'N Fun Adventure Park
Beauvoir - Jefferson Davis Home & Presidential Library
Lynn Meadows Discovery Center
Institute for Marine Mammal Studies
Jones Park
Busted Wrench Garage Museum
Mississippi Coast Model Railroad Museum
World's "Largest Rocker"
Gulfport Little Theatre
---
Gulf Islands Waterpark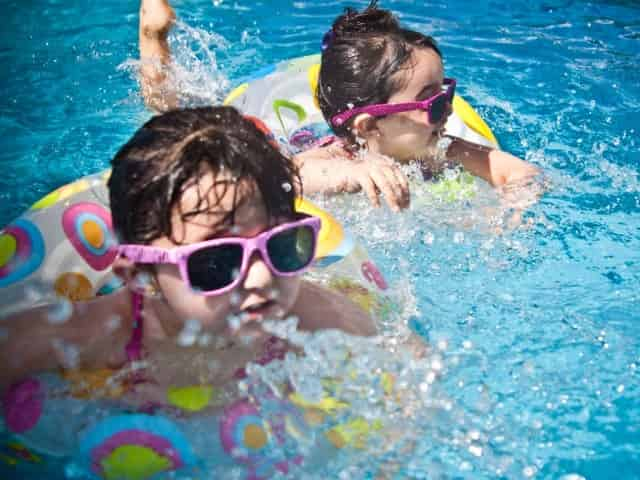 Young girls smiling and splashing at Gulf Islands Waterpark
Summer fun is what Gulf Islands Waterpark is all about. Wild rides, relaxing cabanas, and miles of cool slides means sweet fun for the whole group! Check out the Horn Island Blaster slide, the Gulf Coast's first and only water roller coaster, as it takes you through 500 feet of twists and drops!
Gulf Islands also hosts special events like celebrity meet & greets with stars from Nickelodeon and Disney. Even more, the park has great live music, sea lion shows, and frisbee dog shows!
Zip'N Fun Adventure Park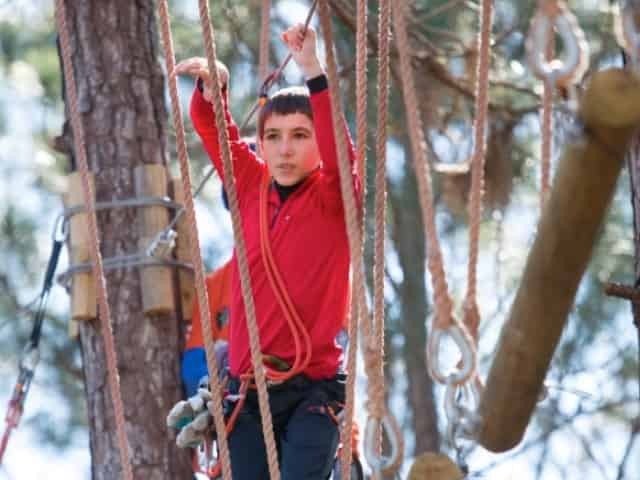 Ziplining in Biloxi, MS, is the perfect way to awaken your inner adrenaline junkie
Gather the crew and zip on over to Gulfport Zip'N Fun Adventure Park for the biggest and best ropes course in all of Gulfport! Take in spectacular views of the beautiful woods and wetlands from the top of the forest.
This activity is a great way to get your blood pumping, and have some fun with the whole family. There are courses for both adults and kids of varying difficulties. There is no better way to get active and have some fun at the same time!
Beauvoir - Jefferson Davis Home & Presidential Library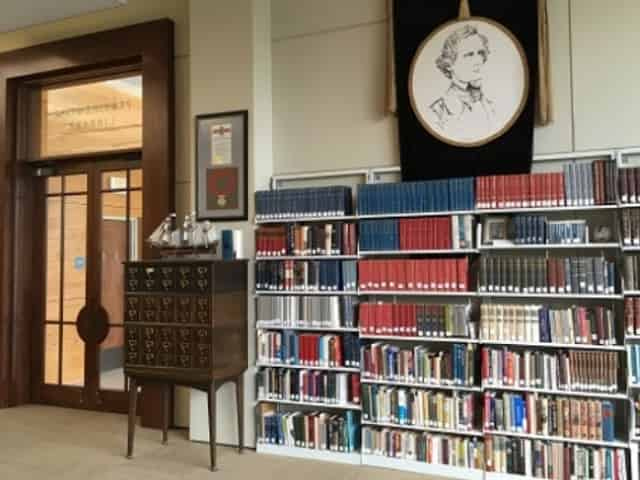 According to a recent Traveler Story, visiting Beauvoir will make you feel as if you've traveled back in time
Visit Beauvoir - Jefferson Davis Home & Presidential Library and take a trip into the past! Each visit is guided by a delightful docent dressed in mid-19th century attire for a super authentic lesson. Follow the guide through the museum for a crash-course in the history and culture of the late 1800's and Mississippi.
The docent will also help you and the kiddos make the most out of the Presidential Library and tell stories of Jefferson Davis and Confederate soldiers. Visit the gift shop for great souvenirs, gifts, and toys!
Lynn Meadows Discovery Center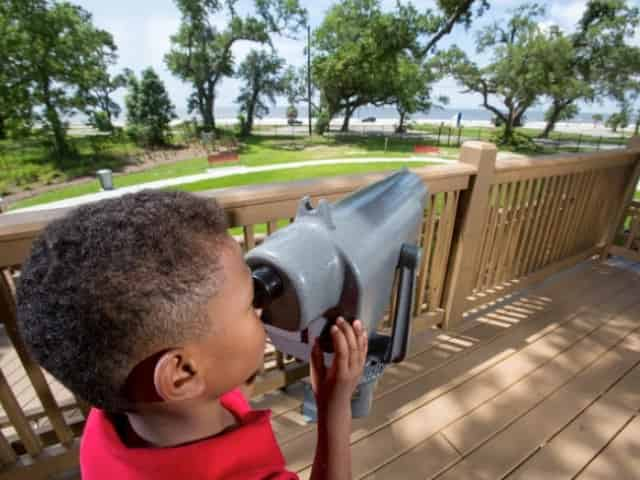 Pictured above is a child enjoying one of the many activities at Lynn Meadows Discovery Center
School has never been so cool as it is at the Lynn Meadows Discovery Center! One of our absolute favorite kid-friendly activities in Gulfport, check out this 1915 schoolhouse and its 15,000 square feet of hands-on exhibits including:
Celebrate the World We Share
Dolan Avenue Depot
The Little Pet Vet
The Port
History Hotel
and MORE!
Venture outside and play a tune in the outdoor musical garden, and explore the tiny town of Kids Street for great photos and fun. With so many exhibits, options, and space, it's a great opportunity for the whole family to relax, enjoy, and learn!
Institute for Marine Mammal Studies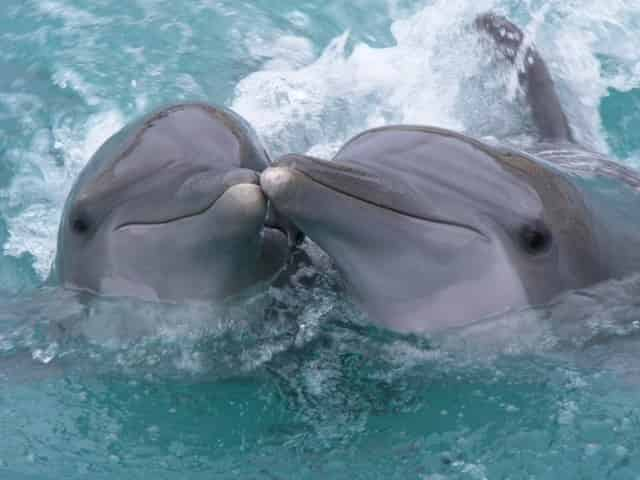 Seeing the local bottlenose dolphins is one of the many essential Gulfport, MS, things to do
A terrific place to learn, play, and explore, the Institute for Marine Mammal Studies offers family-friendly marine fun for the entire gang. Check out the dolphins and sea lions live-and-in-person, or even schedule a meet and greet with the dolphins where kids can feed and touch!
Another great option is the family tour, which allows guests to explore the interactive museum, and encounter a variety of marine wildlife from sharks to crabs and fish. Visitors will also find a shark tooth in the fossil dig to keep as a souvenir!
Jones Park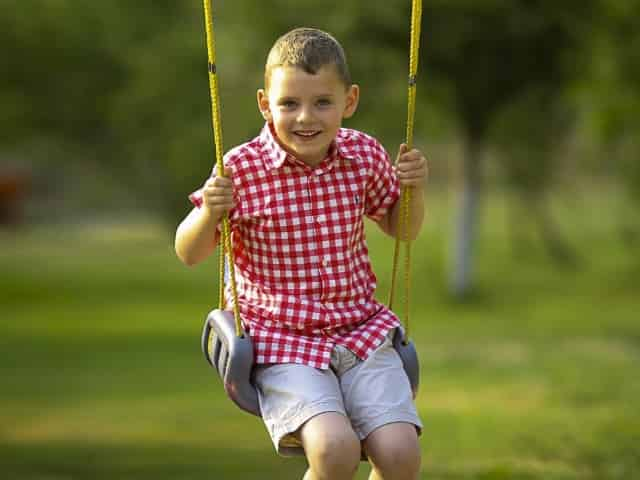 Jones Park is the perfect place for little ones to have some fun in the sun and enjoy the fresh air
Jones Park in Gulfport is a great place to take the kids to play and relax. With a variety of great amenities, Jones Park is a favorite for locals and tourists alike. Check out the replica Lighthouse, or head on over to the beautiful playground for some serious fun and physical activity.
Head down to the water to fish or have a picnic under the shade and comfort of the pavilion. Finally, the kiddos will love the Splash Pad, which is a fountain with a tropical theme. A great way to beat the heat and have some good old fashion family fun!
Busted Wrench Garage Museum
The Busted Wrench Garage Museum if one of the many incredible Gulfport, MS, museums for a fun and informative time
The Busted Wrench Garage Museum is a hot rod of a good time for kids and adults alike. Founded in 2008, the museum is a great chance to see super rare rides of all shapes, styles, and eras.
Admission to this 6,000 square foot facility is always free, and in addition to the cars there are also boats, motorcycles, and even bicycles! Also, don't forget to check out the gift shop for one-of-a-kind hardware, clothing, and toys that the kiddos will love!
Mississippi Coast Model Railroad Museum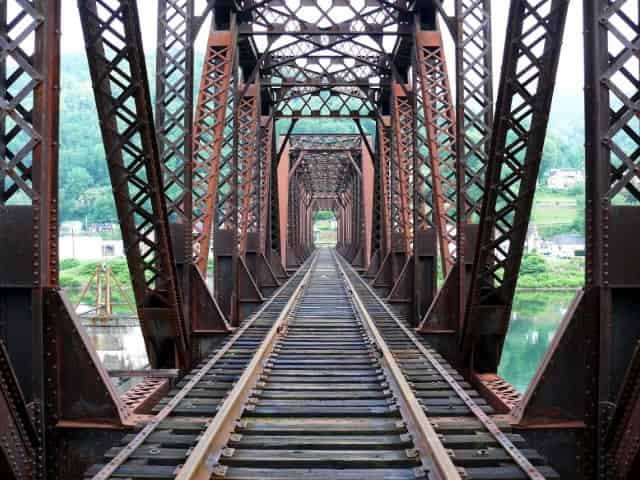 Celebrate trains and transportation at the Mississippi Coast Model Railroad Museum, where entry is always free
All aboard the midnight train to Gulfport, Mississippi! Hop on into the Mississippi Coast Model Railroad Museum and bring the spirit of the American railroad back to life. The museum features huge model railroad scales including the largest LEGO Railroad display in the state.
The Club has a variety of trains for the kiddies to ride on, including a few themed outdoor rides like "Jurassic Park" and "Futurama," as well as a "Thomas the Train" ride for the little ones! 200 years of railroad history means a lot of learning and a lot of fun for all!
World's "Largest Rocker"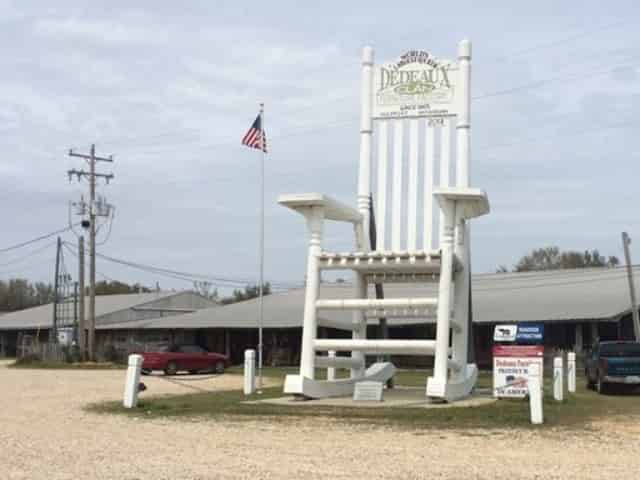 Image from http://www.waymarking.com/
The World's "Largest Rocker" in Gulfport is a fun, roadside attraction fit for the whole family. This 35-foot beast of a porch rocker will rock-er your world (get it? rock-er your world?) when you see it in person.
It's a great place to stop and take fun and silly pictures with the gang. Come on out and see this world-class piece of craftsmanship with the kids so they can tell all the other kids at school that they've seen the giant chair way out there!
Gulfport Little Theatre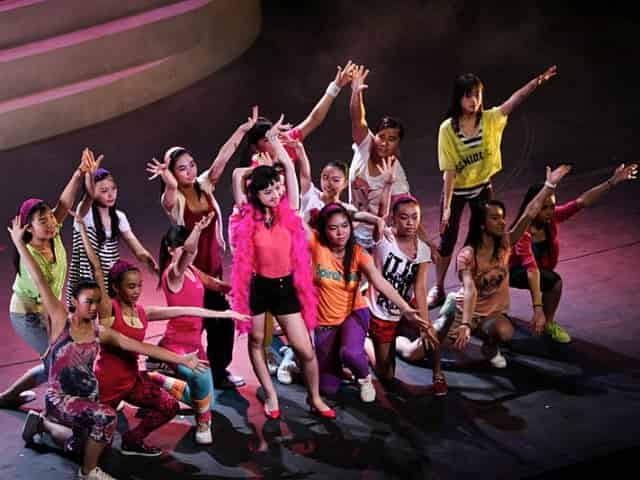 Image from Wikimedia
The Gulfport Little Theatre has been showcasing awesome plays and musicals for 71 years. An extremely diverse variety of shows means there is something for everyone, including your children! In fact, many of the actors and performers are young folks and children. Stop in for a show, enjoy some popcorn, and meet the actors after the play!
Be in the know!
be informed about our latest offers
You can unsubscribe at any time