Your Ultimate Guide to Family Vacation Gulfport MS
Tess Hart
September 14th 2020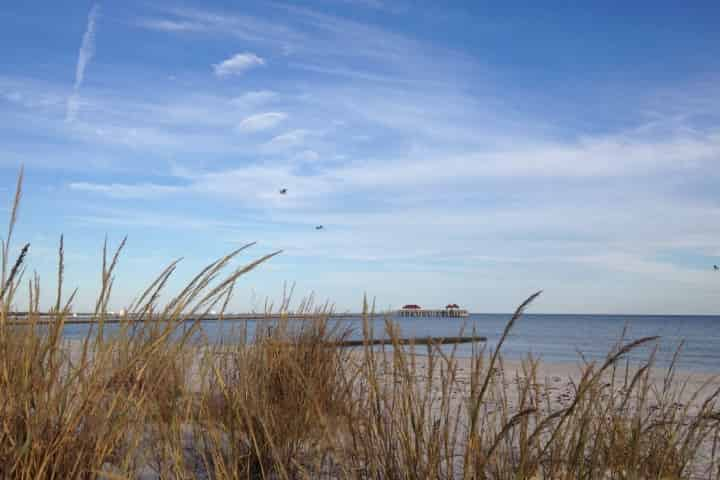 The beach town of Gulfport, MS, has something to offer everyone! After gradually reconstructing the years following Hurricane Katrina, this beautiful city has become better than ever with its gorgeous Gulf Coast views and fun attractions.
If you're looking to plan the best family vacation Gulfport, MS, has to offer, learning about the amazing activities and attractions the area has to offer is crucial, and we're here to help! Check out TripShock's Guide for Family Vacations in Gulfport, MS, below.
Table of Contents
What is There to Do in Gulfport, MS?
Kid Friendly Activities

Lynn Meadows Children's Discovery Center
Gulfport Zip N Fun Adventure Park

Activities for Adults
Rainy Day Things to Do

Escape Rooms
Island View Casino

More Family Vacation Ideas in Gulfport, MS
---
What is There to Do in Gulfport, MS?
Gulfport, MS, is perfect for families, couples, and groups of friends, due to how many activities there are to do. From dolphin cruises to historic tours, you will never run out of attractions for your trip.
One day you can lounge in the sun on the beach, and the next you can be swinging from the trees on a ropes course. Family vacation activities in Gulfport, MS, are truly endless, and you will want to book your returning trip back before your first trip even comes to an end!
Kid Friendly Activities
Families are in luck when traveling to the area, since there are a ton of kid-friendly activities Gulfport, MS! Most attractions welcome kids, but there are also a few meant just for them that you will definitely want to check out! Your family is sure to rave on and on about their trip to Gulfport, MS, after trying some of the many amazing attractions to be found here.
Lynn Meadows Children's Discovery Center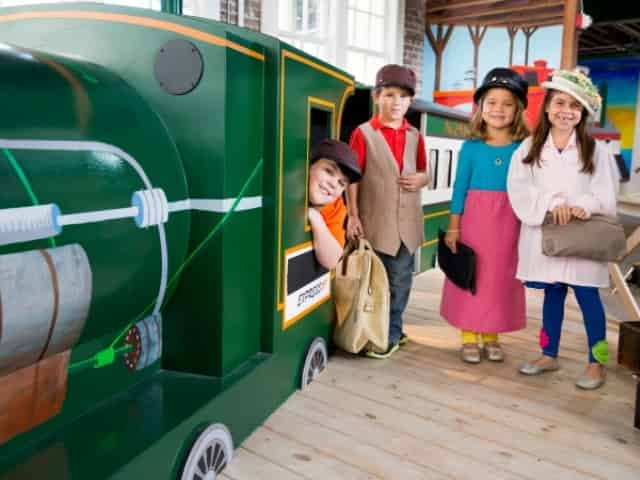 Pictured above is a group of children enjoying the Dolan Avenue Depot, where they can play engineer or passenger of this awesome locomotive
Your kids will love exploring the 15,000 square feet of hands-on exhibits at Lynn Meadows Children's Discovery Center! Your family will get to explore the 1915 schoolhouse where this attraction is housed. Parents can feel great about choosing to take their kids here, since it promotes learning and creativity throughout.
While at the Discovery Center, your kids can board the train at Dolan Avenue Deport, create their own art at the art studio, and learn all about different cultures at the Celebrate the World We Share exhibit. Adults and children alike will love playing in the outdoor music garden, and walking outside in the oak-covered acres.
Gulfport Zip N Fun Adventure Park
Pictured above is a boy doing the ropes course at Zip'N Fun Adventure Park
Sometimes your kids just need to burn off all their extra energy, and the best place to do this out of all of Gulfport, MS, is at the Gulfport Zip N Fun Adventure Park. Here, you can let your kids run wild through 20 different kid-friendly challenges.
Kids must be 60 inches tall or under to participate, and will always be secured in harnesses while monitored by trained staff. You can just kick back and relax while looking forward to the calm evening you can expect after your children tire themselves out at this attraction.
Gulf Islands Waterpark
Chill out and beat the heat at the coolest place in Gulfport! Gulf Islands Waterpark is the place to be for wet and wild fun for the whole family. Have a blast and get soaked on the amazing rides and the longest, wildest slides!
Gulf Islands Waterpark Attractions & Amenities
Summer fun is the name of the game when you visit Gulf Islands Waterpark. Their wild rides, luxurious cabanas, and miles of slides means cool fun in the hot, hot heat. And we're not just talking about the little ones, there is something fun for kids of all ages at Gulf Islands Waterpark!
For example, the Horn Island Blaster is the Gulf Coast's first and only water roller coaster, taking you through 500 feet of twists and drops! In addition to the abundance of classic waterpark action, Gulf Islands also hosts special events like celebrity meet and greets with stars from Nickelodeon and Disney.
Even more, the park has sweet live music sets, sea lion shows, and frisbee dog shows, to boot! Worked up an appetite? Petit Bois Island Cafe serves top-notch eats and cold drinks all day! Relax and kick back under the cabana, if you need it, they have it! With something for everyone, it's easy to see why the waterpark is one of the most popular family-friendly activities in Gulfport.
The Slides, Rides, and Pools of Gulf Islands Waterpark
While you may have decided to go to Gulf Islands Waterpark for some good ole fun in the sun, most will stay for the incredible slides, rides, and pools. When you're zipping and splashing your way down an adrenaline pumping water slide, you'll never want to leave! Be sure to try out these awesome experiences while you're there:
Riptide Racer
Horn Island Blaster
Camille Cutter
Deer Island Express
Cat Island Catapult
Lil' Pelicans Bay
Ship Island Wreck
Lazy Pearl River
Spray St. Louis
Padscagoula
Waveland Wave Pool
After a day full of these awesome and adrenaline pumping rides, it's nearly impossible to wipe the smile from your face, making Gulf Island Waterpark one of the top tourist attractions in Gulfport, MS!
Activities for Adults
With beautiful beach views, Gulfport, MS, is the perfect getaway for adults. This city offers relaxing activities, adventurous excursions, and great nightlife for you to experience on your next vacation. You can truly get the most well-rounded vacation here with plenty of tours, attractions, and day trips and excursions for adults to experience in Gulfport, MS.
Dolphin Cruises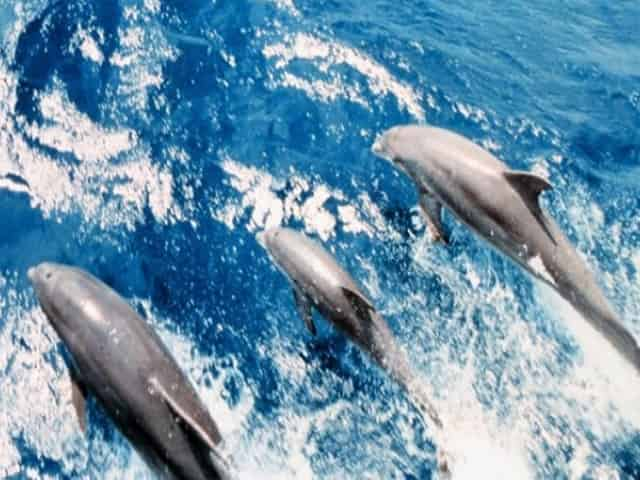 Seeing dolphins in their natural habitat on a Gulfport, MS, dolphin cruise is something the whole family will love
It would be a crime to visit Gulfport and not experience the wonder of a dolphin cruise! Board your boat and get ready to see dolphins swimming all around you. If you are lucky, you may even get to see dolphins play and leap out of the water.
Some dolphin cruises include snacks and drinks, but dolphin sightings are always included, of course. Captains know exactly how to drive and where to look to find as many dolphins as possible, so you are sure to be in for the experience of a lifetime!
Beauvoir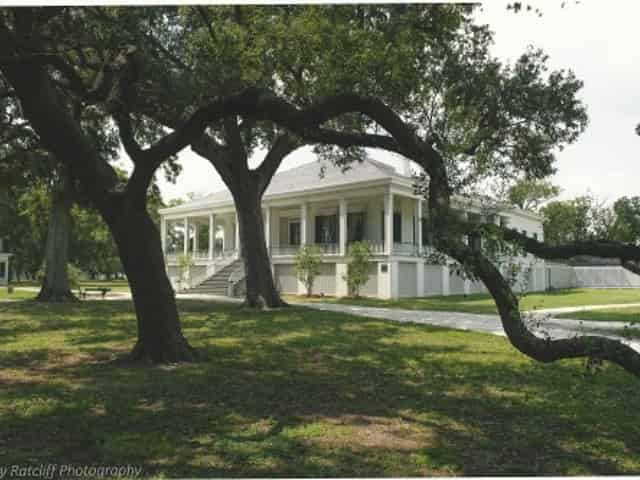 According to a recent Traveler Story, the Jefferson Davis Home & Presidential Library will make you feel as if you've been transported back in time
Travel back in time at Beauvoir while on vacation in Gulfport, MS! You will be guided by a docent, dressed in period-representative clothing, through the presidential library and museum.
While on your tour, you will hear stories about Jefferson Davis and the Confederate Soldier. You will also get to see Oyster Bayou and Beauvoir Memorial Confederate Cemetery. There are self-guided parts of this attraction, as well, for you to explore before or after the guided portion.
Rainy Day Things to Do
You don't have to panic in Gulfport, MS, when you look out your window in the morning and see cloudy skies. There are plenty of indoor attractions to experience in this southern town that will help you quickly forget that you aren't out sunbathing. Plus, everyone needs a break from the sun anyways, right?
Escape Rooms
Test your wits and mystery-solving abilities with your group by booking a Gulfport, MS, escape room! When thinking about how to create the best family vacation activities, an escape room should be at the top of your list for its unique combination of mentally challenging tests and team-oriented puzzles.
The hardest part of an escape room is choosing which theme is best for your group! From top-secret government conspiracies to unlocking the mystery behind a magic ocean relic, you will definitely find the perfect room for your group. You will love the fast-paced environment of an escape room on your next trip!
Island View Casino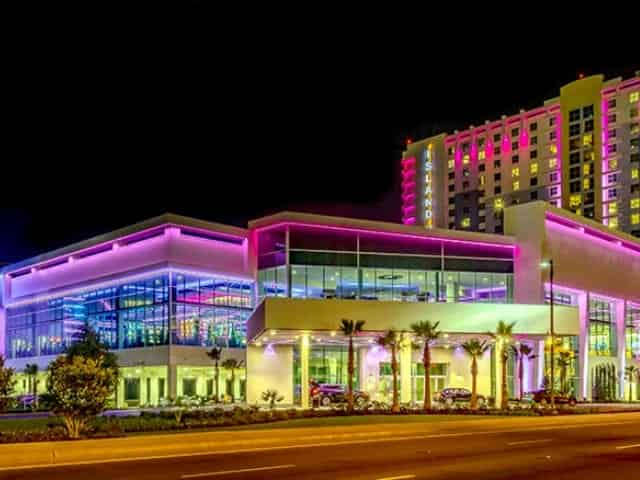 Island View Casino is one of the top casinos in Biloxi. Image from islandviewcasino.com
Feeling lucky? Put that luck to good use at Island View Casino! If you want some adult-only time away from your family vacation, Gulfport, MS, will make you say, "JACKPOT!" Whether you prefer to play the slots or test your skills at one of the many table games, you will want to take a break from the beach to experience this thrilling attraction.
Before your trip, you will want to check out any promotions that Island View Casino may be offering, to keep some more money in your pocket. Make sure to grab a delicious daiquiri before settling in to get the full experience!
---
More Family Vacation Ideas in Gulfport, MS
When it comes to planning an unforgettable family vacation, Gulfport, MS, has you covered! From great dining, to excellent shopping, to beautiful parks, the area has plenty to keep you busy on your next trip.
Booking a vacation to Gulfport, MS, means you are guaranteed to have an amazing vacation! From swimming in the Gulf to learning all about the area at a local museum, you can be sure to have everyone's interests covered.
Be in the know!
be informed about our latest offers
You can unsubscribe at any time