Plantation Tours Near Baton Rouge, LA (Tickets, Photos & More)
Suzanne Bratton
January 2nd 2020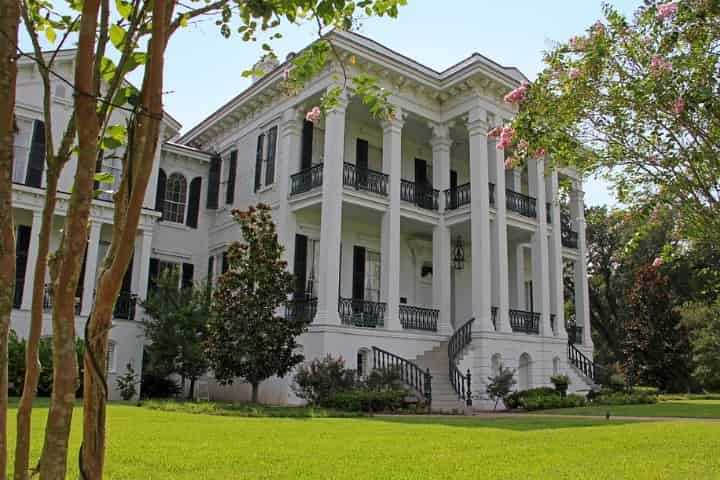 Baton Rouge, Louisiana, is a big, booming city with everything from casinos to college football. As the capital city, there's no shortage of nightlife, shopping, dining, and incredible things to do. Just beyond the city limits, however, is a beautiful countryside that is home to some astonishing and awe-inspiring plantations.
Plantation tours are a great way to understand the local culture, as they provide guests with an in-depth look at the local history, architecture, stories, and more. Discover everything you need to know about Plantation Tours near Baton Rouge, including Tickets, Photos, and More, and make the most out of your next visit to "the Red Stick!"
Table of Contents
Why Take a Plantation Tour?
Top Plantation Tours Near Baton Rouge

Nottoway Plantation
Houmas House
The Myrtles Plantation

Tickets, Transportation, and Additional Information
---
Why Take a Plantation Tour?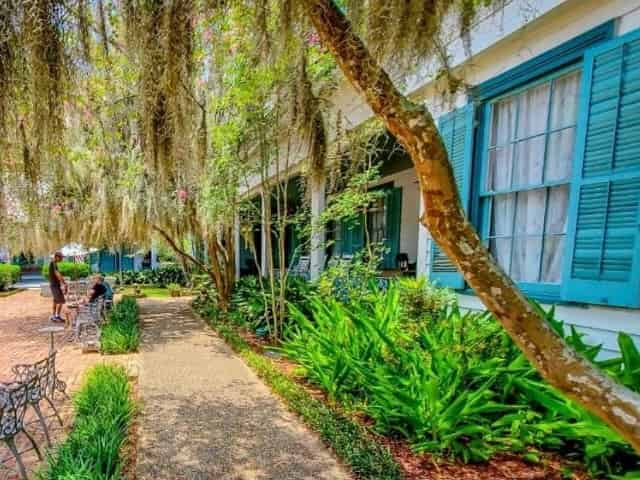 With plantation tour coupons available, visiting a Baton Rouge plantation, like the one pictured above, doesn't have to break the bank
If you're wondering why you should take a plantation tour, let's start with the history. With some Louisiana plantations dating back to the 1700s, the amount of history to be absorbed is out of this world. From the tragic and true stories of slavery, to the thriving sugar cane industry, to the discovery of the area itself, you'll feel as if you've traveled back to another era.
Plantation homes are basically giant, gorgeous time capsules that have stood the test of time. Not only that, the plantations near Baton Rouge are ornate, lavish, and a true reflection of the architectural influence of the past. That, along with the lush, green gardens, will have anyone in awe!
For those non-history buffs out there, Baton Rouge plantations also have a pop culture influence. The sweeping Spanish moss, giant oak trees, and grandiose mansions make plantation country the perfect setting for the silver screen. Check out these popular plantation homes near Baton Rouge that have been featured in film:
Plantation tours near Baton Rouge, LA, have something for every age and interest. From history-lovers discovering the area's past, to walking the same grounds that your favorite celebrities have, there is truly something for everyone!
Top Plantation Tours Near Baton Rouge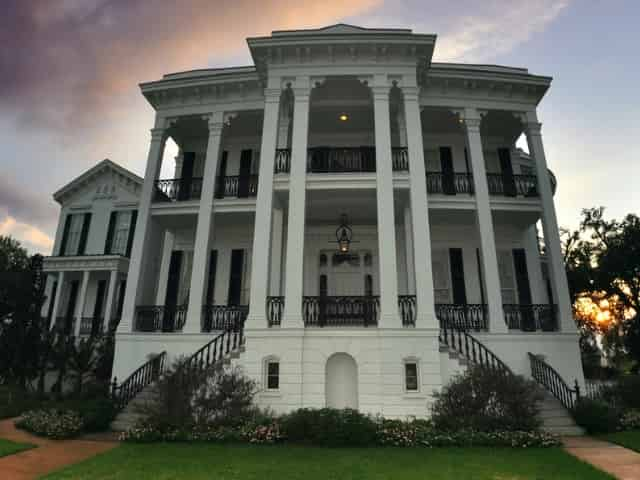 Pictured above is the stunningly beautiful Nottoway Plantation, one of the top plantations to tour near Baton Rouge. Image by Ludovic Bertron via Flickr
Plantation tours come in all shapes and sizes, each with a different story to tell. Choosing the best one to tour can be difficult, however, as they all share a rich history and extraordinary beauty. Luckily, TripShock has compiled a list of the best plantation tours near Baton Rouge, LA, to help narrow your search.
Nottoway Plantation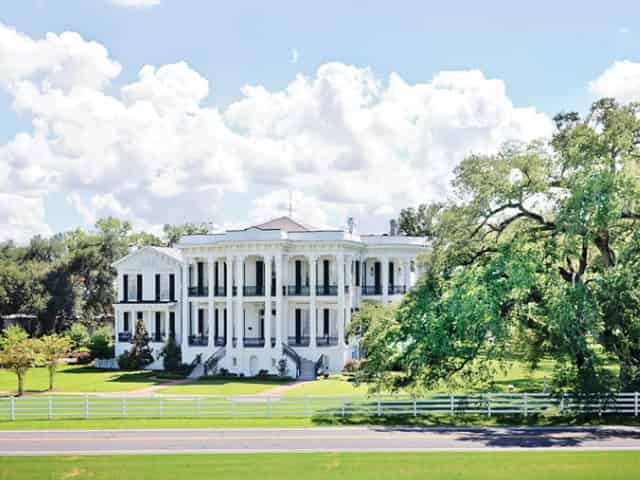 According to a recent TripShock blog, Nottoway Plantation is one of the top ten plantations for history tours
When you first arrive at Nottoway Plantation, you'll immediately be taken aback at the sheer size and astounding beauty of the mansion itself. It is actually the largest surviving Antebellum plantation home in the South! With 64 rooms and 200 windows, this massive manor makes guests feel as if they're visiting an actual castle.
Be sure to take in the jaw-dropping white ballroom as you tour the mansion with a costumed guide, learning about the home's rich history and architecture. Listed on the National Register of Historic Places, Nottoway Plantation was completed in 1859 and survived the Civil War! With so much history to take in, it's easy to see why so many people love touring Nottoway Plantation.
Nottoway Plantation is about 20 miles from Baton Rouge, and makes for a perfect day trip away from the city. Lunch is available for an additional fee in the Mansion Restaurant from 11:00am until 2:00pm, so you can fuel up and spend the afternoon in Louisiana's beautiful countryside! Other inclusions that come with your Nottoway Plantation tour are:
Admission to the mansion and grounds
Guided or audio tour of the plantation (audio tours are available in English, French, and German)
Self-guided tour of Nottoway Plantation's grounds
With multiple options to choose from, Nottoway Plantation has the perfect tour for every type of traveler! Just don't forget to bring a camera, so you can take a photo of some of history's finest architecture from the past.
Address: 31025 LA-1, White Castle, LA 70788
Phone: 225-545-2730
Houmas House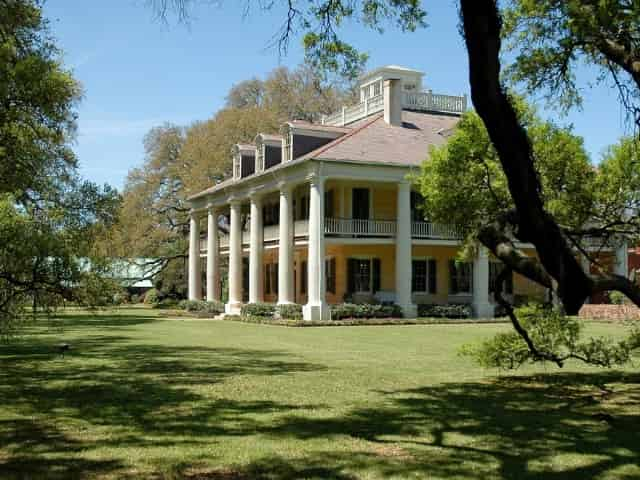 According to a recent TripShock blog, Houmas House is one of the top 5 plantations to visit for astonishing views
You'll know why Houmas House is called the, "Crown Jewel of Louisiana's River Road," once you see this lavish estate. Inside the home there's 16 massive and marvelous rooms, beautiful antique furniture, period art, and so much more. Outside, visitors can stroll through 38 acres of well-manicured gardens.
Just 30 miles from Baton Rouge, Houmas House is the perfect plantation tour near Baton Rouge to take if you're interested in witnessing a piece of the ostentatious lifestyle the local sugar barons were accustomed to. Sugar was king in the 1800s, and those who took advantage of the fertile soil of the Mississippi River definitely reaped the benefits.
History and beauty aside, one of the best parts about visiting Houmas House, believe it or not, is the food! Consistently ranking as one of the best plantations for dining, Houmas House is home to some incredible restaurants from casual to fine dining, serving breakfast, lunch, and dinner. The restaurants of Houmas House include:
Latil's Landing Restaurant
The Carriage House Restaurant
Café Burnside
The Turtle Bar
The Wine Cellars of Houmas House
And it's more than just delicious food, it's an experience. You'll feel as if you've been transported to the 1830s as you dine on exact replicas of the original china used by General Wade Hampton.
Reservations are recommended for Latil's Landing and The Carriage House Restaurant.
Address: 40136 LA-942, Darrow, LA 70725
Phone: 504-488-1177
The Myrtles Plantation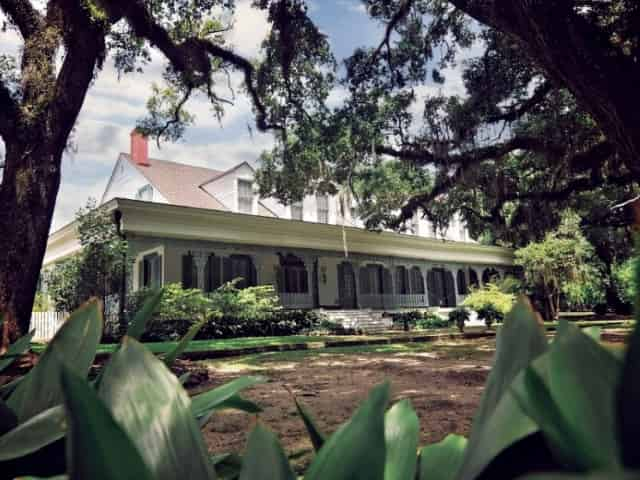 The Myrtles Plantation, pictured above, is considered to be one of America's most haunted houses
Just over 30 miles away from Baton Rouge is the magnificent and mysterious Myrtles Plantation! This plantation was built in 1796 as a refuge for General David Bradford, who was forced to flee George Washington's army after his role in the Whisky Rebellion. Restored to its former glory, the Myrtles Plantation boasts not only historic value, but also stunning furnishings, architecture, stained glass, chandeliers, and more!
Surprisingly enough, the history and charm of this majestic plantation home isn't its main attraction. The Myrtles Plantation has been dubbed as "one of America's most haunted homes," and is allegedly home to at least a dozen ghosts. Featured on Travel Channel and National Geographic, this plantation is known across the globe for it's history and hauntings. Common occurrences witnessed by guests visiting the plantation include:
Hearing footsteps on the stairs
Hearing children laughing and playing
Witnessing the grand piano play on its own
Capturing apparitions in photographs
The Myrtles Plantation is a spectacular and spook-tacular place to visit! Stay the night in the plantation's bed and breakfast, if you dare, or enjoy the Myrtles Plantation's daily mystery tour for an unforgettable ghostly encounter!
Address: 7747 US-61, St Francisville, LA 70775
Phone: 225-635-6277
Tickets, Transportation, and Additional Information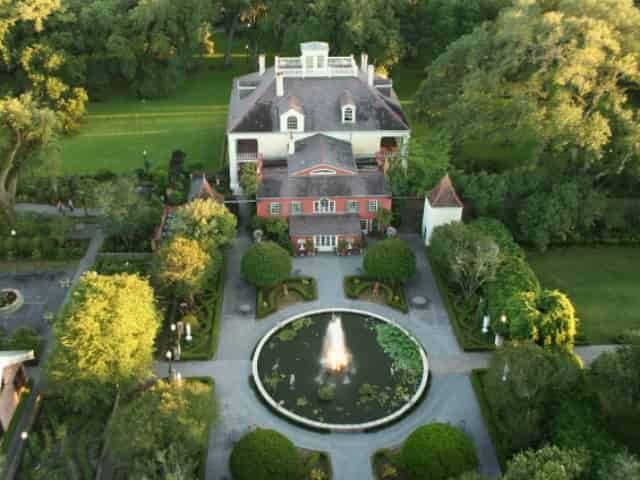 Plantation tour tickets include a tour of the plantation home, and the gorgeous gardens that surround it. Houmas House, pictured above, is known for its luscious landscapes
When purchasing your Baton Rouge plantation tour tickets, it is stronly recommended to read the restrictions and cancellation policy carefully before booking. Due to the age and historic nature of the plantation homes, some or all parts of the tour may not be handicap accessible. If you or anyone in your group has any accessibility needs, it is recommended to let you reservations agent know at time of booking, so they can assist in finding the best tour for you.
There will typically be a moderate amount of walking when touring plantations, as well. Aside from the home itself, you will want to make time to check out the gorgeous gardens, which will require a bit of walking. It is also encouraged to wear closed-toed shoes and dress appropriately, as most tours will operate rain or shine.
The last important thing to consider is transportation. It is recommended to allow yourself enough time to get to the plantation and arrive about 30 minutes before your scheduled tour time. Most plantations are about 30-45 minutes from Baton Rouge, depending on traffic.
Most plantation tours near Baton Rouge do not include transportation, so it is also important to secure a ride before booking your tickets. There are also no taxis or ride sharing services available in this area to take travelers back to New Orleans or Baton Rouge, so you will want to bring your own vehicle. In most situations, free parking is available on-site.
---
Plantation tours near Baton Rouge, LA, are a must when visiting the area. From the rich history, to the stunning architecture, to the ghosts of plantations past, there is something for everyone when visiting one of these massive mansions. Whichever plantation you decide to tour, you're sure to walk away more informed, and with a deeper connection and understanding of the past events that made this area what it is today.
Baton Rouge News
Keeping you informed
Be in the know!
be informed about our latest offers
You can unsubscribe at any time