10 Best Plantations in New Orleans for History Tours
Mike Fisher
July 29th 2020
Oh, sweet New Orleans, how we love you so! Beyond the French Quarter, the famous restaurants, and great parties, the Big Easy is also home to some of the most spectacular and historic real estate in the nation. Indeed, the best plantations in New Orleans for history are several. Oak trees, unique craftsman architecture, and a rich past make these plantations a must see for anyone visiting the city.
Not sure which plantation to choose? No worries, we here at TripShock have put together the 10 Best Plantations in New Orleans for History Tours! Choose one or more of the following New Orleans plantations for an unforgettable trip.
Once you figure out which plantation tour you want to try on your next trip to New Orleans, use the promo code PLANT13 to save 10% on dozens of plantation tours featured on TripShock.com, including some featured in this blog!
Table of Contents
10 Best Plantations in New Orleans for History Tours

Laura Plantation
Oak Alley Plantation
Houmas House
San Francisco Plantation
St. Joseph Plantation
Destrehan Plantation
Whitney Plantation
Nottoway Plantation
Ormond Plantation
Bocage Plantation

Why Take a New Orleans Plantation History Tour?

History
Nature
Art and Design
Food
Pop Culture
---
10 Best Plantations in New Orleans for History Tours
Now that you know why taking a plantation tour is a must, the next step is to decide which plantation to tour. With so many beautiful homes to explore, it can be overwhelming trying to choose which one is best for you and your group. We've put together a list of the top 10 best plantations in New Orleans for history tours for your convenience, so you can take in all the history, architecture, landscape, and everything else this beautiful countryside has to offer.
1. Laura Plantation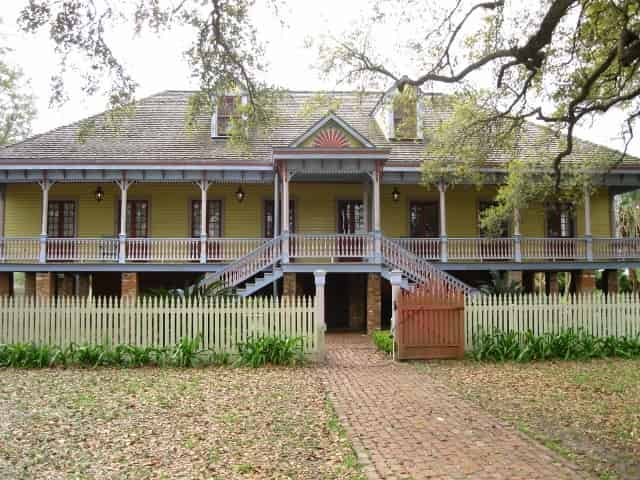 The Laura Plantation Big House contains antiques, artwork, and a maze of intricately decorated rooms
Laura Plantation is named after it's owner, Laura Locoul, who lived to almost 100 years old! Originally purchased by Laura's family in 1804, this over 200-year-old sugar plantation boasts 3 spectacular gardens, an eye-popping paint job, and beautiful architectural accents.
According to the official site of the plantation, https://www.lauraplantation.com/discover/the-plantation, Laura Plantation was originally called l'Habitation Duparc until founder, Guillaume Duparc, renamed the property Laura Plantation. At one time, the sugar farm was an absolutely massive property spanning 12,000 acres. Nowadays, Laura Plantation is approximately 37 acres and includes original slave quarters, tools, and the Big House plantation home.
2. Oak Alley Plantation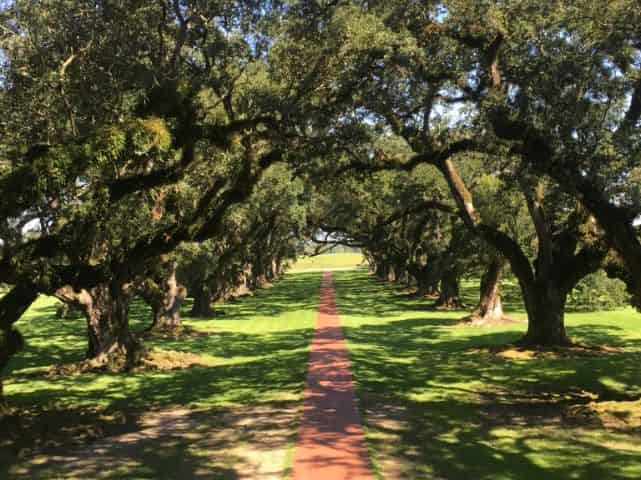 This photo of the oaks at Oak Alley Plantation was taken by a traveler - Read About Their Experience at Oak Alley
The Old South comes alive at Oak Alley Plantation. Upon entering scenic Oak Alley Plantation, visitors can see why the historic mansion has been the backdrop to major TV shows and blockbuster films. Perhaps one of the most iconic landscapes in America, the Oak Alley Plantation features 28 towering oak trees that greet guests in the most grandiose of ways!
Continue towards the massive home with views of extravagantly vibrant shrubbery and other-worldly cypress trees in the distance. The home itself is packed-full of history, with an on-site snack bar and ice cream parlor.
This plantation was also home to a famous slave named Antoine, who was a master of grafting. His skill and experimentation produced a pecan species whose nut was able to be cracked by hand!
Many of the incredible features of Oak Alley like the luxurious home, striking entrance, and hauntingly beautiful grounds, made the property the perfect setting for some of your favorite films and TV shows. If you want to find out which films Oak Alley and other plantations in New Orleans have appeared in, check out our blog highlighting the most popular plantations featured in film.
3. Houmas House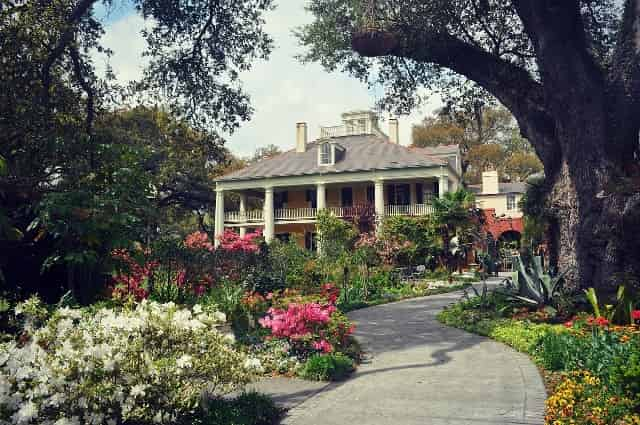 Houmas House's vibrant gardens surrounding the home mesmerize travelers world-wide
38 acres of lush garden make Houmas House Plantation a favorite for wedding celebrations and special events! Plants are re-planted as seasons change, maintaining vibrant grounds that will leave visitors in awe.
Once an estate that reached over 1,000 acres, Houmas House Plantation is not quite as large as it once was, but with consistent restorations throughout a 200-year history, guests can rest assured that the mansion and surrounding greens, gardens, and structures are still as lovely as they were at conception. The grounds are fully equipped with some of the most valuable, highly sought after pieces of art and antiques in America.
This picturesque plantation was named after the Houma people, a Native American civilization that inhabited New Orleans Plantation Country leading up to the 19th century (cdn.lov.gov). Several notable historic events took place at Houmas including the duel of Daniel Clark and Governor William C. C. Claiborne in 1807.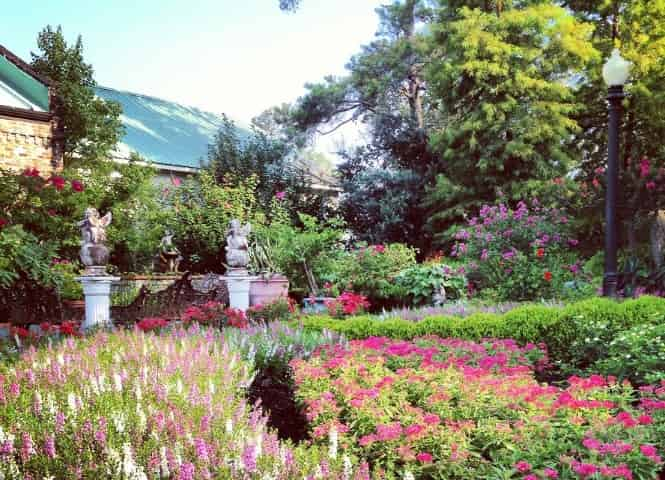 The flowers and plants seen on a Houmas House guided tour
Touring Houmas House and its beautiful gardens takes sightseers through the home, structures, and surrounding property offering stunning views of New Orleans Plantation Countryside. Top rated on-site restaurants including the fine dining "Latil's Landing," and the low-key "Cafe Burnside" only add to the reasons why Houmas House Plantation is definitely one of the top plantations to visit in New Orleans for history and more!
4. San Francisco Plantation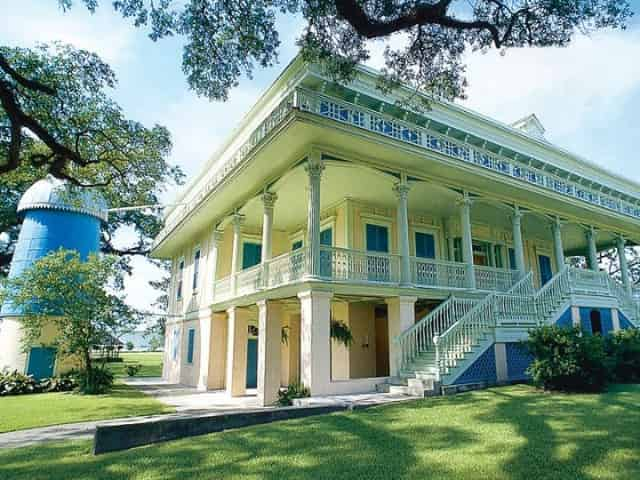 San Francisco's multiple levels paired with stark blues and whites resemble a wedding cake
Venture into the most eclectic Plantation Country mansion of them all at San Francisco Plantation! San Francisco Plantation will amaze you with it's opulent gingerbread work and hand-painted ceilings. See ornate and historic on-site architecture, buildings, and decor featuring an extravagant fountain fish-tank. In fact, the plantation is so stunning it inspired famous author Frances Parkinson Keyes to pen her Mississippi River novel "Steamboat Gothic."
Tours of San Francisco Plantation, otherwise known as the "Grand Mansion," take you through the estate including the well-kept grounds, home to hundreds of weddings, festivals, and special events every year! Tours of San Francisco also include costumed guides, preserved slave quarters, and a collection of antiques, tools, and furniture from the days when sugar was king.
5. St. Joseph Plantation
St. Joseph Plantation is revered for its large white pillars seen from both the front and the back
Birthplace to the famous 19th century architect H. H. Richardson, St. Joseph Plantation is 2,500 acres of historical magic and natural beauty. The grounds include original slave cabins, a detached kitchen, artisan shops, and even a schoolhouse!
Guests can enjoy a tour of this historic site with a member of the family as they guide you through the mansion and surrounding areas. Tours of St. Joseph Plantation delve into not only the history of the home and property, but also South Louisiana's sugarcane industry.
6. Destrehan Plantation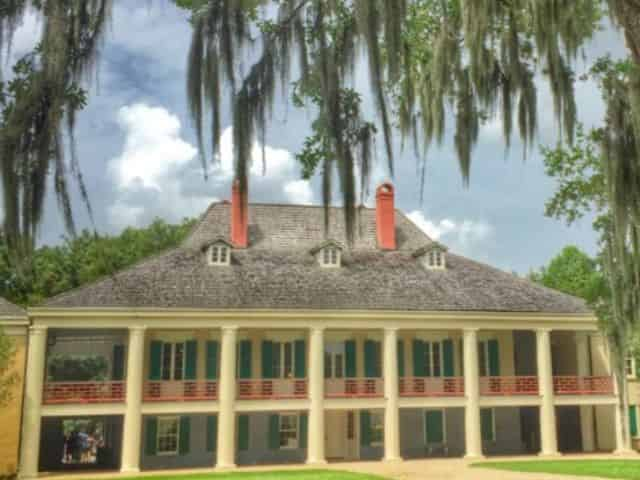 Destrehan Plantation is the closest to New Orleans, LA
When choosing a New Orleans plantation history tour, Destrehan Plantation should definitely make the list! The grounds are stacked with historic buildings and moss-covered oaks playing up the antiquated atmosphere of the estate. The infamous landmark has seen its share of legendary guests including the pirate Jean Lafitte, and more recently Brad Pitt and Tom Cruise during the filming of "Interview With a Vampire: The Vampire Chronicles."
Located on the historic River Road, Destrehan Plantation dates back to 1787. The Destrehan's sugar plantation was hugely successful and one of the contributing factors to Louisiana Statehood. In fact, the property is home to Orleans Territory Council documents signed by then President Thomas Jefferson and Secretary of State James Madison!
If you're looking for a quick trip to Plantation Country from New Orleans, Destrehan is located only about 30 minutes from the city of New Orleans by automobile. This close proximity makes Destrehan Plantation the closest plantation to New Orleans hotels, condos, airBNB's, and attractions.
This restored slave cabin is one of many found at Destrehan Plantation
Tours of this lush green plantation, its moss-draped live Oaks, and mystical surrounding waters make Destrehan a prime destination for not only plantation tours, but swamp tours too! Visit nearby swamps to see gators, snakes, and ancient landscapes during your trip out to Destrehan.
7. Whitney Plantation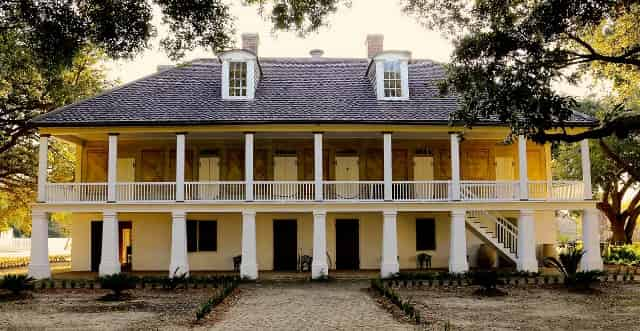 Whitney Plantation is one of the most famous River Road Plantations
Whitney is one of the best plantations in New Orleans for history with it's in-depth looks at slavery on Louisiana sugar plantations. Both eye-opening and emotional, this River Road plantation features multiple museum exhibits, memorial artwork, and narratives written by the slaves themselves.
If you are searching for a plantation tour highlighting the days of slavery, Whitney may just be your #1 choice. Whitney Plantation is the first U.S. museum dedicated to the history of slavery (nola.com). The Whitney tour shows heart-wrenching devices including cages and chains, shining a spotlight on the conditions in which slaves survived.
8. Nottoway Plantation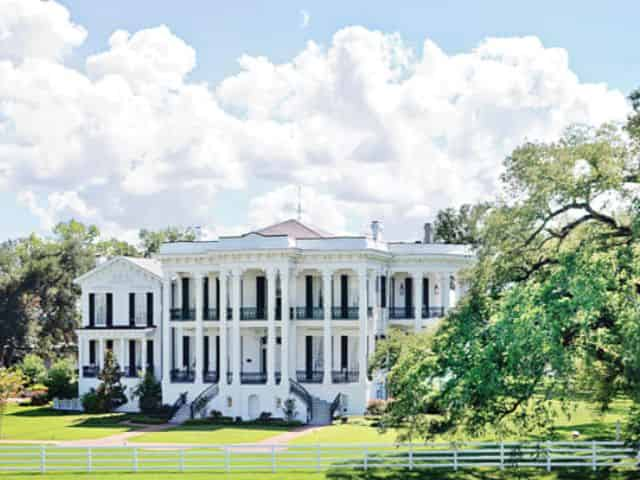 The ornate estate of Nottoway Plantation
Come experience the South's largest antebellum home at Nottoway! This Greek and Italianate style "White Castle" was completed in 1859 and features 53,000 square feet and 64 rooms. The construction of Nottoway was funded by John Hampden Randolph, a sugar planter, who sought to build the finest mansion on the Mississippi River.
Like many plantations, it changed hands multiple times between then and now. This grandiose mansion survived the Civil War, as well as several other historic events, but nevertheless still stands to this day!
9. Ormond Plantation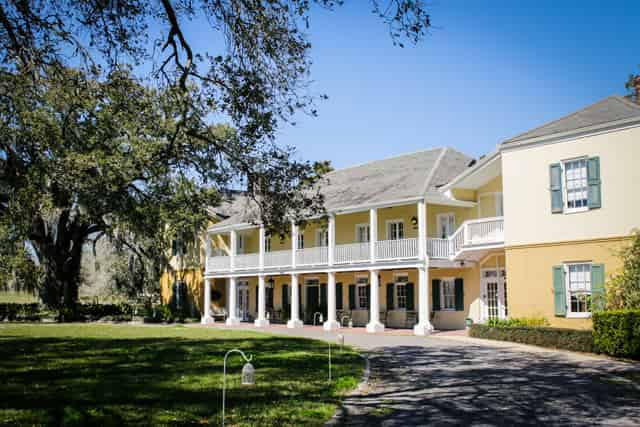 Image from neworleans.com
U.S. Army Colonel Richard Butler bought this fantastic plantation home from its original owner in 1805 and named it "Ormond" after his ancestral Castle Ormonde in Ireland. Originally built in the late 1700's, Ormond Plantation is surrounded by a grove of mossy Cypress and Oak trees. Today, it plays host to a variety of historic tours, weddings, and special events.
10. Bocage Plantation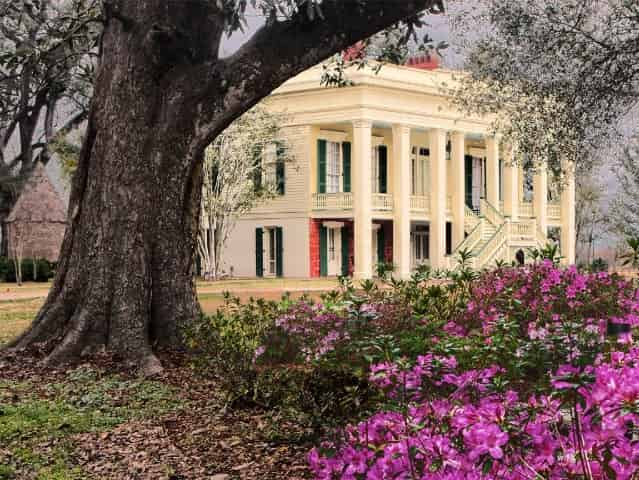 Bocage Plantation estate - image courtesy of Bocage Plantation Facebook
Bocage Plantation was originally a wedding gift from planter Marius Pons Bringier to his daughter, Francoise Bringierin 1801. She was only 14 years old at the time! Bringier married Frenchman Chrisophe Colomb, who claimed to be a relative to Christopher Columbus. The home underwent a marvelous Creole-esque renovation project in 1837, and it's beauty continues to shine bright to this very day.
This stunning plantation has gone through many transitions over the years. From family estate, to attraction, to event venue, the future is still uncertain for Bocage. As of October 2019, Bocage Plantation is listed as closed and for sale according to multiple travel and real estate sources.
---
Why Take a New Orleans Plantation History Tour?
When it comes to visiting some of Louisiana's incredible plantations, the first thing that comes to mind for most is history. With hundreds of years of history under their belts, plantation homes have an immeasurable amount of stories to tell.
The great thing about this, though, is that when visiting a plantation in New Orleans for history, you're getting so much more than just historical facts and narration. Keep reading and discover a few of the many reasons why visiting a plantation is a must when in New Orleans!
1. History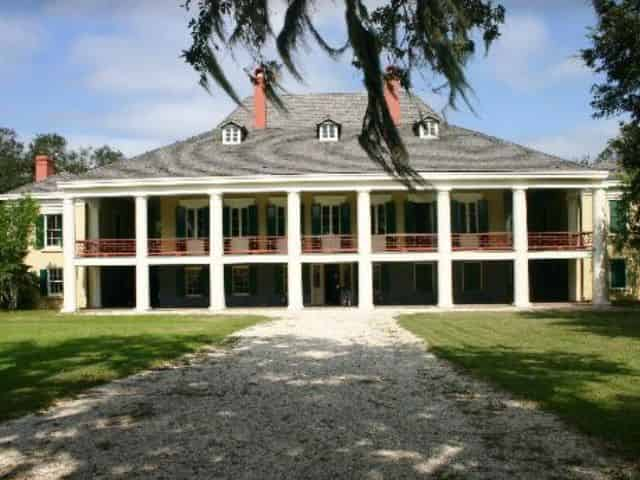 Pictured above is Destrehan Plantation, one of the oldest plantations in the country
From slave labor to rumored pirate treasure, history is everywhere in New Orleans Plantation Country! Destrehan Plantation, for example, was established in 1787, and remains the oldest plantation home in the South.
Ancient structures, including restored slave quarters, are on display at many plantations, with history buffs demonstrating the use of old-world tools and comforts. Experienced guides will let guests in on secrets not heard anywhere else, like the creation of the "Br'er Rabbit" folktales, and the signing of the 1804 "Jefferson Document."
2. Nature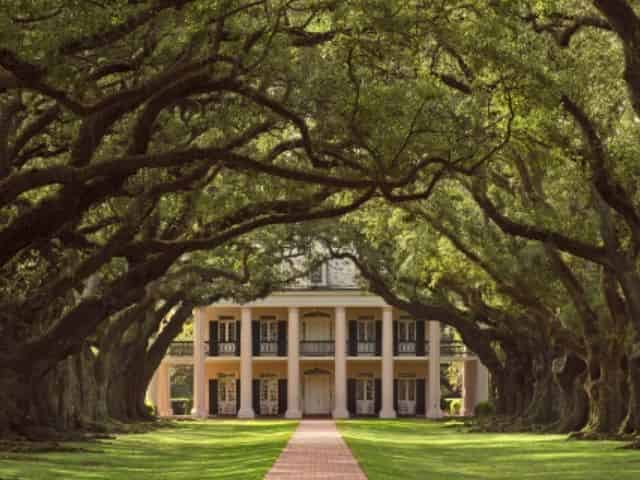 Pictured above is Oak Alley Plantation, one of the best plantations to visit for incredible landscape and scenic views
Plantation Country was built along ancient swamplands, further adding to the region's captivating allure. Exotic Gulf Coast wildlife including birds, reptiles, and unusual mammals, make for fascinating sights in the swamps and forests.
Plantation grounds contain some of the most well-manicured gardens and grounds in the country. Named for the 28 hulking Oak trees leading to the entrance, Oak Alley Plantation is a shining example of Plantation Country's elegant touch.
3. Art and Design
The bright colors and beautiful art at San Francisco Plantation make it one of the most stunningly scenic views in all of Plantation Country
Grand buildings and structures define plantation home architecture and design. Once the homes of the country's wealthiest and most influential residents, New Orleans plantations feature plans laid out by famous architects such as Joseph Pilié, the man that helped design many of New Orleans' original levees, wharves, and buildings.
Antiques and artwork line the floors and walls of Plantation Country houses. Priceless artifacts are found around every corner, turning each historic mansion into a glamorous museum.
4. Food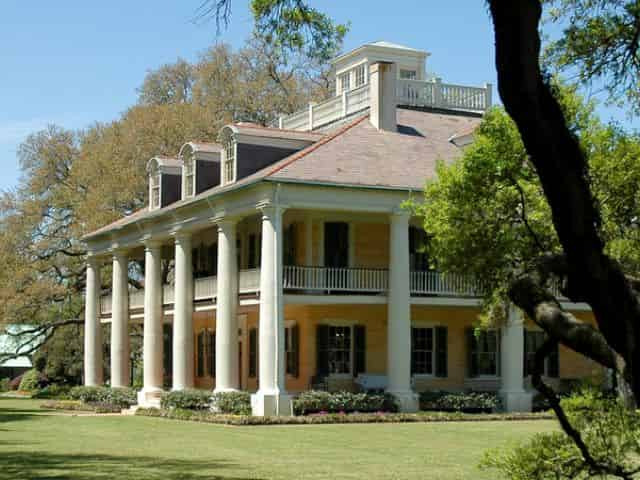 The grounds at Houmas House are just as delicious as their buffet
Creole and cajun cuisine is an exceptional blend of French and American culture that is unique to Louisiana. You can find great Cajun and creole recipe books online or in bookstores, or just head to the source and get it prepared fresh!
Many New Orleans plantations offer on-site dining. From snack bars, to Houmas House's "Latil's Landing," voted a "Top 20 Restaurant in America," you are sure to find delicious Creole and Cajun food while visiting Plantation Country! Enjoy classic Louisiana recipes in the form of Crawfish Etouffee or a Sazerac Cocktail while taking in Houmas Plantation sights.
5. Pop Culture
Evergreen Plantation is one of the most intact plantations, with 37 buildings on the National Register of Historic Places, including 22 slave cabins
Some of the greatest pieces of art and entertainment in the past century have taken place at New Orleans' brilliant plantations! Even into the 21st century, such Hollywood hits as Django Unchained (Evergreen Plantation), and 12 Years a Slave (Destrehan Plantation), were filmed in Plantation Country.
Most recently, season 1 of the TV hit True Detective took place at locations throughout the area, including shots of scenic plantation grounds. Many of the shows and movies filmed at plantations including Django and True Detective can be rented or bought on Amazon Prime Video for home streaming.
No matter the reason for your visit, plantation homes and their grounds are a sight to be seen! Whether it's the history or the sheer beauty of the plantation that draws you in, you'll be happy you decided to take a day trip from New Orleans to the magnificent Louisiana countryside!
New Orleans Plantation Country is home to 10 of the country's oldest, largest, and most beautifully designed homes! Dating back over 200 years, New Orleans plantation homes are designated historical landmarks by the U.S. government. All ages love the allure of these magnificent estates, making Plantation Country a top vacation destination year-round.
Be in the know!
be informed about our latest offers
You can unsubscribe at any time