Closest Plantation Home To New Orleans - How To Book A Tour
Mike Fisher
September 4th 2020
New Orleans, Louisiana: When visiting the Big Easy, you might notice pictures or paintings of beautiful antebellum plantation homes covering the walls of local hotels and businesses. You may also have asked yourself how special it would be to visit these historical landmarks and snap the perfect Instagram photo of you and yours.
Luckily, these fantastic, historic estates are not far from downtown. In fact, the closest plantation home to New Orleans is only a mere 30 minute drive from the city. You can drive yourself, rent a car, or better yet, book a plantation tour with a local operator that will arrange the transportation and tour. Keep reading to discover the Closest Plantation Home to New Orleans and How to Book a Tour.
Table of Contents
Closest Plantation Home To New Orleans
Other Popular Plantation Homes Close to New Orleans

Whitney Plantation
Laura Plantation
Oak Alley Plantation

Different Types of Plantation Tours
How to Book a Tour
What to Know Before you Go

Traffic
Transportation
Weather
Accessibility
---
Closest Plantation Home To New Orleans
Destrehan Plantation is only about 30 minutes away by car, making it the closest plantation home to New Orleans. It is also the oldest documented French Colonial-style home in the lower Mississippi Valley!
Destrehan Plantation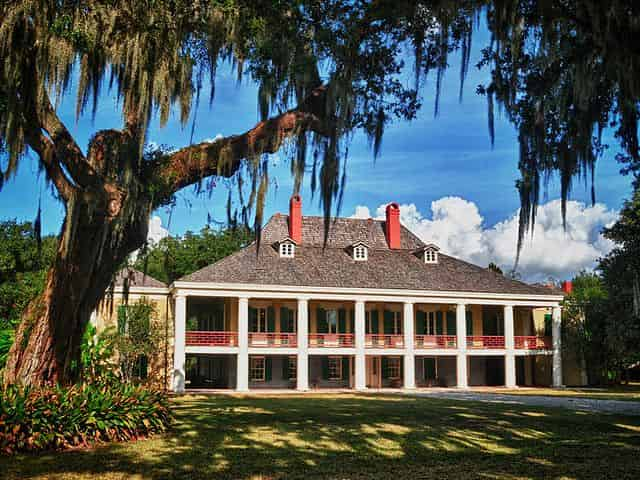 Image of Destrehan Plantation by OzarksRazorback via Wikimedia
Founded in 1787, this majestic antebellum plantation watches over the banks of the Mississippi River along the famed River Road. Step on site and costumed docents will interest and educate you with tales of the Destrehan family's sugar dynasty, historic events that occurred on the site, and the unique architectural features of the building itself.
In addition to being convenient to get to, Destrehan Plantation is also one of the best plantation tours for history buffs. In fact, Destrehan's massive sugar agribusiness played a role in Louisiana being adopted as a state. Step inside the mansion and you can even see original Orleans Territory documents signed by former Presidents Thomas Jefferson and James Madison (who served as Secretary of State at the time) up close in person!
Another reason to visit Destrehan Plantation is to see the reenactments and demonstrations from the costumed artisans. Such displays give an insight and appreciation for artisans like shoemakers, clothiers, and blacksmiths, and their important place in the local barter economies from centuries ago.
Other Popular Plantation Homes Close to New Orleans
While it's hard to top the mere 30-minute drive to Destrehan from the French Quarter, the next closest plantations are still only about an hour away. If you're up for the drive, then fasten your seatbelts and prepare for gorgeous and grand sights and incredible history!
Whitney Plantation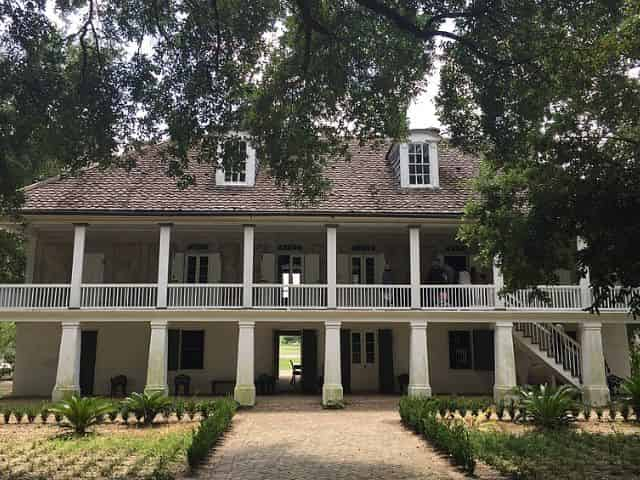 Image of a group touring Whitney Plantation by Bill Leiser via Wikimedia
Whitney Plantation is about 50 miles from the French Quarter, and it should take just less than an hour to get there, depending on traffic and road conditions; and it's definitely worth the drive!
Whitney Plantation is the only plantation museum in Louisiana whose tours mainly focus is on the lives of the enslaved. The plantation was established in 1752, and with original slave cabins still on the grounds, there is a massive amount of history to absorb once there. Besides the slave cabins, other slave artifacts you will see there include:
Slave Compounds
A Church
Carriage House
Blacksmith Shop
Through these museum exhibits, memorial artwork, and first-person slave narratives, visitors to Whitney Plantation will better understand the harsh and brutal reality of slavery in America.
Laura Plantation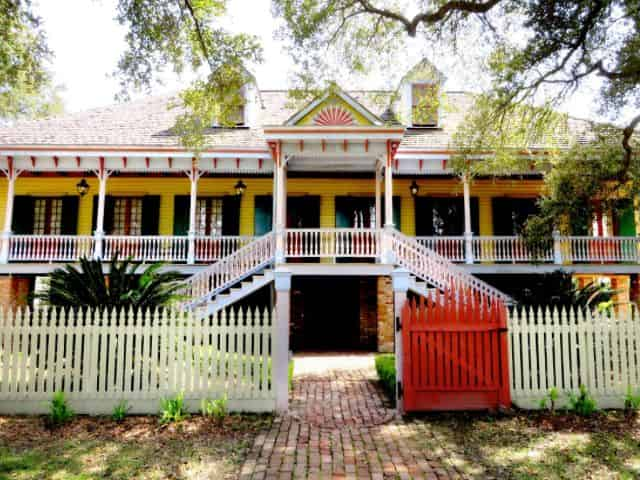 Seeing this beauty up-close-and-personal will take you about an hour via car from the French Quarter, depending on traffic
As described in a recent traveler story, when you arrive at Laura Plantation, you're greeted with a bright and beautiful facade! This cheery welcome on its own makes the hour-long drive totally worth it! This plantation home, however, is so much more than just a beautiful building.
Laura Plantation has been called "the best history tour in the U.S." boasting 11 sites on the estate listed on the National Register of Historic Places. If that wasn't enough, there are also 5,000 pages of historical documents detailing over 250 years of life at the plantation. This means that even the most knowledgeable connoisseurs of history in your group may learn something new!
Oak Alley Plantation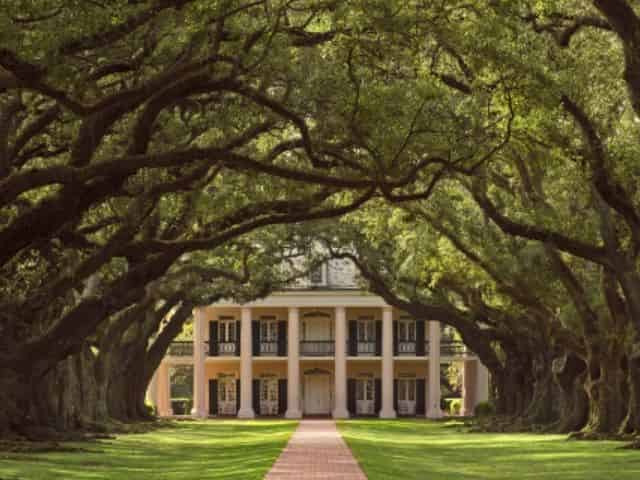 Oak Alley Plantation is just a little bit further away than Laura, taking just a little over an hour to get there from the French Quarter, pending traffic
Delivering some serious charm and history, Oak Alley is one of the most popular New Orleans plantations featured in film. One of the most iconic and beautiful landscapes in the South, the pathway is flanked by a quarter-mile of near perfectly-aligned Oak trees like something you might only see in a fairytale.
Apart from its fantastic landscape architecture, Oak Alley Plantation was also home to Antoine, one of the most famous and industrious slaves of all time. Antoine was a master grafter of plant species, and through his trials and tribulations he eventually produced a brand of Pecan trees that bore a nut with a shell so brittle and soft that it was able to be cracked by hand! From the sugarcane agribusiness and stories of the four women who ran it, to the powerful tours of slave quarters on site, visiting Oak Alley is an absolute must for your next trip to New Orleans!
Different Types of Plantation Tours
Besides choosing which plantation you want to tour, you will also have to decide how you want to tour it! With so many options including self-guided and guided tours, you get to decide how you want to experience these plantations. Below are the most common ways to tour New Orleans Plantation Country: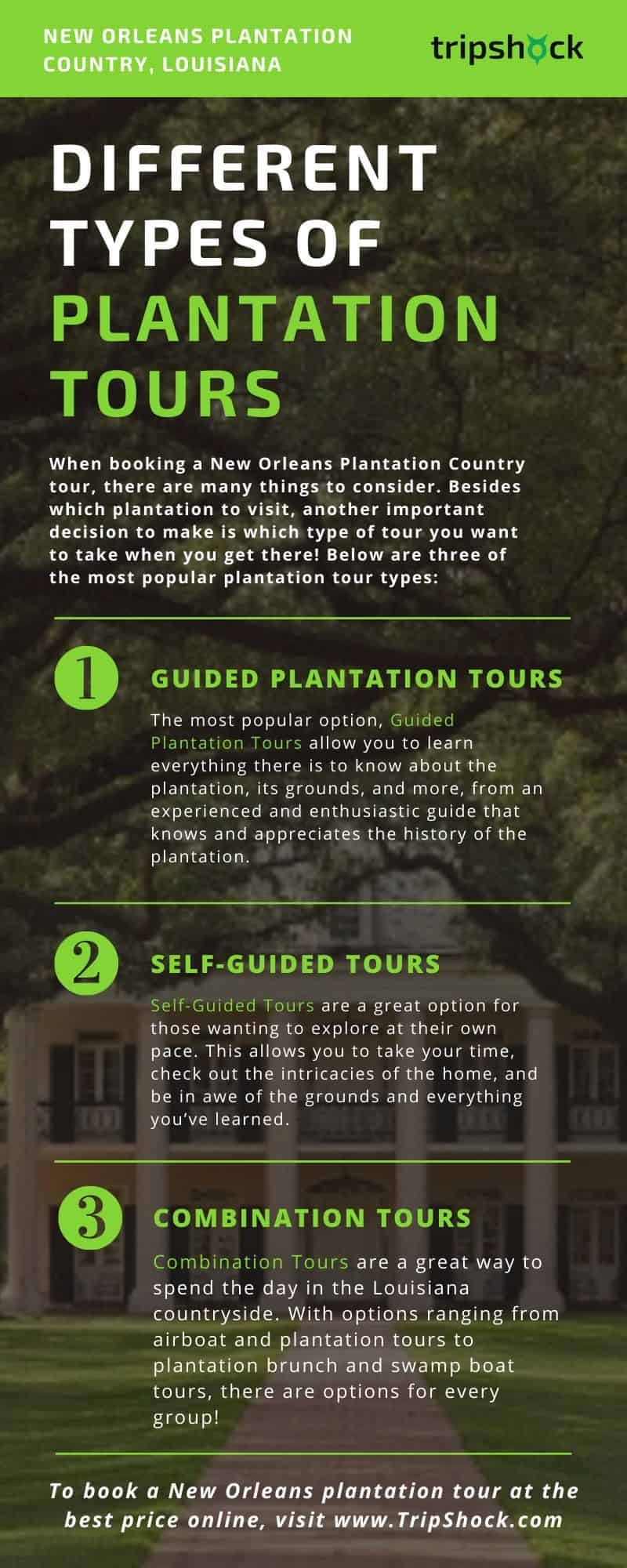 How to Book a Tour
So, now that you've decided which plantation to visit, and how to explore it, you're all set to book your very own New Orleans plantation tour! Booking is easy with TripShock, and you can book one of two ways:
Online: Booking plantation tours online with TripShock is easy, and if you have any questions or concerns, LiveChat is available 7 days a week!
Over the Phone: TripShock customer service representatives are also available 7 days a week to help with the booking process. Booking by phone is a great option for those with questions and concerns about transportation, accessibility, etc.
Whether you book online or by phone, afterwards you will receive a TripShock voucher with all the details of your reservation. Please be sure to review this to not only make sure the tour information is correct, but it will also provide you with important details like if you need to arrive early, driving and parking instructions, etc.
What to Know Before you Go
When visiting a busy and bustling city like New Orleans and going on excursions, such as a plantation tour, it is important to be prepared
As with anything, to get the maximum experience of touring a New Orleans plantation, it is important to be prepared. Below are a few things to consider before loading the car and heading to Plantation Country:
Traffic: Depending on the time of year, or events going on in the area, traffic around the French Quarter can be a nightmare. It is important to factor this in to your travel time. Keep in mind, you will also need to arrive early to your tour. Don't forget to factor this in to your travel time, as well.
Transportation: Many plantation tours offer transportation to the plantation and back, but some do not. Please read your voucher carefully and make sure you have transportation to and from the plantation handled. Also, if your tour includes transportation, be aware that travel time may increase due to pick-ups and drop-offs.
Weather: When touring a plantation, it is just as much about the grounds as it is the home itself, meaning some parts of the tours may be outside. It is recommended to dress appropriately.
Accessibility: Not all plantation homes are completely handicap accessible. If there is someone in your group that needs accommodations, please let your booking agent know, and they will find the plantation tour that's perfect for you!
Now that you know the closest plantation homes to New Orleans and how to book them, you're all set for your next historic adventure. You'll be amazed at the amount of history, entertaining stories, and beautiful scenery you'll encounter along the way.
Be in the know!
be informed about our latest offers
You can unsubscribe at any time