Avoid Large Crowds! 10 Solo & Small Group Activities in the Keys
Suzanne Bratton
September 4th 2020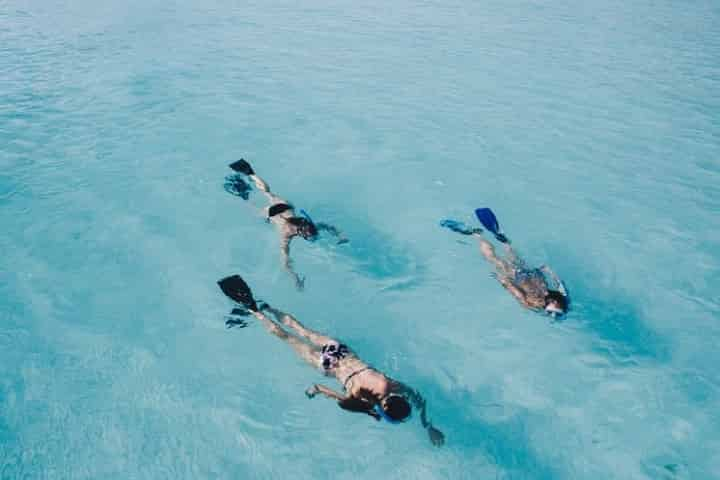 Ah yes, the Florida Keys, the perfect destination for beautiful beaches, amazing watersports, delicious food, and good times. As you relax in the sun, sipping on a tropical drink in a coconut with a tiny umbrella in it, you close your eyes and feel as if you are on your own, personal, tropical island oasis. That is, until you're awakened from your trance by the chatter of another family who set up shop right next to your tranquil slice of beach paradise.
If you're looking to avoid large crowds on your next trip to the Keys, you're in luck. With private and small group activities available, the Florida Keys is the best place for an intimate vacation with your favorite people. Whether you're on a romantic getaway, a Florida spring break holiday, traveling with your best friend, or flying solo, there is the perfect activity to make you feel as if you're the only people on a private island. Keep reading and discover 10 solo and small group activities in the Keys, and experience your own slice of island bliss.
Table of Contents
Fishing
Shelling on Marco Island
See the Mangroves in Islamorada
Parasailing in Key West
Snorkeling
Scuba Diving
Pontoon Boat Rentals
Bicycle Rentals
Key West Jet Ski Rentals
Catch a Sunset
---
Fishing
Two anglers show off their mahi-mahi caught on a private fishing charter off of Key West, Florida
Fishing is a must when visiting the Florida Keys, and if you're looking to avoid large crowds, then booking a private fishing charter is the way to go. With just you, your crew, a captain, and deckhand on board, it doesn't get more private than that!
Fishing in the Florida Keys is also unmatched. Not only do they have over 600 species of fish that call the area home, but with so many different bodies of water including the Atlantic Ocean, the Gulf of Mexico, the Florida Bay, the Everglades, and more, the options when it comes to fishing these beautiful blue-green waters is practically endless. Popular species of fish to catch in the Florida keys include:
Barracuda
Grouper
Amberjack
Tarpon
Mahi Mahi
Wahoo
And MORE!
The fish you target will vary depending on which type of charter you book, and where you book it. Different types of charters include offshore, inshore, and flats fishing, all yielding different types of delicious fish. Ready to test your luck and skill behind the reel and catch yourself a keeper? Check out the best places to fish in the Florida Keys below, and hop aboard an unforgettable private fishing charter, today: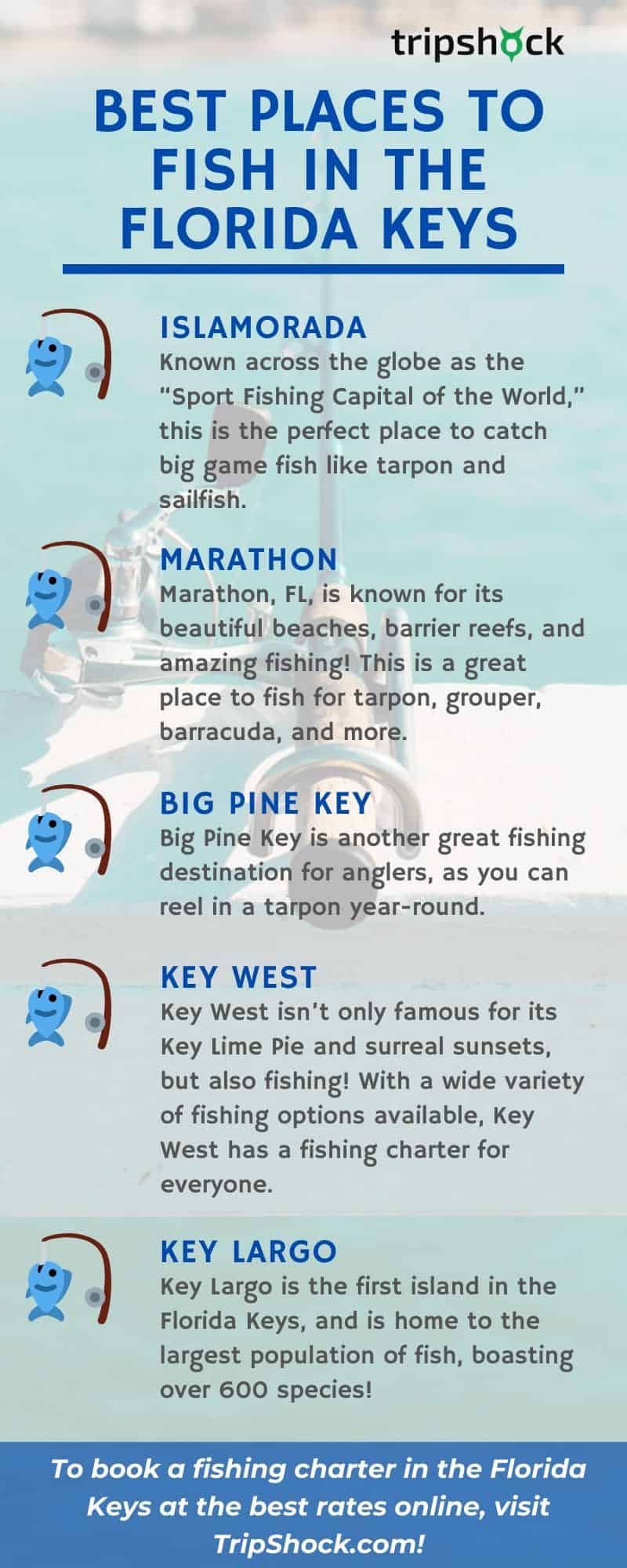 Shelling on Marco Island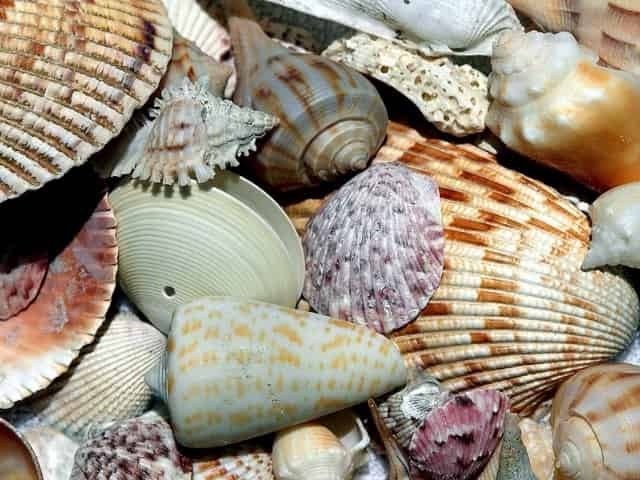 Beautiful shells found on a shelling and boat tour in Marco Island, Florida
Shelling on Marco Island is a small group activity in the Keys that you don't want to miss! Marco Island is known to have a vast array of seashells that wash up on shore each day around low tide. These shells make for the perfect souvenir to bring home, and walking the beach with your sweetheart in search of shells is the perfect intimate activity for you and your loved one. Below are some of the spectacular shells you may encounter during your stroll:
Atlantic Calico Scallop
Worm Shell
Lightning Whelk
Lettered Olive
Florida Fighting Conch
Horse Conch
Private and small group boat tours of Marco Island are a great way to get to the prime shelling locations without having to worry about directions and finding your next location. If venturing off on your own, however, sounds like just the adventure you need, check out one of these beaches for the best shelling experiences Marco Island has to offer:
Tigertail Beach
Big Marco Pass (also known as Sand Dollar Island)
Keewaydin Island
If you're ready to begin your shelling conquest, here are a few tips and tricks to get you started:
Bring a bag with you to collect shells
Try to go at low tide
If you see a live shell, put it back
Get there early
Some types of seashells are not allowed to be harvested, and for more information on that, click here
Bring a shell guide with you to learn the names of the shells you find
Be patient
See the Mangroves in Islamorada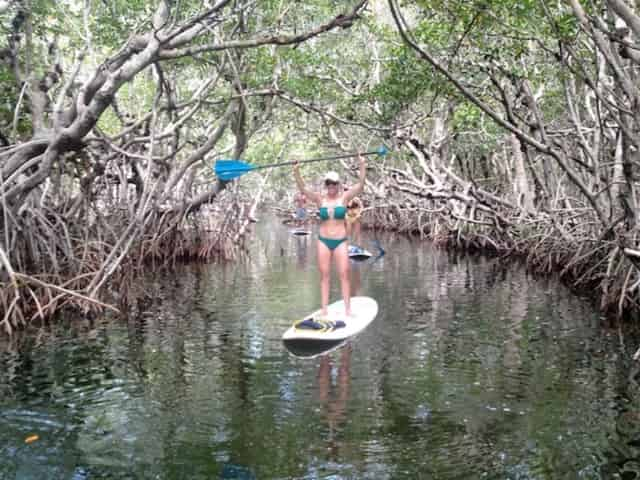 Paddle through the majestic mangroves on an unforgettable Islamorada eco tour
Florida's mangrove tunnels are a sight to be seen, featuring a unique and diverse ecosystem, whimsical wildlife, and magnificent mangroves that create a canopy over the water. Besides their beauty, mangrove forests also help the coastline by reducing erosion caused by currents, waves, tides, etc.
Not only that, their tangled root system attracts many different species of fish and crustaceans, and acts as a food source, as well. Hawks, osprey, herons, and egrets also call the treetops home, nesting in their foliage. While there are close to 80 different types of mangroves, red mangroves, black mangroves, and white mangroves are the ones you're likely to encounter in the Florida Keys.
One of the best ways to experience the majestic mangroves for yourself is by kayak or paddleboard in Islamorada, Florida. Follow your local and knowledgeable guide down the mysterious mangrove tunnels and you'll feel as if you've been transported to a whole new universe! Be sure to look out for these incredible sea creatures along the way:
Manatees
Sea Turtles
Pelicans
Spoonbills
And MORE!
This is the perfect small group activity to get you away from the crowds in the city, and connected with nature. Most tours will also lead you to a deserted island with additional activities, a secluded lagoon, and more. Paddle through the mangroves and experience this unique and beautiful ecosystem for yourself, today!
Parasailing in Key West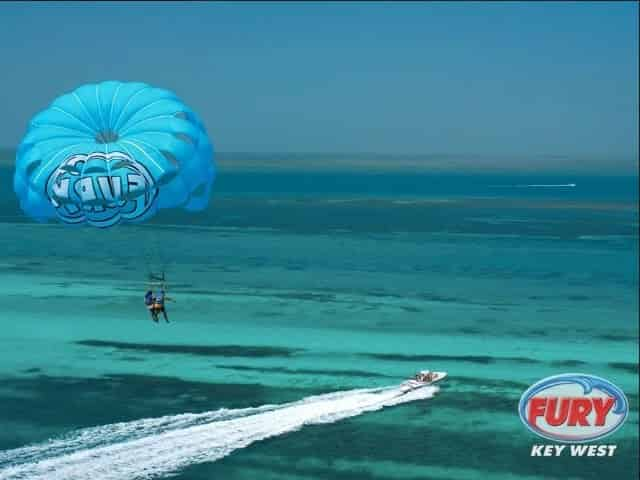 In a recent Traveler Story, one visitor to Key West describes parasailing as, "fun and exhilarating"
You won't believe the view from a parasailing tour over Key West, Florida! Fly up to 300 feet in the sky and don't forget to look down and catch a glimpse of the local dolphins, sea turtles, sharks, stingrays, tropical fish, and more. Don't forget to check out the aerial view of the island itself, as well, and get a bird's eye view of Historic Harbor and beyond!
This is the perfect activity for those looking to avoid large crowds. This Key West small group activity will typically require a minimum of 6 passengers to go out, with a maximum of 12 passengers, allowing either 2 or 3 people to fly at once. So, what are you waiting for? Grab your favorite person and chute for the stars on a high-flying parasailing adventure!
Snorkeling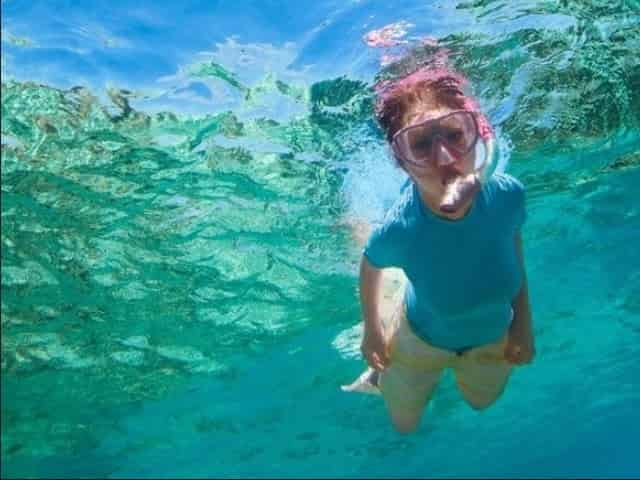 Snorkeling is the perfect way to see the colorful coral reef in Key West, FL
Home to the only living barrier reef in the continental United States, it's easy to see why the Florida Keys are the place to be when it comes to snorkeling. This underwater utopia is full of impressive and colorful coral, tropical fish, shipwrecks just waiting to be explored, and so much more!
Snorkeling is great for those looking to avoid large crowds in the Keys, as there are private and small group tours available. This is an easy and convenient option, as well, because the local tour guides know exactly where to go for the best snorkeling spots around! With tour companies providing snorkel gear and instruction, you won't have to worry about a thing except diving in and having a blast. Check out these popular snorkeling locations in the Florida Keys, and get ready to be enchanted:
Dry Tortugas National Park from Key West
John Pennekamp Coral Reef State Park in Key Largo
Alligator Reef in Islamorada
Sombrero Reef in Marathon
Looe Key Reef just south of Big Pine Key
Scuba Diving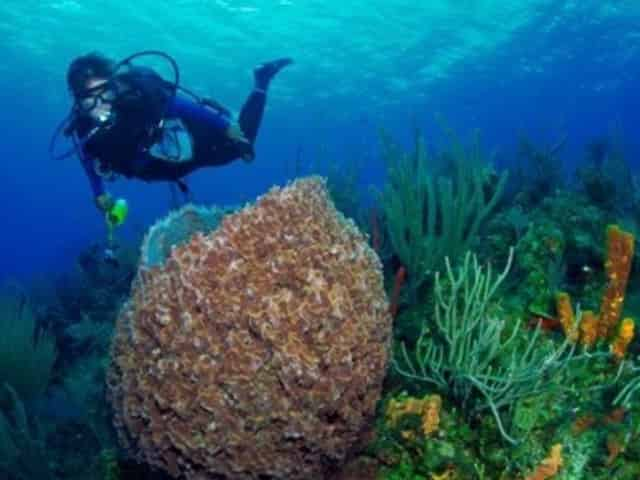 Pictured above is a scuba diver exploring reef formations on a beginner scuba diving tour with Try Scuba Diving Key West
Take that snorkeling excursion one step further and dive a little bit deeper into the Florida Keys beautiful waters on an unforgettable scuba diving trip! Scuba diving allows you to get an even closer look and what lies beneath the surface, providing unparalleled beauty and splendor. Great for those avoiding large crowds, small group dives are available and come in many forms including:
Reef Scuba Diving
Wreck Scuba Diving
Beginner Scuba Diving
This means that there is a dive out there for every interest and skill level! Since this activity is a little more extreme than the others listed above, you may want to check out these restrictions before booking your surreal scuba diving excursion in the Florida Keys:
Participants must be in good health with no major health conditions
Participants must be at least 10 years old, with a parent or guardian available to sign a waiver for anyone under 18
Pregnant women should not participate
Those who dive must wait at least 12 hours after the dive before flying
Glasses cannot be worn while diving, contacts are okay
Diving tours are not handicap accessible
However and wherever you decide to take the plunge, you'll be happy you did! With tropical fish, sea turtles, and coral reefs surrounding you, scuba diving in the Keys is sure to create memories that will last a lifetime.
Pontoon Boat Rentals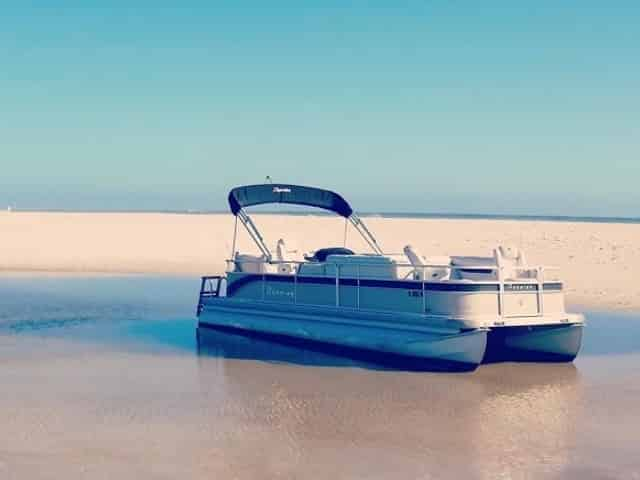 Before setting off on your very own pontoon boat rental, check out our recent blog outlining everything you need to know before renting one
Captain your own Florida Keys adventure on your very own pontoon rental! This is a great way to get out on the water, but without the usual crowds that are to be expected on a dolphin cruise or boat tour. Depending on the type of rental you select, most boats will hold between 6 and 12 passengers, making for an intimate and personal experience on the water with your favorite people.
Cruise through the area's crystal-clear water and look for amazing marine life like dolphins and sea turtles, anchor off at remote islands and relax, snorkel the area in search of tropical fish, or just cruise around, the options are almost endless! Not only that, with customizable additions, durations, and locations, there's the perfect rental out there waiting just for you!
If you're thinking of renting a boat in the keys, we've got some great info for you. Check out a recent article, What to know before renting a boat in the Florida Keys, to learn all you need to know about boating including rates, photos, and the top renters.
Bicycle Rentals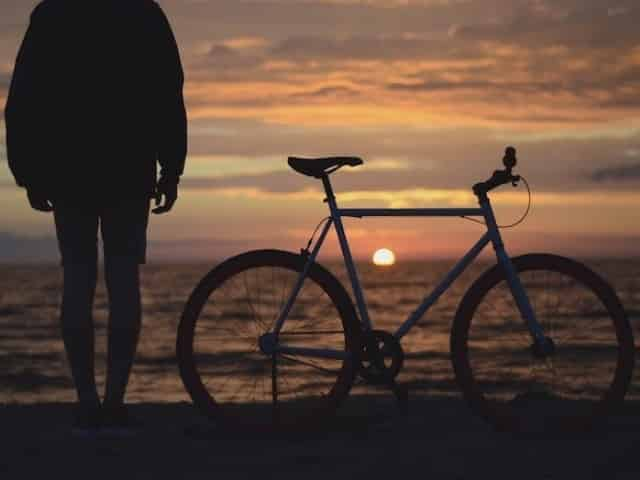 Bicycle tours through Key West, Florida, are the perfect way to explore the city with a small group
Rent a bicycle and explore on your own, or join in on a Key West bicycle tour for an up close and personal encounter with the city. Take a leisurely ride through the town and check out the local history, architecture, hotspots, landmarks, and more! If you decide to join in on a tour group, stops you'll make along the way include:
Historic Seaport
The Southernmost Point
Mallory Square
The Key West Cemetery
Ernest Hemingway House
Key West, FL, bicycle rentals are a great way to take it slow, skip the crowds, and see the city at a relaxing pace. If you do decide to book a tour versus renting a bike on your own, please be aware that it takes a minimum of 2 participants to depart, and there is a maximum capacity of 15 people. Either way, this small group activity in the Keys is perfect for those wanting to see the city and ride in style!
Key West Jet Ski Rentals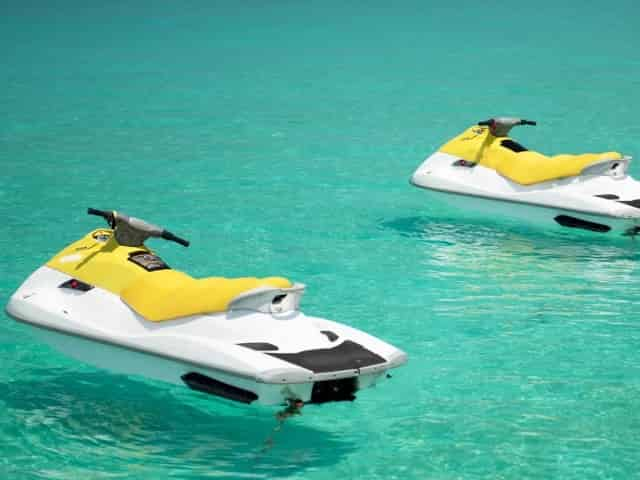 With Key West jet ski tour coupons available, zooming off into the sunset is more affordable than ever
Make high-speed twists and turns through the waves on a Key West jet ski rental! Each jet ski will accommodate either one, two, or three passengers, making this the perfect solo or small group activity in the Keys. Zoom away from the large crowds on shore and have the time of your life as you jump waves, look for dolphins, and have a blast!
Small group Key West jet ski tours are available, as well. Follow a tour guide down 28 miles of scenic Key West coastline, as they provide you with inside information on local things to do, attractions, wildlife, and more! There are so many sights to see when on a jet ski tour in the Keys. Be sure to look out for these landmarks along the way:
Submarine Pens
Southernmost Point
Key West Harbor
And MORE!
Catch a Sunset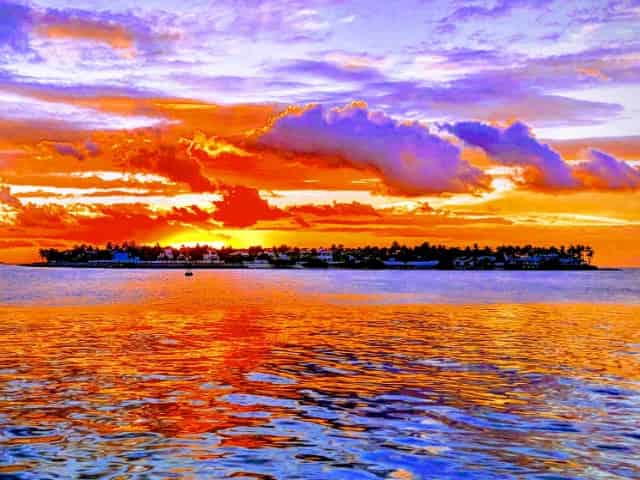 Catching a sunset is as Key West as it gets, along with trying delicious Key Lime Pie, snorkeling the beautiful coral reef, and taking a stroll down Duval Street
Last but certainly not least, you have to catch one of Key West's breathtaking sunsets. Taking place since the 1960s, the Key West Sunset Celebration at Mallory Square is basically a giant party celebrating the end of another great day in the Florida Keys, to the backdrop of a gorgeous sunset. Wondering how to catch one of these famous sunsets while avoiding the crowds of people at Mallory Square? Check out one of these places below for a more low-key sunset celebration:
Fort Zachary Taylor State Park
Key West Harbor docks at Pier B
Truman Waterfront
Latitudes on Sunset Key
---
As you can see, the Florida Keys are such a unique and special area located at the very bottom of the country, but at the very top of our bucket list! If you're looking to avoid crowds and take in peaceful island vibes, the Keys have you covered.
From private fishing charters, to snorkeling the colorful coral reef, there is an abundance of solo and small group activities in the Keys for every type of traveler. So, grab your sunscreen, your bathing suit, a towel, and your favorite people, and head to this tropical paradise for a vacation that will have you saying, "take me back," for years to come!
Be in the know!
be informed about our latest offers
You can unsubscribe at any time