Top 5 Famous Drinks to Order in New Orleans, LA
Mike Fisher
January 21st 2021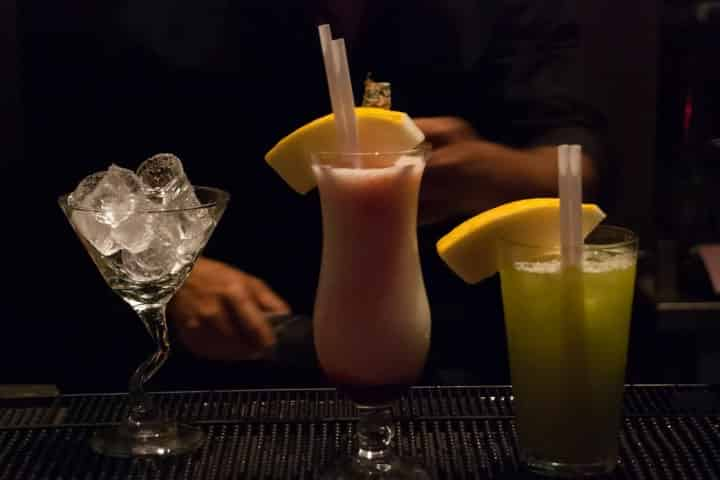 New Orleans' Creole and Cajun recipes are recognized worldwide as some of the most innovative and delicious food creations. With so much tasty food, it's easy to forget the vibrant history of these delectable New Orleans drinks and cocktails.
Alcoholic beverages dating as far back as the early 19th century are served at colorful and historically significant restaurants and bars throughout the city. Next time you're in the Crescent City, take a break from sightseeing, relax, and sip on one of these 5 famous New Orleans drinks!
Table of Contents
Hurricane
Sazerac
Abita Beers
Absinthe Frappe
Grasshopper
---
Hurricane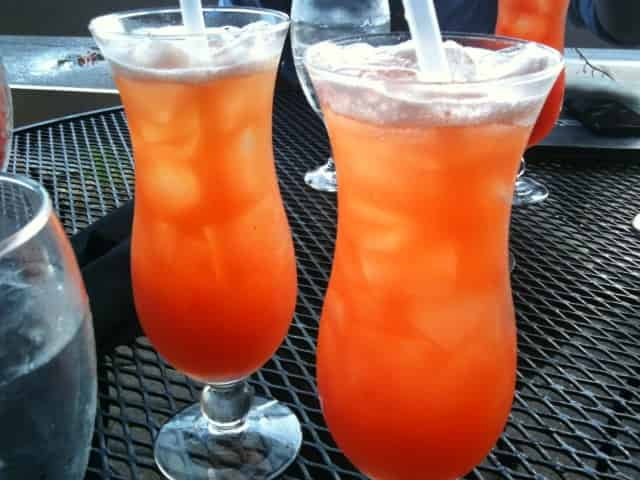 Image by Phil Denton via Flickr
What is it?: The Hurricane is a relative of the Daiquiri, typically composed of rum, fruit juice, and syrup or grenadine. Hurricanes are commonly served "on the rocks" in either Hurricane Lamp shaped glasses, or plastic cups perfect for roaming Bourbon Street with drink in hand!
Where to get it: The top bar to enjoy a tropical hurricane is at Pat O' Brien's on St. Peters Street. Pat O' Brien's is named after the creator of the Hurricane, Mr. Pat O' Brien. The tavern is located in a historical building dating back to 1791, and offers a must-see "dueling piano" show that has been a staple of the popular bar for decades, and is one of the top things to do in the French Quarter at night!
Sazerac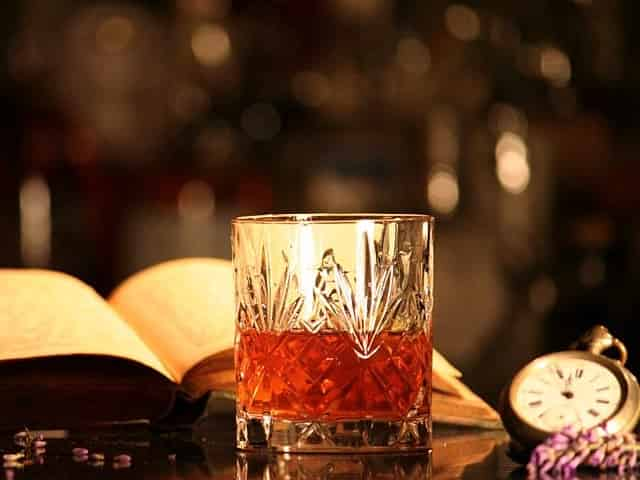 Image of Sazerac from Wikimedia
What is it?: Possibly the oldest American cocktail, the Sazerac is commonly a mixture of cognac or whiskey, absinthe, sugar, and Peychaud's Bitters, and served straight up with a lemon peel garnish. In 2008, the Sazerac was named New Orleans' official Cocktail.
Where to get it: A guided New Orleans pub crawl through the French Quarter will point you in the direction of a well-prepared Sazerac, but guide or no, you won't have to go far to find a tasty one! Out of the dozens of NOLA drinkeries pushing this famous drink, many enthusiasts agree that Arnaud's 1918 makes the best Sazerac in New Orleans. This stylish French Bistro has been around for just under a century, and is located in the French Quarter at 813 Bienville Avenue.
Abita Beers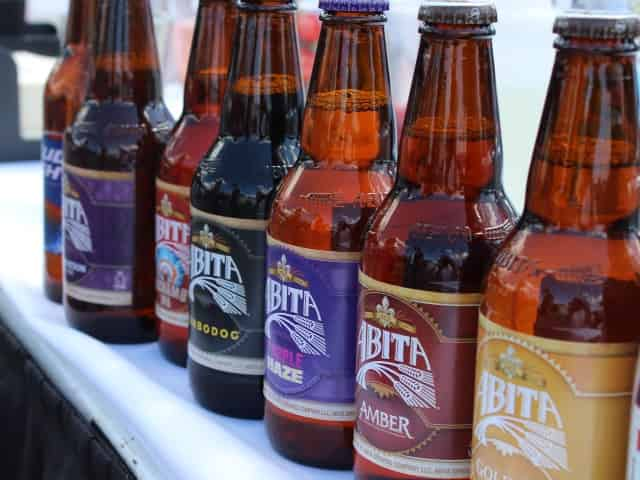 Many New Orleans cooking classes will have Abita Beer for guests to pair with their meal. Image of different Abita Beers from* Flickr
What is it?: The Abita Brewing Company offers a variety of delicious Louisiana-inspired beers. While Abita is located outside of the city in Abita Springs, Louisiana, it is a popular beer for New Orleans locals available at practically every bar, restaurant, and corner store. Abita's Turbodog Ale and Amber Ale remain among the most desired, but the beer makers also offer five more year-round brews, five seasonal beers, three harvest brews, four big beers, a "draft-only" series of select beers, and an original root beer!
Where to get it: Best paired with delicious Creole and Cajun meals, Abita beers are easy to find at most restaurants and bars. While a tasty food tour through New Orleans can offer up a variety of Abita flavors, if you want a true taste of what Abita has to offer, take a short trip outside New Orleans to Abita Springs, LA. The Abita Brewery offers tours and tastings, and the Abita Brew Pub Restaurant & Bar right down the road is a full service American/Creole/Cajun restaurant with many of Abita's popular recipes, and a few more special drink concoctions that cannot be found anywhere else!
Absinthe Frappe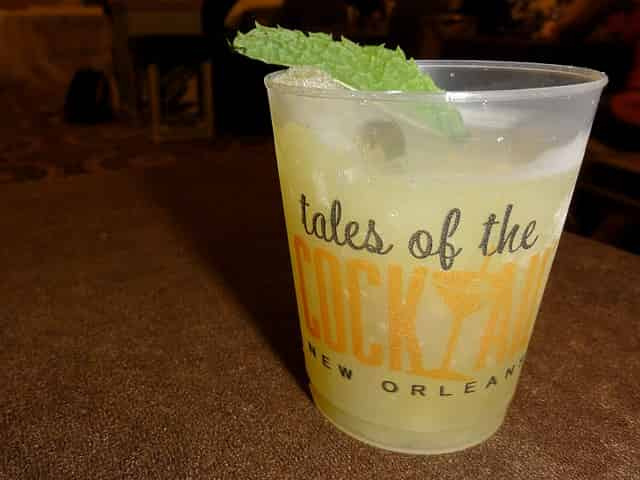 Image of an Absinthe Frappe from Wikimedia
What is it?: Real Absinthe had been outlawed for years, but was made legal in the United States in 2007. Since the legalization of this infamous liquor, Absinthe Frappes have become a popular drink item in New Orleans, LA. The Absinthe Frappe consists of Absinthe, simple syrup, soda water, and mint leaves, and is served on the rocks.
Where to get it: Book a spot on one of Doctor Gumbo's food or drink tours, and you're sure to stumble upon this unique and delicious cocktail. Venturing out on your own? The Old Absinthe House opened almost 200 years ago, and is home to the original Absinthe Frappe (created in 1874 by mixologist Cayetano Ferrer). The Old Absinthe House still keeps many of its original decorations and artwork on display, creating a fun atmosphere made for indulging in classic cocktails.
Grasshopper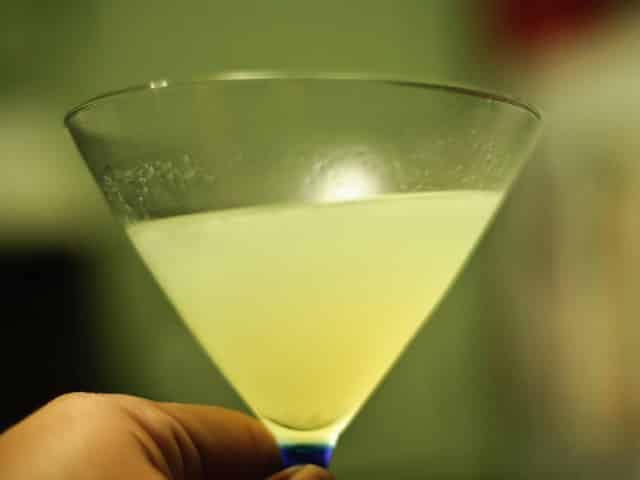 Image of a Grasshopper by Don LaVange via Flickr
What is it?: This frothy cocktail gets its name from its vibrant green color. Grasshopper's are made from a mix of creme de menthe, creme de cacao, and cream. As one of the more "flashy" drinks on the list, the Grasshopper is served straight up in a cocktail glass, and can be ordered in multiple variations including the "Brown Grasshopper", which calls for a splash of coffee.
Where to get it: One of New Orleans' oldest and most distinguished restaurants is Tujague's Restaurant located on 823 Decatur Street in the heart of the French Quarter. One of the most popular bars to experience history and hauntings, this is a place you definitely want to add to the itinerary. A former Tujague's mixologist created the Grasshopper, and the restaurant has since popularized many of the city's noted cocktails. Over the years, Tujague's has hosted the world's most notable figures including John D. Rockefeller, Ty Cobb, Dan Akroyd, and U.S. President Franklin D. Roosevelt.
---
http://www.frenchquarter.com/about/FAQ.php
Denise Gee (2007). Southern Cocktails: Dixie Drinks, Party Potions, and Classic Libations. p. 37. ISBN 0811852431.
McNulty, Ian. "Drinking in History: Classic Cocktails and Modern Thirsts in the French Quarter". FrenchQuarter.com.
Lind, Angus. "Home of the 'Hurricane' Pat O'Brien's turns 75 this week". Nola.com.
Majumdar, Simon (2009). Eat My Globe: One Year to Go Everywhere and Eat Everything. Simon and Schuster. p. 192. ISBN 1-4165-7602-9.
New Orleans Declares Sazerac Its Cocktail of Choice. All Things Considered (National Public Radio). June 26, 2008.
Webster, Richard A. (November 2007). "Stout Market: North Shore Beer Makers and Distributors Partake in an Unprecedented Sales Boom" (PDF). New Orleans City Business, North Shore Report. pp. 31–33.
Owen Ogletree (2008-05-10), Brewtopia Events LLC report on Abita Brewery, Brewtopia LLC
Be in the know!
be informed about our latest offers
You can unsubscribe at any time