Top 7 North Myrtle Beach, SC, Attractions for Families
Carrie Jenkins
March 25th 2020
Ah, the majestic Grand Strand, over 60-miles of pristine beach along the Atlantic coast. You'll be glad to know Myrtle Beach offers a lot more than just beach, especially when it comes to family-friendly fun. Here at TripShock, we've done the work for you so you can sit back, relax, and enjoy your vacation! Keep reading and discover the best Myrtle Beach, SC, attractions for families.
Table of Contents
Dolphin Cruises
Amusement Parks
Pontoon Rentals
The Wonderful World of Ripley's
The Broadway Grand Prix Family Race Park
Hit the Waves
Stroll the Boardwalk
---
1. Dolphin Cruises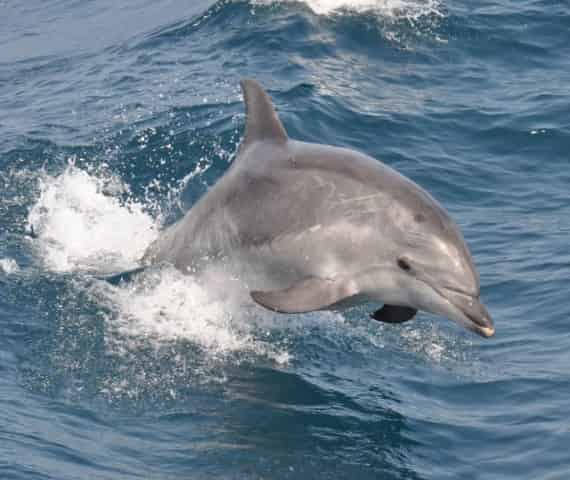 According to a recent Traveler Story, dolphins aren't the only thing you'll see on a family-fun dolphin cruise
Experience the magic of a dolphin cruise with an ultimately family-friendly sightseeing tour. Not only do you get the remarkable experience of boat travel, but you get to witness playful dolphins in their natural habitat doing what they love best...playing. Not to mention, you'll learn fun facts, laugh, and have a great time!
There are multiple options for these tours, some boats go into the Atlantic, some stay in the intracoastal waterway. If you or your children get sea-sick, elect an intracoastal sightseeing cruise, its water is shielded and calmer. For a wilder and possibly wetter experience, look for a boat that is heading out into the Atlantic. With dolphin cruise coupons available, no matter which dolphin cruise you decide to go on, it doesn't have to break the bank. Just be sure to bring your camera, and prepare to be amazed!
2. Amusement Parks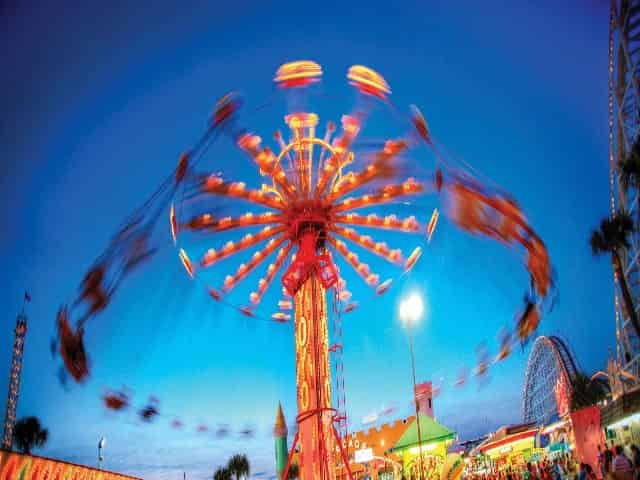 Image courtesy of Family Kingdom Amusement Park
Kids are great, but they have a lot of energy that needs to be used. This is what amusement parks were made for, and make for some of the best Myrtle Beach, SC, attractions for families. Here are some top choices:
The O.D. Pavilion Amusement Park provides a traditional fair-style experience. From the rides to the food, it's a fun and nostalgic place to spend an evening. And it's located right on the Grand Strand with roller coasters, bumper cars, and more!
Family Kingdom is the amusement park with it all. Right across the street you'll find its sister waterpark Splashes. Splashes with its lazy river, splash pad, and numerous waterslides, offers hours of family-friendly fun.
3. Pontoon Rentals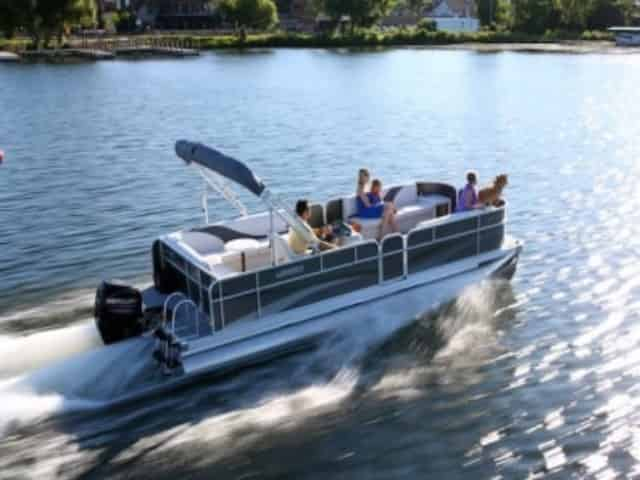 Explore Myrtle Beach on a pontoon rental, and see this beautiful coastal paradise in a completely new way
What can turn a standard day at the beach into an adventure on the high seas, you ask? Try out one of the top Myrtle Beach, SC, attractions for families, a pontoon rental! These super easy-to-drive watercrafts include orientation and instruction, and provide you with the keys to the boating kingdom.
Travel the smooth intracoastal waterways looking for secluded sand bars. Find the perfect place to drop anchor, swim, sunbathe, shell, and more! Bring a picnic, pack a cooler, and watch as you log one of most memorable days in family-vacation history! You'll be ever so glad you did, and you can count pontoon-boat-captain among your many talents!
4. The Wonderful World of Ripley's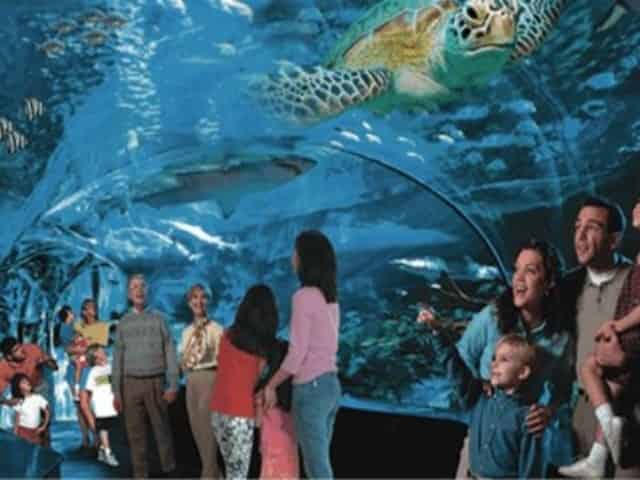 Pictured above is Ripley's Aquarium, one of the best indoor family activities in Myrtle Beach! Image Courtesy of Ripley's Aquarium
Ripley's of Myrtle Beach is a place where your kiddos can go wild, explore, and even learn. They offer 7 totally unique attractions for families. Find the one just right for your family, below:
Ripley's Aquarium
Believe it or Not, Odditorium
5-D Moving Theatre
Marvelous Mirror Maze
Smash Dash
Haunted Laser Tag
Arcade
5. The Broadway Grand Prix Family Race Park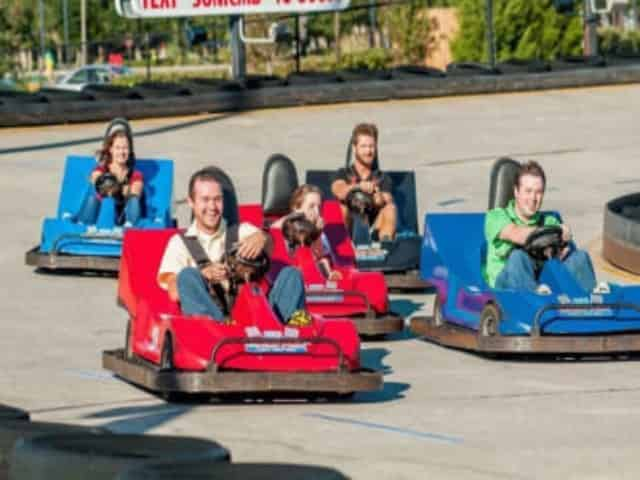 Pictured above is a family enjoying go karts at the Broadway Grand Prix
Zoom around like a pro at the Broadway Grand Prix Family Race Park, where you can speed along 7 different tracks, and that's just the beginning! This ultimate family attraction also has an:
18-hole mini-golf course
Sky Coaster
Rock-climbing wall
Arcade
Bumper cars
Family-friendly rides
And MORE!
You can even feed the family at their cafe or Snack Shack. Or, just grab a snow-cone at Rick's Race Shed. When it comes to family fun, keeping it simple is key. Plan on enjoying dinner here, avoiding traffic, long waits at restaurants, and feel like the boss you are!
6. Hit the Waves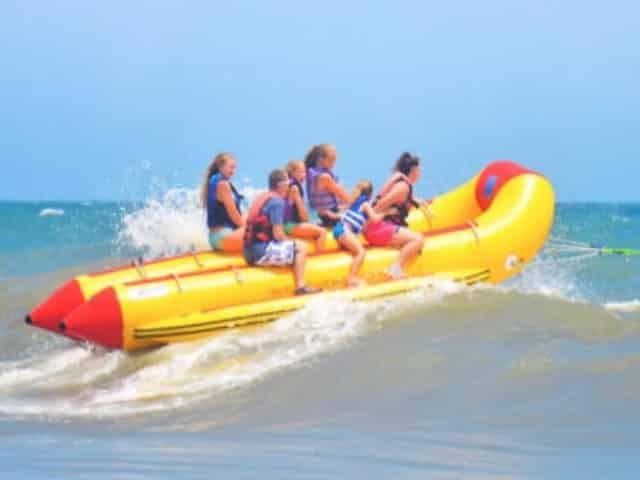 Hit the waves on a banana boat ride, pictured above, for an exhilarating experience your family won't soon forget
Enhance your day at the beach with some water-based attractions for families. Experience the thrill of skipping across the waves as you climb on a silly, and always fun, banana boat. Or, for a more intense experience, opt for a beach tube. You lay flat on the tube and hold onto the handles as you bounce across the waves. Both of these inflatables are pulled behind a boat or jet ski at exhilarating speeds.
For a longer wave-skipping experience, rent a jet ski. You can opt for an eco-tour, where you'll see top local sights including marine life, wildlife, and local inlets and jetties. You can do a dolphin-focused jet ski tour, that'll get you closer than you've ever imagined to these majestic creatures. Of course, you can also just rent and ride as fast as you'd like for an adrenaline-pumping good time.
7. Stroll the Boardwalk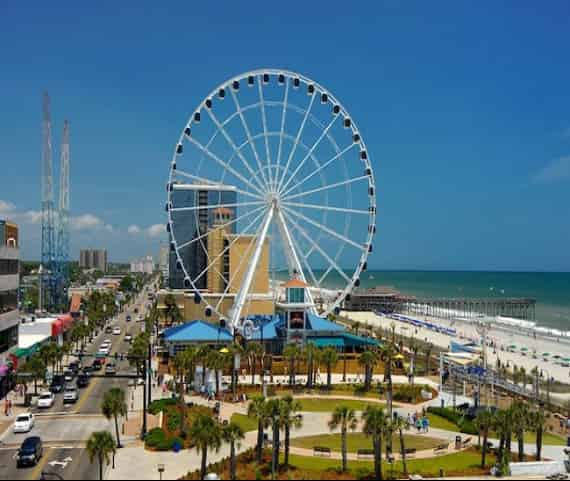 Pictured above is the Skywheel at the Boardwalk in Myrtle Beach, but for more information as to what this area has to offer, click here: http://myrtlebeachdowntown.com/
Head to the Boardwalk for Myrtle Beach, SC, attractions for families that all ages and interests will love. Here you can enjoy shopping, sightseeing, great eats, and a truly unique ferris wheel ride called The SkyWheel.
The SkyWheel is a luxury experience (though your kids won't mind) that carries you up 20 stories high! Show your kids a larger-than-life panorama of the Atlantic Gulf Coast, a perfect way to end your day or vacation. Capture stunning images and the essence of your North Myrtle Beach vacation.
North Myrtle Beach News
Keeping you informed
Be in the know!
be informed about our latest offers
You can unsubscribe at any time