The Southernmost Point Landmark in Key West, FL (History, Myths, and More)
Nancy Landry
November 26th 2019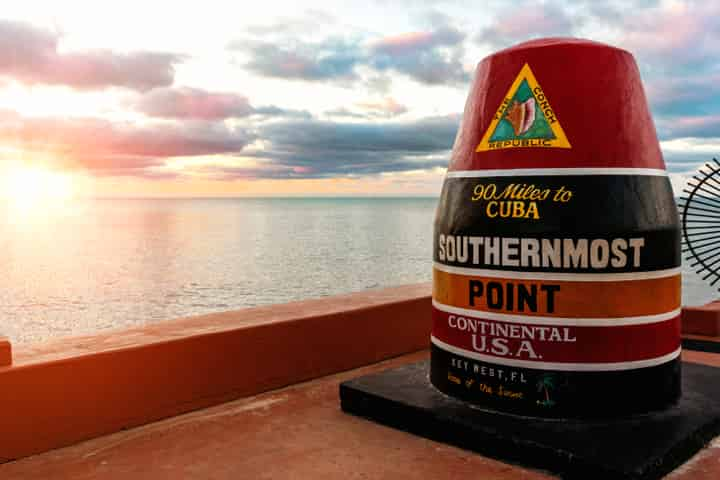 Everyone who visits Key West stops along the shore to take a photo with the colorfully painted Southernmost Point buoy, but why is this landmark so iconic? No trip to Key West is complete without a visit to this iconic landmark and it's important to know its history. This quick read gives you not only that but also provides other helpful travel tips.
Table of Contents
The History of the Southernmost Point landmark
Southernmost Fact or Fiction: Is it accurate?
Don't Miss Out On The Cable Hut Nearby!
Southernmost Point Visitor Tips: What to Expect
How to get to the Southernmost Point landmark?
Now You're Next In Line For Your Southernmost Photo!
The History of the Southernmost Point Landmark
Originally, the Southernmost Point was marked and identified by a small hand-painted wooden sign. The sign would attract travelers to the southernmost point in the United States, and many would take pictures in this area to share with their friends and family. This location was also popular for street vendors who would sell conch shells as souvenirs to those visiting Key West on vacation, which are still popular souvenirs to this day.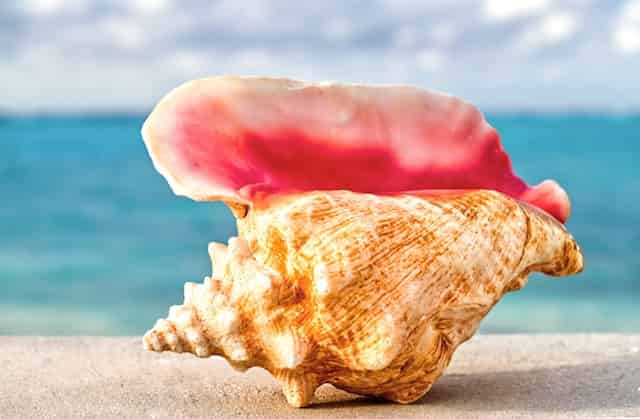 Conch Shell
This popular wooden sign, denoting the "Southernmost Point" had been repeatedly stolen over the years, in addition to being damaged by hurricanes. The frequent theft became an exhausting and costly burden to Key West. To solve this ongoing problem, the town of Key West, Florida decided to erect a 12ft tall, 7ft wide anchored concrete buoy in 1983.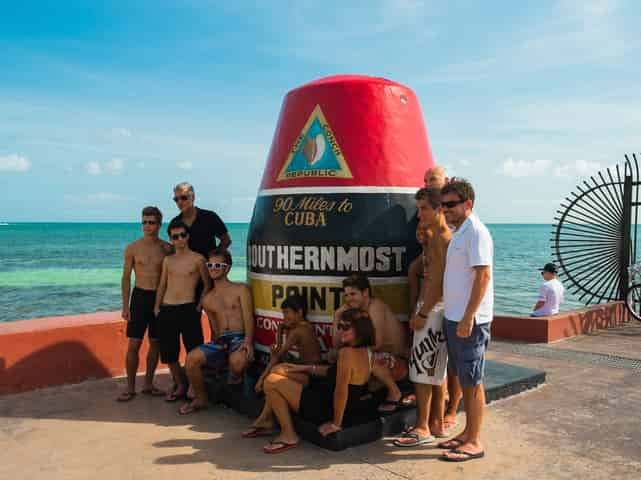 Tourist posing with Southernmost Point landmark in Key West, Florida
This massive monument serves as the official marker of the Southernmost Point and notes that Cuba is only 90 miles away. The top of the monument states "The Conch Republic" which refers to when Key West tried to secede from the US, declaring itself The Conch Republic in a protest stunt, that resulted in a boom in tourism and local pride. Every April, Key West celebrates this with a big party lasting 10 days. Key West locals enjoy referring to themselves as "conches". To the right of the monument, you'll see a plaque commemorating the brave Cubans who have drowned trying to get to America.
In September of 2017, the Southernmost Point landmark was badly damaged by Hurricane Irma. Thankfully, the City of Key West hired the original artist, local painter - Danny Acosta, to bring the concrete buoy back to life, and to this day, The Southernmost Point still remains as the most-photographed landmark in all of Key West.
Don't Miss Out On The Cable Hut Nearby!
Located nearby the concrete buoy (approximately 10ft away), you'll find The Cable Hut, which has a fascinating history of its own. In 1917, this small concrete structure was assembled and transported to this location via railroad.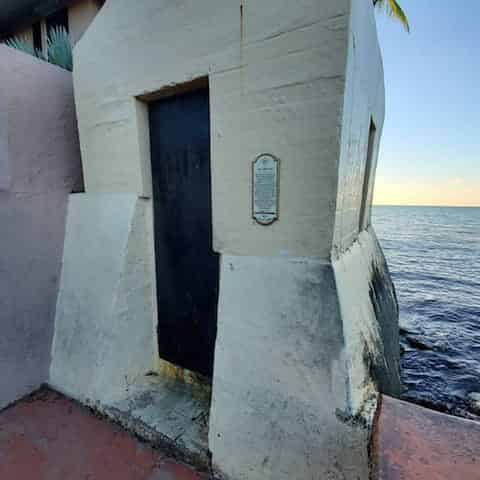 The historic Cable Hut in Key West
According to the historic plaque found on the building, "Its purpose was to protect the connection between the landline and the 125-mile long underwater telegraph cable linking Key West to Havana, Cuba. The first international phone call was made through similar cables in Key West on Christmas Day, 1900. John W. Atkins called Cuba and after a long silence, Cuba answered quite simply, "I don't understand you."

The Key West Historic Marker on The Cable Hut denoted its significance
Southernmost Fact or Fiction: Is it accurate?
While the Southernmost Point landmark is an absolute must, you may be shocked to discover that it isn't actually the most southernmost point in Key West...or even in the United States. Roughly 500 ft farther south from the marker is Fort Zachary Taylor Historic Park, and even that isn't the most southern point! Ballast Key is actually the true most southern point of Florida which is a private island south and west of Key West located 10 miles away.
It's also surprising to note that Cuba is actually 94 miles away, which is 4 miles further than what's indicated on the monument.
Southernmost Point Visitor Tips: What to Expect
The best time to visit the Southernmost Point landmark is said to be in the early morning, around 8:00 or 9:00 AM, or earlier. Expect a line and a wait, but don't let the long line of tourists scare you away from getting your picture taken at the Southernmost Point landmark. The line moves quickly and most travelers are happy to volunteer as your photographer, as long as you return the favor. Most recommend grabbing a beverage, like an authentic Cuban coffee from Ana's Cuban Cafe nearby, to enjoy while you wait.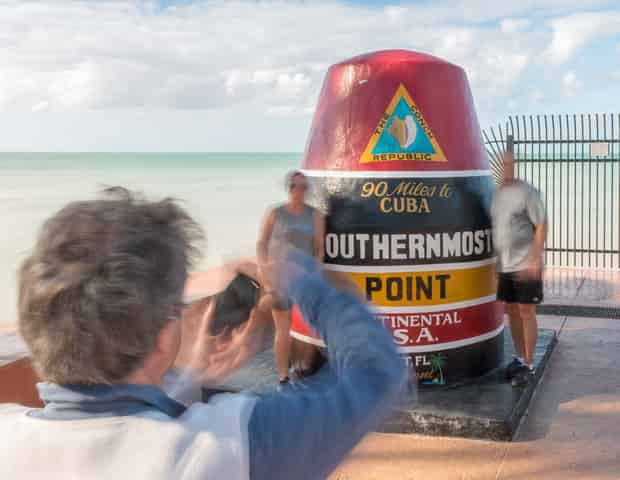 Tourist takes picture of travelers in front of Southernmost Point Monument

How to get to the Southernmost Point Landmark?
The Southernmost Point landmark is located at the corner of Whitehead Street and South Street in Key West, Florida. It's within walking distance to many popular hotels, cafes, and attractions.
By Conch Train! One of the most popular attractions and ways to get around Key West, Florida is the Conch Train Tour, which has provided scenic hop-on hop-off sightseeing tours of the area since 1958. Not only does the Conch Train Tour roll past the Southernmost Point, it actually stops nearby, allowing you the chance to hop-off and explore the area on foot. You can continue your sightseeing fun by hopping back on when the conch train returns to see the rest of Key West.
By Trolley! Another fun mode of touring transportation that swings by is the Historic Tours of America Trolley. This guided tour also stops nearby, allowing you to get your picture and explore the Southernmost Gift Shop and surrounding area.
By Bike or Scooter! Renting a bicycle or getting scooter rental allows you great navigation around the island. Simonton Street and Whitehead Street are recommended for a scenic ride. You can even take a guided bicycle tour of the area with one of the local guides.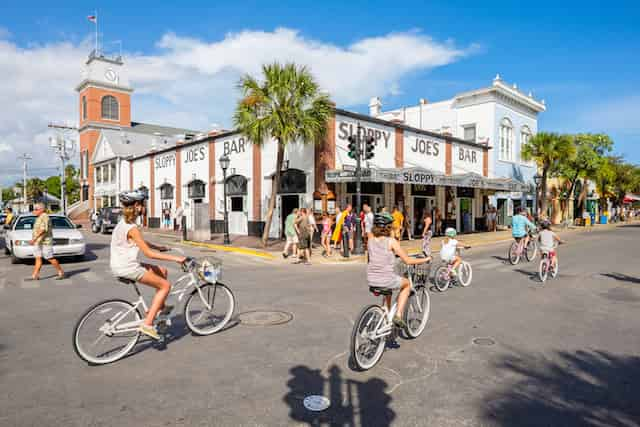 Guided Bike Tours in Key West, Florida
Now, You're Next In Line For Your Southernmost Photo!
Now that you'be got the facts, its time for you head out to the Southernmost Point monument to get your own photo. You're travel buddies will be highly impressed with your knowledge of the landmark and you'll be excited to continue on your Key West vacation with all of the fun and excitement that The Conch Republic can offer.
Continue your Key West Travel Planning with our Key West Insider's Guide.
Be in the know!
be informed about our latest offers
You can unsubscribe at any time