What is Navarre, Florida Close to?
Mike Fisher
September 4th 2020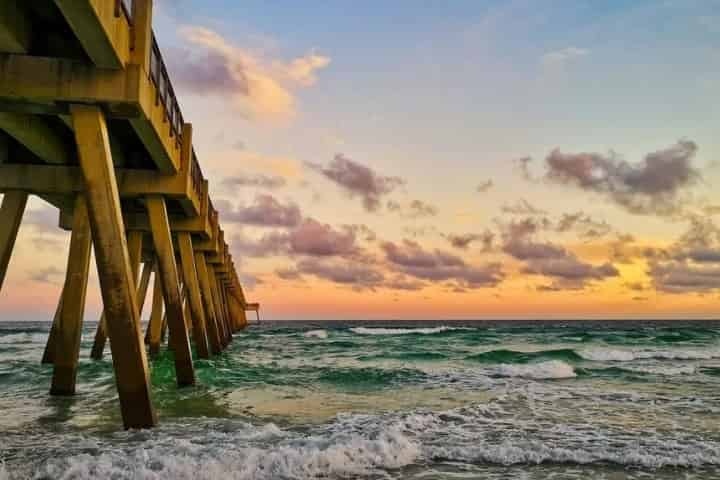 Navarre, Florida, is home to white-sand beaches and water-side bars and restaurants. Navarre's relaxed atmosphere presents a perfect secluded getaway when compared to the crowded streets of Destin and Pensacola Beach nearby. But when you're looking for action, you may need to travel a short distance to a neighboring destination. So, what is Navarre, Florida close to, you ask?
Activities near Navarre range from deep sea fishing in Destin, Florida, to historic tours in downtown Pensacola. There is something to do for the whole family on the Emerald Coast, and we're here to help you discover the best tours, activities, and attractions! Keep reading for Fun Things to do Near Navarre, Florida!
Experience the Outdoors in Milton, FL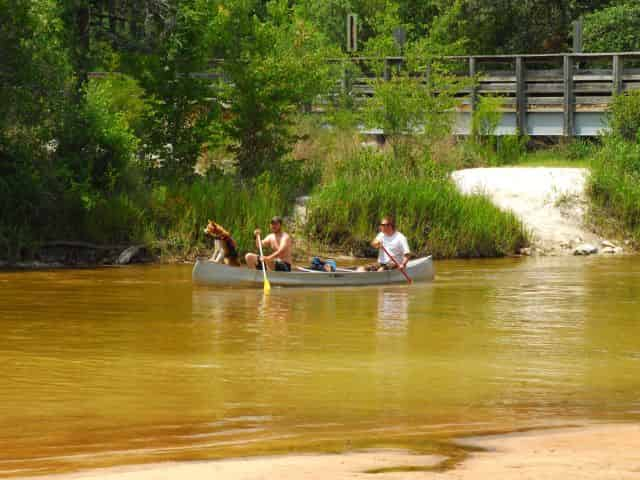 Milton, FL, is Navarre's nearby neighbor to the north! Known for its scenic woodlands and crystal-clear rivers, Milton attracts thousands of visitors each year seeking an outdoor escape. Try your hand at glamping, a luxury camping experience, or head to the Blackwater River for kayaking, canoeing, tubing and more!
Affordable camping and activities make Milton a prime destination, even if only for an afternoon escape during your Navarre Beach vacation!
Destin Harbor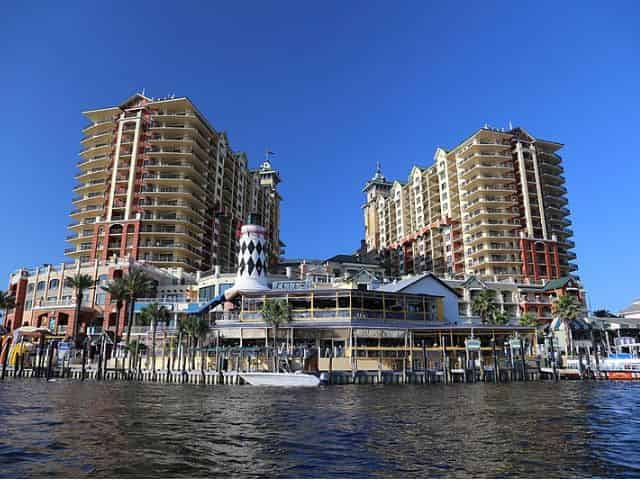 Image Courtesy of Wikimedia
What else is Navarre, Florida close to? Well, this family fun destination is close to Navarre approximately 30 minutes by car (though traffic can make the trip longer during spring and summer months).
The Destin Harbor offers plenty of things to do! Upon pulling up to HarborWalk Village, visitors notice the large parking lot with overflow parking on the north side of Highway 98. Even during the peak of summer, parking shouldn't be an issue.
Colorful shops and restaurants modeled after an old-time fishing village make for a fun afternoon or evening, and the children's games and attractions including face painting, caricature, bungee jumping, and a 3D shooting gallery will leave the family with cherished memories for years to come!
What can You do in the Destin Harbor?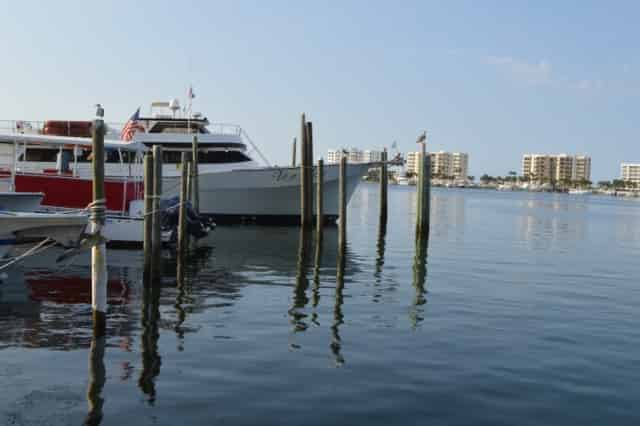 Tons of water activities take place or depart from the Destin Habor. Deep sea fishing, parasailing, paddleboard rentals and more are available in the Harbor, and can be booked online, in advance, for guaranteed availability and the lowest rates.
Many tours highlight the native wildlife including sea birds and dolphins, while others are more about excitement launching participants high in the air on a water-jet powered fly board, or pulling them at high speeds on a Banana Boat! There are dozens of tours and attractions available departing from the Destin Harbor.
Special events occur daily during the peak season of June to September. Weekly fireworks and FREE concerts are just the start. Parades, festivals, art shows, and more family fun events are open to the public and scheduled year-round. For up-to-date events in the Destin Harbor, check out the Destin Harbor Boardwalk online!
Pensacola Beach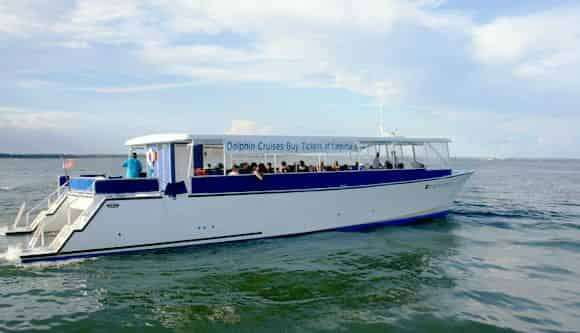 Travelers on a sightseeing cruise with Premier Dolphin Cruises
Pensacola Beach is just a quick drive from Navarre Beach, and offers plenty of choices for things to do near Navarre! A beautifully scenic drive from Navarre, Pensacola Beach is a family vacation staple, with visitors gracing its beaches for decades now. Located on a connecting island directly next to Navarre Beach, Pensacola Beach is a bit more developed, with a slew of bars, restaurants, shops, and entertainment.
The Pensacola Beach Boardwalk is at the center of this gulf getaway, offering shopping, dining, and nightlife all-in-one. Family activities near Navarre like deep sea fishing and parasailing are offered here, as well as specialized Dolphin Cruises in Pensacola Beach that search for marine life and sunsets, but also give riders a front row seat to the Blue Angels Airshow over the water!
Access Pensacola Beach from Navarre along Scenic Highway 399 for some unbeatable views, or head west on Highway 98 and look for the historic "Pensacola Beach" road-sign guiding visitors over the Pensacola Bay Bridge!
Okaloosa Island
Just a short drive east along Highway 98 is a local favorite, Okaloosa Island. This small plot of land in the center of the Emerald Coast hosts big fun in the form of music venues, amusement parks, seafood dining, and a giant public beach bustling with activity!
The Okaloosa Island Boardwalk is the pride and joy of this tiny beach town. Beach shops, popular restaurants, and nearby attractions including the Gulfarium Adventure Park and Okaloosa Island Pier provide enough fun things to do near Navarre, Florida, to plan an entire day at the Okaloosa Island Boardwalk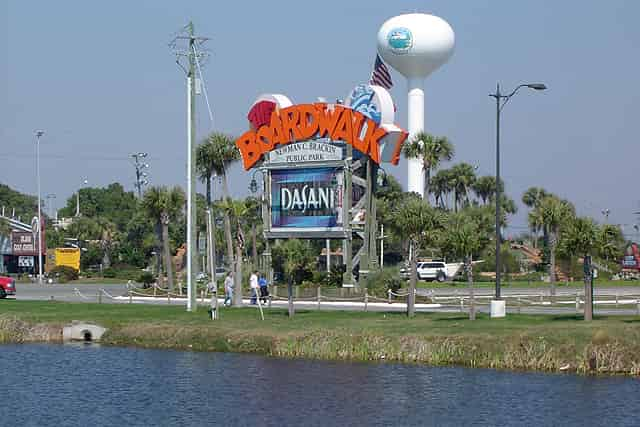 Image of the Okaloosa Island Boardwalk courtesy of http://www.co.okaloosa.fl.us/
Venture past the Boardwalk for some outstanding seafood dining at such eateries as Old Bay Steamer, or park the car on the side of the road for an afternoon outing on the preserved public beaches.
Fishing is very popular on Okaloosa Island, with access to Marler Bridge, the Bay, the Harbor, the Jetties, and Gulf Surf and Pier fishing spots. Learn about the best places to fish on Okaloosa Island in a previous blog detailing the Best Places to Fish on Okaloosa Island.
Pensacola
If you ask a local what Navarre, Florida close to, Pensacola will likely be their answer. Pensacola, AKA The "City of Five Flags", is a worthy stop when looking for something to do near Navarre. The city's history is key in choosing tours and activities. The downtown historic district is a must-see attraction, and as a city with a past rooted in U.S. military activity, the military-themed tours are a major draw.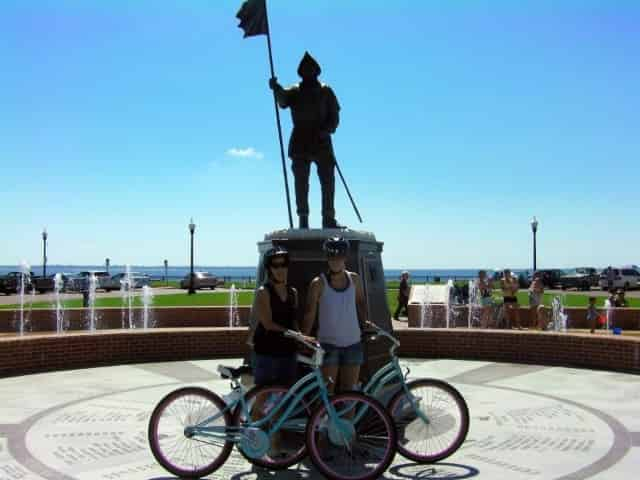 History buffs on a sightseeing bicycle tour in Pensacola, FL
Pensacola historic tours are always a blast, and are great for all-ages. Pensacola Bicycle tours take visitors through unique residential neighborhoods and gorgeous waterfront properties, and new and exciting Segway tours guide adult guests to popular downtown bars and pubs including McGuire's and Seville Quarter!
Pensacola's eclectic dining and nightlife scene attract visitors regionally and worldwide. Cuisines from across the world are represented on the streets of Pensacola, leaving out of town visitors with more than your average American or Seafood dining joint. Give Pensacola a try on your next visit to Navarre, Florida, for historic and cultured things to do near Navarre, Florida!
---
So... why not Just Stay IN Navarre?
Navarre, Florida, is a lovely vacation spot. If you're content with beautiful beaches and a relaxed coastal atmosphere, you'll fit in just fine in Navarre!
If you want to discover more about Navarre and the surrounding area including tours, attractions, and things to do, visit the TripShock Navarre Visitors Guide.
Be in the know!
be informed about our latest offers
You can unsubscribe at any time