Family Fun at the Boardwalk on Okaloosa Island
Mike Fisher
July 1st 2020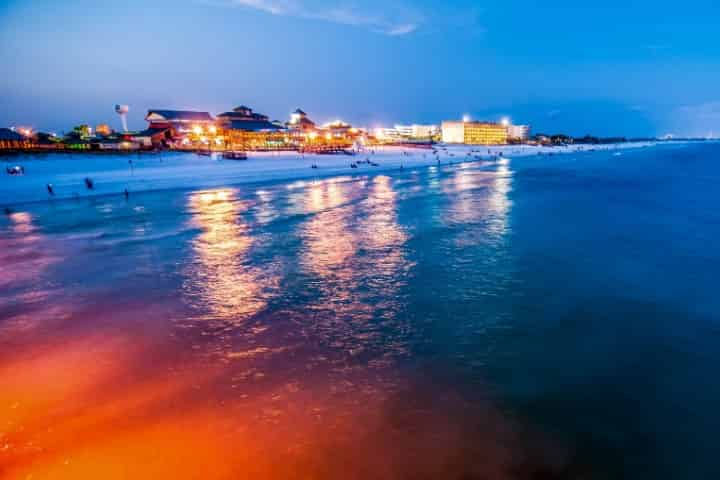 Experience the laid-back beach atmosphere of the Emerald Coast on Okaloosa Island! Okaloosa Island, a dividing plot of land between Fort Walton Beach and Destin, Florida, is home to fun family activities including the popular Boardwalk on Okaloosa Island.
The Boardwalk offers eclectic shopping, fresh seafood dining, exciting entertainment, stunning Gulf views, public beach access, amenities, and so much more. Uncover the best things to do for family fun at the Boardwalk on Okaloosa Island, and make the most of your next trip to this beautiful beach town!
Table of Contents
About the Boardwalk on Okaloosa Island
Top Things to do at the Boardwalk on Okaloosa Island

Have a Photoshoot
Fishing
Visit the Gulfarium
Hit the Beach
Dining and Shopping
Wild Willy's Adventure Zone
Escape Zone 60
Take a Trip to the Destin Harbor
Explore Other Attractions Near the Boardwalk on Okaloosa Island
---
About the Boardwalk on Okaloosa Island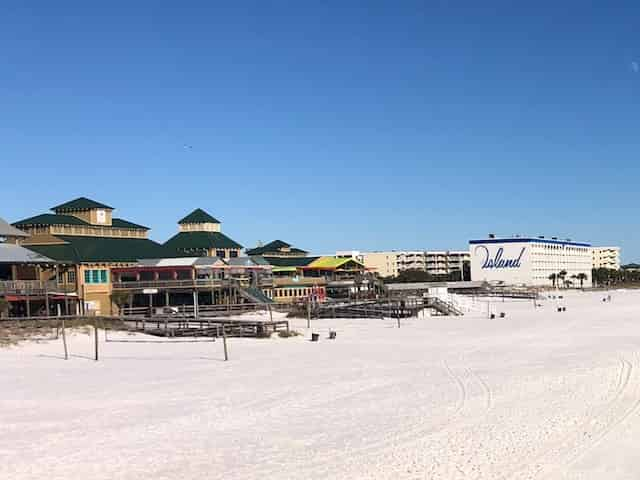 View of the Boardwalk on Okaloosa Island from the nearby fishing pier
Okaloosa Island is located just west of Destin, Florida. This beach haven is technically part of Fort Walton Beach, Florida, although "The Island" carries its very own charm. What was once owned entirely by the U.S. Government, Okaloosa Island now offers oceanfront lodging, public beaches, family-friendly entertainment, and a rocking nightlife.
A historic landmark, the Boardwalk on Okaloosa Island was constructed in the 1930s as a resort destination with restaurants, gambling, and an amusement park. A decade later, the original Boardwalk (then named "Tower Beach") was destroyed in a massive fire. The resulting reconstruction provided a more tame destination, focused on public beach use with the option for dining, shopping, and entertainment.
Entrance to the Okaloosa Island Boardwalk is FREE and the Boardwalk offers FREE parking, as well as beaches with volleyball nets, picnic tables, and restrooms. Staying on Okaloosa Island? The Boardwalk is just a short walk from most Island hotels and condos, and in close proximity to plenty of other things to do in Fort Walton Beach including nightclubs, music venues, and restaurants!
Top Things to do at the Boardwalk on Okaloosa Island
Food, fun, entertainment, and a premier public beach is found at the Boardwalk on Okaloosa Island! Stop in to one of the several shops offering apparel, jewelry, and beach gear. Not much into shopping? The Boardwalk's eateries are sure to fill you up on delicious Gulf Coast cuisine. Rockin Tacos, the newest restaurant on the boardwalk, puts out artisan tacos with a stunning tequila flight. Another favorite is The Crab Trap, which serves up delicious seafood beach side.
Looking for entertainment and nightlife on Okaloosa Island? Well, you're in the right place! Al's Beach Club in the Okaloosa Island Boardwalk is the area's hottest nightclub, with live music, drink specials, and concerts! Searching for a more relaxed atmosphere? Just minutes away, walking distance from many Okaloosa Island hotels and condos, is Fubar. Games, live music, and dozens of high definition TV screens make for a perfect place to chill after a long day at the beach.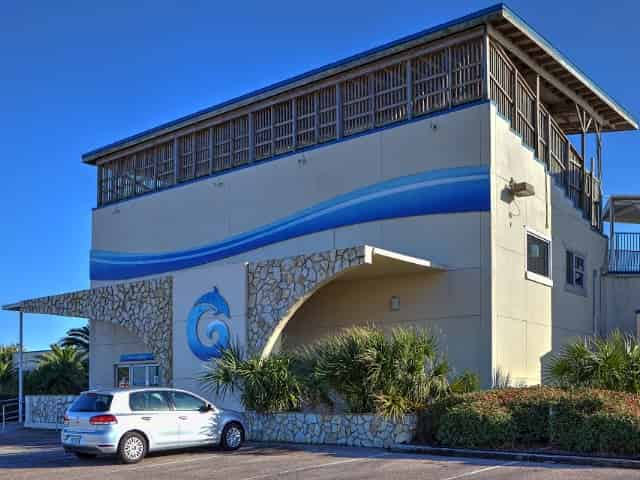 Pictured above is the Gulfarium Marine Adventure Park located at the Boardwalk on Okaloosa Island
Okaloosa Island has plenty of places for adults to play, but also proves a prime location for children and families. The thrilling Gulfarium Marine Adventure Park hosts dolphin shows and animal exhibits at an affordable price, while Wild Willy's Adventure Zone gives kids the chance to bungee jump, zip line, and putt putt their way to a memorable vacation!
The Boardwalk on Okaloosa Island is more than just a day at the beach. With so many options and fun things to do, it's almost impossible to fit everything you want to do in one day. Luckily, TripShock has compiled a list of the top activities for family fun at the Boardwalk on Okaloosa Island, to assist in making your trip there the best it can possibly be!
Have a Photoshoot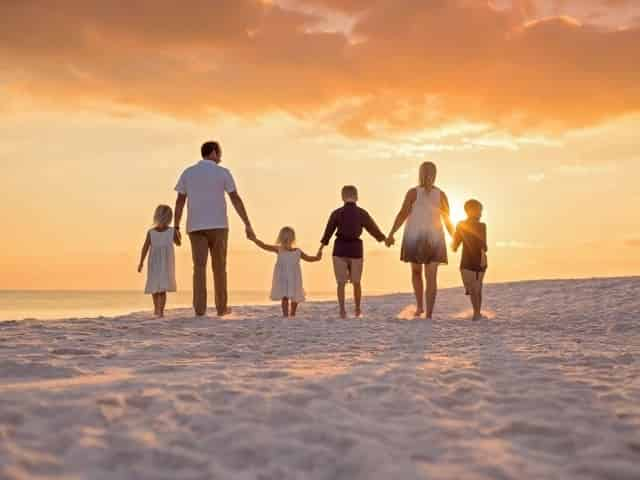 Hiring an Okaloosa Island beach photographer is the perfect way to capture the incredible time you had on your Emerald Coast vacation
The one thing you absolutely cannot miss during your beach vacation is a Gulfside sunrise, so be sure to hit the Boardwalk early for a front row seat! Even better, capture your Okaloosa Island family vacation with a professional sunrise beach photo shoot. Choose from the top photographers in Northwest Florida, and have the shoot down on the beach, boardwalk, or at your condo or rental property.
This Fort Walton Beach family vacation idea is great for young families looking to capture their first visit to the Emerald Coast, family reunion trips, and more! Photographers specialize in different types of packages including children portraits, couples photos, family pictures, special events, and more, so you can choose the one that works best for your group. Options like longer shoot times, different times of day (sunrise or sunset), and large or small group sizes, make photoshoots easily customizable.
Fishing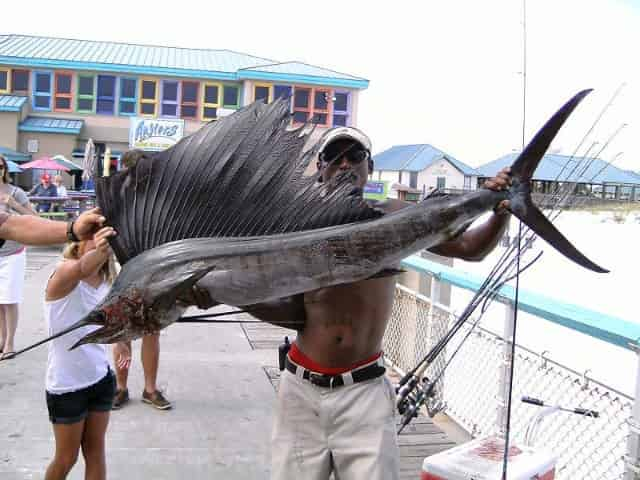 Sailfish caught on the Pier, one of the best places to fish on the Island! Photo by pensacolafishingforum.com
Nothing instills fond family memories like a day of fishing! The fishing pier at the Boardwalk on Okaloosa Island has everything you need for the perfect day of fishing including bait, equipment rentals, and temporary fishing licenses. The pier extends a quarter of a mile out into the Gulf, reaching the deep waters with the biggest fish! Neighboring Destin is known as the "World's Luckiest Fishing Village," so put that name to the test as you try to snag one of these big fish:
King Mackerel
Tarpon
Cobia
Sailfish
Grouper
Redfish
The Pier snack-shop provides drinks and snacks, and a cooler is allowed for personal use (food, drinks, and carrying home the day's catch). Locals and tourists alike consider fishing at the pier one of the best things to do at the Boardwalk on Okaloosa Island; check below for Pier information:
Hours: March - October: 24 hours a day, 7 days a week; October - March: 5am - 9pm
Rates: Adult $7.50, Seniors 65+ $6.50, Children 6-12 $4.50, Children 5 and Under FREE
Visit the Gulfarium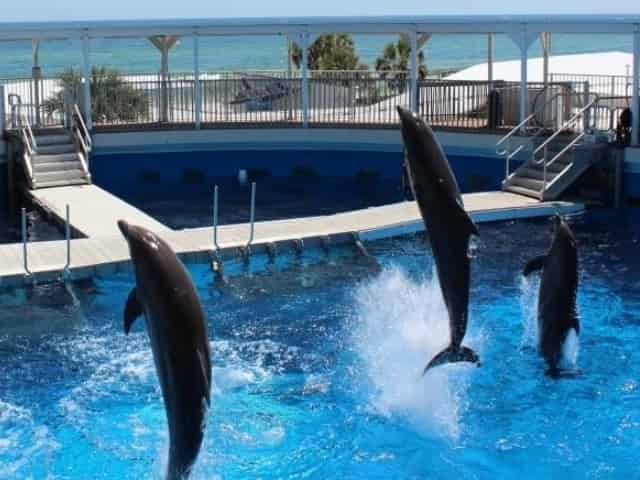 According to a recent Traveler Story, a visit to the Gulfarium is fun for the whole family
If you've had your fill of catching fish, head over to the Gulfarium and enjoy watching some incredible fish and other wildlife at the Gulfarium Marine Adventure Park. Located right next to the Pier, the Gulfarium has something the whole family will enjoy! Experience dolphin and sea lion shows, marine animal exhibits, and educational shows perfect for the kids. Much of the Gulfarium on Okaloosa Island is covered, so rain or shine, planning a trip to this Fort Walton Beach aquarium is a sure bet!
Hit the Beach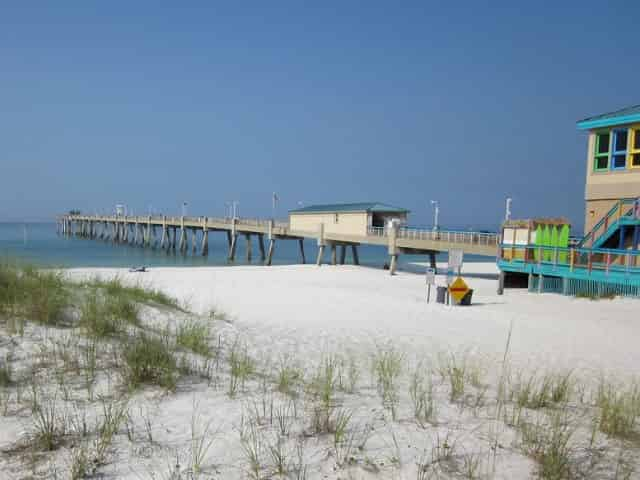 The beautiful beaches at the Boardwalk on Okaloosa Island. Image by Infrogmation of New Orleans via Flickr
You didn't think we'd forget about the main attraction, did you? A trip to the Boardwalk on Okaloosa Island is incomplete without enjoying the beautiful waters of the Emerald Coast! Set up camp within the borders of the Boardwalk designated for public use, and take advantage of the volleyball nets, children's playground, public restrooms, and courtesy lifeguards provided by the county. Be sure to check the Boardwalk shops for any last minute beach essentials!
Dining and Shopping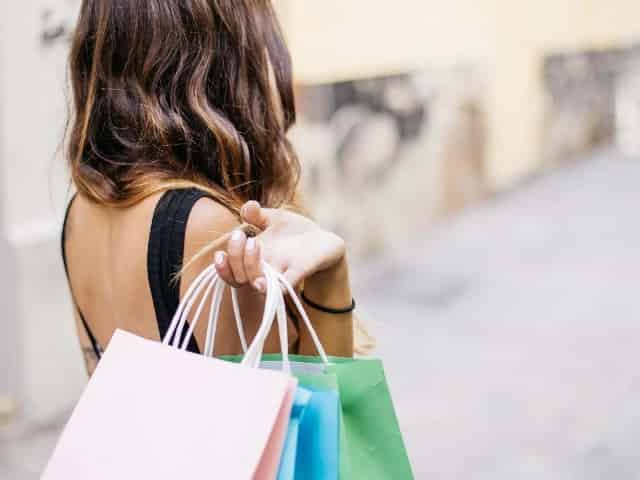 The Boardwalk on Okaloosa Island is a great place for superb shopping and fantastic food
When hunger strikes, take a break from the sun with lunch at Floyd's Shrimp House. This massive seafood restaurant located on the west end of the Boardwalk cooks up fresh and affordable options, including a lunch specials menu, scrumptious sandwiches, soups, salads, entrees, and raw Gulf oysters (my favorite).
Looking for dinner instead? Make your way to The Crab Trap or Rockin' Tacos for sunset dining (request a table with an ocean view for an unbeatable atmosphere). Sip tropical drinks and relax after a long day of family fun with the finest food, drinks, and scenic views on the Emerald Coast.
Don't forget to take some time while you wait for your table to explore the shops of the Okaloosa Island Boardwalk! Multiple beach stores offer thousands of fun items and beach wares including:
Kites
Clothes
Skimboards
Souvenirs
And MORE!
Wild Willy's Adventure Zone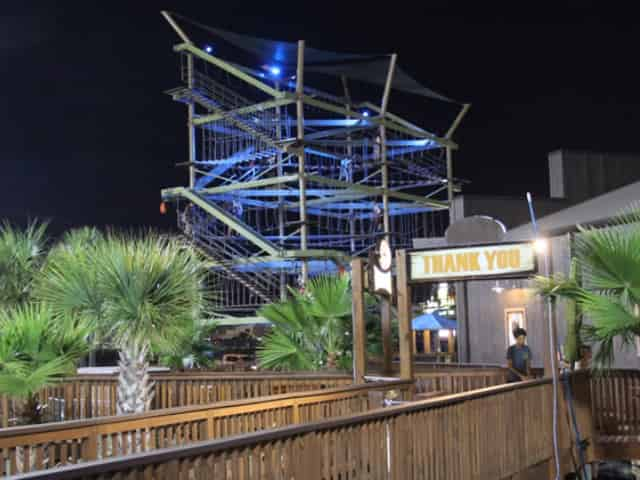 Pictured above is Wild Willy's ropes course on Okaloosa Island
What's a Fort Walton Beach family vacation without a little extra excitement? Check out one of the area amusement parks during your trip and find unique and thrilling rides and entertainment. Wild Willy's Adventure Zone on Okaloosa Island, just across the street from the Boardwalk, offers dino-themed activities and attractions!
Serious fun and adventure is the name of the game when you come to Wild Willy's! Complete with 5 different and increasingly difficult levels of ropes courses, climbers maneuver and swing across the canopy as they explore the jungle and take in spectacular views of the Gulf from high up! When you eventually get back down to ground level you can also catch a movie in 3D, hit the arcade, and have a blast at the putt-putt golf course!
Escape Zone 60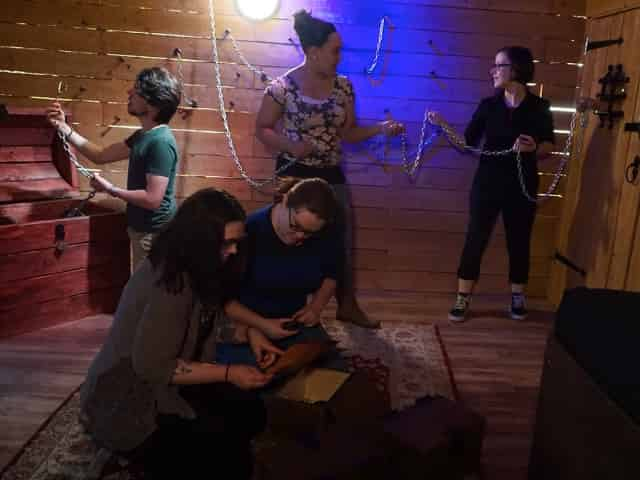 Pictured above is a group making their great escape at Escape Zone 60 on Okaloosa Island
Escape Zone 60 is a test against time. Do you have the wit, teamwork, and creative problem solving ability to succeed before the clock runs out? Bring yourself and at least 3 other friends or family members for a ton of fun and a great collaborative experience!
Take a Trip to the Destin Harbor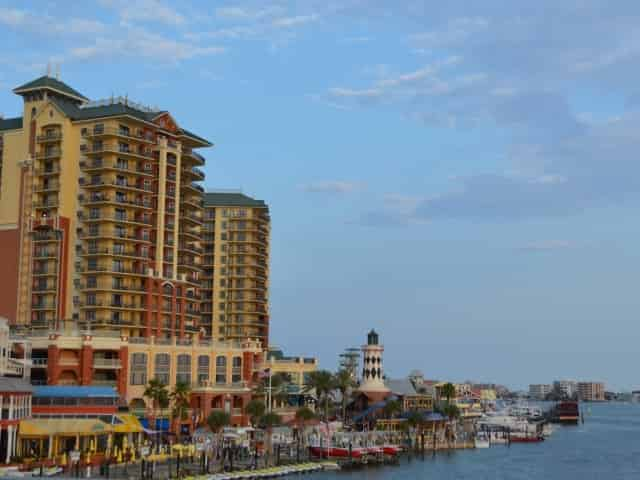 The Destin Harbor is the perfect place for family fun with events, attractions, activities, and things to do for all ages
Just 5 miles from the Boardwalk on Okaloosa Island, find world-class restaurants, shops, games, and fun things to do at the Destin Harbor! Boat trips, fishing excursions, and even pirate cruises run daily in the spring and summer, providing all-ages entertainment during your vacation! Stunning views and parking both come free with this family vacation idea, with enough to do and see to fill multiple days!
If you do decide to venture out to the Destin Harbor, consider purchasing a ticket to MAXIMUM MAGIC featuring Noah and Heather Wells! This family-friendly magic show is unlike anything you've seen before! Join Noah and Heather as they lead you through a night of spectacular illusions, magic, and mischief. A little comedy and a lot of fun makes this show a great deal and the perfect idea for a date night or family outing!
Explore Other Attractions Near the Boardwalk on Okaloosa Island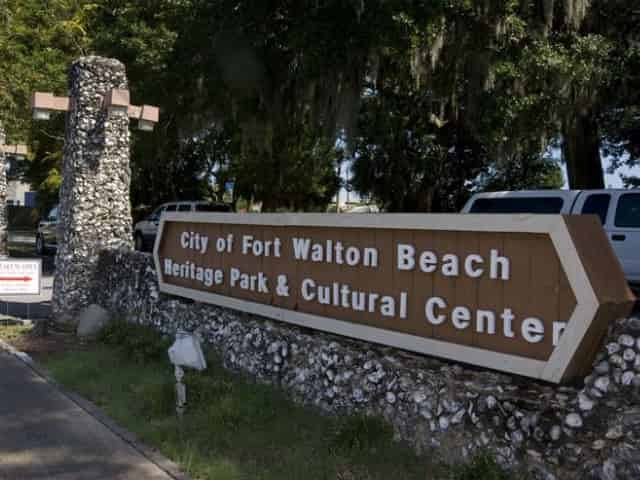 Image by Airman 1st Class Andrea Posey, 1st Special Operation Wing Public Affairs
Venturing into downtown Fort Walton Beach and beyond will yield a plethora of fun activities the whole family will enjoy! Fort Walton Beach is a city rich in history, meaning there are a ton of fun and informative attractions to choose from. Below are a few of the best Fort Walton Beach things to do near the Boardwalk on Okaloosa Island:
Camp Walton Schoolhouse: The Camp Walton Schoolhouse Museum is a great place to learn about the history of education in Okaloosa. Actual and replica artifacts stimulate and encourage learning and professional museum staff will help you guide your visit and fill in the blanks to bring you up to speed with everything educational in Fort Walton!
Emerald Coast Science Center: A true gem, the Emerald Coast Science Center highlights regional science exploration and discovery in areas like robotics, engineering, energy, and coastal ecosystems. Stop on by, bring your thinking cap, and get ready to be blown away by cutting-edge science and amazing exhibits.
Indian Mound Museum: The Indian Temple Mound Museum is a cost-effective attraction that lies at the heart of historic downtown. Tracking over 10 thousand years of Native American history, the Temple Mound Museum is home to some of the most incredible artifacts including those from explorers and settlers.
Air Force Armament Museum: The Air Force Armament Museum is an amazing attraction that is free of charge. From historic to cutting edge and everything in between, come check out some serious wings, artillery, and military might right here in Fort Walton Beach!
---
Hopefully this guide helps in the planning of an amazing family-fun day at the Boardwalk on Okaloosa Island! There are so many things to do on the Island, from parasailing to jet ski rentals, that no one guide can truly fill you in on all the great things to do. With that being said, get out of your condo, explore the Island, and see for yourself just what all you've been missing on Okaloosa Island!
Be in the know!
be informed about our latest offers
You can unsubscribe at any time