New Orleans Carriage Rides Coupons 2023
February 15th 2023
Mike Fisher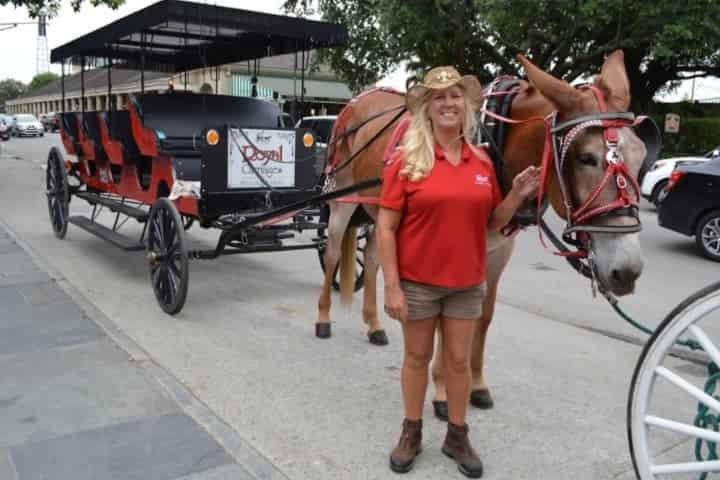 Intimate, informative, and relaxing, a carriage ride allows visitors to discover New Orleans on a personal level. Over the course of your stroll through the Big Easy, tour guides will enlighten you to the history, mystery, and magic of the city. Tours such as the History & Haunts Nighttime Carriage Tour and the French Quarter Carriage and Cemetery Tour showcase some of the most historic spots New Orleans has to offer.
One of the most popular ways to see New Orleans, The open mule-drawn carriages let you take in the sounds and sights of the city while listening to live insights and tales from an experienced courier. DISCOUNT tours come with a small group experience guarantee! Learn more about these carriage rides, and how you can save on tickets with New Orleans Carriage Rides Coupons in 2023!
Table of Contents
Royal Carriages Tour Stops
Carriage Tour Highlights
New Orleans Carriage Rides Coupons 2023
---
Royal Carriages Tour Stops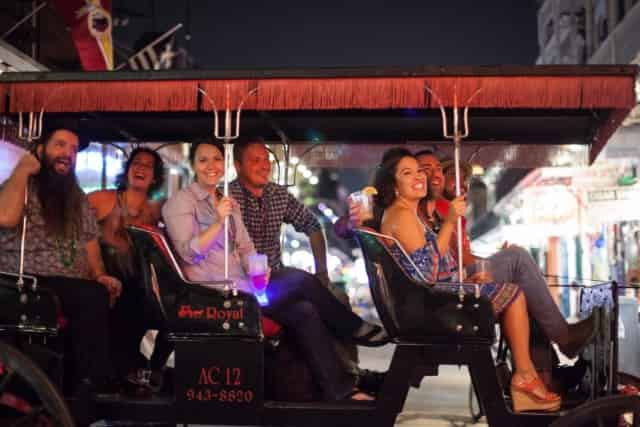 Horse-drawn carriage rides operate day and night, year-round
Day or night, Royal Carriages Tours deliver exciting and educational and romantic trips through the city that get you out of the crowd and off of your feet. Explore the French Quarter's rich cultural, architectural, and supernatural history at the perfect pace each and every time. In a recent New Orleans travelers story, a couple that went on a haunted carriage ride in the French Quarter even mention how they loved resting their feet while learning about the historic and cultural side of NOLA's famous district.
On a carriage ride, the Crescent City's full vibrancy is on display as you cruise through some of the most storied streets and sites like Esplanade Avenue and the Gardette-LaPrete Mansion.
Royal Carriages' New Orleans city tour guides are amazing local resources that give you the tips, tricks, and insights you need to make the most out of your visit! So what are you waiting for? Hop on, kick back, and get ready to roll!
Carriage Tour Highlights
Each stop along the way features an in-depth tale that will be sure to educate, stimulate, and surprise! The experience is great for all ages, especially families. There is no charge for infants and toddlers being held or seated in the lap, making this activity a cost-effective and fun activity to try with your toddler in New Orleans. This activity even made our list of the top things to do with teenagers in NOLA. Here's what you'll see on your carriage ride:
300 Years of History
Madame LaLaurie's Torture Chamber
New Orleans Culture and Architecture
Pirate Jean Lafitte's Blacksmith Shop
Faubourg Marigny Neighborhood
The Gardette-LaPrete Mansion Massacre
Esplanade Avenue
The Magical Marie Laveau
Saint Louis Cemetery #1
Muriel's Lounge of Séance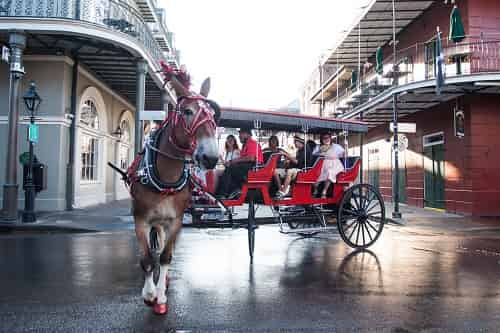 A small group enjoys a French Quarter Carriage Ride tour with Royal Carriages
New Orleans Carriage Rides Coupons 2023
New Orleans Carriage Rides coupons are easy to purchase and use when booking online! Printed boarding passes make for easy entry, but are not required. Whether at home or in the hotel, guests can purchase tickets online and gain entry easily using a cell phone or mobile device.
Passengers will be required to email the confirmation from your phone so please have this available upon boarding. Use the following New Orleans Carriage Rides coupons for the cheapest carriage rides and tours:
Coupons should apply automatically after clicking the promo code above. If not, apply the coupon code "NCITY10" during online checkout for 10% OFF. Browse the top tours on our NOLA carriage rides page to get started! Having trouble using your Royal Carriage coupon? Call 850-424-5125 for online assistance.
Be in the know!
Be informed about our latest offers
You can unsubscribe at any time