10 Best Things to do for Couples in New Orleans
Mike Fisher
October 8th 2020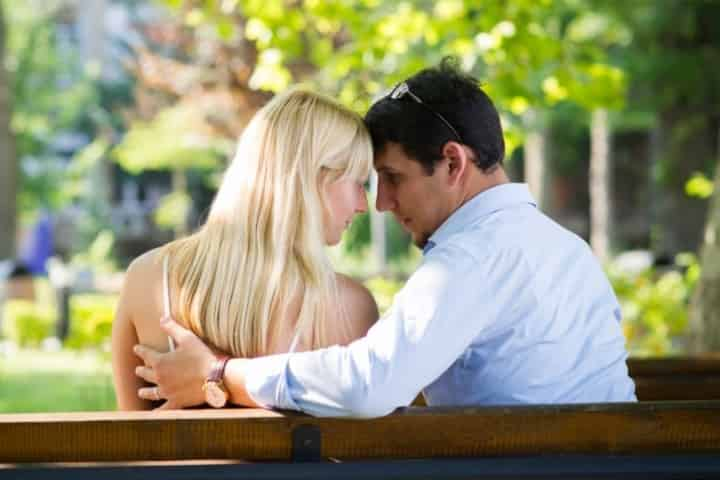 New Orleans has remained one of the country's unattested "cities of romance" for centuries. Romanticized in novels, television, and Hollywood movies, the "Crescent City" lives up to its unofficial romantic reputation with some of the top things to do for couples young and old.
With world-class dining, entertainment, sightseeing and more, romantic dates in New Orleans certainly offer unforgettable experiences that are sure to out-do your average dinner and movie! Keep reading for the 10 best things to do for couples in New Orleans.
Table of Contents
Dinner Cruise
Sightseeing Bus Tour
French Quarter Carriage Ride
Creole Cooking Class
Dinner & Drinks in the French Quarter
Historic Plantation Tour
Audubon Park
Enjoy Live Music
Haunted Tour
Airboat Tour
More Things to do for Couples in New Orleans, LA
---
1. Dinner Cruise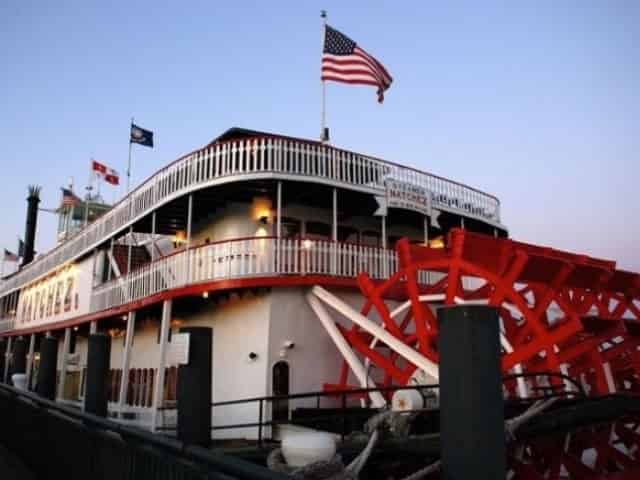 Pictured above is the majestic Natchez dinner cruise, one of the best things to do for couples in New Orleans
Crossing over the Lake Pontchartrain Causeway is just the start of the romantic views New Orleans has to offer! Lake Pontchartrain and the mighty Mississippi run along historic sites, providing guests a glimpse into the New Orleans of-old. Hop aboard a legendary paddlewheeler vessel and enjoy the sights, sounds, and tastes of the creole culture that is southern Louisiana. Munch on a lunch or dinner of creole and cajun classics like creole seafood gumbo, jambalaya, and my personal favorite, bread pudding!
Live dixieland jazz bands will set the mood while you and your sweetheart marvel at one of the top romantic ideas New Orleans can serve up! Check out multiple New Orleans dinner cruises online including special history cruises and intimate dining cruises complete with a dance floor and full bar.
2. Sightseeing Bus Tour
Pictured above is the Hop On Hop Off Double Decker bus tour cruising through New Orleans in style
Most couples flock to the French Quarter for the majority of their New Orleans vacation, but there is so much more to see and do. From east to west, New Orleans is full of fascinating history and stunning sights. Ride along on a narrated city tour by motorcoach for an in depth look into NOLA's past and present as told by an experienced and charismatic guide!
Hop On Hop Off Double Decker Bus Tour
Some of the greatest romantic ideas New Orleans can offer are spread across the city's numerous districts. A day of shopping on Magazine Street, dining by candlelight in the Garden District or a day at Audubon Park are all quintessential things to do for couples in New Orleans. Don't be intimidated by New Orleans traffic or winding roads, purchase tickets on a Hop On Hop Off Double Decker Bus Tour for easy transportation to 18 popular stops throughout the city. Hop on Hop Off Bus Tours also include FREE walking tours and discounts to restaurants and shops along the way!
3. French Quarter Carriage Ride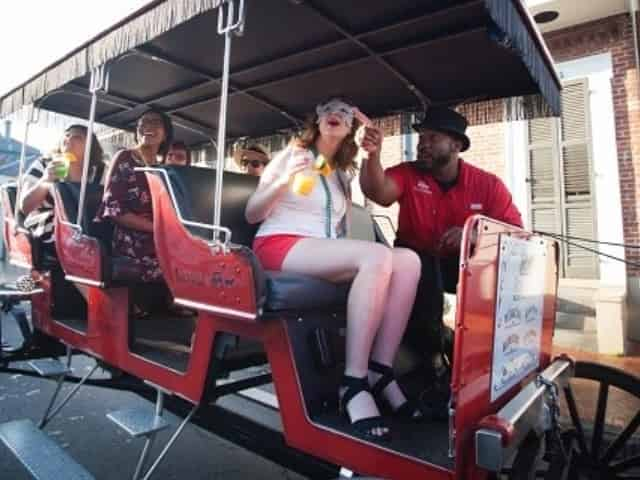 With carriage ride coupons available, a trip through the French Quarter by carriage is both romantic and affordable
Cozy up next to your BFF on a romantic carriage ride through the French Quarter. A grand carriage awaits to take you and yours on an unforgettable stroll past Jefferson Square, down Bourbon and beyond! Drivers and horses alike are suited in their Sunday finest to enhance the magical experience of a horse and buggy ride in one of America's great cities of romance. Ride during the day, at night, with a group, or on a private trip for two.
4. Creole Cooking Class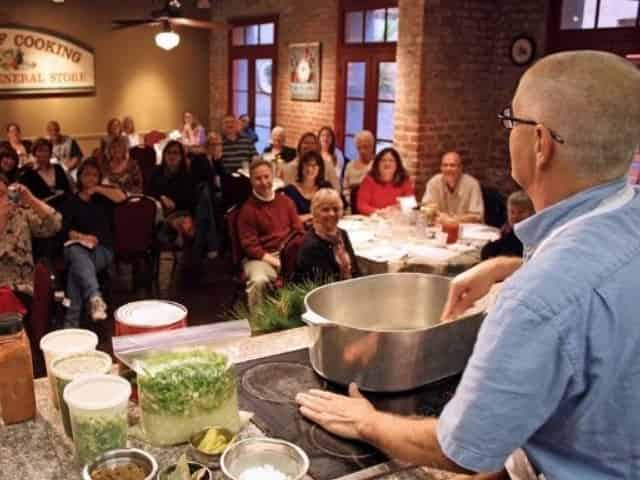 Pictured above is a cooking class brought to you by New Orleans School of Cooking
Learn to cook from a Louisiana cuisine master! Spend an evening at the New Orleans School of Cooking and learn to cook traditional southern Louisiana dishes including gumbo, red beans & rice, pralines, and bananas foster. The best part about this cooking demonstration? You and yours get to sample the food when the class is over!
5. Dinner & Drinks in the French Quarter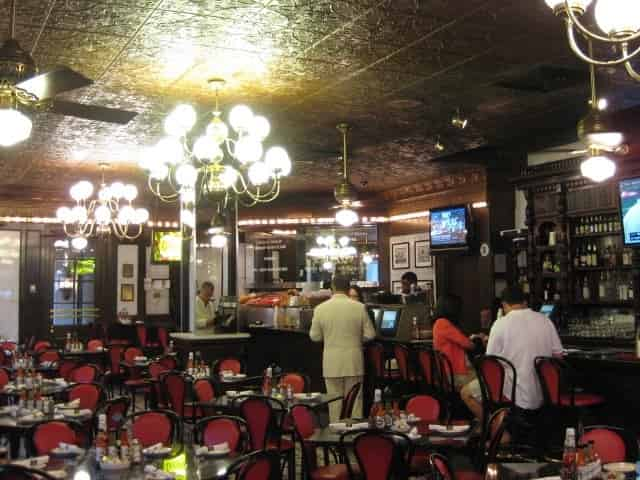 Image from Wikipedia
The centerpiece of New Orleans' romantic legacy, the French Quarter is full of things to do for couples! Start your day across the street from Jackson Square with special New Orleans coffee and beignets from Cafe Du Monde, and continue the experience at one of the hundreds of diners, cafes, pubs, and lounges in the French Quarter. Tons of romantic dates in New Orleans start and end with food and drinks, including celebrated establishments like Tujague's, Arnaud's, and the Court of Two Sisters!
6. Historic Plantation Tour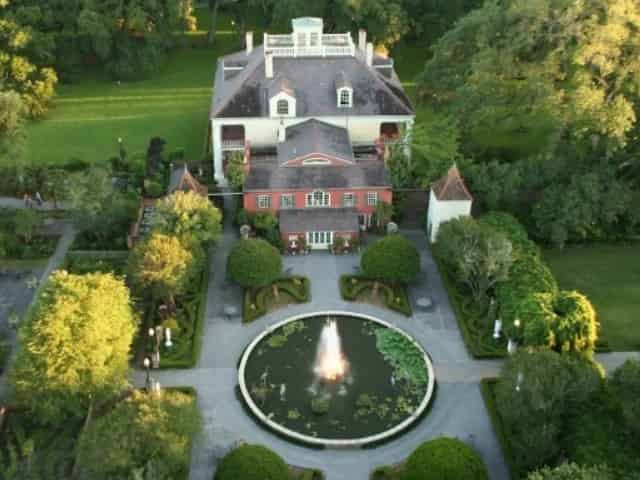 Pictured above is the stunning Houmas House Plantation. [For more information about touring Houmas House and other nearby plantations, click here](https://www.tripshock.com/attractions/New-Orleans/Plantation-Tours/)
Nothing says romance like an elegant adventure to a centuries-old plantation home! Seen as one of the top things to do for couples in New Orleans, a plantation tour will immerse visitors into a period of extravagant wealth and means in the New Orleans countryside. Choose from several beautiful plantation estates, and enjoy on-site dining and shopping.
7. Audubon Park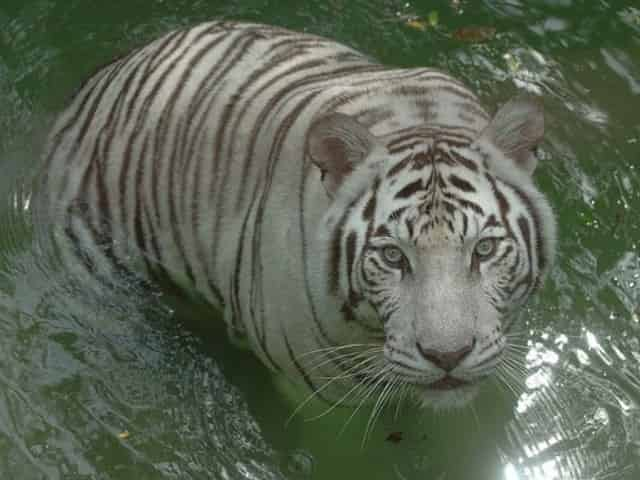 In a recent Traveler Story, one visitor explains just how much fun the animals at the Audubon Zoo can be
Audubon Parks include a world-class zoo, aquarium, insectarium, and brand new waterpark! The Audubon Nature Institute, a non-profit organization, manages these incredible parks highlighting the best of the animal kingdom, with a special emphasis on southern Louisiana wildlife and culture. The Audubon Zoo is a fun and affordable way to spend an afternoon with your sweetie in New Orleans! Click here for a zoo map and more information.
8. Enjoy Live Music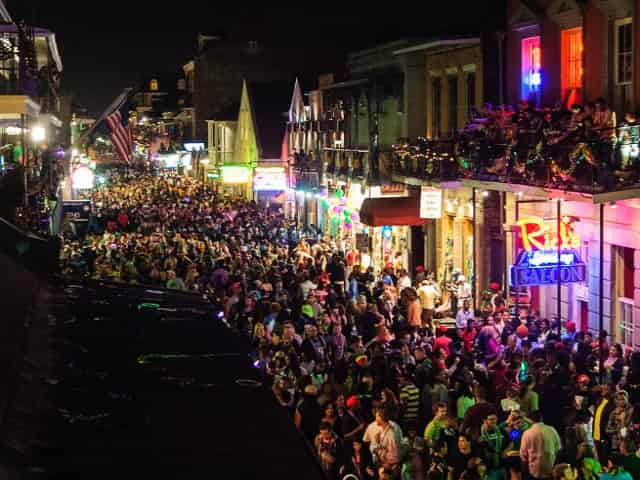 Image by Jade Broadus at travelmindset.com
From the street performers on Bourbon, to the famous Preservation Hall Jazz Band, NOLA offers a virtual cornucopia of sound! Frenchmen Street is the hot spot for local music. Located in the 7th Ward, Frenchmen Street is concentrated in a 3-block stretch in the Faubourg Marigny neighborhood packed full of music venues, coffee houses, and eclectic shops.
Lots of couples like to drop by Frenchmen Street or Bourbon Street bars and lounges during romantic dates in New Orleans. Drink, dance, and rock the night away to live music for a true taste of New Orleans culture!
9. Haunted Tour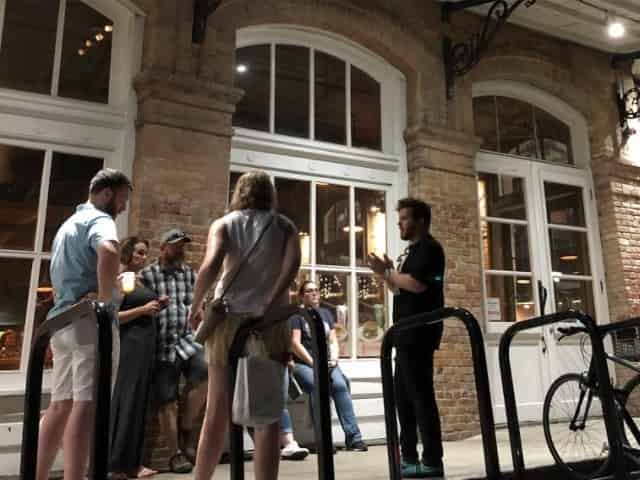 Group enjoys a guided ghost tour through the French Quarter in New Orleans
A haunted history is a key player in the mystique of New Orleans. Hundreds of points of documented spiritual activity exist within the French Quarter alone. Ghost sightings are commonplace, and spice up a romantic getaway with a little extraterrestrial excitement! A favorite of locals, travelers, and celebrities alike, haunted tours are one of the top romantic ideas New Orleans offers.
Hold your honey close while visiting spooky spots and learning about NOLA's supernatural past from a knowledgeable and eccentric guide! Try one of the many haunted New Orleans tours featuring ghosts, cemeteries, vampires, voodoo and more!
10. Airboat Tour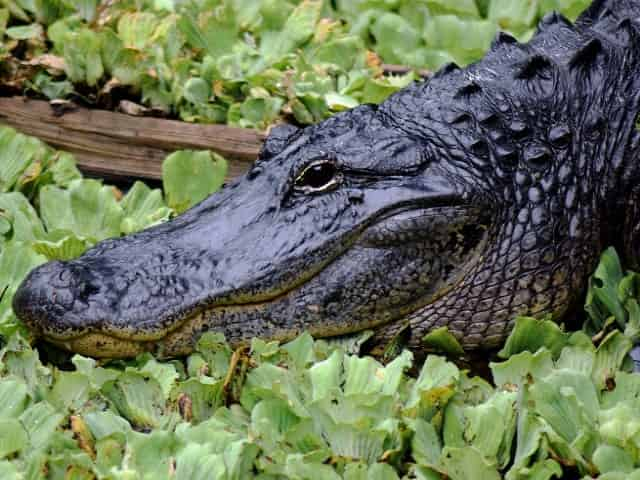 See alligators, like the one shown above, for yourself on an unforgettable airboat tour through the Louisiana swamps
Swamp tours are one of the best activities for couples visiting Louisiana. Louisiana swamp country is a short drive from New Orleans and is home to ancient flora and fauna. Gators, snakes, and twirling trees create an atmosphere of mystery and excitement as you traverse the swampland by boat.
There are several choices for which swamps to visit near New Orleans. Each with its own story. Depending on which swamp you visit, learn about voodoo, witchcraft, and the legendary Rougarou swamp monster. But it's not all haunted tales! Swamp guides will fill you in on the history of the swamps including the animals and people that depend on the rich swamplands for survival.
More Things to do for Couples in New Orleans, LA
You've seen the 10 best couples activities in New Orleans, but there is plenty more for couples to do in the Big Easy. Romance is everywhere, from the streets of the French Quarter, to the mystic wetlands of New Orleans Plantation Country. For more NOLA info including guide info, traveler stories, travel articles, tours, and attractions, check out the TripShock New Orleans Visitors Guide.

Be in the know!
be informed about our latest offers
You can unsubscribe at any time